We all love big, bold eyelashes. Some of us feel naked without having our lashes on for a night out. However, putting falsies on can be a bit of a hassle. Anyone else been in the situation where you have accidentally stuck the eyelash to your hands or your outfit before managing to put them on your eyes?! Yeah, that is no fun…
Oh, and don't get us started on how difficult they are to remove!
Thankfully, there is a new beauty product that can save the day! Let us introduce you to magnetic eyelashes.
In this article, we will explain what magnetic eyelashes are, how to use them safely, and what the best products on the market today are. You will never have to mess about with eyelash glue again!
Magnetic Eyelashes Explained
This beauty trend is pretty new, so let's look at how magnetic eyelashes actually work. Putting magnets on your eyes does sound a bit weird and scary, but it actually works a charm.
There are two different ways in which magnetic eyelashes work. You can either use magnetic eyeliner or put the eyelashes on over your real lashes. Magnetic lashes have tiny magnets along the base and you can use two strips to sandwich your real lashes between them.
Or, you can apply some magnetic eyeliner first and then pop the lashes on. Simple, easy, and effective!
Benefits of Using Magnetic Eyelashes
We love magnetic lashes, just because it makes our life so much easier. They not only provide simple functionality and amazing durability but most importantly they make you look amazing without the glue, the pain, the chemicals and hassle.
Here you'll find the 8 benefits of using magnetic lashes: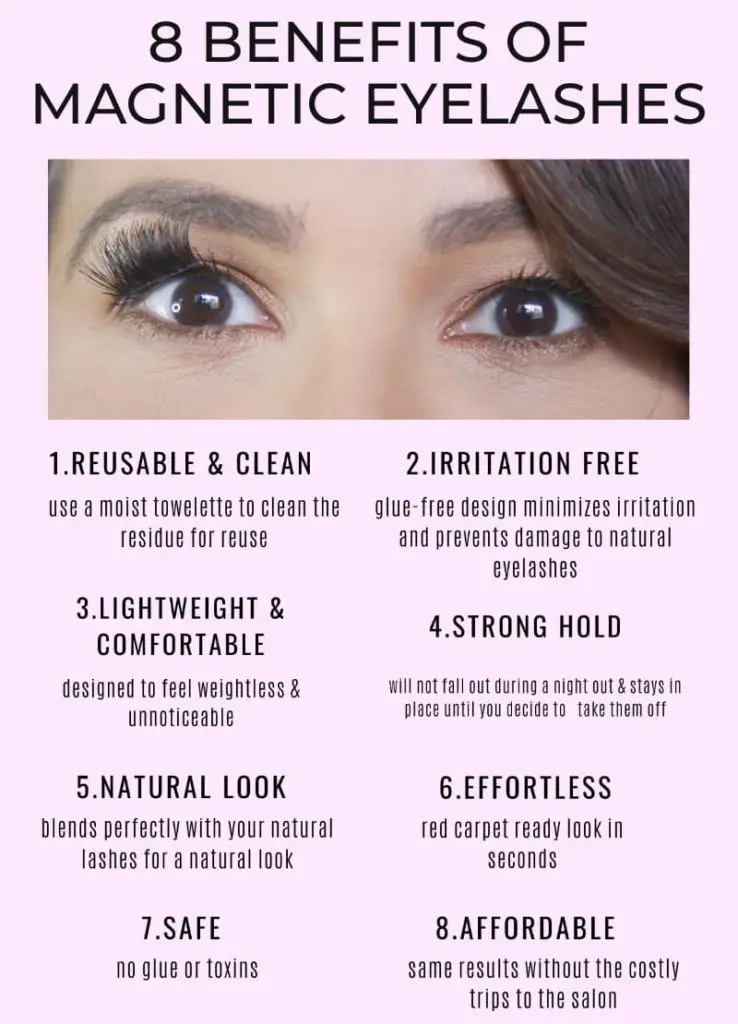 Overall, they are affordable for everybody and are reusable to you really get bang for your buck. Putting them on is easy and effortless and once you wear your magnetic lashes they feel weightless and unnoticeable. Do we need to say more!?
Best Magnetic Lashes for Safe Use
So, what are our ten favorite magnetic lashes for safe use?
1. Best Overall: Magnetic Eyeliner and Lashes Set by Alfea
This set by Alfea is our favorite, with tons of rave reviews on Amazon. They are super easy to put on, you just apply the eyeliner, wait for it to dry, then place the lashes on with the application tool. They are quick to dry, waterproof, and easy to remove.
This set comes with five reusable pairs of magnetic lashes with liner, so you are ready for any occasion. They are really comfortable and look great! They are made out of the best materials to ensure that they are super safe to use and will not irritate the eyes.
2. Best Budget Lashes: Magnetic Lashes With Eyeliner by Nere Beauty
Being on a budget still means that you can have the lashes of your dreams. This set by Nere Beauty costs less than five dollars and looks amazing!
You get three pairs of magnetic eyelashes in this kit and they are lightweight and easy to use. The lashes are reusable and can be worn for long lengths of time. They are strong, waterproof, and look fantastic. They are really worth the money, a lot of customers are surprised at the quality of these lashes considering the price!
3. Best Natural Looking Lashes: Liquid Promagnetic Eyeliner & Lashes by Eylure
These lashes by Eylure are amazing for a natural look and so are great for any occasion. They boost the appearance of your real eyelashes and you can hardly tell you have falsies on! They are long-lasting and smudge proof and really simple to apply.
They are also tested by ophthalmologists and dermatologists to make sure that they are safe to use and will not irritate the eyes or skin.
4. Best Variety Set: Magnetic Eyelashes Kit by Arishine
This magnetic eyelash kit is one of our favorites because of the number of rave reviews and the huge variety of lashes that you get for only $23.18! This set comes with ten pairs of false lashes, applicator tweezers, and two tubes of magnetic eyeliner.
The liquid eyeliner contains ultra-fine magnetic particles that mean the lashes are held securely. These lashes stay in place for ages, and stay looking fantastic! Because of the variety of the lashes, you have a pair for any occasion, from a pair to wear at work to a pair perfect for a big night out. This set has you covered!
5. Best Dramatic Lashes: Magnetic Eyelashes with Eyeliner by InBrave
This set gives you bold, dramatic lashes that can instantly transform your look. They have five magnets along each lash so keep strong and secure throughout the day and night.
These lashes are fluffy and luxurious and make your eyes appear full and big. We love these lashes because they are vegan, paraben-free, latex-free, and gluten-free so perfect for sensitive eyes!
Windproof and waterproof, these lashes can be reused up to forty times and will look fantastic each wear.
6. Best Colorful Lashes: Magnetic Eyelashes With Eyeliner Kit by Krona
If you love the out-there colorful look, consider buying this amazing kit. It contains ten different pairs of magnetic eyelashes with an applicator and two tubes of magnetic eyeliner.
These thick lashes come in greens, blues, purples, and reds and therefore you can mix and match with your makeup and outfits. We love the range of colors, perfect for so many parties and events!
They are easy to put on, long-lasting, and look fantastic. They are ultra-soft, meaning you hardly notice that they are on.
7. Best Lashes for Travel: Magnetic Eyelashes with Magnetic Eyeliner by AsaVea
This kit is really convenient for those of us who travel a lot. The lashes come in a little tub that fits perfectly in your makeup case. Going straight from the office to a party? Or perhaps you have an overnight stay somewhere before a big event?
These lashes have you covered. Simply put the eyeliner on and pop the lashes in place. There you go, an instant, convenient lash boost!
We l0ve the natural look, and they are built to last. The eyeliner is smudge-proof and waterproof, meaning there is no stress or mess with this pair!
8. Best Lashes for Beginners: Magnetic Eyelashes by Maphie
These lashes are designed to be simple, easy, and effective. They also cost under ten dollars, so perfect if you are not sure if magnetic lashes are for you!
If you are a beginner to magnetic eyelashes, we definitely recommend checking this kit out. It comes with three different pairs, an applicator, and magnetic eyeliner. The ultra-fine magnetic particles mean that you can easily click the lashes in place and they stay secure all day.
They are super comfortable and lightweight, and you can reuse the lashes whenever you need them!
9. Longest Eyelashes: Magnetic Eyelashes with Eyeliner by Lissbliss
If you want to look extra glam, you probably want extra long eyelashes. Well, thankfully these magnetic eyelashes by Lissbliss give you that extra glam!
These lashes are long, full, and fluffy and look incredible. They are lightweight, delicate, and feel as soft as real lashes. Their length does not take away from their comfort and there is no pull or weight on your lashes or eyes.
Reusable, strong, and latex-free, these lashes are perfect for loads of different occasions!
10. Best Day-to-Day Lashes: Vegan Magnetic Eyelashes by Glamtech
These lashes are great for daily use as they are long-lasting and you can wear the lashes up to 40 times. They provide a natural look that is perfect for any occasion and are super comfortable and lightweight.
These magnetic lashes have six tiny magnets on the band, which means they stay in place all day and always look great! They come with a carry case that means you can store the lashes safely and carry them in your makeup bag.
They are waterproof and smudge proof and look amazing! We love these magnetic eyelashes.
How to Apply Magnetic Eyelashes
There are so many great options when it comes to magnetic eyelashes, and what is wonderful is that they are all so easy to put on! Even if you have never even used false eyelashes before, magnetic lashes are simple and quick to use. Remember to always put on your magnetic eyelashes after any other makeup.
Simply follow these steps to get the look you want, with falsies that blend in seamlessly with your natural lashes.
Magnetic Eyelashes with Magnetic Eyeliner
Firstly, apply a coat of mascara onto your natural lashes. You may want to use an eyelash curler to shape them.
Shake the bottle of eyeliner before use and then apply the liner on the top lash line. Try to apply it as close to the lashes as possible, and make sure you fully line the lash.
Wait a few minutes for the magnetic eyeliner to dry.
Then, use tweezers to pick up the lash on the end and carefully place the middle first on the eyeliner. With tweezers or your fingers, adjust the corners of the lashes, and pat them in place.
Magnetic Eyelashes without Eyeliner
Firstly, apply a coat of mascara onto your natural lashes. You may want to use an eyelash curler to shape them.
Use tweezers or your fingers to pick up the upper lash and place it carefully on your lash line.
As you hold the upper lash in place, pick up the lower lash and place it below your real lashes. It will then connect with the upper lash and hold in place.
Frequently Asked Question on Magnetic Lashes
You probably have loads of questions about magnetic lashes! Thankfully, we are here to answer any of your concerns or queries. If you have a question that is not listed, feel free to get in contact with us!
Are Magnetic Lashes Worth It?
With any new beauty fad, we always hear the question, is it really worth it? Are magnetic lashes really better than falsies?!
We think that they totally are! They are super easy to put on and last such a long time. They are also reusable which helps our wallets, and the planet.
There are so many different options out there when it comes to magnetic lashes, so there is something for everyone. Magnetic lashes are a beauty trend that is definitely worth it, and definitely here to stay!
Are Magnetic Eyelashes Safe?
Of course, one worry with having magnetics near your eyes is safety. It may be a concern of yours, but if you use them correctly, there is nothing to worry about!
According to Healthline.com, magnetic lashes are generally considered safer than false lashes that use glue. This is because the glue used for false lashes can really harm the eye, but there is a smaller chance of the magnetic eyeliner getting into your eyes.
However, when using the product you must be extra careful and follow these general rules;
Clean the eyelashes after every use.
Don't share your magnetic eyelashes with your friends.
Always read the instructions a few times so you know exactly how to apply them and take them off.
If they start to feel uncomfortable, remove the lashes straight away.
Do not sleep with magnetic eyelashes on.
Do Magnetic Lashes Really Stay On?
Magnetic lashes can stay on for a long length of time as long as they are put on properly! Make sure that you follow the instructions carefully and that the lashes are in the correct place.
Most magnetic eyelashes are designed to last all day and night, perfect for long parties or days at the office!
Do Magnetic Lashes Damage Your Eyelashes?
If you are using magnetic lashes correctly, they will not damage your real eyelashes. However, if you are wanting to use the lashes regularly, we recommend using the lashes that come with eyeliner. This is because they attach themselves to your eyelid and not your actual lashes, meaning they will not affect your natural lashes.
The magnetic lashes that sandwich your real lashes in between them might pull at your natural lashes and cause damage if you choose to wear them often and for long lengths of time. However, for the occasional wear, these lashes won't damage your real lashes.
Which Magnetic Eyelashes Did You Pick?
We love magnetic lashes and the massive range of them available right now. There is something for everyone! Magnetic eyelashes really are a beauty gamechanger. They are easy to use, look fantastic, and can be purchased pretty cheaply without sacrificing the quality of the lashes.
Let us know which magnetic eyelashes you pick in the comments below! We also would love to know how you style them. Perhaps you pair them with cute eyeliner or a dramatic smokey eye? Whatever your style is, a pair of magnetic lashes will be the icing on the cake, creating a bold and fabulous look.