Pointy nails are definitely daring. Pointed nails are also known as stiletto nails or claw nails. It is quite a sensation and worn by most celebrities such as Rihanna and Adele.
If you want to make your fingers look longer and slender then choose this nail shape. This trend is worth a try however it is also the weakest nail shape. Most often it is done in acrylic or gel nails so as to prevent damaging your natural nails.
Pointed nails are a beauty and a curse. Even if they are a trend right now but they look ferocious. Also, if you are not careful then it might have the potential of hurting your eyes. Still, if you can wear stiletto nails with stiletto heels on your night out then that is truly amazing!
Best Pointy Nails Trends and Designs
Below we will show you the latest and the most stylish stiletto nail art designs that every girl wants. Pointed nails can fit any girl, to give her a sexy and elegant look. If you have never tried this nail shape then get inspired by these nail designs.
Enjoy the different styles and colors of stiletto nails. Try them out and show off your amazing pointy nails with confidence.
1. Yellow
Pointed Nails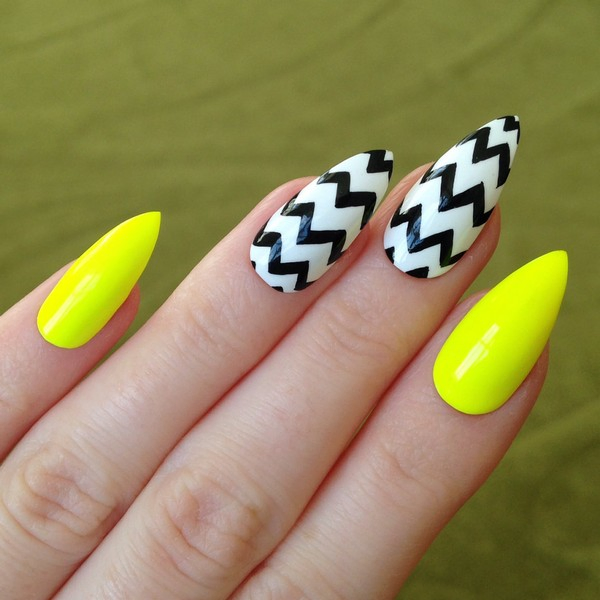 Pointed nails are fierce and bold.
2.
Black Pointy Nails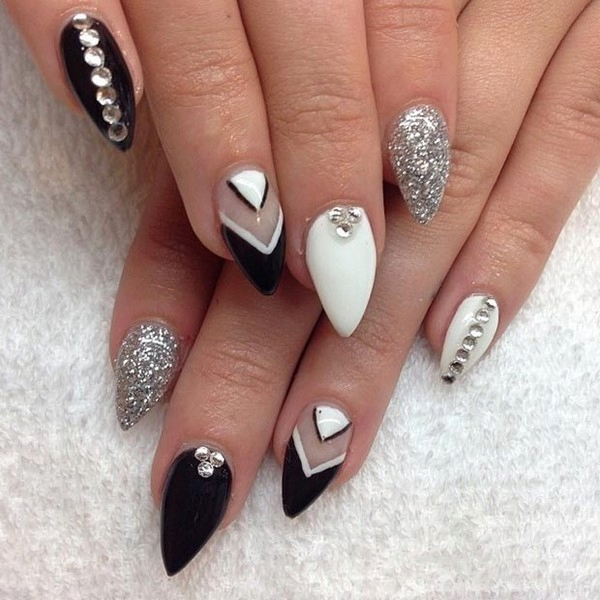 The Black and white combo looks great on everything, most especially on nails. With the addition of silver glitter and rhinestones, this nail design is truly a show-stopper.
3. Pointed French Tip Nails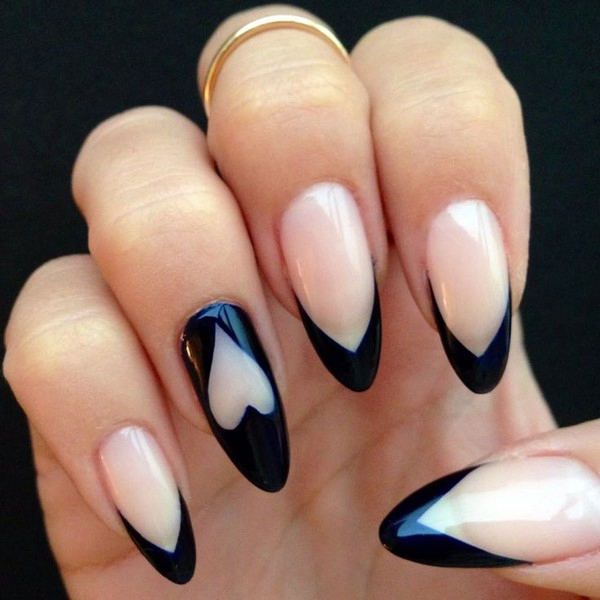 Claw nails can look cool and extreme.
4.
Matte Pastel Pink Stiletto Nails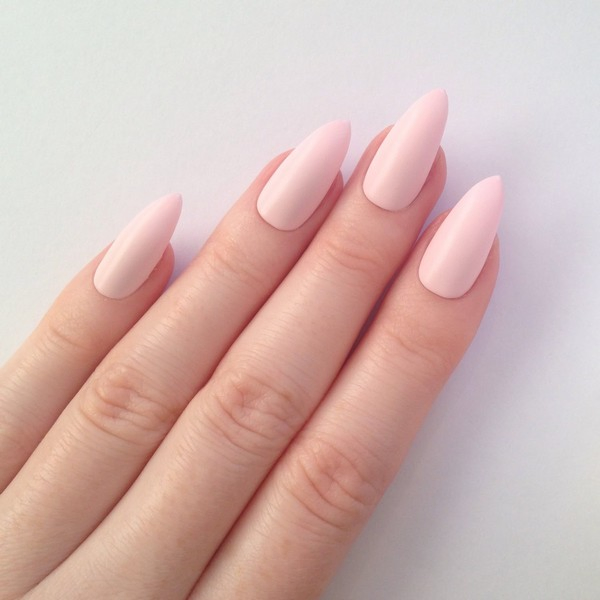 If you want to really stand out from the crowd then this nail design is definitely for you.
5. Pastel Pink With Stud and Glitters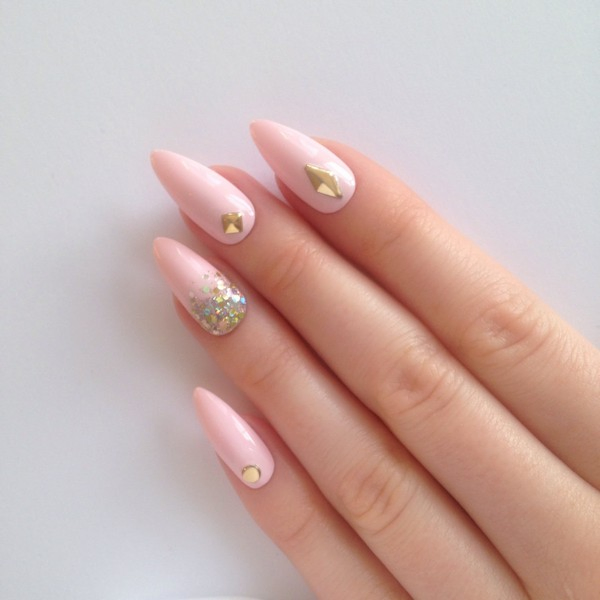 For sure, these stunning pointed nails won't remain unnoticed with all the glitter.
6.
Nail Designs For Pointed Nails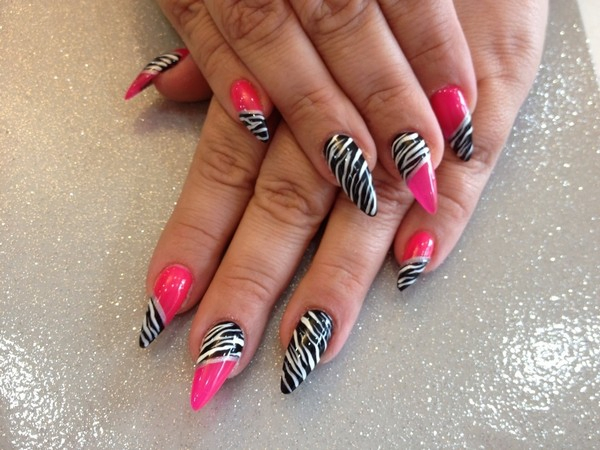 Always be careful with your stiletto nails because they might cause injuries.
7. Floating Heart Red Stiletto Nails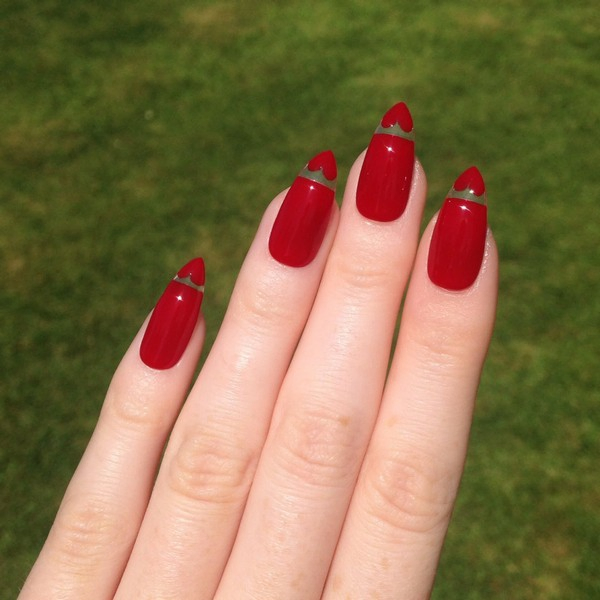 Most people would love to try them because they really love the look of them.
8.
Pointed Fake Nails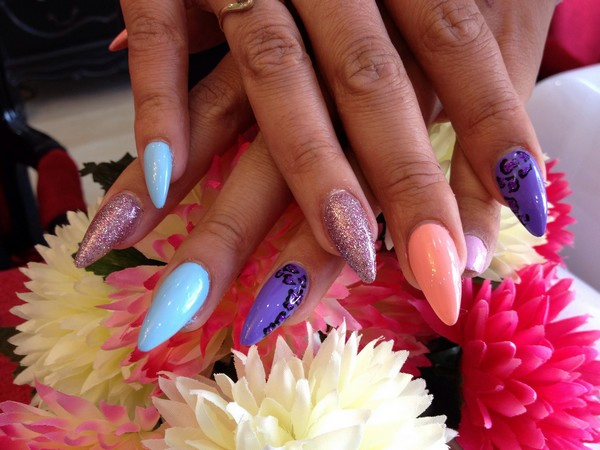 There are actually countless possible designs that you choose from. Best of all you can create a unique one on each finger.
9.
Pointed False Nails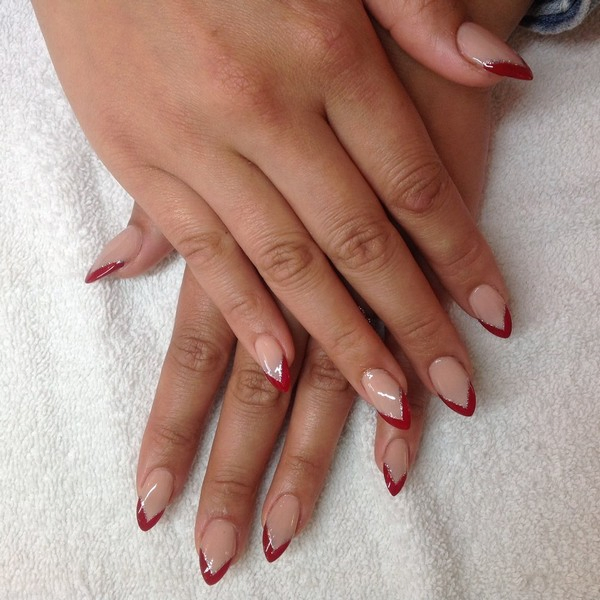 Most often this type of nail design can also be considered as "cat claws."
10. Pointed Nails Art Ideas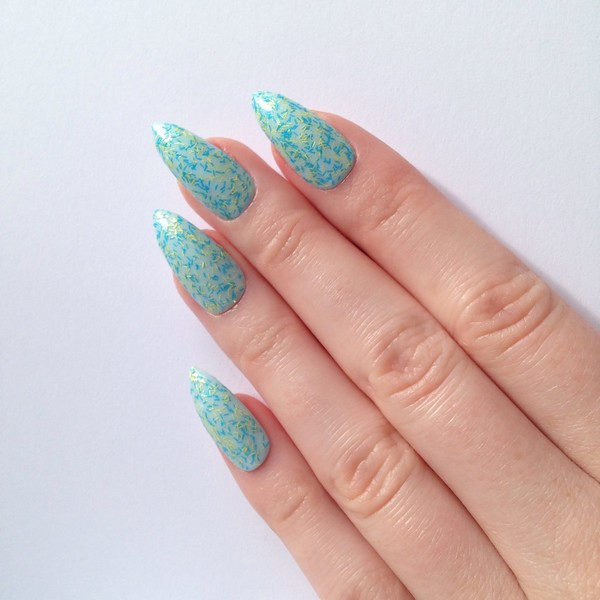 Sometimes this nail design is also referred to as the "Wolverine" claws.
11.
Pointed Nails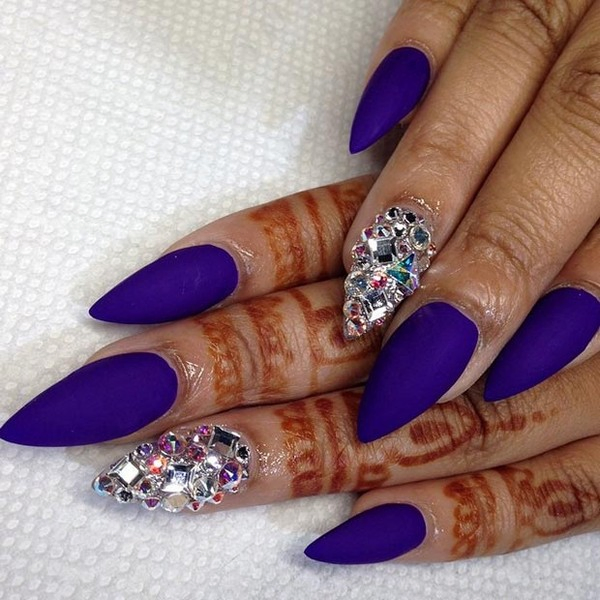 Since long nails have more surface room then anything can be possible.
12. French Tip Nails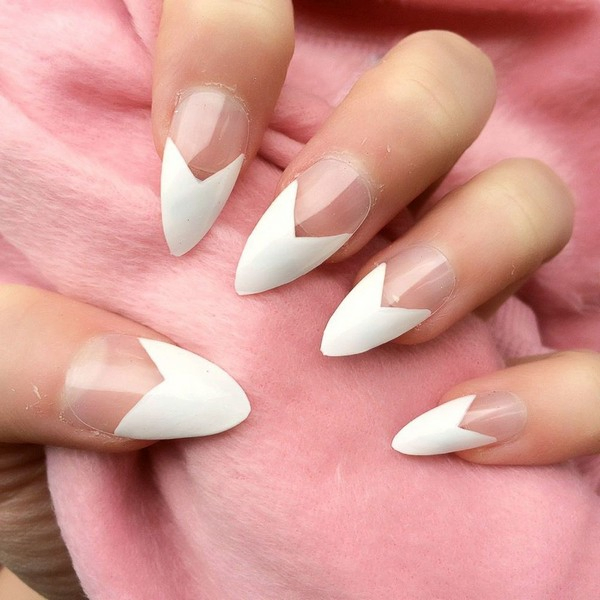 Any idea or design that you have on your mind can become a reality.
13. Green Glitter Stiletto Nail Designs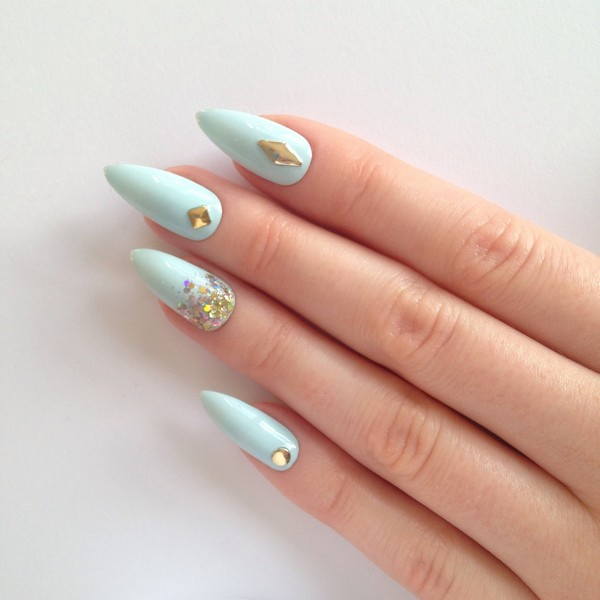 If you want to keep it simple then solid colors are the best way to do it.
14. Black Matte with Rhinestones
When you're already rocking rhinestones on your nails, who needs jewelry?
15. Gold Spike Stiletto Nails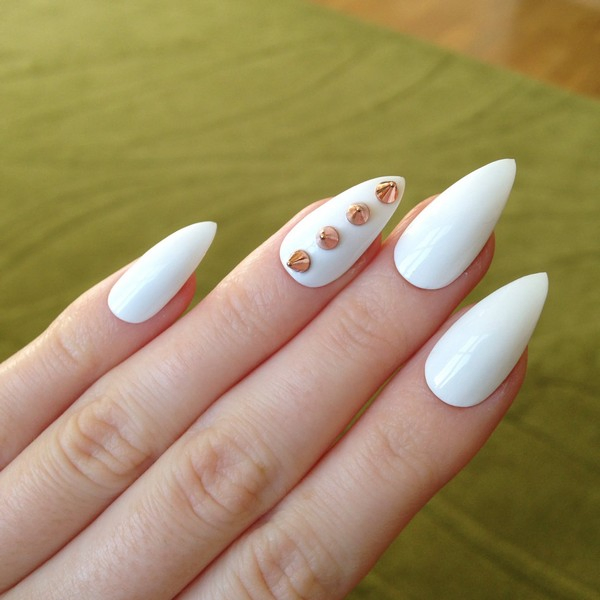 The length and shape of your nails can accentuate to the flawlessness of your stiletto nails.
16.
Pointed Press On Nails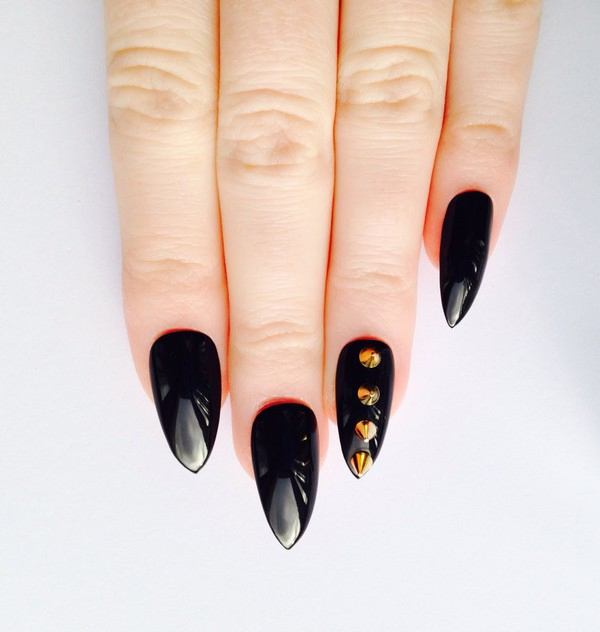 Adorn your nails with rhinestones to make them pop out.
17. Matte Neon Pink with Nude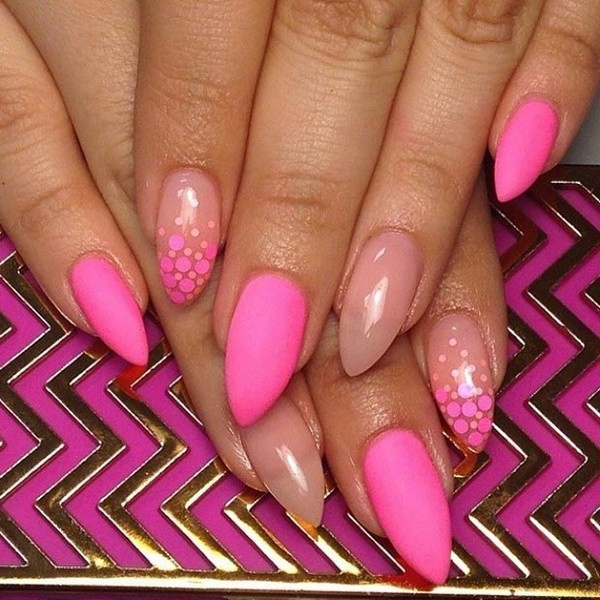 Matte nail colors are the best and the most popular.
18. Grey and Burgundy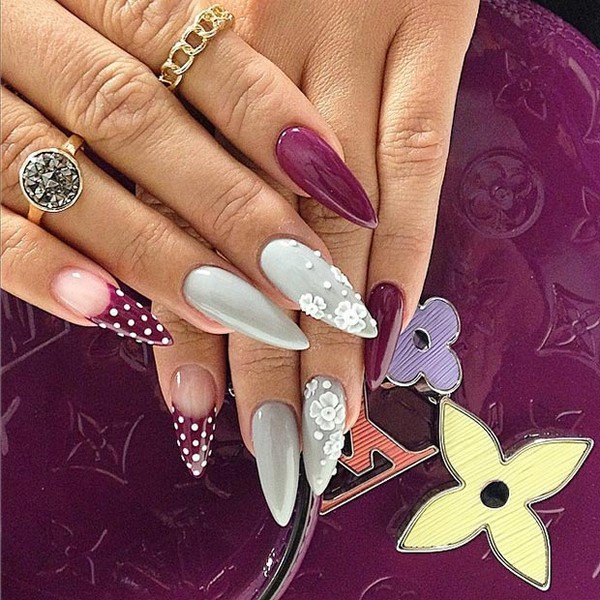 Adding designs to your nails can make them stand out even further.
19. Heart French Tips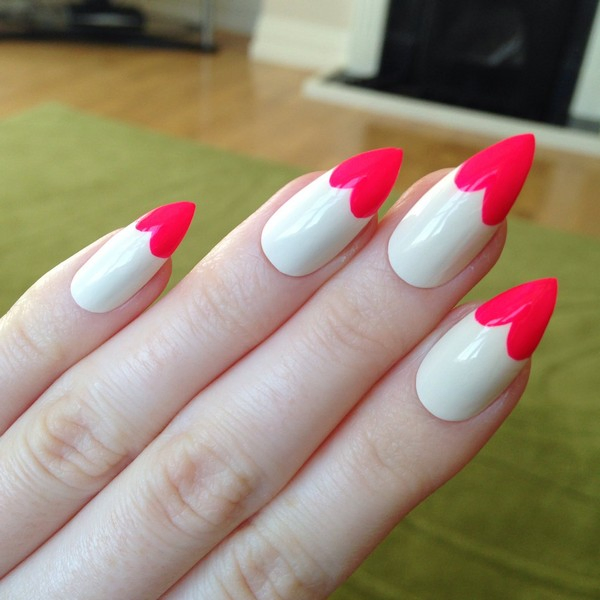 The contrast of bright red looks very striking!
20. Black Nail Design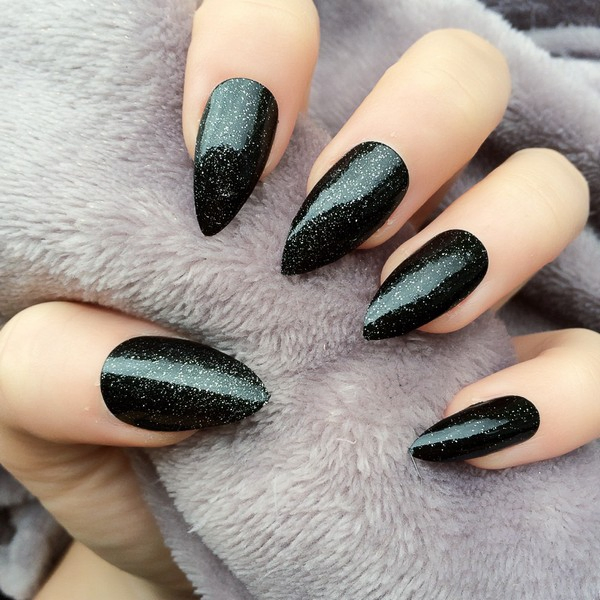 This simple nail design can edge up on every outfit.
21. Blue, Nude, and Rhinestones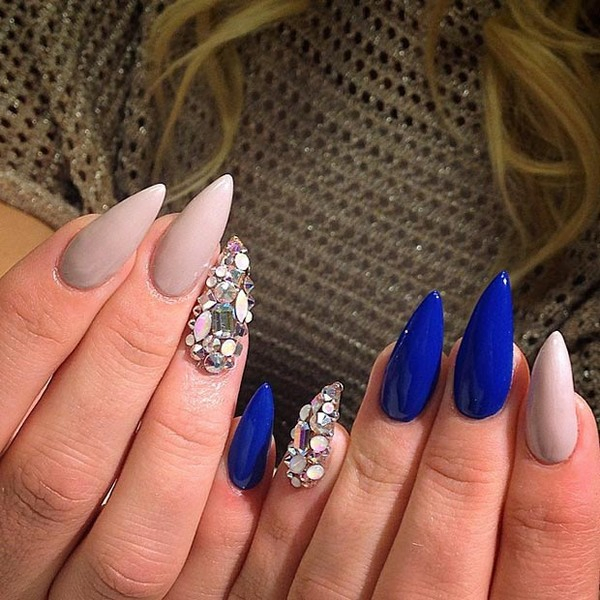 At first, you might think that nude and navy blue does not sound great. However, after seeing this image, you will realize that you are wrong. This combination is totally gorgeous!
22.
Pointy Nails Designs Ideas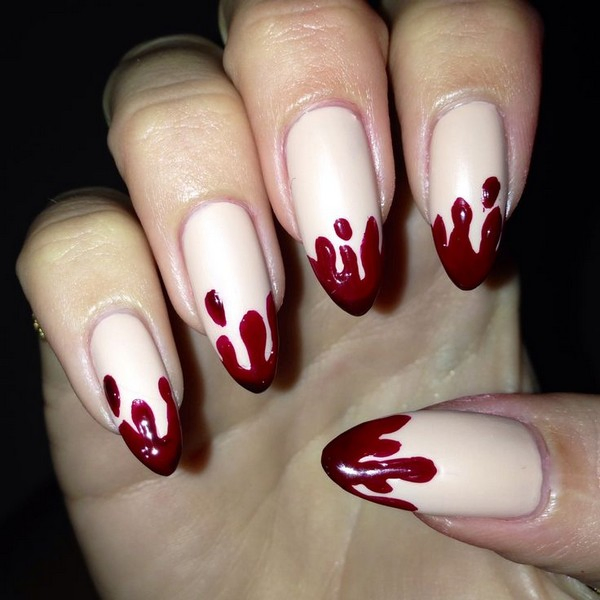 You can create your own interesting nail design idea such as this one. Just use your imagination.
23. Matte Black Stiletto False Nails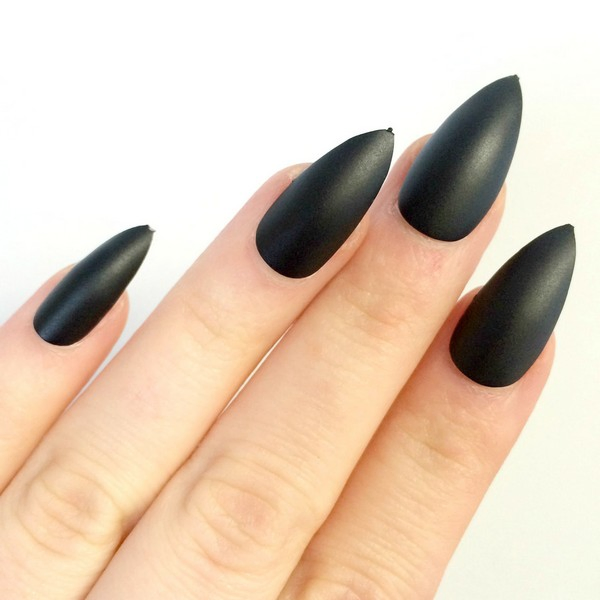 If you're already getting bored with your nail shape and design then perhaps it's time to try something new.
24. Pointy Nails Trend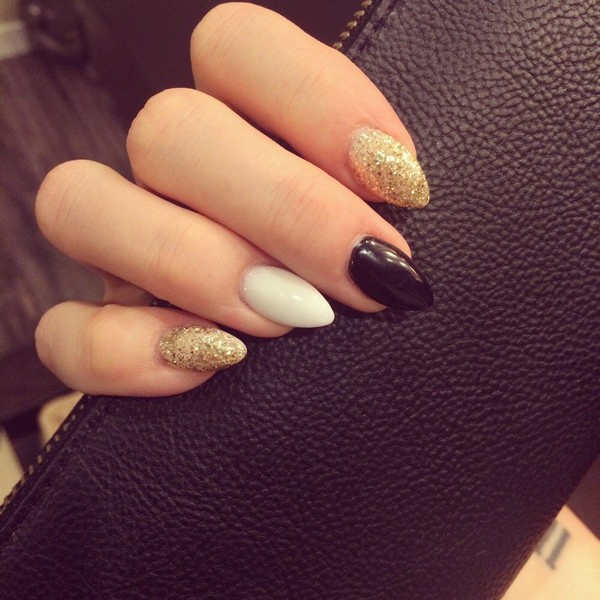 Solid colors combined with glitters are simple yet they are also sleek and sophisticated.
25. Silver Nails
This interesting nail design might inspire you to try this new look.
26. White and Black Pointed Nails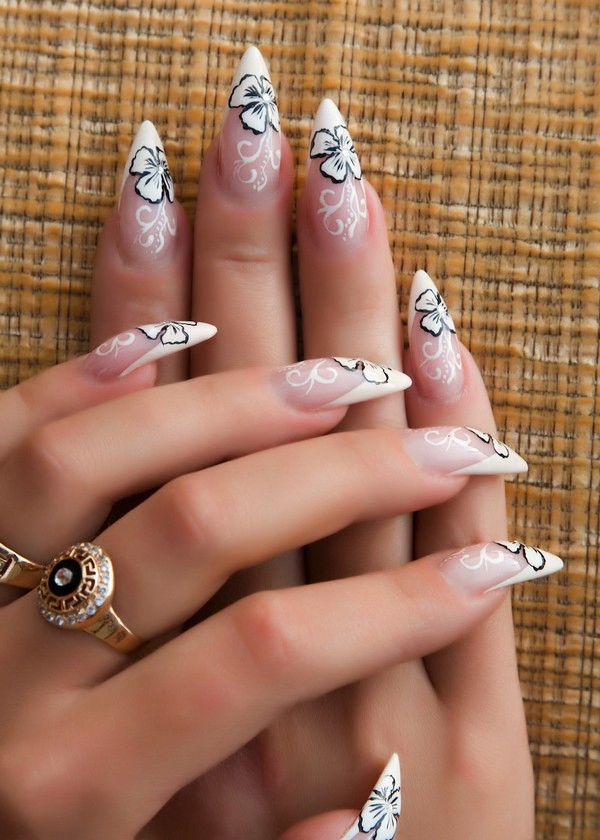 Simple nail designs are ideal for special occasions.
27. Black and Nude with Negative Space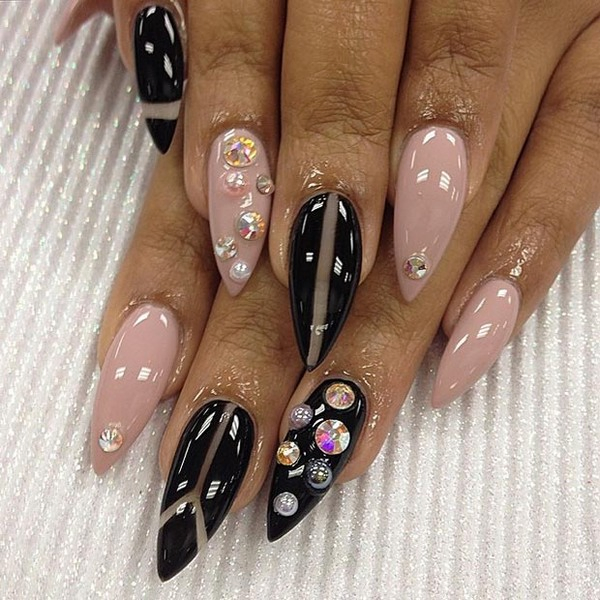 Negative space nails can be seen on most trendsetters.
28.
Short Pointy Nails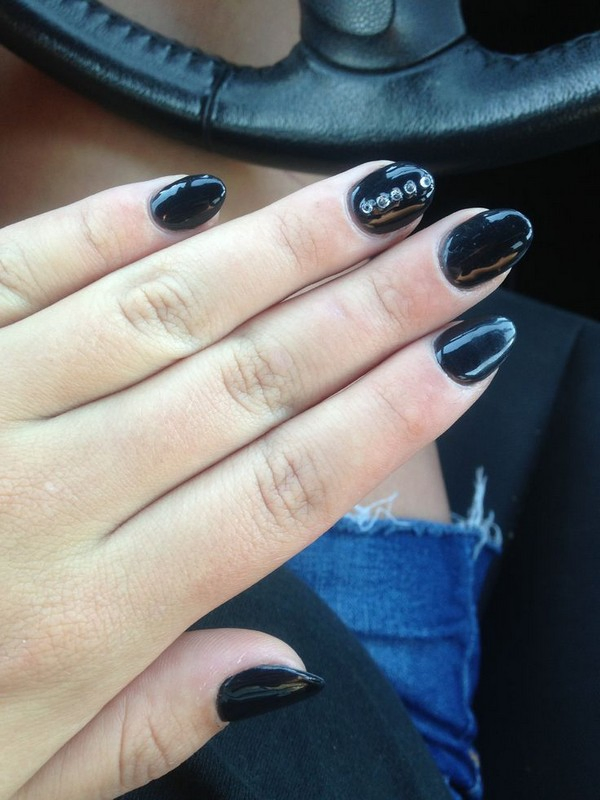 You can never go wrong with this fabulous nail design.
29. Half-moon Stiletto Nails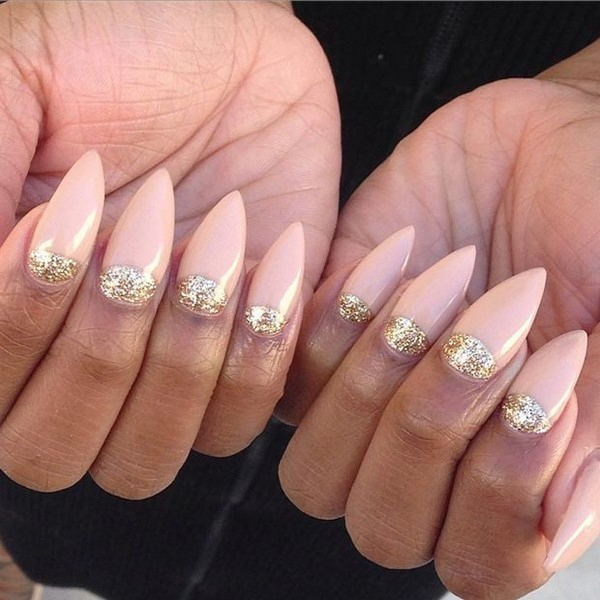 Want to stand out even more? This half-moon design done in gold and nude can go with anything.
30. Pointed Nails Trend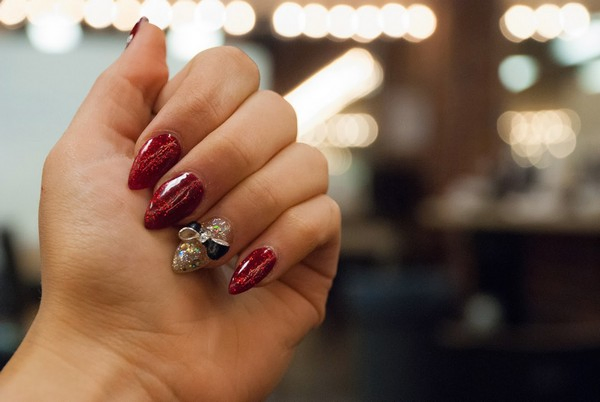 Pointed nails are perfect if you want to rock 3D nail art, so go crazy with the rhinestones, glitters, and other nail decors.
31.
Pointed Acrylic Nails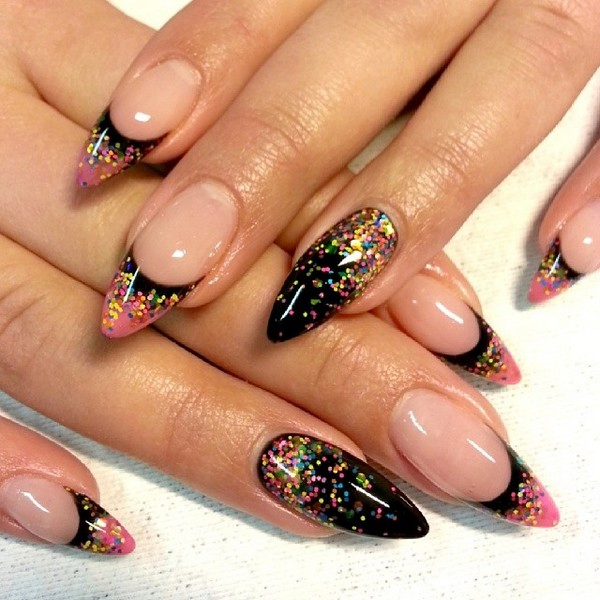 Some versions of pointed tip designs must be given a chance.
How to create Pointy Nails
Stiletto nails are not just about their pointy tips. It can be considered as a combination of art and science. There are a wrong way and a right way of wearing them. Some women have the misconception that they are wearing stiletto nails but the fact is they are actually wearing almonds or ballerinas.
However, as long as you are happy with it then it won't matter anymore. But don't forget that knowledge is power. Additionally, knowing more about stiletto nails can prevent you from going to salons since you can do it easily at your home. With the right file, you can have your "nails on fleek" in no time.
There are two ways of doing pointy nails. One is a natural way and the other is by using an artificial nail.
How to do natural Pointy Nails
If you are fortunate to have long and natural nails then all you need is a good file. Here are the steps for the natural way:
Step 1: Wait for your fingers to grow. Using a nail clipper start cutting at the edge of the finger and clip diagonally to the middle. Do the same on the other side and make it pointed at the top. You can also mark the middle of the finger as a guide.
Step 2: Use a nail file to smooth out the edges. Be sure to make it curvy at the top. All the edges must be smooth. Never go back and forth since it can break your nails.
Step 3: Buff your nails. Although this is optional, and doing so can help in making your nails smoother giving you a shiny finish. Do not do this more often because it can weaken your nails. Do this at least once a month so as to enhance the look of your nails.
Artificial Pointy Nails
Artificial nails are cheap and easy to get. It is a quick solution to get pointed nails. Obviously, it is also very easy to change and you can remove them whenever you want. Here are the steps for the artificial way:
Step 1: File your nails.
Step 2: Use nail glue and spread a thin layer on the artificial nail. Press it underneath the cuticle and apply pressure to make it look natural. This is the best way of achieving perfect pointy or stiletto nails.
Step 3: If your artificial nails are not yet pointed then you can use a scissor to cut the nail tips to make it pointed. Always aim for the center in order to create a perfect triangular cut. You can also put a dot at the center as a guide.
Step 4: Use a nail file on the edges in order to create a perfect shape.
Are you going pointy?
Are you getting inspired by rocking stiletto nails? If so then this is pretty much all the information you need to know. The possibilities are actually boundless, just think of combining a stiletto with your thumb ring.
This latest nail trend is no longer just for celebrities such as Rihanna, Kylie Jenner, Adele, and others. Love it or hate it but stiletto nails or pointy nails are always here to stay. You can also try other shapes such as oval nails or the always durable shellac nails.