If you have long hair, you may have discovered by now that creating effective curls and waves can be a bit challenging.
This is due to the fact that long hair can be more difficult to manage carefully in comparison to short hair. However, if you have the appropriate equipment to accomplish a successful hairstyle, we promise you that getting the look you want will be a walk in the park.
So keep on reading to view our list of the best curling irons for long hair that will help you turn even the straightest of hair into the most luscious waves and curls.
Best Curling Irons for Long Hair Overview
Before we jump right into reviewing each curling iron for long hair, take a look at our quick overview of these six high-quality and affordable curling irons.
Curling Irons for Long Hair Reviews
We've compiled a list of 10 of our favorite curling irons for long hair that are perfect for those looking to avoid the struggle of wrapping lengthy locks around hot tools. We've included all the important details for an effective product review such as in-depth descriptions, key features, advantages, and disadvantages.
Infiniti Pro by Conair Nano Tourmaline Ceramic
The Infiniti Pro by Conair Nano Tourmaline Ceramic Curling Iron is one of the best curling irons that suits all types of hair textures. This curling iron is an awesome styling device that features a ceramic curling iron implanted with tourmaline.
This beneficial feature distributes heat to your hair strands in equal amounts. It also has a brushless motor that draws the hair in and twists it. After you've finished curling your hair, you'll quickly see shinier results as well as the elimination of tangles and frizz.
In addition, a handy trick for keeping your hair extra smooth is to use coconut oil. This tip is not only useful for those with long hair but is also beneficial for people with thick hair.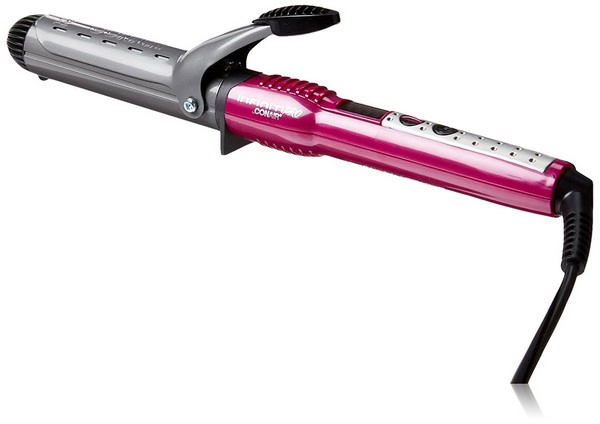 Moreover, the Infiniti Pro by Conair Nano Tourmaline Ceramic Curling Iron includes two heat settings and can warm up to 400 degrees Fahrenheit in just 3o seconds.
This curling iron for long hair also includes three timers along with sleep mode and a beeping control that tells you when each twist is finished.
Key Features
Nano tourmaline ceramic technology can decrease frizz and shield your hair from static
Longer barrel for easy styling
It has five temperature settings for all hair types
400-degree high heat setting for quick results
Warms up in just 30 seconds
Advantages
Creates both bouncy and loose curls
Quick warm-up time
Disadvantages
Consists of a modest tip, making it difficult to hold
Remington CI9538 Pearl Ceramic Conical Curling Wand
This particular curling iron is the perfect ceramic device for curling long, fine hair. With the Remington CI9538 Curling Wand, you can enjoy smooth, lustrous, tousled waves in a matter of minutes.
This curling iron for long hair is a standout amongst the most exceptional ceramic irons. It also features a crushed pearl infused barrel and ceramic coating for even, consistent heat. Plus, it can make your hair healthier-looking, more durable, and easier to twist with minimal harm and frizz.
These silk components along with the 410-degree high warmth settings and expert performance can bring about smoot salon-like twists in a short amount of time. Remington CI9538 can generate loose waves or tight bouncy twists using its 1-inch to 1½" barrel.
Moreover, the iron components allow for auto shut off after one hour and also includes a heat resistant glove to ensure safe operation.
This adaptable curling iron for long hair is appropriate for ladies who are daring when it comes to their twists.
Key Features
Extensive cone-like barrels that measure 1 to 1½-inch for creating bouncy curls
The ceramic provides even, consistent heat while styling, and the crushed pearl helps create smooth, frizz defying waves.
410-degree high heat settings providing proficient curls
The swivel electrical wire allows for more freedom to move around
Comes with auto shut-off
A 30-second warmth guarantees immediate heat
The temperature lock function allows you to lock the styler at your preferred temperature during styling.
Advantages
Easy utilization
Warms up quickly
Includes a safety glove
Disadvantages
Slightly complex features for novices
Hot Tools Professional 1110 Curling Iron
Our third curling iron for long hair on the list is the Hot Tools Professional 1110. This device has a multi-heat feature that provides temperatures of up to 428-degrees.
It also comes with the newest Pulse Technology for effortless and quick warmth. While twisting your hair, this curling iron gives you manageable consistent warmth, from low to high temperatures.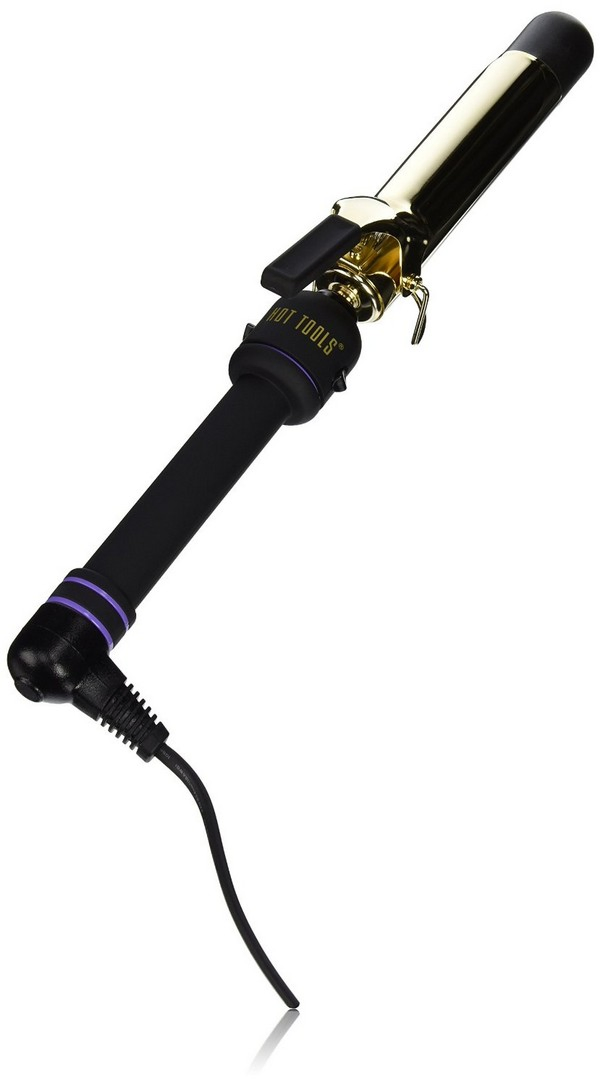 When using this tool, you'll notice that you don't require too much heat for curling coarse or thick hair. However, the warmth must be consistent in order to obtain the best results.
This curling iron also consists of 10 different heat settings, making it suitable for all hair types regardless of length or thickness.
Hot Tool Professional even includes a 24 karat gold plated barrel which is an important material for curling irons to feature. Gold is an excellent conductor of heat, making it a whole lot easier to curl your hair with its smooth gliding capabilities. Gold also makes your device look more way more fancy!
Be mindful when using this curling iron as it has a tendency to get exceptionally hot, so take extra caution when curling your hair. The good thing to know is that this curling iron has a delicately textured handle that is designed to keep your hand safe while curling.
Key Features
The primary handle can be locked and rotated
Includes an internal rheostat that regulates temperatures of up to 430 degrees
Foldaway stand for your safety
Comes with an 8-foot electric cord and an on/off switch
Boasts a 24 karats gold-plated barrel for extra glide
Advantages
Best value for your money
Easy to utilize
Disadvantages
Might harm your hair if in contact for too long
Xtava Auto Styler Professional Auto Rotating
The Xtava Auto Styler is one of the best curling irons for long thick hair. It is excellently designed to give you stunning twists and includes an astounding mechanized bi-directional pivoting innovation.
It also consists of an essential hair clip and an LCD screen. With this curling iron, curling your hair can be easily accomplished with just a touch of a button.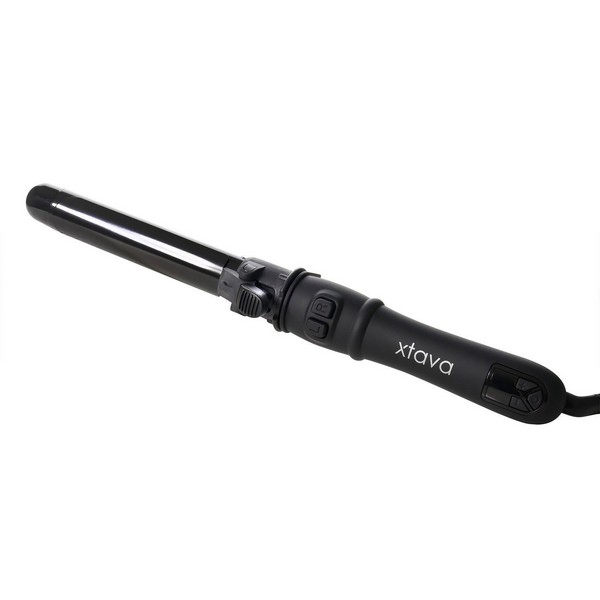 Just clasp your hair into the hair clip and this device will do the rest, giving you sultry, rapid results. One of its main features is its ceramic tourmaline barrel that generates consistent heat for long-lasting, smooth curls.
This curling iron also comes with 11 temperature settings to give you the exact warmth that you need for your hair type. If you have long, thick, wavy hair then you should choose the highest temperature on te scale. However, a low temperature is appropriate for fine, long hair.
In addition, the Xtava Auto Styler also comes with a 360-degree swivel wire that measures an impressive nine feet which prevents any entanglements and is perfect for far-reaching outlets. Whether you have thick or thin hair, this curling iron is a great option for you.
Key Features
Global double voltage makes it perfects for traveling
Auto turning control for an effortless curl
11 temperature options to choose from
Clear LCD screen
360-degree swivel wire with a length of nine feet that can reach far outlets
Advantages
Comes with an auto shut-off in case left unattended
Ceramic tourmaline barrel works great on smooth twists
Disadvantages
Can get reach a high temperature unexpectedly and doesn't come with glove
Bio Ionic Long Barrel Styler Curling Iron
The Bio Ionic Long Barrel Styler comes from a group of Elite Pro Styling and is one of the best hair curlers for long hair on the market today.
It boasts Nanonionic components to create negative particles that counteract the positive particles from your hair. These particles separate water from your hair to generate atoms that enter further into the roots to create a smooth and sleek feeling.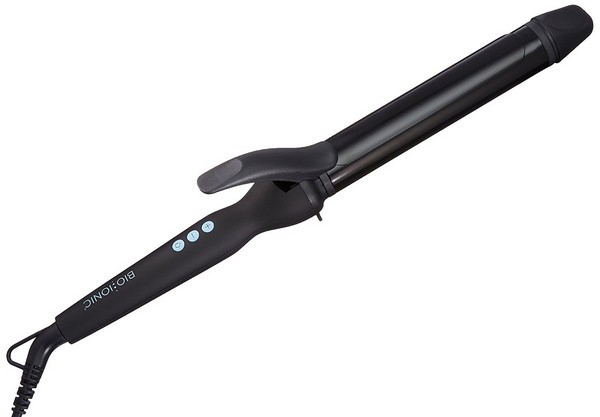 With its long barrel, you can guarantee that it is excellent for twisting long hair. Simply wrap your hair around the barrel and let the iron do its job. The barrel also measures an impressive two inches long.
Likewise, this curling iron has a multi-level heat control setting that guarantees exceptional hydration making your hair shiny and well-conditioned. With this device, styling your long hair won't be difficult anymore as its barrel is suitable for those with long hair.
Key Features
Computerized temperature control
Auto shut-off for safety
The nine-foot swivel wire makes curling easier
Easy-to-grasp handle
Advantages
Easy to use
Generates long-lasting twists
Convenient hand grip
Disadvantages
Only available in one barrel size
BaBylissPRO Nano Titanium Spring Curling Iron
The BaBylissPRO Curling Iron gives you such effective natural-looking curls that those with thick and coarse hair are amongst its most popular customers. Assuming that you have thick or coarse hair too, we promise that you're at the right place since you will be soon bidding farewell to your hair problems.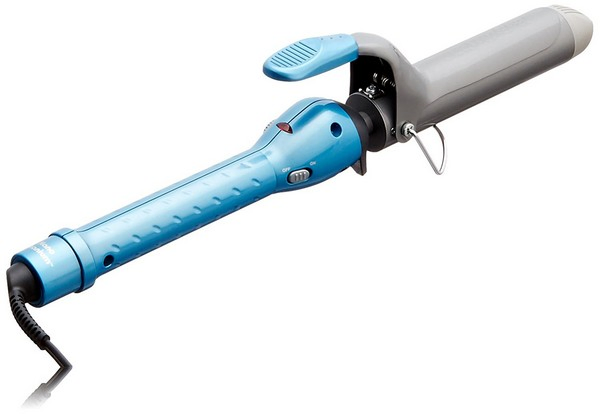 Babyliss Pro BABNT125S is the appropriate solution for your curling issues if you are having thick to coarse hair. This titanium device generates sufficiently high heat that can twist any hair type. Titanium is a light metal that generates negative particles or ions that work to keep hair healthy.
Negative ions are best for creating smoothness and decreasing the occurrence of frizz. Likewise, this curling iron for long hair is capable of generating heat equally which is a key feature of a reliable curling tool.
Key Features
Generates beautiful textured twists and waves
Provides you with high heat temperatures for curling long hair
Guarantees security when using ultra-high temperatures
Negative ions from its barrel make your hair smooth
Enters the hair shaft from the inside to give you proficient styling without causing any harm to your hair
Advantages
Gives you endless options in curling
Provides you with a salon-quality result at home
Disadvantages
Reaches high temperatures unexpectedly
Doesn't come with a glove
The Beachwaver Co. Coast Pro Titanium Styling Iron
Most curling irons are well known to take a considerable length of time just to accomplish basic twists and curls. Not all curling irons can warm up fast and some don't even pivot effectively.
However, The Beachwaver Curling Iron provides professional quality results in minutes and is perfect for curly, coarse, and thick hair!
This moderately priced curling appliance is definitely one of the best curling irons for long hair with just three easy steps you can achieve bouncy waves in a matter of minutes. First, clamp your hair, rotate the curling iron, hold for three seconds, and release. Easy!
This device has a pivot functionality so you don't need to twist your wrists or hands excessively in order to accomplish the curls that you want. Additionally, there's no need to wait too long for this curling iron to warm-up as it quickly heats up in less than a minute.
The heat can also be modified to 450 degrees Fahrenheit. For utilizing this hair curler, position it horizontally, and simply press the UP or DOWN button until it reaches close to the root.
Key Features
Heats up in less than a minute
Creates loose beach waves
Heats up to 450°Fahrenheit
Comes with an automatic power shut-off
Advantages
Affordable price
Easy styling for short thick hair
Disadvantages
The clip for securing hair in place is short
Three-Barrel PrettyQueen Fast-Heating Curler
This Three-Barrel PrettyQueen Curler is a one-of-a-kind creative curling iron particularly designed for long hair. Notwithstanding its triple-barrel function, it provides various standard components that are perfect for long hairstyles.
It also features customizable temperatures and uses tourmaline and ceramic innovation for easy gliding.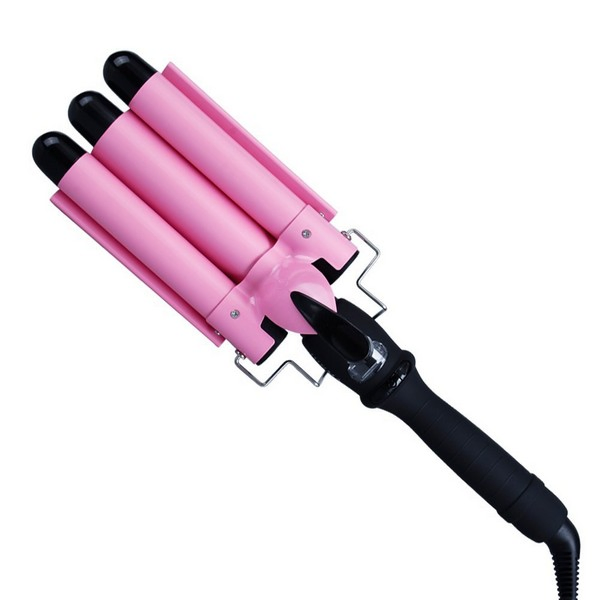 While this device is not perfect for tight twists, those with long hair claimed that it has an excellent performance.
It gives you expanded volume, rich waves, and gleaming looking hair. Figuring out how to utilize this hair curler efficiently may take some time. However, once you get the hang of it, this curling iron will spare you a lot of styling time.
Key Features
Adaptable temperature
Utilizes tourmaline and ceramic technology
Advantages
Creates curls in just a matter of minutes
Gives you shiny and healthy-looking hair
Disadvantages
Revlon Perfect Heat Jumbo Three-barrel Waver
The Revlon Three-barrel Hair Waver is not meant for those who desire basic curls and ringlets, but instead, it's an ideal alternative for creating "S-formed" curls. One of its greatest highlights is its triple-barrel features. It also combines both tourmaline and ceramic innovations to give you extreme hair protection and conditioning.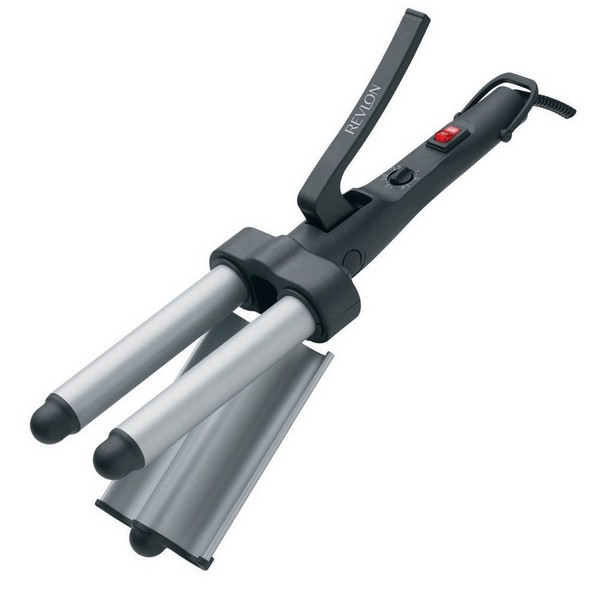 With its various heat settings as well as a 60-second warm-up time, it can work perfectly on any hair type. You'll definitely love it's speed settings, advanced triple-barrel system, and effortless storage.
This curling iron for long hair is to some degree heavier and may result in arm exhaustion especially if you have thick hair. Nevertheless, styling time is lesser than using single-barrel curling irons for long hair.
Key Features
Uses tourmaline, ceramic, and ionic technologies
Comes with several temperature settings
Advantages
Easy to store
Excellent curling speed
Disadvantages
Can cause arm fatigue since it is a bit heavier than common curling irons
Infiniti Pro by Conair Curl Secret
Contrary to customary curling irons for long hair, the Infiniti Pro Curl Secret gathers little segments of your hair into a twisting chamber where it is heated all over.
When the time is up, an impeccable twist is then created. This hair curler has an excellent capacity to make curls that are long-lasting. Which is why it's popular for those with long hair.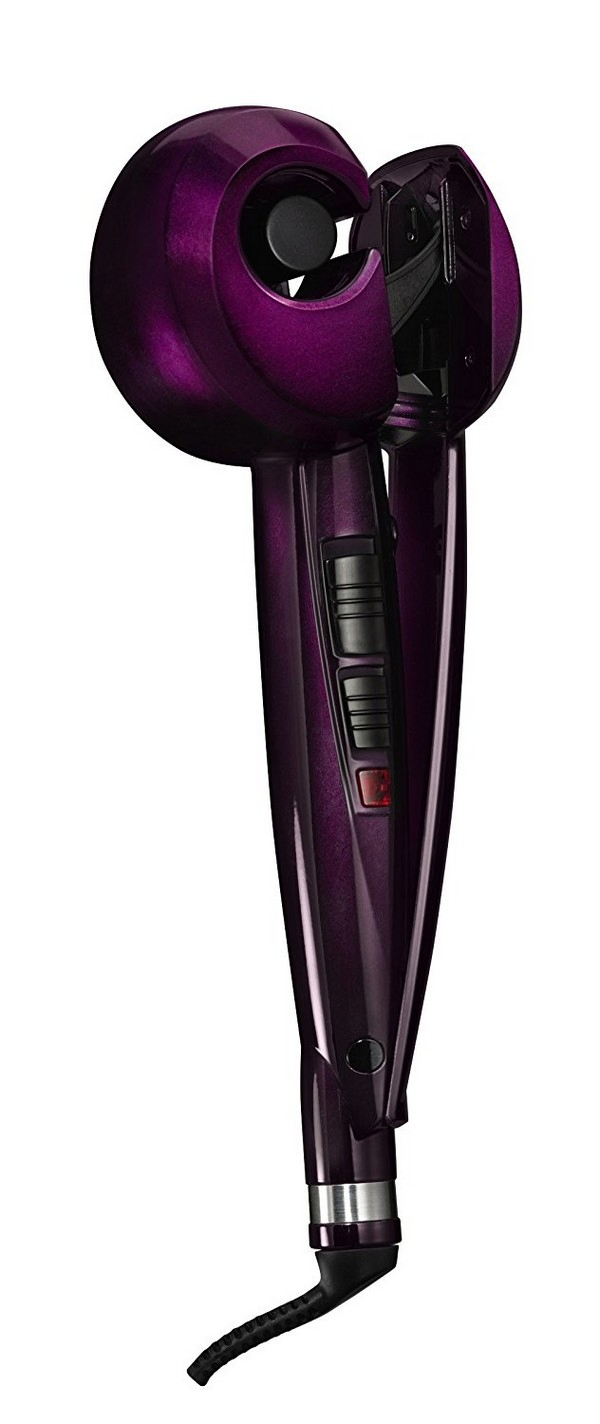 Interior twisting surfaces utilize tourmaline innovation to shield hair from damaging heat. This equipment includes three timer controls as well as two heat settings. Numerous customers have claimed that this curling iron gave them incredible curling results.
However, new users be cautious. Beginners have complained of their hair getting caught in the device.
Key Features
Heats up hair in all areas equally
Tourmaline technology secures hair from heat damage
Advantages
Provides you with long-lasting curls for long hair
Comes with three timer settings and two heat settings
Disadvantages
Takes beginners time to learn how to use it
How to Choose the Best Curling Irons for Long Hair
For those who dream of having long, wavy hair but struggle to wrap their hair around a basic curling wand, it can be difficult to believe that curly, long hair is achievable. Nonetheless, styling long hair is not different from styling short hair. Not when you have the correct tools.
If you're getting tired with your typical everyday hairstyle then our best advice is to curl or twist it using curling irons for long hair.
Picking the ideal curling iron for your hair depends on how wavy you want your hair to be. Keep in mind that the rule of the thumb is the longer your hair, the wider the curling iron should be. Good quality curling irons for long hair can create stronger twists since you will be able to wrap more hair around the wand or iron.
Therefore, you must pick the right equipment that is appropriate for your particular type of long hair. So in order to provide you with a brief recap of our favorite curling irons, here are our seven top tips for choosing the best curling irons for long hair:
Long hair requires a curling iron with a wider wand
Thick long hair needs a curling iron with high temperatures
Fine long hair requires a curling iron that can reach a low temperature
Frizzy long hair should be curled using a curling iron that releases negative ions
Color-treated long hair requires a curling iron with a wide range of temperatures so that you can alter the heat settings
Loose curls can be achieved by using a curling iron with a bigger barrel
Tighter curls can be created by utilizing a thinner barrel
You're welcome! Choosing your next iron will be a breeze with this list handy!
How To Use Curling Irons for Long Hair
Next up, we've compiled a step-by-step guide for creating the perfect curls and waves for with curling irons for long hair.
Divide Your Hair
Begin by dividing your hair into 2 sections. However, if you have extremely thick hair then you may need to separate 3 sections.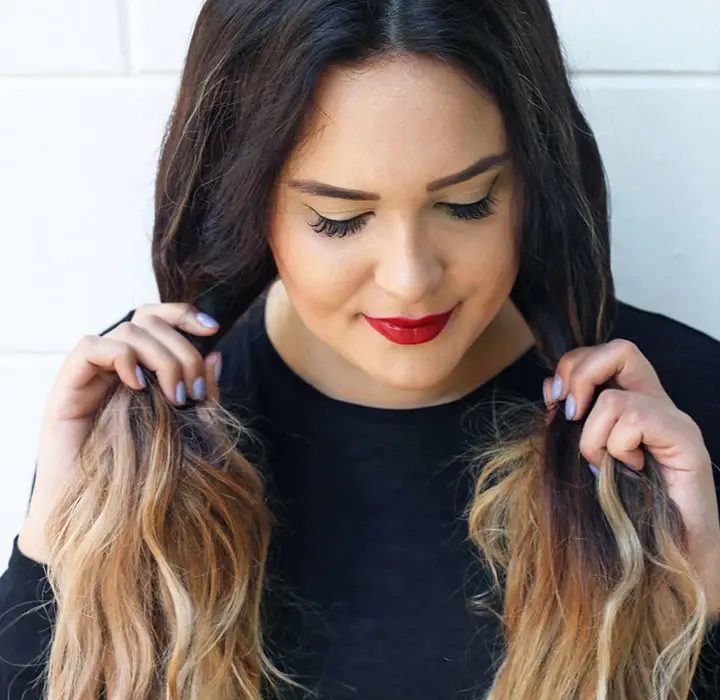 Hold the Curling Iron Vertically
Get your curling iron and hold it vertically. Make sure that the clip is facing forward. Start by clipping 2-inches of hair around 1-2 inches from the tip. Twist the hair out and far from your face. Hold it for 7-12 seconds depending on your hair texture. Continue to twist the front section of your hair far from your face.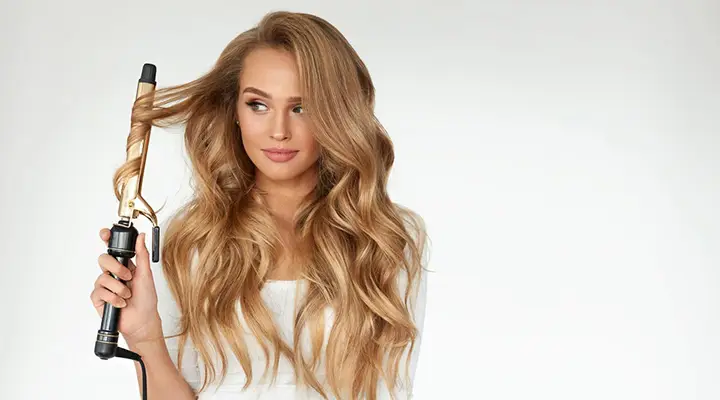 Switch the Direction of the Curling Iron
After you're finished with the front section of hair, switch up the course of the twist to make a truly natural look. Hold the curling iron vertically and this time the clip should be facing the other way. Clamp the hair around 1-2 inches from the tips and twist the iron in moving towards your head, until it reaches the roots. Hold it for about 7-12 seconds then gradually release the clip.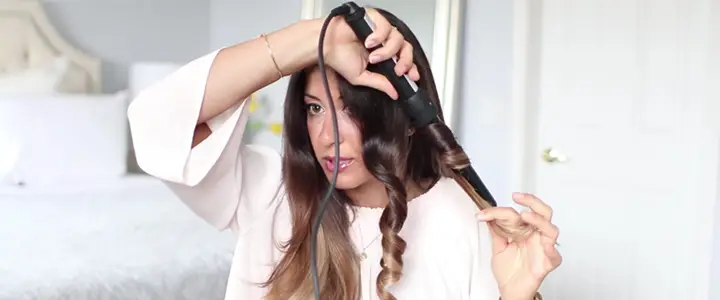 Curl the Top Layer of Hair
When you reach the top layer, make sure to twist the front segments of hair out and far from your face. For the front portion, on either side of your face, it shouldn't be as wavy as the others. Hold the curling iron for less time, around 5-7 seconds, to give you looser curls.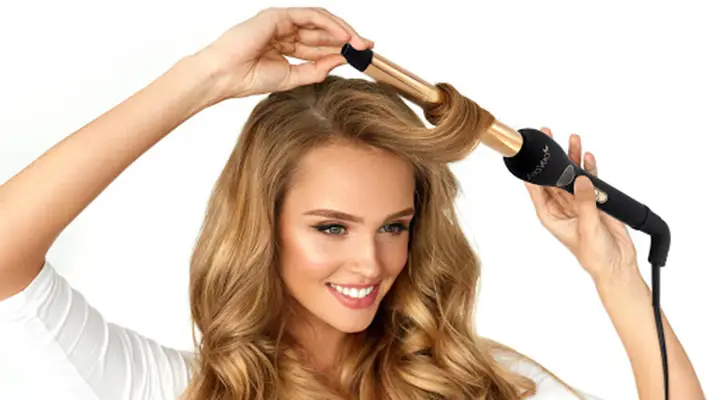 Brush Your Hair Out
When completed, slowly flip your hair forward then back and run your fingers through your hair to dispose of the organized curls. To get even more results, use a round brush instead of your fingers. Finally, use hairspray to set the curls in place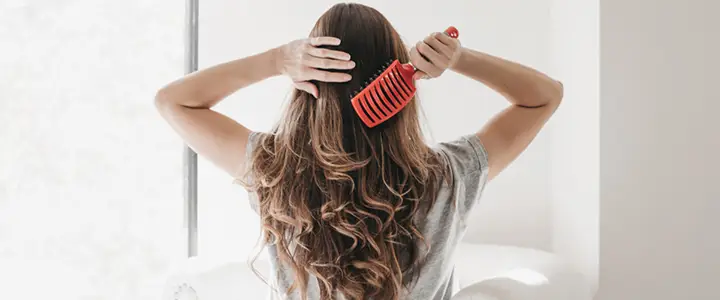 Frequently Asked Questions on Curling Irons for Long Hair
If you have long hair, you probably already know how difficult it can be to style it at times. It takes extra effort, a lot of elbow grease, and loads of determination especially when your arms get tired!
One way you can fight against these things is by using the right tools. Here are some commonly asked questions related to curling irons for long hair to help you along the way:
u003cstrongu003eWhich curling iron is the best to use?u003c/strongu003e
Picking the right tool for your hair type can be challenging. The best kind of curling iron to use will u003cstrongu003edepend on the style you desireu003c/strongu003e. If you want u003ca href=u0022#best-curling-iron-to-useu0022 class=u0022rank-math-linku0022u003eloose curlsu003c/au003e, a bigger barrel is best but if you want a tighter curl you should use a curling iron with a smaller barrel.
u003cstrongu003eHow many seconds do I leave long hair on a curling iron?u003c/strongu003e
How long you curl your hair may depend on the type of device you're using. It's best to start at a low temperature and work your way up so you don't cause any damage to your hair. Start with holding your curl for u003ca href=u0022#how-many-seconds-to-curl-my-hairu0022 class=u0022rank-math-linku0022u003e10 secondsu003c/au003e and wait until you reach your desired hold.
u003cstrongu003eHow do I get my curls to hold?u003c/strongu003e
Something you could do to help the longevity of your curls is to spray them with u003ca href=u0022#how-to-keep-my-curls-intactu0022 class=u0022rank-math-linku0022u003ehairsprayu003c/au003e after the curl has cooled and you have brushed it out and styled it to your desire. u003cstrongu003eAvoiding humidityu003c/strongu003e is the best way to keep curls intact for longer.
Get Your Curling Iron for Long Hair Today
Even with the best curling irons for long hair, make sure to take your time and practice in order to achieve the extraordinary hairstyle that you're looking for. However, with the appropriate tool for your hair type and desired hairstyle, you should be able to catch on very quickly!
Our handy guidelines and hands-on experience will hopefully eradicate any challenges you may have faced in the past about how to curl your long hair. Oh, and remember, when using a curling iron, always practice safety. Unplug your curling iron after every use to prevent any accidents.
So, what type of curly hairstyle are you interested in, and which curling iron do you think you'll purchase? Or let us know in the comments below which curling irons for long hair have worked out best for you! We love hearing from our readers worldwide!