Are you in need of a new pair of hairdressing scissors for your salon, but don't know where to start? Or maybe you're just beginning your hairdressing journey and are looking for the best scissors for hairdressing that are trending this year!
Either way, we've scoured the internet to find you the best scissors available right now. Read on to discover what pair of scissors is right for you.
Hairdressing Scissors Versus Hair Cutting Scissors
You may have read our recent article about hair cutting scissors and might be a bit confused as to why we are posting another article about hair cutting scissors. However, hairdressing scissors are actually different from regular scissors as they are designed for salon use.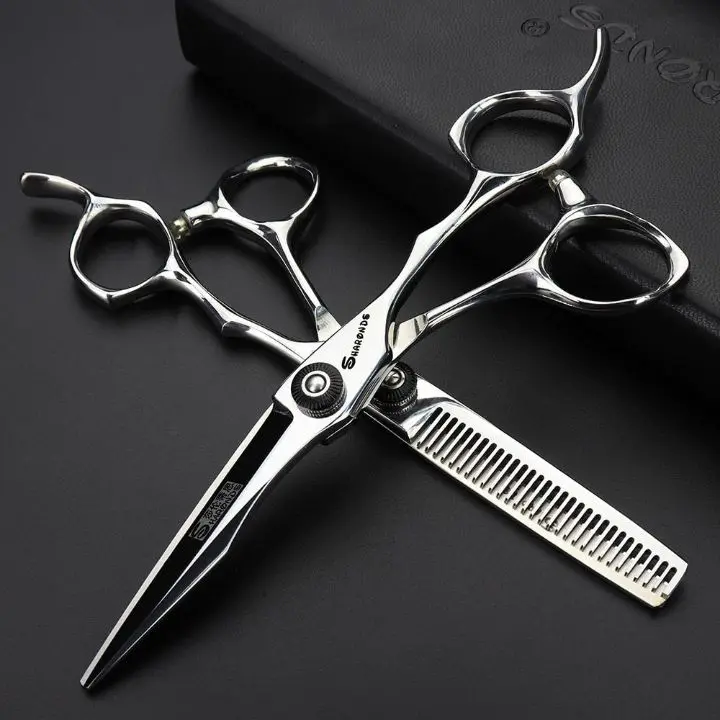 This means that they are designed to not only cut precisely and cleanly but also be super comfortable for extended periods of use.
They are also built to last. They are designed to be used for hours on end, and to still cut brilliantly! Because of this, they are normally more expensive than regular hair-cutting scissors.
Types of Scissors for Hairdressing
There are many different types of scissors for hairdressing, and this can be a bit confusing at first. There are regular hairdressing scissors, texturizing hairdressing scissors, and thinning hairdressing scissors. You will need all three in your kit!
Regular hairdressing scissors also come in different designs, with different blades and sizes. This means that you can find the perfect hairdressing scissors for your needs.
Blades
Most hairdressing scissors are made with either a convex blade or a beveled edge blade. A convex blade is also known as the Japanese style blade and is the sharpest blade on hairdresser scissors.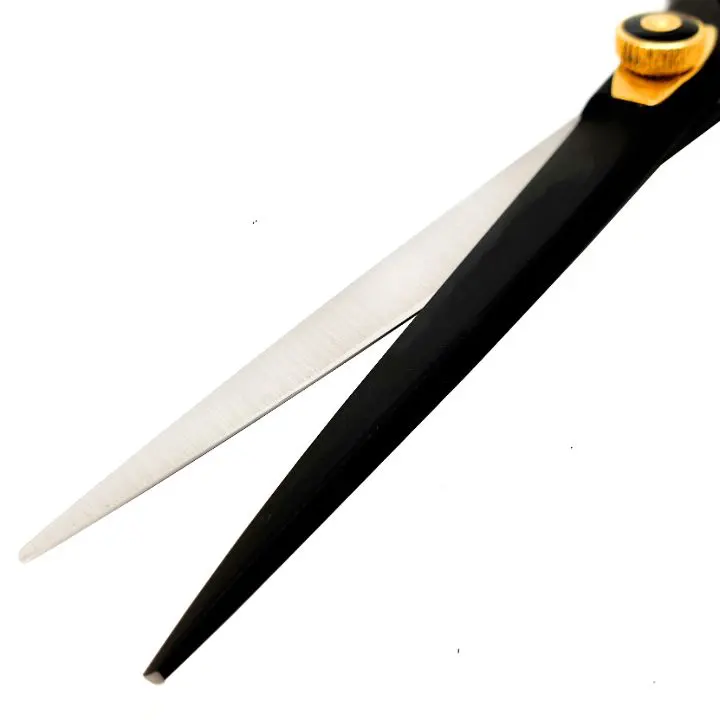 The inside of the blade is hollow ground and this means that the blade cuts extremely smoothly. They are versatile scissors and are perfect for all types of hairstyles.
A beveled edge blade is also known as a German edge and is different from the convex blade as there are micro serrations on one or both of the blades. This means that the scissors hold the hair well.
These blades normally last longer than other types and will not need sharpening as much. They are also usually made from mixed metals, meaning that they are lighter. However, they are not the best when it comes to intricate hair cutting.
Handles
Hairdressing scissors also have a range of different handles, all designed ergonomically for comfortable use. There are four different types of handles that can be found on scissors for hairdressing.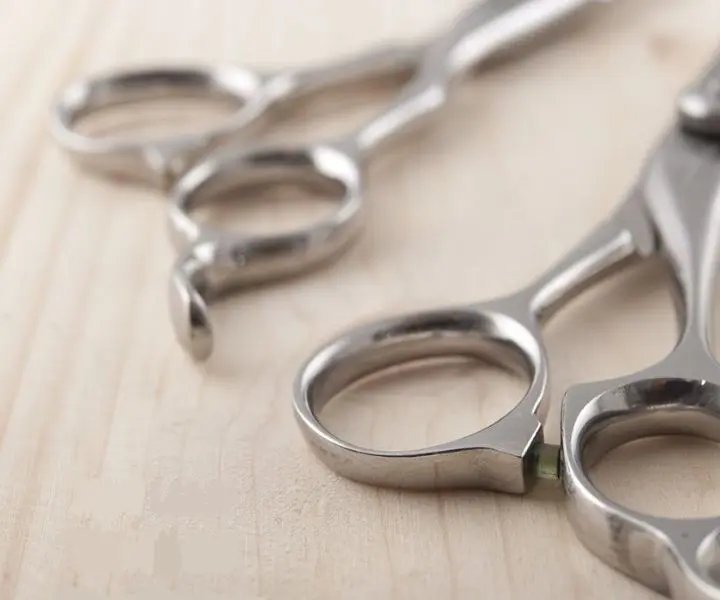 Level Handle: This is where both the handles are even and symmetrical.
Offset Handle: A pair of scissors with an offset handle is one where one handle is longer than the other. It is designed for less strain on the hands. A lot of hairdressing scissors have this kind of handle.
Swivel Handle: A swivel handle means that one of the hoops is on a screw for smooth, comfortable use. It takes a while to get used to it, but many hairdressers never go back to other handle types once they use the swivel handle!
Crane Handle: This handle is pretty similar to the offset handle, however, the handle curves around for a perfect fit.
How to Choose the Right Hairdressing Scissors
If you are new to hairdressing, it is really important to make sure your scissors are perfect for you! Thankfully, there are so many different options out there and with our step-by-step guide you can figure out which pair is right for you.
Step 1 – Left or Right-Handed?
Some manufacturers will tell you that their scissors are suitable for both lefties and right-handed people, but, the reviews normally say otherwise.
If you are left-handed, we recommend you buy scissors that are specifically designed for left-handed people. This means they will be extra comfortable for you!
Step 2 – Know How You Will Use Them
It is great to have a think about what you will be doing the most with these scissors before you buy them. Do you do a lot of layering and feathering? Perhaps you will often cut short hairstyles?
Look at the different types of hairdressing scissors and work out which will suit your needs best.
Step 3 – Pick the Right Size
Next, take a look a the different size options. Longer scissors are great for cutting long hair with basic techniques. However, if you do shorter intricate designs, a smaller pair might be better. Also, be aware of the size of your hands and what fits!
Our Favorite Hairdressing Scissors
Now that you know what you are looking for, let's find the perfect hairdressing scissors for you. Here we have picked our favorite scissors for hairdressing that are perfect for beginners and experts alike.
Best Professional Hair Cutting Shears: Japanese Hitachi Professional Hair Cutting Scissors by Aerolite Scissor Company
These sleek hairdressing scissors are the best out there right now, with so many rave reviews! They are lightweight and designed to be used daily.
According to the manufacturer's website, these scissors are forged with molten heat and then tempered in sub-zero ice. They are then sharpened by using diamond abrasives and coated with an antimicrobial copper-infused surgical coating to make them last a lifetime without degrading or becoming unclean.
The brand also sells scissors specifically for left-handed people that work just as well!
Best Hairdressing Thinning Scissors: Professional Texturizing Scissors by Missum
A pair of thinning scissors are a must for your kit. They allow you to texturize and thin hair, creating shape and taking weight off thin hair. These thinning scissors are great, catching and texturizing thick hair easily.
Built with 440C Japanese stainless steel, they are lightweight and really easy to use. This is because they are designed with a mix of smaller and bigger teeth, meaning that the hair will not slip out of the scissors. These scissors allow you to blend the hair perfectly!
Best Hairdressing Styling Scissors: Professional Hair Cutting Scissors by Fengliren
These professional hairdressing scissors are perfect for styling the hair as they are lightweight and easy to use. The blades are thin and sharp, allowing for flexibility and precision.
These scissors can be used on all types of hair and facial hair, and their ergonomic design allows for a huge range of haircutting techniques. Their offset handle means that they are super comfortable and perfect for hairdressing beginners!
Overall, a great pair of scissors at a good price.
Best Japanese Hair Scissors: Diablo Professional Haircutting Shears by Kamisori
These hand-forged hairdressing scissors do not just look great, they feel great too. The offset handle means that they are comfortable and suitable for anyone. With a convex blade, they produce an incredibly smooth cut and are designed to last for twenty years.
Their tension system is great, with a screw that can be adjusted with ease. This means you can be super precise when altering the tension!
Best Affordable Hair Salon Scissors: Hairdressing Scissors by Glamtech
If you are new to hairdressing, you may be reluctant to splash out on a really expensive pair. This is understandable as you might not be sure of what type works best for you!
Thankfully, there are so many options when it comes to affordable hair salon scissors and this pair from Glamtech is our favorite. With an offset handle and removable finger rests, these scissors are designed to be used for long periods of time.
The adjustable screw is really simple to alter, allowing you to find the tension that you need.
Top Jaguar Hairdressing Scissors: Silver Ice White Line Hair Scissors by Jaguar
This German company has been around since the seventies and therefore has a lot of experience in making scissors for hairdressers! Jaguar scissors are used by so many different stylists because they are just so good.
These scissors are our favorite by Jaguar. They are simple and timeless and designed for preciseness and comfort. The blades are super sharp and stay sharp for a long time as long as they are looked after properly.
A high-quality pair of scissors, you will not regret your purchase!
Bonus: Best Hairdressing Scissors Kit: Professional Hairdressing Shears and Thinners by Olivia Garden
Every hairdresser needs a pair of scissors, a pair of thinning shears, a cleaning cloth, an oil brush, and a case to keep your scissors in. Thankfully, you can often buy all of these things in a set, including this one by Olivia Garden!
This set includes high-quality 5-inch hairdressing scissors and a pair of thinning shears with 35 teeth. Both pairs are suitable for a whole range of styles and techniques. The convex blade means that the scissors are super sharp and the offset handle is designed for comfort.
The case means that you can keep your tools clean and safe when not in use!
Hairdressing Scissors Sharpening Easy Guide
In order for the blades to stay sharp for longer, make sure you oil them and keep them clean and out of the way when not in use. You should also never touch the blades as you might get dirt or debris on them.
However, you will have to sharpen your scissors one day. Some stylists prefer to go to a specialist to get them sharpened, but you can sharpen them at home too.
These are our top three techniques for sharpening your hairdressing scissors at home.
Store-Bought Scissor Sharpeners
Yes, you can buy a tool specifically for sharpening scissors! Scissor sharpeners can be cheap and do their work quickly, meaning that they are ready to use again in no time.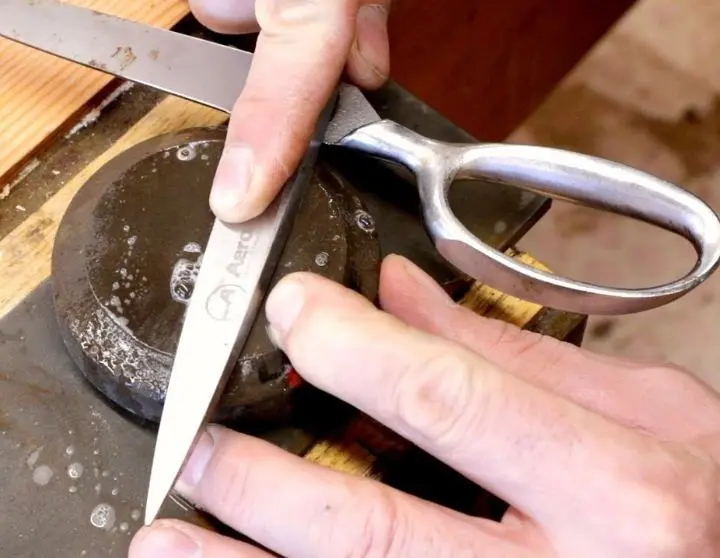 Sandpaper
This is a great trick for sharpening scissors at home. Simply cut through the sandpaper over and over again and as you are doing it, the paper will be sharpening your scissors. You may wish to fold over the sandpaper to get better results.
Aluminum Foil
Another common household item that can be used as a scissor sharpener is aluminum foil. Fold the foil over and over again until you have a long, thick strip. Then, with big strokes, cut along the strip. The friction will sharpen your scissors.
After you have sharpened your scissors, remember to wipe them down to get rid of any debris that might have come from the foil or the sandpaper.
Hairdressing Scissors Commonly Asked Questions
Here we have answered some commonly asked questions about scissors for hairdressing. If you have a question that is not listed here, feel free to ask!
What are the best hairdressing scissors?
We think that the best hairdressing scissors out there right now are the Japanese Hitachi Professional Hair Cutting Scissors by Aerolite Scissor Company. They are suitable for both beginners and expert hairdressers alike and are designed for daily use. They are extremely sharp and very comfortable.
What scissors are best for cutting hair at home?
When it comes to cutting hair at home, the best scissors depend on what hair you will be cutting. However, a pair that is lightweight with smaller blades and an offset handle will be perfect for cutting hair at home if you do not have any professional training.
What are the different types of hairdressing scissors?
Hairdressing scissors come in different types. The three main types are regular hair cutting scissors, thinning shears, and texturizing scissors. In each category, there is a range of scissors.
Different hairdressing scissors have different blades, handles, and sizes. Make sure you find the pair that is perfect for you!
What is the difference between hairdressing scissors and normal scissors?
Hairdressing scissors are designed to be used for a long period of time. Therefore, they usually have an ergonomic design that allows for total comfort. The blades are also usually super sharp, allowing the hairdresser to be precise in the cut, creating a whole range of styles for their client.
What Is Your Favorite Pair of Hairdressing Scissors?
We love the hairdressing scissors we featured. But we know that there are so many different types and styles out there! We would love to hear about your favorite pair of scissors and why you love them so much.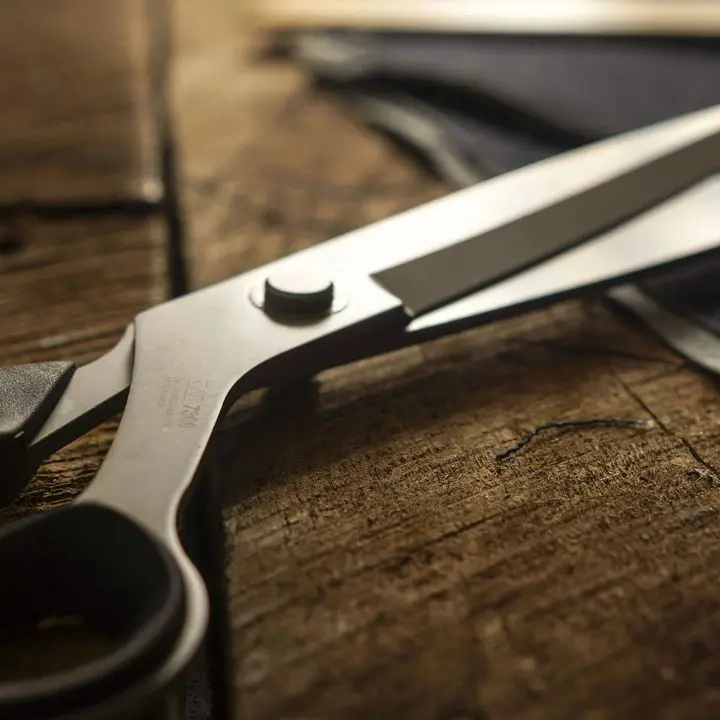 Which pair do you swear by? Perhaps you always buy from the same company and they never let you down?
If you are a salon owner or hairdressing at home or on the road, a pair of hairdressing scissors is a must! We hope this guide has helped you pick your next pair of scissors for hairdressing.