Nowadays, most women own a hair straightener in their beauty arsenal. A hair straightener or oftentimes called flat iron is a tool that smooths out the follicle of your hair under two hot plates. There are likewise high-quality straighteners that multi-task and can produce rich loose waves and curls minus the kinks.
You may wonder why the hair straightener is prized these days. For one thing, not everyone is born with naturally pin-straight hair. Thus, if you are aiming to achieve those shampoo commercial-worthy tresses, then you must invest in a high-quality hair straightener.
Meanwhile, keep in mind that it is possible that one straightener that works miracles on your friend's natural fine locks will not have the same wondrous effect on your thick curly hair. At the moment, there are several hair straighteners available in the market for various types of tresses.
Some products feature ceramic plates and low heating options suitable for fine damaged hair. On one hand, other products offer heat settings that are higher plus sizable plates to be able to handle voluminous curly mane.
Best Hair Straighteners Reviewed
Prior to purchasing your own coveted straightener, first, consider your hair type and find the right product that will deliver you the finest result. Before you swipe your card and purchase that product, have a look at our list of best hair straighteners available in the market. Each review will guide you in finding the right tool that will help you attain professional quality results!
HSI Professional Glider
The HSI Professional Glider proves that having an iconic brand name is not everything. Compared to other prominent brands this well-reviewed product comes at roughly $40, however, still delivering remarkable results. Its plates are solid ceramic and infused with tourmaline. With this fusion, users will surely receive a steady temperature and a satiny finish.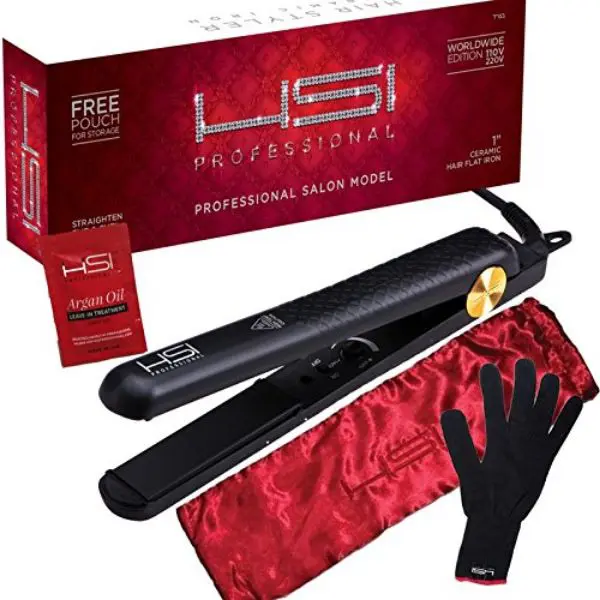 This straightener also provides a wide range of heat settings allowing those with thin hair to apply reduced heat, while users with thick hair can boost the temperature to make sure they have the same satiny results.
Although, there are comments about the location of its controls which you can find inside its handles rather than outside. Others say they have a hard time monitoring and changing the settings. Moreover, you will find that the product does not automatically shut off. All in all, with its more than 30, 000 Amazon reviews the HSI Professional Glider is a premium product worth considering.
BaBylissPRO Nano Titanium Mini Straightening Iron
For frequent travelers, the Babyliss Pro Nano Titanium Mini Straightening Iron is your ideal companion. It blends functionality, convenience, and low-cost excellently making it your perfect travel buddy.
At 6 inches long, you will have no dilemma in fitting it in your carry-on bag or pouch. Those with thick curly hair will be happy to discover that the tool can be adjusted up to 430 degrees Fahrenheit allowing it to straighten those customarily challenging, coarse, & curly manes.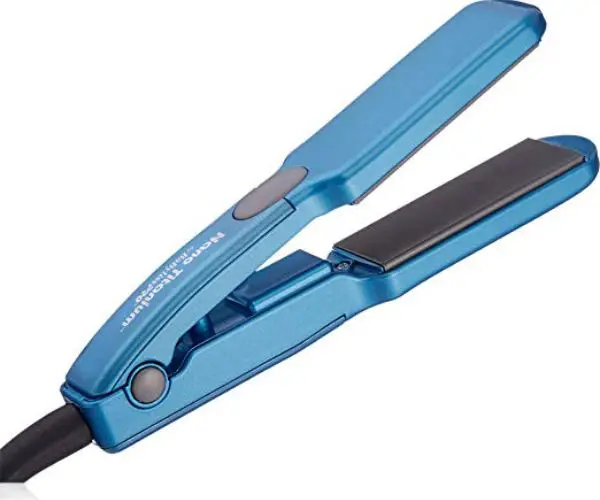 In spite of these favorable reviews, there are a few downsides to this product. Like the HSI Professional Glider, this straightener does not have an automatic shut-off. Users with longer hair will also have a lengthier time straightening their locks because of the small plates.
For the most part, while it does have drawbacks this product still garnered an excellent rating from its purchasers.
T3 Micro Single Pass Flat Iron
Do you have stubborn, coarse, thick hair? Then the T3 Micro Single Pass Flat Iron is for you! It showcases the revolutionary Single Pass System to handle even the thickest hair.
Different from the other known brands that call for multiple swipes, the T3 ensures superior results in merely one pass.
What's more unlike the two products featured above the T3 offers its buyers a distinctive auto-off feature to deter breakage and overheating.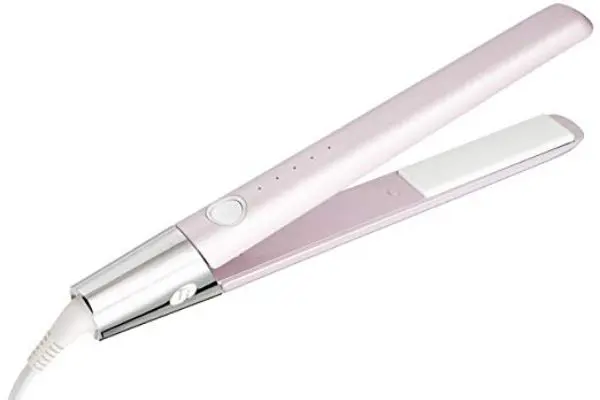 Equally important is that this product boasts three incredible features to give users more luster in their hair. In detail, its plates are infused with Tourmaline, Ceramic, and Ionic Technology. This mix, it makes sure that clients will have silky, satiny hair minus the frizz. The only downside noted with this product is that it is not suitable for people with fine hair.
Karmin G3 Professional Styling Iron
In the meantime, those with fine hair need not be disheartened. This type of hair is vulnerable to heat damage due to its thin strands. Fortunately, the Karmin G3 is available for those with fine hair or delicate locks that resulted from chemical treatments such as bleaching or dying.
With its 1-inch plates, it does not only straighten hair but also curls and flips those locks that typically fall flat.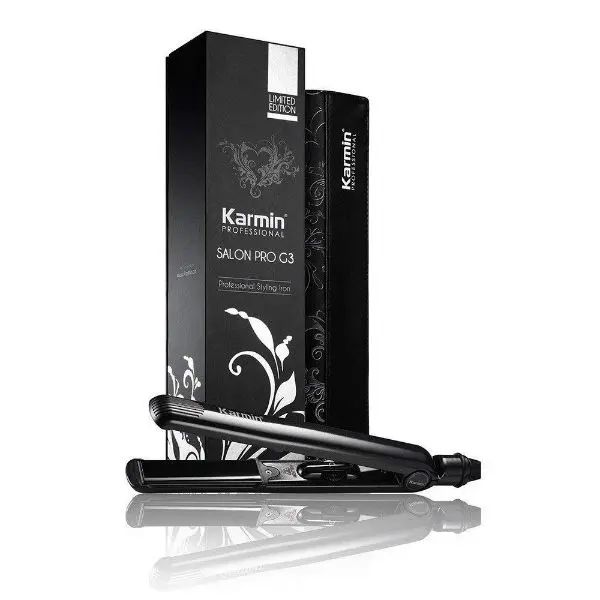 Individuals in a rush will be happy to know likewise that this straightener heats up within 30 seconds allowing you to begin styling without any delay.
It also has a 9-foot and 360 swivel cord to avoid users from tangling. In general, the Karmin G3 received rave reviews from its users.
One drawback clients see is that the product's cost is on the luxury side, however, many consider it a solid investment, especially when you need to get your curls ready for that 50's themed party.
Lumabella Keratin Duel Touch
The Lumabella hair straightener has plates that are uniquely Keratin-infused. For those unfamiliar, Keratin is a nutrient that rebuilds your locks to their natural shine.
When you heat up the plates, the Keratin micro-conditioners start to activate leaving your mane effectively smooth and healthy.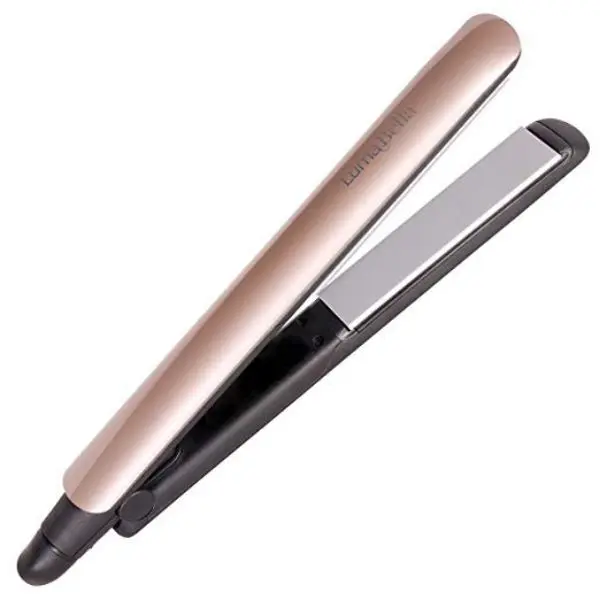 One of the downsides of this product is that some wish that its cord could be longer.
CHI G2 Ceramic and Titanium Hair Straightener
As a brand leader known all over the world, CHI is the product you depend on to achieve professional results at home. What's exceptional with this hair straightener is that the plates are a combination of ceramic and titanium technology.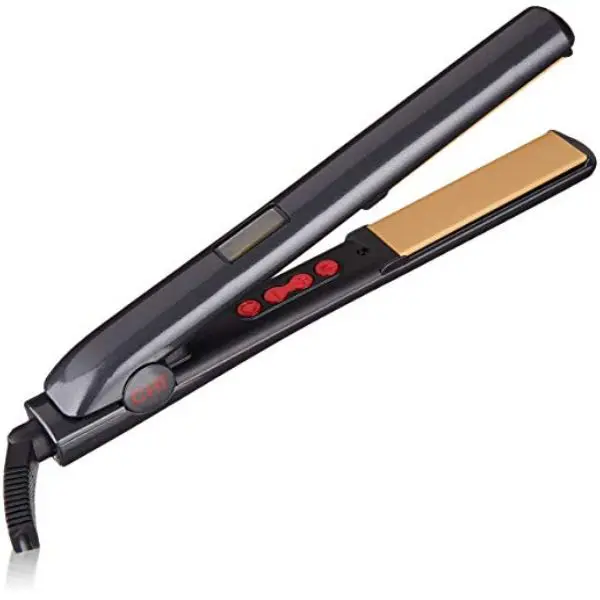 In effect, giving its users a lustrous and glossy hairdo without the kinks. Unfortunately, similar to common hair straighteners, the CHI G2 does not have an automatic shut-off feature.
GHD Gold Professional 2 inch
Celebrity hairstylists favor the GHD brand. The product is famous for its reliability and polished results. Then again, hand in hand with high quality is an expensive cost. Rest assured though, that this tool is worth the investment.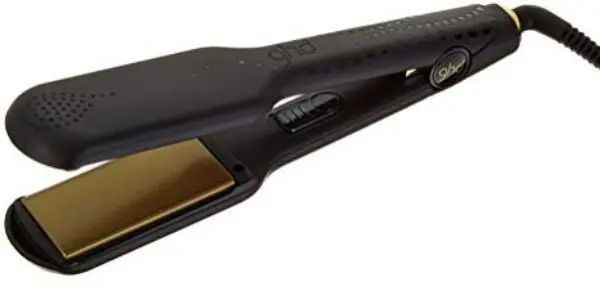 For individuals with thick hair, the best option is the GHD Gold 2-inch plate. It has wider plates that can cover more layers and allow you to straighten your locks instantly.
GHD Gold Professional 1/2 Inch
Now for those with short hairstyles, the GHD Gold with 1/2 plates is suitable for you. It features ceramic heat technology and gold plates that will seamlessly run through your mane.
This tool does not only straighten your hair but also produces terrific curls and waves thanks to its contoured edges.
One of the drawbacks of this product is that the cords get easily tangled.
GHD Platinum+ Professional Performance 1″ Styler
The Platinum Styler is distinct among the GHD products for its wishbone hinge that allows for superior plate alignment and smoother styling. Additionally, this hair straightener has a sleep mode feature and universal voltage functionality. Consistent with the GHD brand the temperature is conveniently at 365 F for healthier and conditioned locks.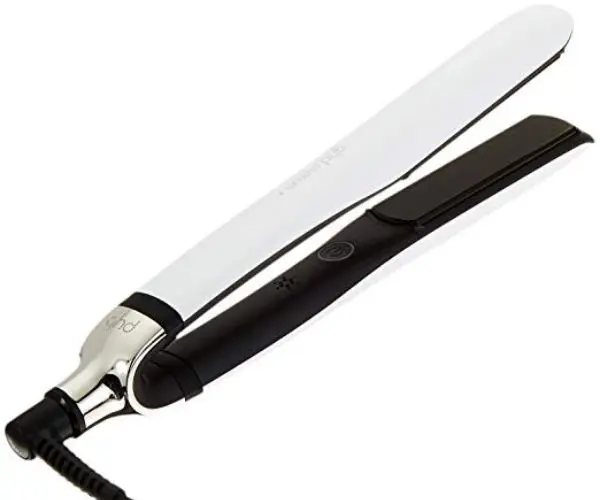 Among the GHD products, the Platinum Styler is one of its models on the costlier side.
ANGENIL Professional Titanium Flat Iron Hair Straightener
With this ANGENIL Professional Titanium Flat Iron Hair Straightener, it will seem like you had your hair done at the salon. It has nano titanium plates that create a fast, even, smooth glide that creates a stunning overall look. It also features a safety auto-off which allows the device to automatically switch off after sixty minutes of non-use.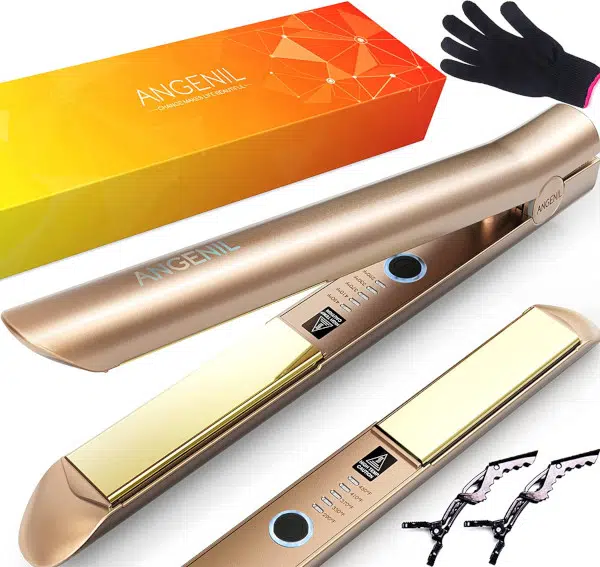 The brand received good reviews because of its quality results on a whole range of hair. It also curls hair beautifully!
GHD Gold Professional Performance 1″ Styler
The GHD Gold styler showcases the dual-zone technology. It basically means two temperature sensors control the styler's heat to achieve satiny and healthy hair. Moreover, it simply heats up in 25 seconds, comes with a 9-foot cable, and features an automatic sleep mode.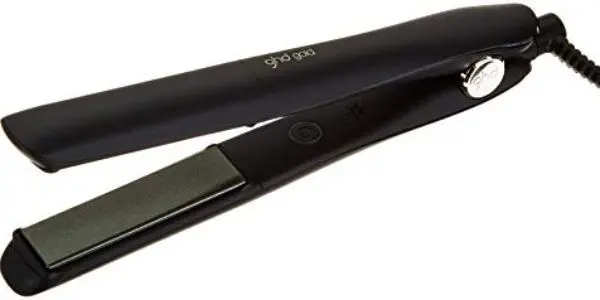 Again, consumers love this GHD model, but others find the cost a little expensive.
How to Use a Hair Straightener
Before using a hair straightener or flat ironer, always start by applying considerably heat protecting spray all over the hair. After that, blow dry the locks using medium heat and speed.
Starting at the crown, divide the hair into two sections. Then take diagonal sub-sections beginning at the nape. Using a straightener, apply to the root area keeping the tool open using only the bottom plate. Bevel the straightener at the root to create a lift on the hair. With the straightener at the root, make sure the thumb finger is on top. Now, close the plate then rotate 90 degrees so that the thumb finger is facing on the top and start gliding the tool through the hair.
Remember to main tension with your forefinger and middle finger. Spread the locks evenly and guide the straightener with a comb.
Once one section is complete, repeat at the crown. Work from left to right sections to complete the back. After the crown area is complete, check the smoothness of the hair. Leave the styled hair in straight sections to cool down.
Now repeat the steps to complete other sections. Once done, style the hair starting at the center part by running your fingers through it and checking the form. To keep your hair glossy and smooth, don't forget to apply a shine serum after using a straightener. Finish the style by using a wide tooth comb!
Japanese Hair Straightening
Otherwise, if you are looking for something that is longer lasting you can opt for Japanese Hair Straightening or also known as thermal conditioning. This process involves applying a special solution to your hair. What the solution does is break down the bond of your hair and give it a shape.
Your locks then become pin straight by using a hair straightener. After the lengthy process, the style will stay in place by applying a neutralizer. For this specific treatment, your hair will be pin straight for about six months.
Granted that it will give you a stunning style in the end, however, consider also the risks that come with it. If you choose a salon that is not an expert when it comes to this process, you can end up with catastrophic results such as hair loss or damaged locks.
When you want to straighten yourself, you can always research the best keratin treatments at home. Keep in mind then whether you choose a hair straightener or a hair straightening treatment, consider factors such as your hair texture, the quality of the product or service, and cost.