Following the trend of treatments and beauty therapies making their way into people's homes, LED treatments and light therapy devices have started to appear in the at-home market as well. LED therapy is a newer addition to the skincare treatment sector, using red or blue (or other) light frequencies and technology to positively impact the skin.
You may have seen one of the most popular at-home devices on social media, most likely on Instagram — the LED face mask. It became popularized by celebrities and models that raved about this unique, new technology and began posting pictures of themselves sporting the skincare device.
Notable celebs that are known to use the LED face mask include Serena Williams, Chrissy Teigen, and Victoria Beckham. This strange-looking device might seem perplexing but is, in fact, a novel treatment that gives users worldwide promising results for the skin. It is essentially the next best thing when it comes to skin treatments that work wonders. Are you ready for it?
How does a LED Face Mask work?
Like all new and more complex skin treatments, LED therapy started off in medispas and clinics. It began as a facial to brighten up the skin, reduce wrinkles, and fight acne, and a therapy that offered long-lasting results after a full course of treatments. Being an ambiguous and unique way to treat the skin, you might be wondering how it works.
LED therapy uses color wavelengths of visible light on the skin so that in turn, the skin can use it as a source of energy to rejuvenate damaged cells. This light is able to kill bacteria to reduce the presence of acne and stimulate the production of new cells, collagen, and elastin.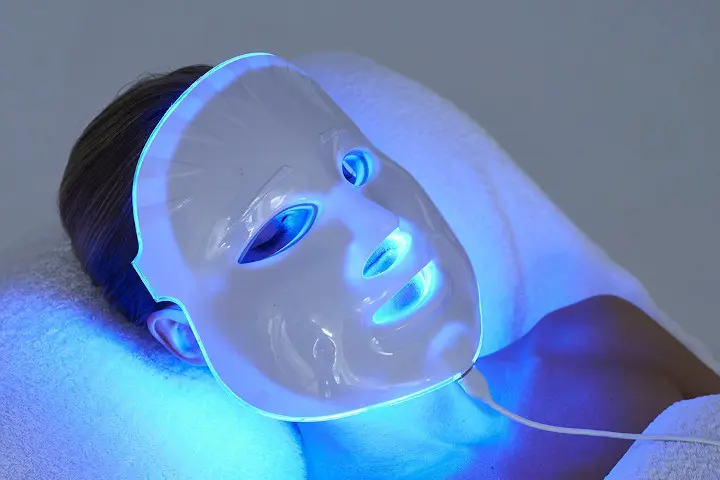 There are three main types of light emitted during the treatment combine to provide supple, smooth, and glowing skin to those who do it. These include blue light, red light, and near infra-red light.
Blue Light – Blue light is what tackles the bacterial- and acne-related issues with the skin. It reduces oil production and treats psoriasis and eczema through its antibacterial properties.
Red Light – Red light is concerned with the appearance of the skin and general skin repair. It increases the natural hydration levels of your skin, reduces the appearance of pores, redness, and inflammation, and improves circulation to increase the overall health of the skin.
Near Infra-Red Light – Near Infra-Red Light is the most deeply absorbed of the three major wavelengths and is what addresses the skin at its core layers. It improves elasticity and increases cell permeability, thus able to smooth out any lines or wrinkles and aid in the wound or acne healing process.
As many patients simply relax during this light treatment and benefit from its function, companies likely thought that bringing the multitude of benefits to the home would be a brilliant idea. Being non-invasive, safe, and easy-to-implement, brands have come out with many at-home LED systems to treat skin problems on your own.
What is an LED Mask?
The LED Mask is potentially the most popular and well-known at-home LED treatment on the market. Backed by board-certified dermatologists, it is an electronic device in the form of a sheet mask that is illuminated with LED lights. This device essentially utilizes the technique of LED light therapy and the familiarity of technology used by dermatologists and aestheticians to create a comfortable, usable, and high-tech experience at home.
Employing the three wavelengths talked about previously, LED masks can foster molecular levels changes in the skin. They provide much more comprehensive and preventative results, unlike classic topical treatments.
However, although they do great things for the skin, it's important to keep in mind that these at-home devices won't work as well as a clinical device. An appointment at a dermatologist's office will offer superior results and you will be under the supervision of a skin professional.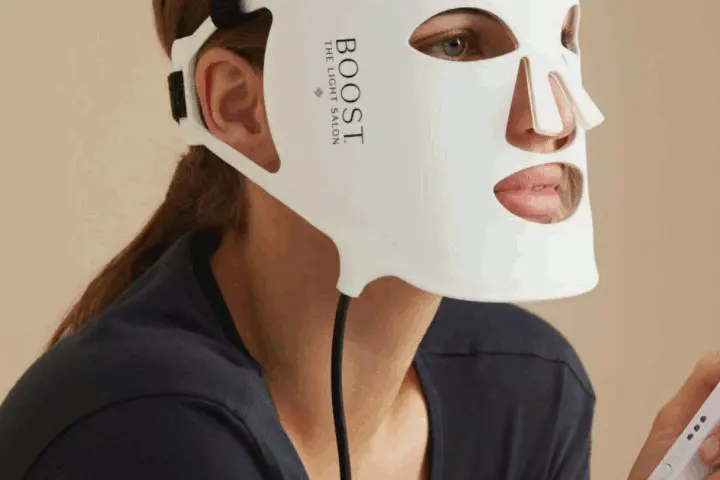 When it comes to safety, a review published in February 2018 claimed that LED masks have an excellent safety profile. However, it's still important to do your due diligence and research your options. Ensure the LED face mask you purchase is FDA-cleared and has good reviews — you may want to stay away from those which are lesser-known and are not as familiar as others. For example, Neutrogena, a big name in the beauty industry, had to issue a recall of its Light Therapy Acne Mask after users reported problems relating to eye injuries.
Despite this, there's nothing to fear, as dermatologists and experts in light therapy conclude that LED masks are safe to use, with some at-home kits even including the appropriate eyewear to protect your eyes.
For those with skin conditions or sensitive skin, you may want to consult with a dermatologist before using any at-home LED face mask. Studies have shown that this device is safe for people with skin conditions like eczema and rosacea, however, each individual reacts differently to light therapy.
LED Face Mask Benefits
Similar to finding out about other novel and interesting treatments like the vampire facial, you're probably wondering what the benefits are of using the LED face mask. Previously, we talked about the different types of light emitted from the LED face mask and other light therapy devices, and how they positively benefit the skin. However, here is a break down of the numerous benefits of using an LED mask.
The LED face mask treatment is a non-invasive treatment, which means there isn't a need to break through the skin or intrude the body in any way. Just like physical therapy and maintaining a healthy diet, this is a skin treatment that can treat the deeper layers of the skin from the surface.
The treatment is said to be relaxing and is heat-free. This gentle light therapy can be likened to what the sun does for a plant — provides it the energy to rejuvenate. The skin absorbs the LED lights and converts it into energy that penetrates at varying levels of the skin to address a comprehensive list of issues.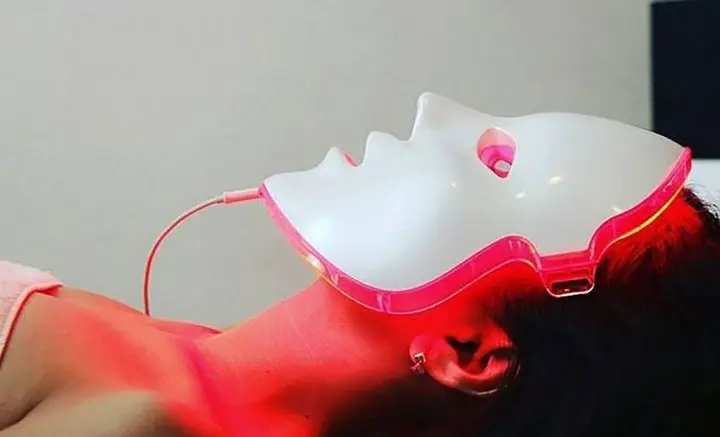 By simply putting on the LED mask almost like a sheet mask, you can read, relax, watch TV, and walk around the house (if the mask you chose is wireless) while it gives your skin a natural upgrade.
LED face masks also provide anti-aging effects by building new collagen and elastin – the two precursors to healthy cellular activity, lifting and toning, and smooth, youthful skin. The red light wavelengths can reduce the appearance of fine lines and wrinkles, and with supplementary serums and creams, this effect can be boosted.
The red and blue light wavelengths come together to produce visible light that can kill bacteria on the skin that contribute to acne. Acne is caused by slow-growing bacteria that manifests in the glands that produce oil for your skin. This oil helps keep your skin healthy to an extent, but in certain cases, an oversupply of sebum results in acne and inflammation.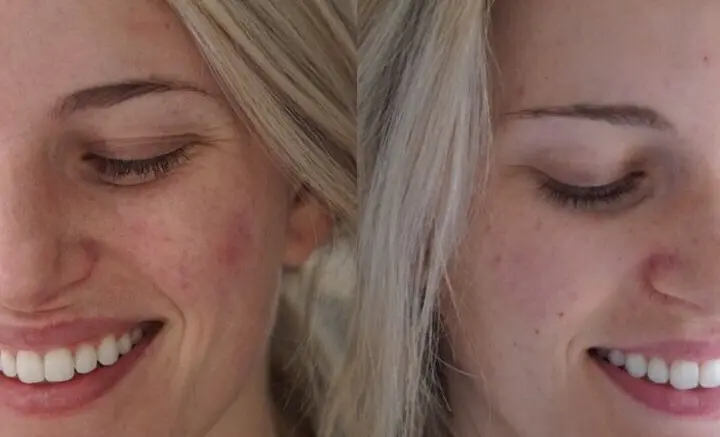 The wavelength of blue light has an antimicrobial effect that kills bacteria that collects in the pores and causes acne breakouts, while red light decreases other factors that contribute to acne like inflammation. Red light wavelengths target the deeper skin layers to repair tissue and soothe the skin, and if your skin condition is chronic or serious, this light will be most beneficial to you.
By reducing inflammation and increasing circulation, LED face masks can help improve blood flow, therefore increasing the oxygen and nutrients delivered to the skin. This results in healthier skin that is free of waste and thrives with an aesthetically-pleasing glow.
The light therapy that LED masks use has been proven to heal wounds and induce tissue growth in more than just the cosmetic realm. Navy SEALs used to use LED light therapy to heal wounds faster, demonstrating that when it comes to cosmetic usage, LED masks can improve skin conditions of several degrees. People with skin conditions have shown improvement in symptoms after undergoing LED light therapy, especially after several sessions and waiting for some time after treatment.
Without having to leave the comfort of your home, an LED face mask can give you a desirable skin treatment that is safe, non-invasive, and proven to be beneficial. With improved skin quality and anti-aging effects, you'll feel more confident and youthful after consistent use of the device.
LED Face Mask Treatment Guide
Using an LED face mask will depend on the device you choose to buy. Although light therapy treatments at clinics are more effective overall, at-home devices are great for regular use, maintenance, and especially as an alternative for those with minor skin issues. Home models are certainly worth the investment if you're looking for a powerful tool to include in your skincare routine.
How to Use an LED Face Mask
If you're choosing a full face mask, you might want to invest in good eye protection – potentially medical-grade, unless it is one that comes with it. Keep an eye out for when it comes to your skin after usage. Even though the face mask is safe for skin, some skin types could react unusually and experience redness or inflammation. It's important to stay away from the LED face mask if you have active skin outbreaks.
Step 1: Cleansing the face
As LED face masks work best on bare, clean skin, you'll want to completely remove any dirt, makeup, or residue that may be on your face. You can consider using an effective makeup remover or a face scrub to ensure your face is as clean as possible to reap the benefits of the LED mask.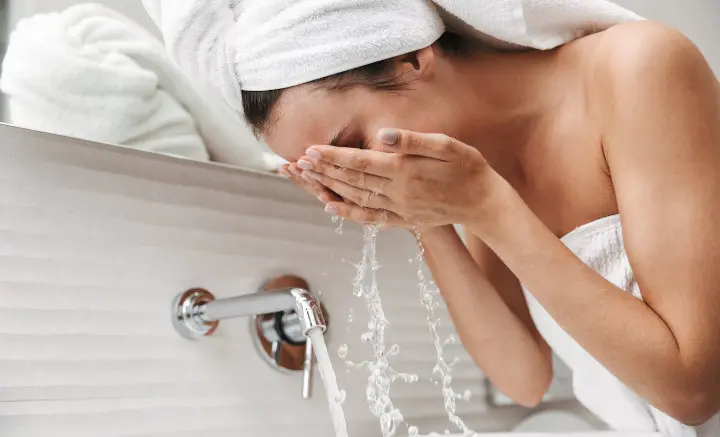 Step 2: Activating the mask
Activating, or setting up the mask, usually takes a matter of seconds. However, there are several different types of masks with several options. For example, some are customizable, meaning you can choose your own color combination of lights to suit your needs, some that include a little remote device so you can be in control of how much energy or time you want to undergo light therapy for, and others that simply have everything preset and built-in so all you have to do is turn it on.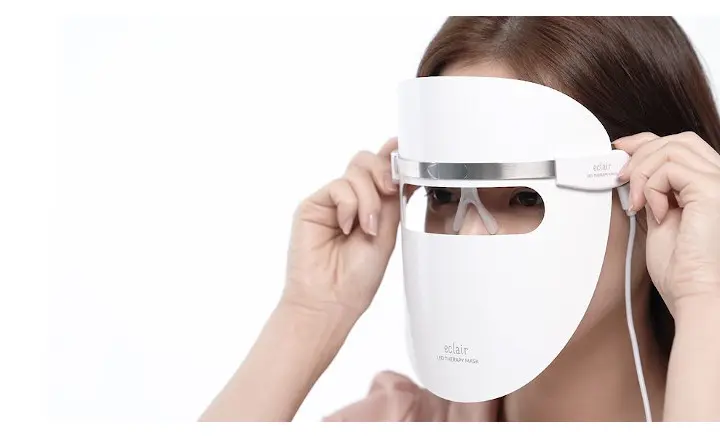 Step 3: Undergoing light therapy
After putting the mask on as directed, simply sit back and relax for however long your device recommends. Most masks automatically shut off after you run through a cycle or the number of minutes chosen, but if not, ensure you turn off the device after your session.
Step 4: Moisturizing
Post-treatment, it's important to moisturize and apply serums and creams to rehydrate the skin and complement the treatment. Consider using a tinted moisturizer over a classic primer if you are going outdoors or an anti-aging cream to prevent lines and wrinkles.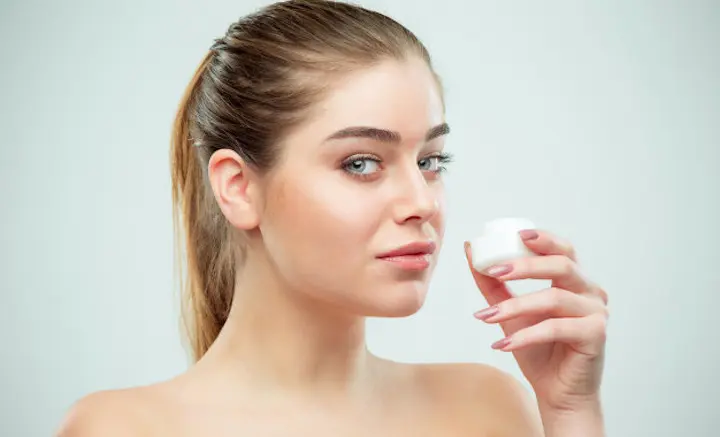 LED Face Mask Before and After Treatment Pictures
Kim Visda from Beauty MNL tried out the Neutrogena Fine Fairness Light Mask and was able to discover many changes over two weeks of regular usage. She talked about smoother and more bouncy skin texture, even skin tone, fewer dark spots, the disappearance of acne spots, and overall brighter and more radiant skin.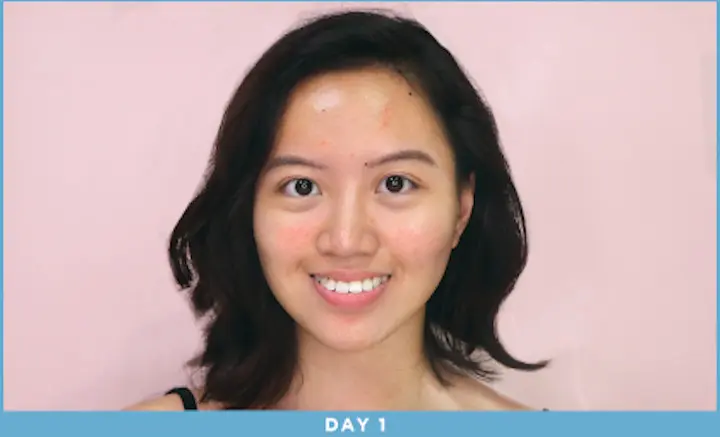 Other before and after comparison photos also show the vast improvement in skin quality after using an LED mask.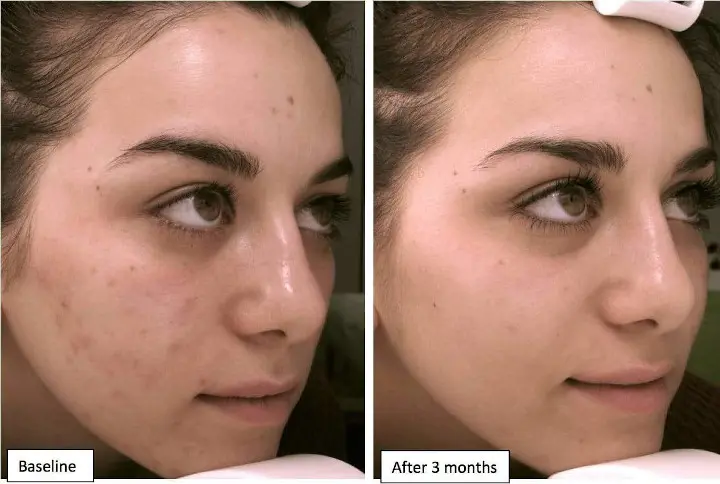 This before and after picture shows the difference between not using an LED face mask and results after three months. Regular usage will guarantee a long-term improvement in skin clarity.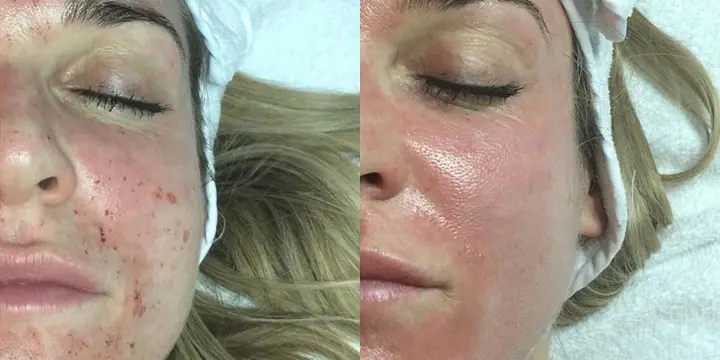 This before and after shows the disappearance of acne scarring and redness after using an LED face mask. Even for individuals with more severe skin issues, LED light therapy can work wonders over time and if the right wavelengths are used.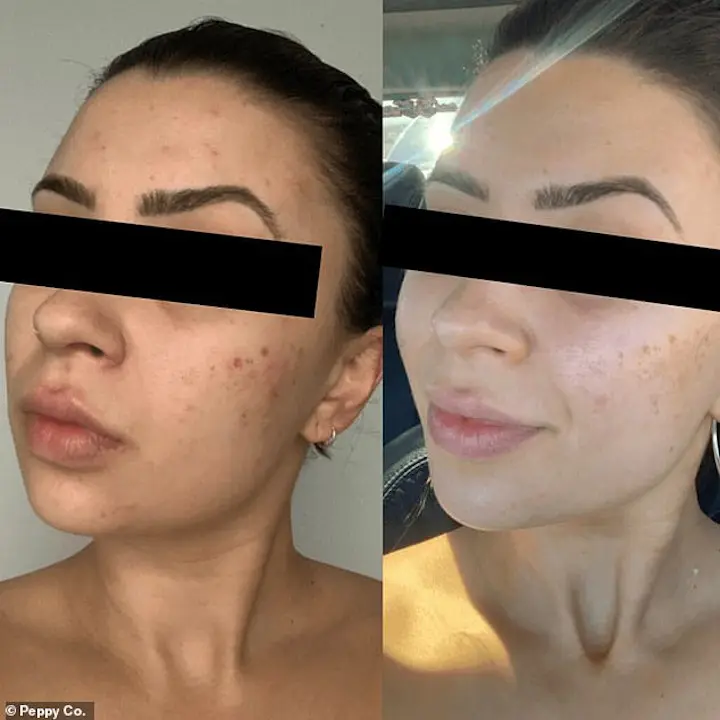 This before and after photo shows the reduction of blemishes and a more dewy complexion after using an LED face mask.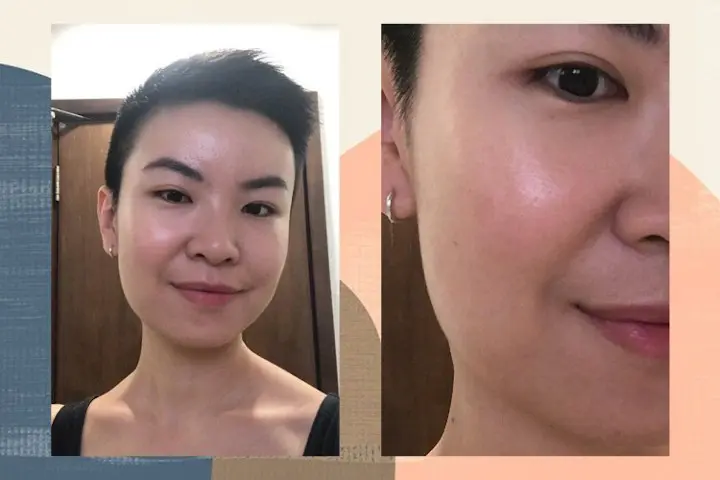 This comparison is more subtle and shows that an LED face mask can still be beneficial for those with generally good skin. You'll still find a reduction in pore size and get smoother-textured skin.
The Best Face LED Masks Compared: LED Face Mask Reviews
Here are some recommendations of LED face masks that are sure to provide you with better skin after regular use. These devices allow you to experience light therapy from the comfort of your home and are tailored to your individualized skin needs.
Many face masks now include 7 wavelength colors where their purpose is to specify treatment. Brands also provide clinical evidence from studies over several years in order to support their device and show efficacy. Masks can also come with accessories like eye protection, gel pads for comfort, varying numbers of LED lights, a head strap, an additional mask component for the neck, wireless features, and a remote.
HIME SAMA: LED Skin Mask-CE Cleared Pro 7
If you are looking for a high-tech, professional LED mask, then look no further than the HIME SAMA LED mask device. FDA-cleared and ready to treat all skin types, this device is made for a comfortable light therapy experience that is appropriate for daily use. Reviews talk about its great look and feel, its positive effects on skin after regular use, and many talks about its comparability to a salon or clinic treatment for facial and neck skin.
Features
Eco-friendly
Device focuses on both facial skin and neck skin
Adjustable and detachable head strap
7 different light colors
192 high intensity LEDs
Professional-level treatment
Aphrona: LED Facial Skin Care Mask
Aphrona presents the ultimate at-home LED face mask for light therapy. This device is comparable to the professional LED treatments used in clinics and features targeted light settings with the entire visible spectrum. Unlike many other face masks, this one comes with an eye protector and is coated with white pearl powder to prevent stains and scratches.
Reviews talk about fantastic results after weeks of usage and the targeted light settings that allow users to choose precise skin issues to address. Their device is also backed by a 3-year clinical trial where 86.3% of their customers saw improvement in their skin. Many talks about incorporating the mask into their regular skincare routine and how fast the results show.
Features
Entire visible spectrum is featured
Professional medical grade device
150 99% purity LED chips made in Japan
Includes eye protection
YOURFUN: Rechargeable 7 Color LED Mask for Face and Neck
The YOURFUN LED light shield mask differs from others on the market as it focuses just as much on the aesthetics and health of neck skin as your facial skin. It is designed for safe, gentle, and comprehensive use are is effective in inhibiting the formation of melanin pigment and tightening the skin.
Features
Includes rubber pads for comfort
102 high-quality LED lights
Includes a wireless charger
Rechargeable and portable
ECO FACE: Near-infrared LED Photon Mask for Home LED Therapy
The Light Salon's LED face mask is a dermatologist-approved LED mask. The mask is unique in that it does not use blue light and chooses to focus on red and near-infra-red light. Eye protection is often only recommended for blue light, which makes this device extra safe. It also features eco-friendly plastic to ensure that no dangerous chemicals are used.
The mask has gone through clinical testing, where there were significant improvements when it came to skin roughness, skin elasticity, and moisture.
Features
Gel pads for comfort
Focuses on red light
Includes near-infrared 830nm light
Sophisticated controller and design
DermaShine: Pro 7 Color LED Mask
If you are confined to a budget or are looking for a more affordable LED mask, consider the Dermashine LED mask. This LED mask has it all – seven different light colors, a remote with several functions, and a spa-quality skin treatment. Reviews talk about the mask's outstanding results and praise its comprehensive approach.
Blue = Kills bacteria and tightens skin
Light blue = Soothes and helps relieve allergies
White = Speeds up tissue metabolism and reduces sagging skin
Purple = Relaxes and improves lymph metabolism
Red = Increases blood flow and collagen production
Green = Improves skin pigmentation and provides anti-aging properties
Yellow = Smoothes and reduces inflammation
Features
150 LED lights
5 levels of intensity
7 light colors
In Conclusion: The LED Face Mask
The LED face mask is the perfect at-home alternative to clinical light therapy for the skin. A safe, daily-use device that you can incorporate into your everyday routine, a mere 5-20 minutes of relaxing, warming use per day can drastically improve your skin quality.
A wide array of masks on the market allows you to pick and choose based on your personal preferences and treat any skin issues with different light wavelengths.
They also have a preventative effect by removing acne-causing bacteria and stripping down unwanted sebum and oil so you can avoid future breakouts and episodes of poor skin. Using the mask in combination with skincare products like serums and moisturizers, you can expect a powerful change in your skin.
LED face masks can treat issues like acne scarring, inflammation, fine lines and wrinkles, circulation issues, uneven skin tone, and overly relaxed skin. It is a great anti-aging solution and overall skin solution for those who don't want to break the bank at a professional clinic.