If you're looking to spruce up your hair but aren't interested in going through the long process and maintenance of using dyes and having to deal with a whole host of products, layered haircuts are a versatile hairstyle for any season or occasion. Whether you have long hair, medium hair, or short hair, you can create a fresh and exciting look by adding layers for volume, shape, and texture.
The most alluring aspect of layered hair is its versatility. Layered hair can complement any style and aesthetic, from androgynous looks to ultra-feminine and glamorous looks. You can choose an asymmetrical haircut, use layers to add volume to a head of curls, or experiment with accessories.
To obtain a more sophisticated look, you could try a layered bob, or for a more casual look, you can rock messy beach waves for a unique style. Take a look at this gallery of layered haircuts and get ready to be inspired! With each haircut, you can play around with them by using different styling products.
Trending Layered Haircuts for Women
Layered hairstyles are eye-catching because they offer movement and shape to compliment any face shape. A standard layered hairstyle is usually composed of two layers with shorter hair tracing the face, but many also choose to go for lots of layers.
There are a variety of options to make your haircut special from choppy ends to smooth ends. By experimenting with different layers and ends, it's no surprise that you can discover a truly gorgeous look that you haven't tried before and will work with your personal style.
Layered Haircuts with Side Bangs
Layered haircuts with side bangs are greatly popular right now because side bangs are versatile and can be pinned or clipped up. Here are some beautiful styles for long, short and medium length hair.
If you want to add shape and dimension to your appearance then you can always add side bangs to your hair to make you look beautiful and youthful. The soft, choppy ends add some thickness to the hair.
Long Layered Haircut with Long Bangs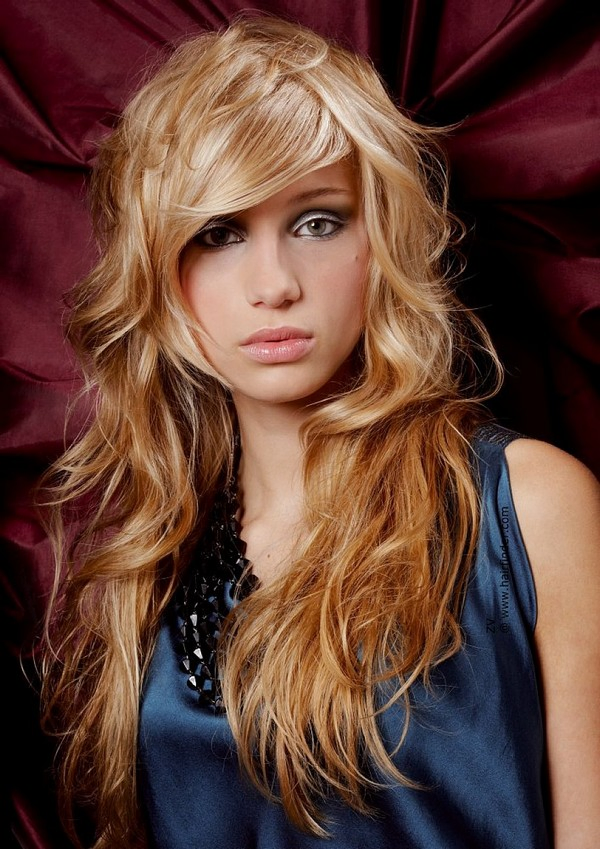 Be sure to style your hair in such a way that it suits the shape of your face. Here, the long wavy layers and long bangs create volume and surround the face, giving it a luminescent glow.
3. Soft Blonde Long Bob
Having some long bangs can create balance for a round face. The light blonde hair adds to the airy yet edgy aesthetic of the long bob, and so do the asymmetric aspects.
4.
Layered Haircuts For Thin Hair
To create a completely different impression for your look, go for asymmetrical bangs. To get that edgy asymmetrical look, you don't need to have a distinctly angular hair shape, simply choppy and angled bangs to offset your already layered hair.
5.
Chocolate Brown Layered Hair with Light Highlights
Long layered hairstyles can look perfect for any occasion. The super layered and tousled look is offset by the straight and sleek hair on the top of the head. This look can be feminine and pretty with many elements incorporated into it.
6.
Medium Length Blonde Hair With Bangs
If you have a short and round face, then a long layered hairstyle can look great on you by creating the illusion of a longer face. With this hairstyle, the versatility of layers are truly shown with the thicker layers at the bottom and choppy bangs.
If you have thin hair then you can give the illusion of thicker and more lustrous hair by layering your hair to add volume. The honey-colored layers add another dimension and depth to your look.
7.
Long Straight Layers with Swoopy Bangs
Light highlights with a layered hairstyle and swooping bangs will never go out of style. Highlights in layered hair not only add depth, as talked about earlier, but they enhance skin tone and give a bolder look.
For those who have naturally straight hair, they can easily maintain a layered hairstyle and try out the classic side swept bangs.
8. Chunky Layered Hair
Add some definition to your layered hairstyle by spraying mousse at the ends. These layers appear thicker than the straight hairstyle as there are still many layers but more hair at each length.
Layered hair can styled with products to achieve beachy, effortless waves just like in this image. Again, combining ashy blonde highlights with a darker brown base adds an extra dimension to an already beautiful hairstyle.
9. Long Layered Hairstyle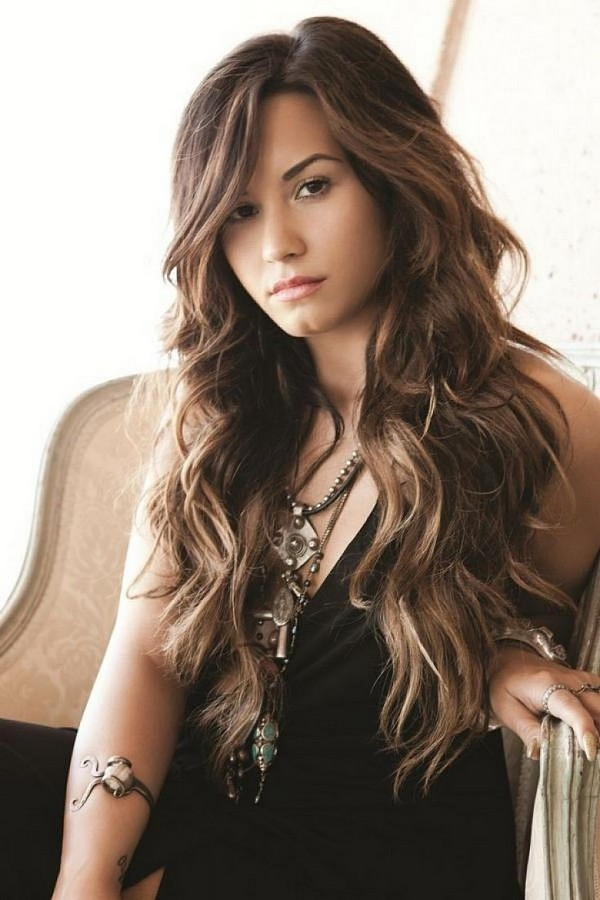 Going for a layered haircut when you have very long hair can show off your unique style. With long hair, you get to play around with more levels of layers and can create more volume to avoid the weighing down of thick hair at this length.
13.
Cutesy Layered Hairstyle with Side Bangs
This more cutesy hairstyle involves layers that flick towards the face and in one direction to offer a casual and down-to-earth aesthetic. The side bangs can be swept to the side to provide a delicate look or hide the forehead.
14. Feathered Dark Hair with Side Bangs
This is a shorter, dark hairstyle that includes many layers that flick out to the side. This feathered style with side bangs gives movement and shape.
15. Classic
Straight Layered Haircut with Side Bangs
This style is the best choice for casual and classy occasions. A classic layered style with distinct layers that frame the face is perfect as a well-rounded haircut. In this case, the long side bangs elevate the look by giving it that fashion magazine edge.
16.
Curled Layered Hairstyle with Straight Bangs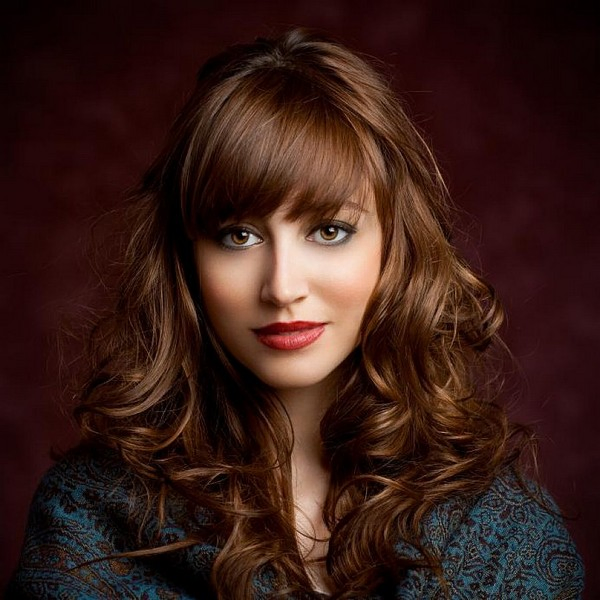 This modest and demure look is achieved with the contrast between straight bangs and layered curls that create volume for the overall bulk of the hair. Having a rich chocolate brown color also enhances the richness of the haircut.
The hairstyle has been sported by famous stars and has become quite well-known in the fashion world. This curly layered bob with a straight side fringe has a timeless quality to it that is reminiscent of "Hollywood" and high-fashion.
18.
Straight Hair with Side Bangs And Layered Ends
This nice modest hairstyle for long hair involves fewer layers on top and more layers to achieve feathered and curly hair at the ends. Although a simple style, it has many dimensions to it with the variety in texture.
The long layers of straight hair are perfect for girls who want to have a fresh-looking face. The heavier and thicker bangs draw attention to the eyes and less towards the overall bulk of the hair.
There is no doubt that having a long layered hairstyle with bangs can make you look youthful and vibrant. This long bob with minimal layers can give you that sleek look and accent your cheekbones and nose.
Having shattered layers for long straight hair can make you look edgy and contemporary. Keeping it straight and uniform on top maintains a glamorous feel, especially when it comes to blonde or rich brunette tones.
19. Layered Hairstyle for
Women with Long Face

s

This long wavy hairstyle with side bangs is ideal for thick layered hair. Here, Ashley Tisdale rocks curly layered locks and has added lowlights to her hair to deepen her natural hair color and add richness and more dimension.
Layered Haircuts for Fine Hair
When we talk about fine hair, we usually refer to soft hair with a smaller diameter. It has an airy texture that may be difficult to style and manage. Women with fine hair often find it difficult to create volume or experiment with certain hairstyles because their hair is either too flat or not plentiful enough. With layered haircuts, you can fake the appearance of thick hair and be able to achieve volume, and make use of hair products. Check out these amazing layered hairstyles for your fine hair!
Long Straight Hairstyle with Many Layers
This is the best way to get rid of dullness and flat hair when you have longer locks. Making sure you opt for many layers, especially at the ends, will ensure you don't expose the thinness of your hair. Having long straight bangs to the side also provides shape.
Blunt Bob for Fine Hair
There are different ways of styling your straight hair to make you look fabulous. One includes going short and ensuring your ends are blunt and straight to create a denser and thicker appearance.
Short Straight Pixie Haircut
Layered hairstyles for short hair are really popular nowadays, especially for those who want a low-maintenance cut. The star of the show with this style is the long bangs that taper towards the bulk of the hair.
When choosing a cut for thin, medium-length hair, you can go for less and more subtle layers and have the ends blunt to give the illusion of thicker hair. This way, you won't have to deal with styling products and simply use a straightener to manage your locks.
Wavy Voluminous Hair with Highlights
Celebrities like Jessica Biel are a great source of inspiration for beautiful hair. Here, she's gone for the classic flowing layers but has added some bright and light-colored highlights for a sun-kissed glow.
Choppy Bob for Fine Hair
This is a cute, sassy and sweet look that has messy, choppy layers to create volume. The long swept bangs are making a comeback in the modern day and give a slight asymmetric feel.
Demure Bob Hairstyle
Layers in short hair can improve the texture and volume of your locks. The long side bangs merge into the rest of the layers to give a cohesive structure, while the layers protrude out and in to give the classic bob shape.
Short Hairstyle for Fine Thin Hair
This hairstyle can look amazing on women of any age. With a short crop with bangs and plenty of soft layers, this cut can bring out your best facial features and offer sheer volume.
Layered Hair with Full Bangs
Heidi Klum's sleek layered bob with a choppy fringe makes for a beautiful, fashionable look. Her blunt-cut bangs frame her face perfectly and taper down to the longest parts of her hair.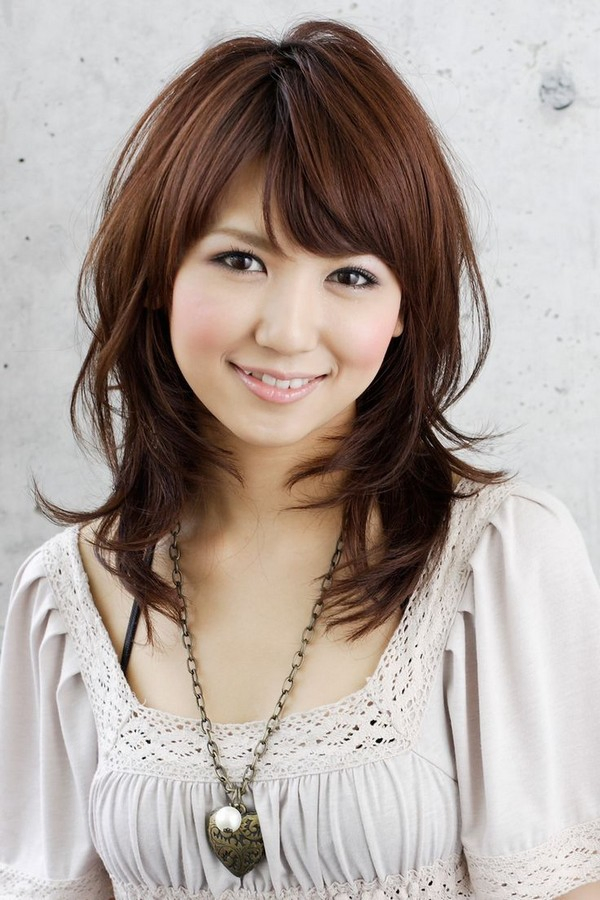 This is an effortless style with a messy feel. The gentle yet busy layers flick out in many directions, while the top strands are straight yet still provide volume. The curved fringe gives an even more dynamic shape as well.
This extremely choppy layered bob is an interesting haircut choice that can change up your look. The choppy layers flow down and taper to the neck but give movement and frame the face. Having varying colors within your hair also gives it that extra oomph.
Messy
Choppy Layered Hairstyle
This short layered haircut is simple, convenient, and very easy to maintain. Similarly to the last style, this style has plenty of layers but is a lot less put together and has a bit of a rocker vibe to it. If you want short and choppy yet not too fixed, this hairstyle is for you.
This traditional angled bob presents layers that are longer at the jaw and shorter at the nape. Trendy and full, this cut is stylish and suitable for any outfit.
Grunge Layered Look
Effortless and messy is the staple of this hairstyle. This grungy, long pixie-like style with a zig-zag hair parting is dynamic and cool — a great choice for low-maintenance choppy hair.
This short style is simple and chic, with hair that is layered right above the chin. When layers and a fringe are added to a traditional bob, there is less uniformity and more shape.
Smooth Pixie Cut
For Fine Hair
With fine hair, you can choose a super short cut that can add life and youthfulness to your look. This layered short pixie cut is an androgynous yet feminine style that adds an air of high fashion to any appearance.
Layered Mom Haircut
This sophisticated and mature look features a symmetrical yet casual cut in a honey blonde color. A sparse fringe with thicker layers in the bulk of the hair is great for women with longer face shapes.
Í
Short White Blonde Hairstyle
This whimsical pixie cut with a silver-white color palette is perfect for a cutesy yet edgy look. The soft mullet at the back compliments the short layers and choppy bangs in front.
Asymmetrical Straight Bob
Clever layering can add depth to your dark blonde locks. This classic framing cut is made unique with the side parting and thicker height on one side due to the side bangs. This ashy blonde-brown color is ideal for those with tanned skin.
Having bangs is not necessary for layered haircuts, however, it can truly do wonders, especially for thinner hair. Here, Rachel McAdams is seen to have protruding and distinct swooping long bangs that give an air of glamor and mystery.
Soft curls are great for styling. With contrast between softer and straighter curls in front against the ringlet curls in the back, there is a playfulness that comes with this short haircut.
Choppy Layered Bob
If you're looking for a simple cut, try out a short bob with many layers to spruce up your look. You can keep your natural color, texture, and style but experiment with layers and a shorter crop.
Layered Haircuts for Curly Hair
Some of you with naturally curly hair may find your hair difficult to manage, but there are girls out there who have to resort to different methods in order to obtain curls. If you are gifted with curls, you can still experiment with layered hairstyles. This gallery will show you the great advantage of having curly voluminous hair when it comes to changing up your look. Choosing the right hairstyle for your style and face can make you look and feel your best every day, whether you go for a casual or formal look.
If so far you've thought that layered haircuts only look great on straight hair, wait until you see layered haircuts for women with curly hair. Curly layered hairstyles are very versatile since there are numerous ways of styling it. Here we have collected some amazing layered hairstyles for women with curly hair. Check them out and get inspired!
Layered Hair with Full Curls
Particularly suitable for thick hair, this curly and effervescent cut will make your dark hair look luscious and glamorous while showing off your natural springy curls.
46.
Medium Length Curly Blonde Hairstyle
This classic movie star-esque blonde hairstyle is perfect for women who love to dress up. This beautiful curly long bob is offset with a sleek straight fringe.
Layered Haircuts For Naturally Curly Hair
This is an inspiring hairstyle to get more hair volume. With a middle parting and curly hair towards the ends, the caramel-colored highlights give it that extra pop.
Afro Style Curly Bob with Fringe
With curly hair, there are an array of options – from making your hair straighter and more relaxed to increasing the curls and creating tons of volume. This cut intensifies your curls by adding layers, highlights, and many s-curls.
This curly medium hairstyle can make you look attractive, charming and beautiful. Sported by actress Sara Paxton, her girly and feminine aura is enhanced by this down-to-earth southern belle-type cut.
Dark Curly Layered Hair
If you are a busy woman, then this is one of the best easy styles for medium hair that can make you look elegant in an effortless fashion. Drew Barrymore is certainly one of those women, being an award-winning actress herself.
Asymmetrical Curly Hair
Some people believe that if you have a round face and curly hair, you must also have long hair in order to look beautiful. But the truth is, with the right styling, layers, and shape, you can make your short curly hair look amazing.
This beachy and relaxed style is achieved by wavy, messy curls as you go down the length of the hair. The classic blonde color with darker lowlights enhances this Malibu barbie look.
Medium Curly Ringlet Cut with Layers
If you have naturally wavy or curly hair, you can embrace your locks by going for a shorter bob-style cut and more intense ringlet-style curls. Having shorter hair makes it easier to manage and tame overly curly hair.
Afro-Style Layered Curls
Add a bit of messy flair to your curls with this afro-style curly cut. This cut boasts length, volume, and intense curls all around that make up an eye-catching and sexy look.
Thick Curly Layered Hairstyle
Get a casual yet soft and effortless look by adding soft curls to your short hair. By distressing and letting your curls run wild, you create a afro-esque and voluminous hairstyle that can make any outfit pop.
Relaxed Middle Part Layered Cut
To get this classy hairstyle, just part your layered locks equally on both sides and create loose, relaxed curls at the ends. Choose a dark chocolate color with caramel highlights to intensify the look.
Layered Haircut for Medium Length Curly Hair
By rocking this awesome hairstyle, you can definitely turn heads on any occasion. Unlike the other two curly afros, this style contrasts the straighter and sleeker top in a darker color with the reddish curls that make up the bulk of the hair.
This cut is easy, simple and super fun! With a side parting and sleek bangs contrasted with curls, this is a down-to-earth yet glamorous look.
Brown Curls with Long Layers
This is a super sexy style that is super manageable as well. Longer layers with feathered qualities give a luxurious look to your locks that can be enhanced with glowing blonde highlights.
Highlighted Curls For Curly Hair
These silky curls look glamorous and are ultra-wearable anytime. This curly bob includes light brown highlights to contrast with a dark brown base.
Medium Length Haircuts For Thick Wavy Hair
This is sophisticated and easy-to-wear cut. With this hairstyle, you can even save lots of time in the morning by paying homage to your natural hair texture and simply playing with your parting and letting the highlights do the work.
Springy Spiral Curls
This style can let you enjoy the natural beauty of long curls without too much hassle. If you have naturally curly hair, this will be easy for you to recreate. Even without natural curls, using a curler on wavy hair doesn't require too much effort at all as these curls don't require perfection.
Feathered and Springy Curly Layered Hairstyle
These nice curls can complement any style from casual to glamorous. This diva hairstyle is reminiscent of Hollywood, with its voluminous blonde curls and flicked-out layers that are perfectly styled.
Wind-Swept Beach Waves
By choosing this style, you'll look like you just got back from a tropical vacation. Using a balayage technique allows for a natural sun-kissed effect and gives a multi-tonal finish that plays with shade and light.
Short Wavy Haircut with Side Swept Bangs
This is the best wash-and-go style for anyone with short layered hair. The choppy yet blunt ends give the hair shape and volume while the side swept bangs give another sense of direction.
66.
Short Layered Haircut with Full Bangs
This cut blends modern and traditional hair qualities, including the wispy curls of the 80s but the modern day choppy full bangs that flair out. This haircut is dynamic and beautiful and complements a fashionable style.
Layered Haircuts for Round Faces
What hairstyle is best for round faces? This gallery is for you to find out. Having a circular face shape also means that you have wider cheekbones but fine symmetry. The right hairstyle can disintegrate the symmetry and integrate the angles and lengths to offset your wide cheeks. Check out these hairstyles for round faces and embrace your face shape.
L
ong Red Layered Hairstyle with Bangs
For Round Faces
This stunning hairstyle can make your face look slim and emphasize your best features. The red-orange color can complement pale skin and light colored eyes, and give this simple cut some pizazz.
A deeply parted hair is an ideal option for women with round faces. This lob-style cut with a long layered fringe gives that slightly asymmetrical quality that draw attention to the hair and less on the face.
Traditional Layered Bob For Round Faces
Having short hair is very easy to deal with while the deep parting and ultra long fringe makes it more interesting. These elongated layers make the face slimmer.
This sweet and girl-next-door style cut involves light layered curls and subtle swooping bangs that merge with the bulk of the hair. This collarbone length and classic blonde color will give you a look that can never go out of style.
Straight Lob Haircut For Round Faces
This style is perfect for women who have naturally straight locks that are medium to thick. This long bob with subtle layers is a sleek style that is complemented with a choppy layered side bang. The elongated side bangs help create a diagonal line that makes the face appear longer.
Long Thick Hair For Round Faces
This trendy haircut can give you an effortless look. Sticking with a rich brown color and going for long yet layered locks helps maintain shape even if you aren't in the mood to style it.
The deep side parting adds depth to this curly style. Being a perfect hairstyle for your night out, this elegant hairstyle is made popular by Adele as she shows how bunched curls at the ends can create an air of glamor.
Long Layered Haircuts For Round Faces
If you don't want tight and bouncy curls, then go for a wavy style which exudes elegance. Miley Cyrus' long locks have movement from the varied layers that go from short to medium to long.
Best for women with thick and blonde hair, you can break up thick hair by using layers and waves, especially at the ends of the hair. Layered Haircuts with Multiple Partings for Round Faces
If you have natural curls then don't be afraid to show it! This hairstyle doesn't require styling nor much maintenance. By choosing layers and multiple partings, the hair overall looks effortlessly stylish.
The face-framing layers can make the round face look slimmer. The bangs create that diagonal line that elongates the face and adds volume on top to slim the face.
A simple and elegant hairstyle with a deep side parting, this light brown color completes this simple straight hairstyle and creates a sleek, slimming effect.
Classic Bob with Long Fringe For Round Faces
This fixed platinum bob is reminiscent of celebrities hairstyles that provide a sleek, elegant look. The long sweeping bangs curve across the face to give that slimming effect for your round face.
This razored bob is great for a summer look. Refreshing a classic blonde short-medium style with choppy layers, long bangs, and a side part is perfect for hair that has a mind of its own.
Short Curly Hairstyles For Round Faces
This gorgeous and glamorous style is a lovely option for women with round faces and curly hair. This playful cut gives you volume and extends out from your round face, avoiding that tapered and overly flat look.
The long curls flatter the round face by providing angles and movement that the face naturally doesn't have. For those who want a more standard and simple long cut, layers and light curls can help refresh that look.
Adding bangs to your wavy hair can create volume and dimension. Straight bangs work to enhance the angles of an overly round face and camouflage a wide width.
Angular Red Medium Hair For Round Faces
This straight a-line bob with this dramatic rusty red color is a bold look that is ideal for thick, straight hair. The deep parting and straight pieces that frame the face give a slimming effect.
Short Wavy Bob Hairstyle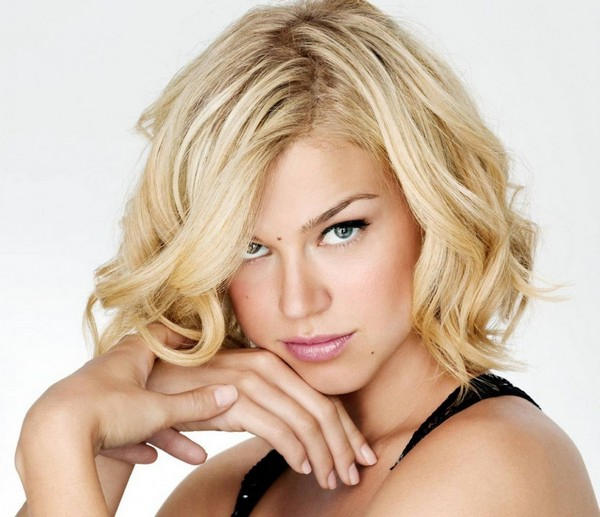 This cute and sexy style blends the mysteriousness of a movie star blonde cut and a demure and simple aesthetic through these effortless waves.
If you naturally wavy hair, then a side part is a perfect way to go. Hayden Panettiere sports her classic blonde wavy locks with a waterfall side fringe that angles her face and brings out her skin tone and facial features.
This sweet style makes use of gentle curls that flick out to create volume, as well as thick side bangs and flow outwards. Narrowing the face and creating a frame around it helps to beautify your look.
Long Bob Hairstyle for Round Faces
When bored with a medium-length cut, you can add subtle layers and different textures, as well as a mimic a thin curtain fringe with two long strand of layers in front of the face.
Layered Haircuts for Thick Hair
Having thick hair can be both a challenge and a blessing.  If you choose the wrong style then you might end up with a mass of hair that has too fixed a shape.  However, having thick hair can allow you to rock a ton of beautiful styles very easily.  If you aren't sure what the best hairstyle is that works with your thick locks then check out these amazing hairstyle ideas for thick hair.
This piecey haircut with varying lengths and contrasting textures creates a dynamic look that is eye-catching and unique. Breaking up thick hair through texture gives you control, especially when styling.
The layered hairstyle is a favorite among women with medium length hair. This springy, curly texture is offset by the straight pieces around the face, while the ombre style color from dark grey-blonde to a brighter blonde gives depth.
Having thick hair means having to deal with poofy hair sometimes. To manage this, you can make use of layers and a brighter color or highlights with curls to add flair.
Straight Bob for Heart-Shaped Face
This down-to-earth bob cut has depth from the honey-blonde highlights and tousled ends. Opting for a richer base color allows your thick hair to appear more voluminous and less flat.
The layered style is very easy to style and maintain. With no distinct part and many subtle waves, this sunny, pretty look can look messy but still put together.
A disconnected and uneven bob with many layers is purposely imperfect to avoid the need for too much styling. It is perfect for humid weather and for women who want to look chic yet are always on the go.
A layered hairstyle can decrease the volume of your hair without losing its elegance. These chunkier waves cradle into the next and create delicate and natural looking waves.
This pixie-mullet blend with sparse bangs utilizes the thickness of your hair to create a little bit of everything. With no parting either, there are many dimensions to this look that gives an androgynous vibe.
The layered hairstyle is one of the best hairstyles that can work for any hair length. These zig-zagging curls give dimension and act as a great base for any hair color.
Medium Length Hairstyles For Thick Hair
A layered style is just a simple addition to your regular hairstyle, yet it can completely change your overall look. This sleek and elegant middle-part hairstyle is a classic but is made to have more movement with subtle curved layers at the ends.
This hairstyle can increase volume which is just enough to make any woman look stylish and beautiful. With ultra-long hair, you'll want to create shape and dimension to an otherwise weighed down look, which layers can achieve.
Layered Hairstyle with Dense Fringe
This choppy bob is made to be more sultry with the long swooping bangs. By breaking up the hair with plenty of layers and making the bangs what draws attention to your look, you can show off your thick hair through this cool style.
Long Layered Cut with Face Framing Layers
Long layers are a fabulous look for thick hair. To create shape, adding long layers that flick in gives some lightness to the ends, while sweeping bangs add that diagonal line for immense definition.
The key when it comes to styling thick hair is to add textures to the edges. This tousled look complemented by baby bangs exudes edginess. The volume on the crown maintains fullness while the rest tones down the bulkiness.
If you want to show off your beautiful locks in a unique way, experiment with a layered haircut. It can make your hair more manageable, keep your long strands away from your face, break up thick hair, or make thinner hair more voluminous. There are different types of bangs and textures when it comes to layered hairstyles and multiple pros and cons that come with having layers.
Benefits of a Layered Haircut
Hairstyle trends come and go, however, layered haircuts have stood the test of time. Haircuts with layers look beautiful, but if you are used to having one length style then you might be hesitant to switch to a layered look. Before making the transition, be sure to familiarize yourself with the benefits and the drawbacks of layered hairdos in order to make the best decision for your hair.
Benefits of Layered Haircuts
There are a lot of advantages that you can enjoy when choosing a layered haircut, such as:
It can add volume to your hair, which is beneficial for women who have fine or thin hair.
If you have naturally curly hair then adding in some layers can create more curls and waves within your hair.
Layered hair can be an ideal hairstyle for mature women as it can create youthfulness.
It can flatter a variety of face shapes. Layered hair can add length and angles to round face shapes, accentuate the cheekbones of women with diamond faces, and also put more focus on the chin when it comes to heart-shaped faces.
You'll require less time to dry your hair.
It can make your highlights and color stand out wherever you go.
Drawbacks of Layered Haircuts
Here are some of the disadvantages of having layered haircuts. However, not all women will be affected by these.
It requires regular maintenance in order to retain the unique shape of your hairstyle.
You might experience difficulty tying your hair back.
Sometimes it can be hard to style at home especially if you require many tools and products for your hair.
Some ladies experience difficulty in managing their layered hairstyle especially when it gets frizzy. However, this can be solved by using shampoo and conditioner that is effective in combating frizziness or by undergoing hair treatments.
Still unsure about experimenting with layered haircuts? The most important thing to remember is that there's no need to get too many layers if it's your first time. Just a few layers can already make all the difference and will make you confident from the inside out.
Your Layered Hair Questions Answered
Layered haircuts work well for almost any hair type. Although they are most popular among people with extra thick or extra long hair, that doesn't mean they can't work for you.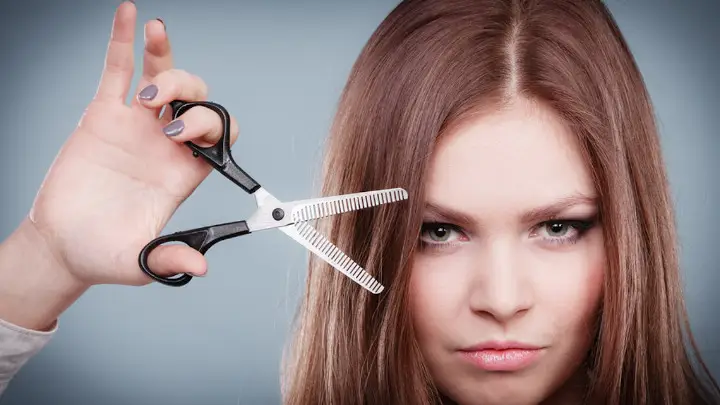 What is layered hair?
Layered hair is when you leave the length of your hair intact but you thin out and taper the hair that's closer to your roots in a gradual manner. It can give the illusion of volume and length and are not very hard to achieve. Most stylists have special shears that can layer hair.
Are there any downsides to layered hair?
If you're someone with hair that's thin to begin with, layered hair may not be for you as it can thin the hair towards the top of your head. People with very thick hair will sometimes get layers just to eliminate some of the weight from their head of hair.  
What is used to layer hair?
You could use regular haircutting shears, but many stylists use specific thinning shears to give a specific layered look. There are an abundance of videos online that show you how to create a layered look from home as well.
Conclusion: The Final Layer
Layered hair has been popular for decades now and has stood the test of time. Layers have been popular, are still popular, and will likely be popular in the future because of its ability to create illusion for the hair and to elevate a look. Because of this, it has become a classic haircut that works for all face shapes and personalities, and can highlight the best of your facial features.
Not only can the bulk of hair be layered, but so can fringes/bangs. Bangs are a perfect way to increase shape and movement, and give that extra boost to an already fantastic cut. They can be layered and blunt, angled, full, sparse, straight, or curly.
If this post has convinced you to try out the layered look, you can take inspiration from the multitude of looks that we've covered and perhaps craft your own to suit you personally. What was your favorite look that we wrote about? Leave it in the comments below!