One of the most popular African braided hairstyles that women love to rock is the trendy jumbo box braids hairstyle. Also known as Poetic Justice braids, jumbo box bra2ids are extremely versatile suiting both long and short hairstyles.
So if you want to give your hair a break, you can easily do just that by adorning some easy-to-apply jumbo box braids.
Jumbo box braids are one of the best protective braids hairstyles that not only protect your hair from damage but also help insulate your natural locks while they grow. Once you've applied the synthetic hair extensions, you can wear any versatile braided hairstyles right away.
Depending on the occasion, jumbo box braids give you the opportunity to wear either an elegant, sporty, edgy, or professional hairstyle.
So keep reading to check out our gallery of all the different types of jumbo box braids hairstyles as well as the maintenance tips, a how-to guide, and frequently asked questions.
Best Jumbo Box Braids with Images
With jumbo box braids, there are multiple styles that you can experiment with that are guaranteed to turn some heads. We promise you that you'll fall in love with some of these beautiful braided hairstyles as well as become a style icon for others you come into contact with.
Check out our beautiful gallery of the best jumbo box braids to try.
1.
Jumbo Box Braids

with Bob Hairstyle and Blonde Streaks

If you want to avoid the hassle of maintaining and styling long hair, you can choose to adorn a simple bob hairstyle with jumbo box braids. Get creative with some colors by incorporating four to five strands of blonde hair at one side of your head.
2.
Top Knot Jumbo Box Braids
This beautiful half-up-half-down top knot style is super easy to achieve. Simply gather the top section of your hair and begin to create a wrap-around bun. Secure your hair with some sturdy hairpins or a thick hair tie.
3.
Long Jumbo Box Braids
This hairstyle certainly put the jumbo in jumbo box braids. These long locks are created by applying synthetic hair extensions to the roots of your natural hair and braiding the length the whole way down.
With long jumbo box braids, you can create an array of various hairstyles from dope upstyles to just letting your hair all hang down.
4. Pink Jumbo Box Braids in Bob Hairstyle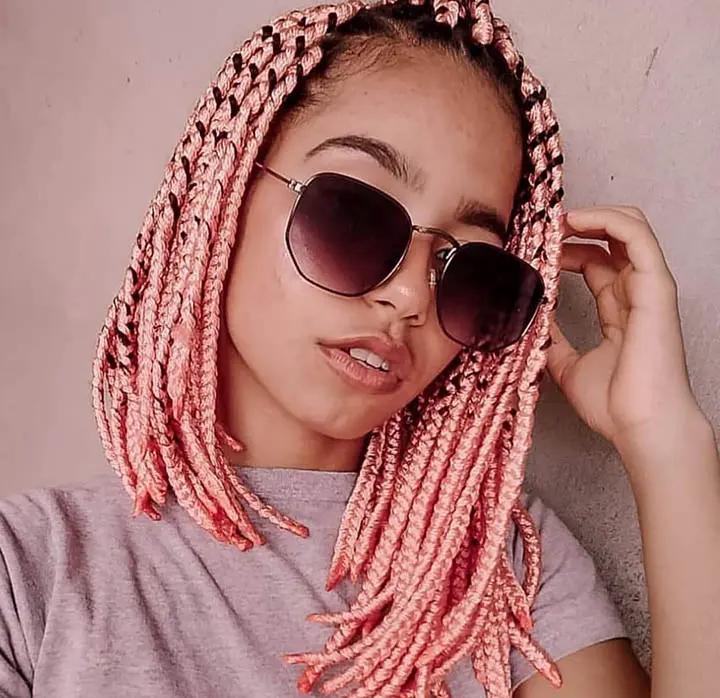 When using synthetic hair extensions, you have the option to experiment with some vibrant hair colors. Try this low maintenance bob hairstyle with a high-quality pink color and incorporate some contrasting black ribbon by wrapping it around the strands of your braids.
5. High Wrap-Around Bun with Jumbo Box Braids
With box braids, you will realize just how easy it is to style your hair. Jumbo box braids allow your hair to move more flexibly when tying it up.
This wrap-around high bun is such a manageable hairstyle to achieve when you wanna rock your braids on the weekends but tie up your hair during the week.
42.
Protective Jumbo Box Braids
In order to get this beautiful hairstyle, start by creating box braids at the root then begin braiding thick jumbo braids and gradually create thinner braids for a more manageable braiding hairstyle.
From there you can decide to wear your hair down or in a fancy upstyle.
6. Blue Jumbo Box Braids
If you want to make more of a bold statement with your hair, you can opt to merge your natural color hair with some vibrant blue hair extensions. This can be applied by using small blue synthetic strands of hair and sporadically braiding them with your natural hair color.
8. Half-Up Top Knot with Jumbo Box Braids
Get the best of both worlds with a half-up-half-down top knot hairstyle. To achieve this look, section off the top half of your braids and begin to wrap the hair around the center of the braids until you form a large top knot bun.
9. Rainbow Box Braids with Shaved Sides
Incorporate a traditional African braided hairstyle with a modern twist by adding some multi-colored rainbow synthetic hair extensions to your roots.
When the braiding is complete, create an even more edgy look by shaving the sides of your head the whole way around.
10.
Poetic Justice Braids
Inspired by the movie, "Poetic Justice" starring Tupac Shakur and Janet Jackson, this braided hairstyle refers to the long, rope style braids.
You can create poetic justice braids by making each braid jumbo and forming a box braid at the root of your hair and continue with jumbo hair extensions.
11. Dark Brown Jumbo Box Braids
This classic and elegant jumbo box braided hairstyle is super versatile that can be worn down or in many different upstyles.
12. Burgundy Half-Up Half-Down Top Knot
This beautiful half-up-half-down top knot style is one of our favourite styles to wear with jumbo box braids. Add a hint of burgundy to your braids for a beautiful Autumn look.
13. Comb-Over Jumbo Box Braids
One of the most popular African protective hairstyles is the box braids hairstyles. With longer braids, you can achieve so many different types of styles for both casual and formal looks.
14. Jumbo Box Braids Ponytail
This look is created by sectioning off a portion of hair at the front and a bulk of your braids at the back. Tie the braids at the back into a ponytail while wrapping the hair at the front into a circular pattern. make sure to secure with some sturdy pins to keep your hair in place.
15. Thick Jumbo Box Braids
With jumbo box braids, you're definitely spoiled for choice when it comes to colors, styles, and length of braids. The list of options is endless.
16. Jumbo Box Twist Braids
If you don't have time to style your hair every day, then the best option for you is the braiding method. Switch up your braids every few weeks with either some twist braids or cornrows.
17. Rainbow Box Braids
Yarn braids are very common for box braid styles and can be especially popular when incorporated with some rainbow colors.
18.
Jumbo Box Braids

Upstyle

Before considering to have a box braided hairstyle, you must first choose the size of braids that you want. If you're looking to wear your hair up in elaborate hairstyles, then you're best going for thicker braids.
19. Three-Part
Jumbo Box Braids
This jumbo box braids hairstyle is created by dividing the hair into three sections. Take the center part and pull them back to create the illusion that the middle section is shorter than the two side parts.
20. Jumbo Ponytail Braids
Having a ponytail can give you more confidence as it draws more attention to your face while keeping your hair more manageable. For this look, you'll need two things, thick hair extensions and an even thicker hair tie!
21. Purple Jumbo Box Braids
Imagine a hairstyle that both protects your hair while also allowing you to experiment with inane and vibrant colors – oh wait there is!
22. Box Braids with Towering Wrap-Around Bun
Look beautiful while dealing with less maintenance with this incredible wrap-around bun upstyle.
23. Jumbo Braids with Large Side Plait
Braids on braids! This hairstyle is basically several thin braids making up one larger side plait.
24. Ultra Long Jumbo Box Braids
Box braids are a protective hairstyle that allows you to keep your hair out of your face either when left down or when tied back.
25. Short Jumbo Box Braids
Jumbo box braids can easily be worn on those with short hair too. By adding some jewels and accessorize to your hair, you can give your locks way more personalty.
26. Afro Mohawk with Jumbo Box Braids
This hairstyle is certainly a head-turner for those who love to experiment with hairstyles. With this hairstyle, you can opt to wear your natural afro hair as a stylish mohawk, while rocking some jumbo Ghana braids.
27.
Half-Up Wrap-Around Bun with Box Braids
There are various ways of rocking your box braids. Try this half-up wrap-around bun for those who have an active lifestyle.
28. Box Braids Braids Updo
If you are interested in wearing box braids then you must consider the size, length, and color that you want. Once you've decided on all that, you can tailor your upstyle with some bold makeup and earrings to really complete the look.
29. Simple Jumbo Box Braids
Jumbo box braids can be a simple look but when accompanied by some hot makeup and seductive jewelry, your style will surely get noticed.
30. Side-Swept Ponytail
Try wearing your dramatic long box braids in a high side ponytail and use your braids to secure the ponytail in place with the wrap-around method.
31. Red Box Braids with Double Buns
An under-rated hairstyle is the double buns. This cute hairstyle doesn't get enough credit even though it's super popular amongst braid wearers. Make our hair stand out even more with some red hair extensions.
32. Chestnut Jumbo Box Braids
If you want to create a beautiful Autumnal look then you just gotta try a chestnut tint when incorporating some jumbo box braids.
33. Three-Piece Half-Up Ponytail
Jumbo box braids are an extremely adaptable hairstyle that have minimal tension on your hair follicles. To create this look, take three braids that are spaced out from each other on either side of your head and connect each braid at the back into a half-up ponytail.
34. Extra Long
Jumbo Box Braids
This simple look is perfect for those who love to let their hair down. However, with a hair length like this, you can easily secure your braids in a high wrap-around bun, double top knots, or two braids hairstyle.
35. Black and White Jumbo Box Braids
This look is by far one of our favourite jumbo box braided hairstyles because of its contrasting color scheme. Instead of the more popular copper strands of hair that we've seen on our list, find a striking black and white set of hair extensions that you can combine together for a jaw-dropping look.
Us the thick braids or dreadlocks to create a full, wrap-around upstyle that will surely guarantee to turn some heads and inspire others.
36. Long Jumbo Box Braids with Micro Tips
Jumbo box braids have similar qualities to yarn braids because of their thick texture and appearance. These versatile braided hairstyles make it super easy to create different hairdos because of their flexibility.
Start by applying thick pieces of synthetic hair extensions the roots of your hair then gradually braid the whole way down creating thinner, tighter braids at the end that you can secure in place.
37. Neat Jumbo Box Braids
This simple yet stylish hairdo can be completed by creating thick, jumbo box braids at the roots of your hair then, continuing while gradually creating thinner braids near the end.
To create thicker ends, use more hair extensions at the root in order to provide that chunky, jumbo quality.
38. Half-Up Ponytail with Jumbo Box Braids
Whether you have jumbo box braids or thin twist braids, you can easily achieve this half-up ponytail for an effortless, casual look.
The first thing you need to do is to make sure you have a large, thick hair tie. Then, divide your hair into a top and bottom section. Simply gather the top half of your hair and create a ponytail while letting the rest of your hair hand down behind your back.
39. Side Parting with Updo
Just because your hair is short, doesn't mean that it has to be boring. You can always play around with some subtle burgundy colors and hair accessories to give your hair more of an edgy personality.
Hair jewels are extremely versatile accessories and can easily be applied to both jumbo box braids and micro braids. Make sure to by beads that extend and open so that you can secure the braid inside.
40. Black and Copper Jumbo Box
Braids
To get this trendy look, all you need to do is incorporate some stylish copper hair extensions to your natural hair color.
In order to create fewer braids for easier hair maintenance, you'll need to create fewer box sections on the roots of your hair. So, if you want 10 braids, only create 10 box sections.
41. High Wrap-Around Braided Ponytail
To achieve this gorgeous braided hairstyle, it's best to utilize synthetic hair extensions for a longer length to play around with.
Once you've applied the braids, tie your hair up into a high ponytail then wrap a few braids around the ponytail and secure with a thick hair tie.
How to Take Care of Box Braids
Check out our important maintenance tips for keeping your jumbo box braids healthy looking as well long-lasting.
Best Synthetic Hair for Jumbo Box Braids
The first step in achieving healthy-looking, full jumbo box braids is to purchase a set of hair extensions. For those who want to get creative with colors, you can opt to buy the colors of your choice.
The perfect hair for jumbo box braids is 100% Kanekalon Jumbo Braid. However, if you prefer real human hair then the best option is human kinky hair (4B). This will not easily slip compared to synthetic hair.
Kanekalon Jumbo Braid is also a perfect option for people who are allergic to synthetic hair. However, this is not a popular option for people who are price conscious since it's a bit expensive.
Our Favourite Synthetic Hair Extensions
Check out our top pick for this best synthetic hair extensions that won't hurt your wallet.
Best Hair Care Routine for Jumbo Box Braids
Wearing a silk bonnet helps to prevent friction between your hairs while you sleep at night. This will effectively reduce the amount of frizz that you may acquire as a result of sleeping on your braids.
When you wear a silk bonnet to bed, you protect and alleviate stress brought on by your hairs rubbing off each other as you sleep. A silk bonnet will also and prevent you from getting split ends.
It's important to protect your braids especially since you'll be sending a pretty penny on getting them done! On average, you can expect to pay anywhere from $65-$350 for one jumbo box braiding session.
Our Favourite Silk Bonnet
Check out our top pick for this best silk bonnets for hair that protect your hair from damage and friction.
How long should I wear Box Braids?
Box braids are an excellent protective style because they prevent your hair from any thermal heat, which helps your hair to grow.
However, box braids can damage your hair if applied incorrectly, or left in for too long as they can become too heavy. We recommend wearing box braids for only four to six weeks.
How to create Jumbo Box Braids
Jumbo box braids are best completed by a professional but if you wanted to have a go at it yourself, we recommend following these careful steps. If you are going to get your braids done by a pro, prepare to sit tight – jumbo box braids can take three to four hours to complete.
Step 1: Divide the Hair Into Sections
Jumbo box braids can be created by splitting the hair vertically then horizontally to create a box. Each of these boxes can either be small, medium, or large depending on how many braids you want. Use a hair clip to secure each section.
Step 2: Divide Each Section of Hair Again
Start at the first box and divide the hair into three sections, which you will use to braid.
Step 3: Start Braiding
Start braiding until you reach the end of the hair. Hold it tightly until you reach the ends. Continue with the braiding process in all boxes.
Step 4: Spray Oil Treatment
You can add texture and shine to your hair by spraying oil sheen for naturally curly hair that can be applied on both wet and dry hair.
For a longer, thicker look, add some synthetic hair extensions to your braids.
How to Create Jumbo Box Braids Video Tutorial
For more of a visual lesson, watch this helpful video tutorial on how to create jumbo box braids by yourself.
Jumbo Box Braids FAQ
If you are considering getting jumbo box braids for the first time, you might have some questions. Getting a new style is an exciting and fun experience, but only when you're well-informed about the style and the process.
To help you get prepared, take a look through our frequently asked questions on jumbo box braids to help you with your research.
Get your own Jumbo Box Braids
So, what jumbo box braids style have you decided on? Will it be long box braids or short blonds braids? Make sure to do your research beforehand and decide whether or not you want long, short, thick, or thin brains.
Let us know what you decide on! We love to hear from our community of readers, so comment below and share your favourite box braids style, or if you've any tips on hair care and maintenance, we'd love to hear from you!