Most of us are familiar with yoga. We probably all have friends who can stand on their hands or twist their bodies into weird and wonderful shapes, and we know all the benefits of it. However, did you know that there is a thing called face yoga?!
Face yoga is a pretty new phenomenon in the health and beauty world, but it is fast becoming a part of many people's daily routines. But what is the hype, and does it actually work?
In this article, we will discuss the benefits of face yoga and the best methods and exercises that will keep you looking amazing!
What Is Face Yoga?
We have all heard that phrase, 'it takes 43 muscles to frown, but only 17 to smile'. When people say this, they are normally telling us that it is easier to smile than to frown, and therefore we should all be smiling all the time.
Of course, smiling is great. However, there is a lot to be said for working the muscles in your face!
According to HowStuffWorks, there are 43 muscles in the face. That is a lot of muscles, and like the muscles in the rest of the body, they can be exercised to give you a stronger and more defined look.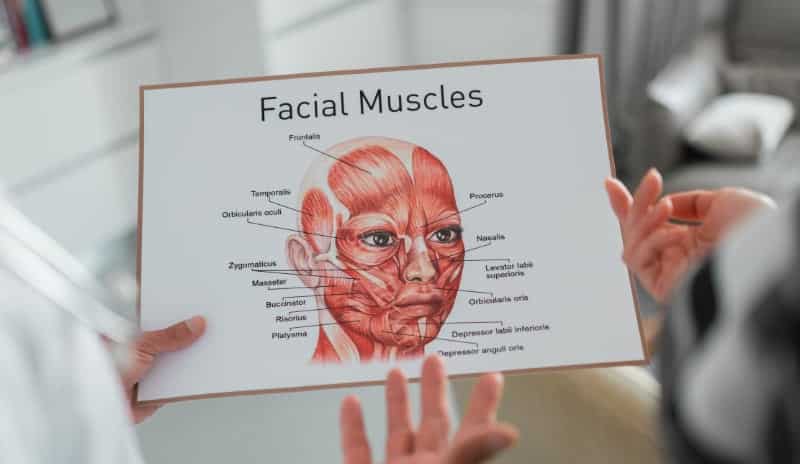 But, instead of working the muscles by frowning, we can work them by face yoga! Face yoga is a range of simple exercises that firm the skin and makes you appear younger. The exercises tone and relaxes the muscles and increases blood flow and circulation.
Face Yoga Benefits
So what are the benefits of face yoga?
Face yoga tones the muscles in the face and tightens the skin. This means that cheeks appear fuller and the skin becomes firm.
Face exercises smooth wrinkles. Because it relaxes the muscles in the face, it relieves the skin from pressure and rejuvenates your look. It basically is a free facelift!
Face yoga increases blood flow. Moving the muscles in the face helps with circulation and this can promote the production of collagen. This protein keeps your skin looking firm!
This sounds exciting, right? Fighting aging and getting a new glow without having to spend money on products or going under the knife? You might be thinking, 'this sounds too good to be true'!
Amazingly, face yoga actually works! Studies have proven that doing face exercises regularly will change the appearance of your face and make you look younger.
In one study, a group of individuals aged 40 – 65 attended face exercise training sessions and were instructed to do the exercises every day for eight weeks. The participant's photos were taken before and after the eight weeks and evaluated with the Merz-Carruthers Facial Aging Photo scales. The study found that the estimated ages of the participants were significantly lower after the eight weeks of facial exercises!
It isn't just how you look that is affected by face yoga, either. One study of elderly participants found that facial exercises helped their mental health. For those who cannot do much physical exercise, facial exercises can be a great alternative to keep you active and boost your mood!
Face Yoga Methods and Exercises
Now we know that face yoga is great for your appearance and overall health, let's look at how to do face yoga and the best face yoga poses that are great for beginners.
Face Yoga for Double Chin
So many of us deal with the dreaded double chin. No matter how many diets or workouts we do, it never seems to go away! But, face exercises can really help the double chin and give you the slim appearance that you have always been craving.
The best face yoga pose for the double chin is the natural neck lift. To practice this simple pose, relax your shoulders and look up to the ceiling. Be careful and slow, and lean back until you feel a gentle stretch in your neck. While you are doing this, move your mouth to make sure your neck muscles are working.
Then, slowly take your gaze forward and return to your natural position. Repeat five times every day.
Face Yoga for Jowls
Jowls refer to the skin that sags below the jawline. As we get older, our skin tends to get looser and our jowls might start appearing a lot saggier! Fret not, however, as face yoga is here to save you from loose jowls!
To tighten up the jowl area, puff out one cheek about halfway and stretch your mouth over to that side too. Then, change the cheek you are pushing out as if you are swishing water around your mouth. Move your mouth to either side as you do so.
This stretches the skin and trains it to be firmer, lifting up the jowl area.
Anti Aging Face Yoga
One of the reasons why we love face yoga is because it can make us look so much younger! There are so many great ways to practice face yoga for wrinkles and you can see the benefits after as little as a month.
Our favorite face exercise for wrinkles is called the V and it is basically botox without all the hassle! It is great for crows feet and drooping eyelids. Simply make two peace signs with your hands and place the middle finger on your inner eyebrow on either side of your nose bridge. Then place your pointer finger on the outer edge of your eyebrows. Apply pressure to these places and look upwards.
After five or so seconds, bring your gaze back to neutral. Then, repeat the process. We recommend repeating this exercise eight times each day.
Face Yoga for Eyes
Ever had that awkward moment when somebody tells you that you look tired when actually you have had an amazing night's sleep?
Sometimes we just look tired! Our eyes might droop and we might have big eye bags, but we are feeling good inside! However, with face yoga, we can get the wide-awake look no matter what kind of night's sleep we have had.
Gently place your index and middle fingers on the side of either eye where your temple is. This is a really sensitive part of your skull, so be super gentle here! Now, lift up the skin and open your mouth wide, bringing your chin right down. You will feel the skin on your cheeks stretch. After a few seconds, relax your face.
Repeat four or five times. We think this one really makes your feel rejuvenated as soon as you have finished the exercise! It really firms the skin around your eyes.
Face Yoga for Cheeks
Firm, glowing cheeks can really make you feel good, and the face yoga pose to get them is one of the simplest exercises on the list! Plus, it is super fun.
To get firm cheeks, fill your mouth with air and puff out your cheeks. A lot of people call this pose the blowfish, and you can see why. Hold the air in your face for as long as possible, then gently release the air out of your mouth.
Only repeat this exercise a few times and don't hold your breath for too long! Doing this will strengthen the muscles in your cheeks, giving you a fuller and firm look.
Face Yoga for Brow
If your relaxed face seems to naturally be a frown and you are getting lines on your forehead, it is super important to give your brow a break and some attention! Face yoga for the brow means easing frown lines and fine wrinkles, and it can help you destress after a long day at work.
Place your hands on your forehead with the fingertips pointing inwards to each other. Spread your fingers out as much as you can. Then, gently rub along the brow with a gentle pressure. Repeat this for as long as feels good.
We love this exercise because it is basically a massage for your brow and helps you relax your muscles and stretch them out. It is a great way to combat frown lines and wrinkles.
Face Slimming Yoga
Face yoga does not just help with aging, but it actually can be used to help change the structure of your face. If you are wanting to slim down your face, face yoga is here to help!
A great way of slimming down the face is doing the kissy face and lifting your cheeks with your hands. Simply pout your lips as if you were going to kiss somebody and then left the skin on your cheeks up and down.
Repeat this exercise around ten times a day and you will soon be noticing the change!
Face Yoga for the Jawline
Most people think that you are either born with a jawline or not. So many people envy those with chiseled jawlines and great bone structure without knowing that their secret might be face yoga!
There are loads of exercises that are fantastic for the jawline, and the easiest one is the vowel exercise. This is where you sound out the vowels and really exaggerate them. This means that the skin around your mouth, neck, and jaw is stretching.
Take your time sounding out the vowels and repeat the exercise as often as you like. Have fun!
Frequently Asked Questions About Face Yoga
Face yoga is a fantastic way of keeping you look young and keeping the skin on your face firm and taut. Here we have answered some of the frequently asked questions about face yoga, but do let us know in the comments below if you have more questions!
How Often Should I Practice Face Yoga?
We recommend doing the exercises every day. Try to put half an hour a day aside for you to practice the face yoga poses. This means that you will really gain the benefits of it! In just a few weeks you'll look younger and will have tighter skin without any medical treatments.
What we love about face yoga is that you can do it whilst working, watching TV, or listening to music. You don't need to put your gym gear on or buy special equipment. All you need is you!
Does Face Yoga Really Work?
So many beauty and health fads come and go, and we are always skeptical about new ones. However, face yoga really does work. It has been proven by scientific studies, and celebrities such as Meghan Markle have praised the benefits of practicing face exercises.
As long as you stick with it and practice every day, face yoga will work for you!
Does Face Yoga Cause Wrinkles?
Face yoga is all about stretching the skin and changing the face poses that are your default. It is these default face poses, such as a furrowed brow, that can cause wrinkles. With facial exercises, you are working out the muscles in order to relax the wrinkles.
It is really important that you are doing the exercises correctly. Make sure there are no wrinkles or folds when you are practicing the exercises and do the poses slow and controlled.
How Long Does It Take For Face Yoga To Work?
A lot of people who practice face yoga claim that they have seen the benefits of it within a month! This sounds exciting, but remember that according to the study we discussed earlier, it might take up to eight weeks. However, this really is no time at all when we are wanting to look younger and get rid of wrinkles.
Incorporate Face Yoga into Your Daily Routine
We love face yoga and we hope you do too. We never thought that we could actually work out our faces in order to look thinner, stronger, and younger. Plus, facial exercises really make the skin glow as we are working the muscles and stretching the skin, allowing more blood to flow.
There are also more ways than just yoga that can give your face a workout. Have you heard of jawline exercisers?! Check out our recent article about jawline exercises and what they can do for you.
Let us know how you are getting on with your face yoga routine, and what your favorite exercises are in the comments below, we'd love to hear from you!