Going to the salon is just not really appropriate right now. But what if there was a simpler way to get a haircut?
What if we told you that we have found the best hair cutting scissors online right now that allow you to get a quality haircut at home? Wouldn't you want to give them a try?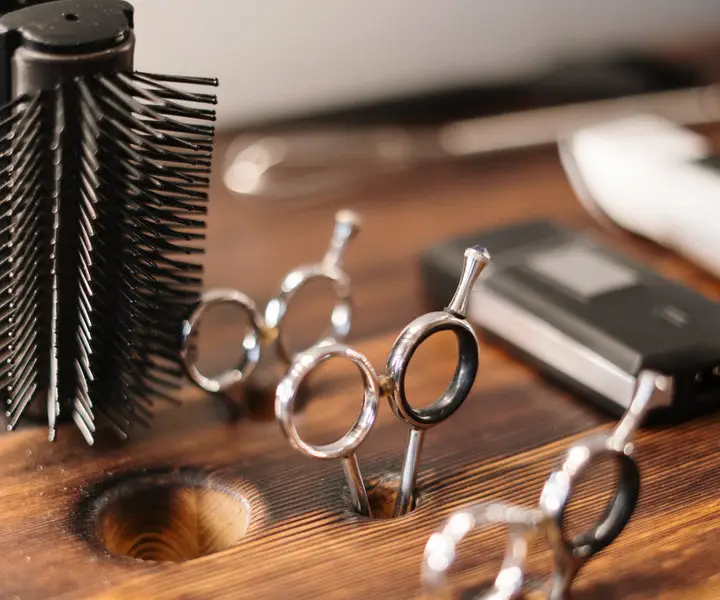 Over the past year, haircuts have been a contentious issue. In the summer of 2020, hundreds of Americans protested their right to haircuts, and a man hit the headlines for driving over 600 miles for a haircut. After all, haircuts are important to us.
We have created this guide for beginners that explains the different types of scissors for cutting hair, and how to use them for the best results. We have found the top eleven hair cutting scissors available on Amazon, for a range of needs and hair types.
Read on to discover what you need to do in order to give yourself the coolest haircut around!
Types of Scissors for Cutting Hair
There are a few different types of hair cutting scissors, and all do different things. Knowing what each of them does allows you to buy the ones that you need for your hair type.
So what are the different types of scissors for cutting hair?
Short-bladed Hair Cutting Scissors
These are great for most hair cutting techniques and are normally around 4 – 5.5 inches long. They are lightweight and allow you to be precise when cutting hair.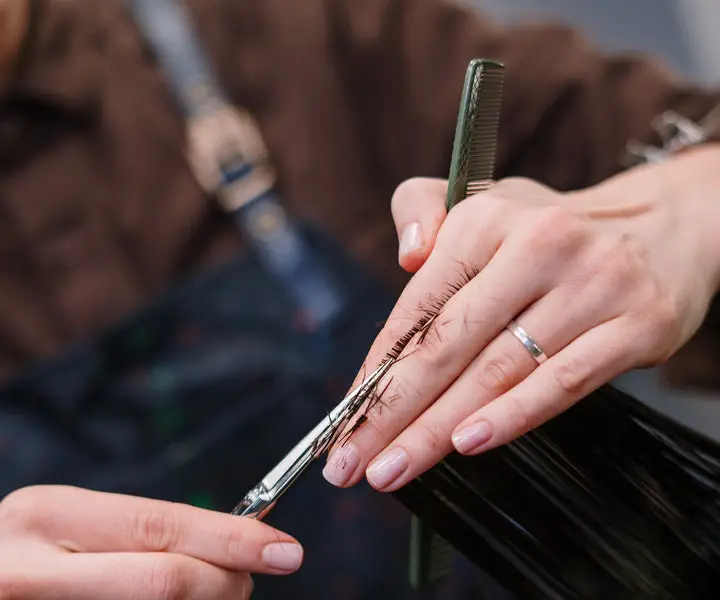 Long-bladed Hair Cutting Scissors
These are heavier and bigger than the short-bladed alternative, with a length of 6 or 7 inches. They are good for getting an even line and a blunt, bold look.
Thinning Scissors
These are for texturizing your hair and taking off weight. They only have teeth on one blade and are great for thick, heavy hair.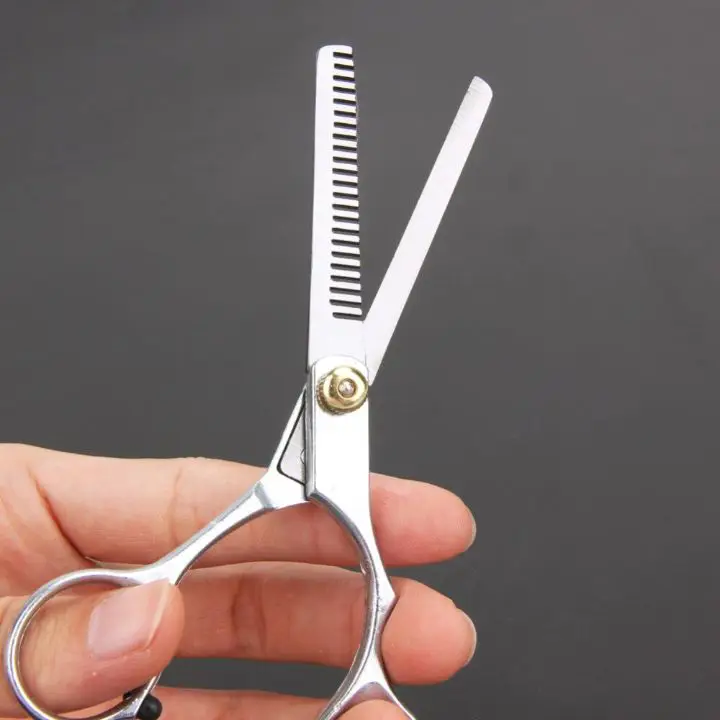 Swivel Scissors
These hair cutting scissors have a thumb ring that rotates and turns, allowing for flexibility and comfort. If you are planning to cut a lot of hair, these might be the scissors for you!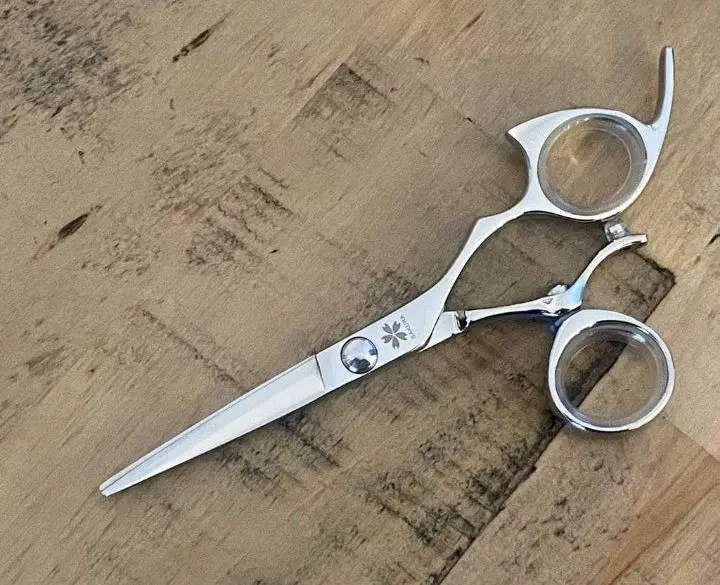 Features to Look for in Hair Cutting Scissors
Your hair is your pride and joy, so you don't want to use any old pair of scissors on it! Before you go ahead and buy a pair of hair cutting scissors, think about what you are wanting from them and the features you need to consider.
Here is a list of features that you should think about before you buy your first pair of scissors!
Size
Comfort is a must when it comes to cutting hair, and so it is super important to buy scissors of the right size! If you have small hands, you need to buy smaller scissors. Consider the weight of the scissors and if you will be able to work with them for a decent amount of time.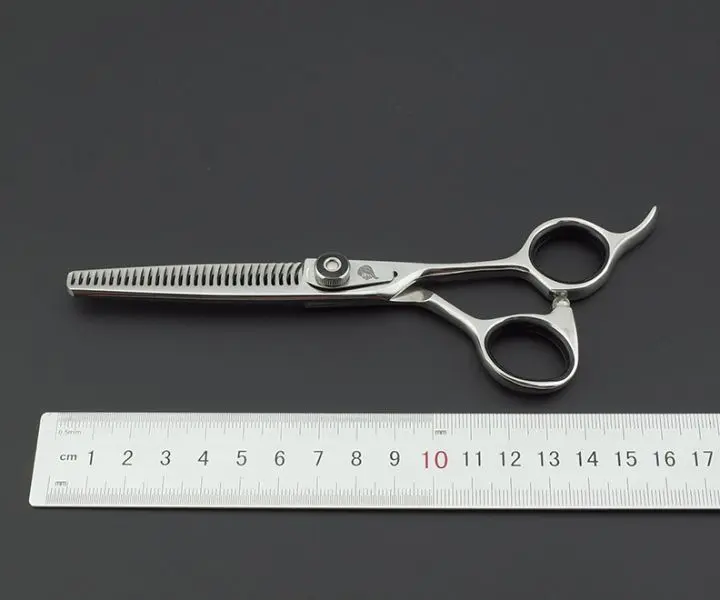 Handle
Again, this feature is all about comfort and really depends on what you prefer. If you work fine with an even handle, where both handles are the same size and level, go for this.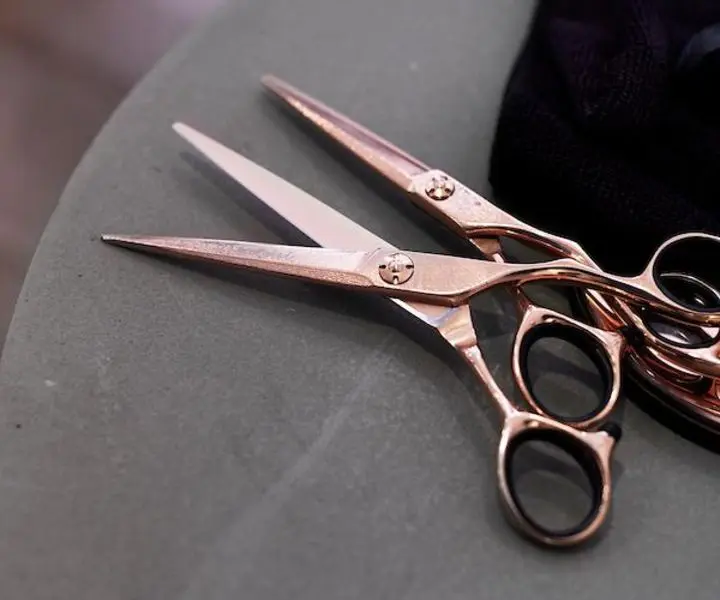 However, a lot of stylists prefer working with an offset handle. This is where one handle is longer than the other, creating a more comfortable and natural hold.
Type of Screw
A lot of hair cutting scissors have an adjustable screw. This means that you can alter the tension of the scissors easily, without having to use a screwdriver. Getting a pair of scissors with this feature is advisable, as it saves time and means you can adjust them simply when necessary.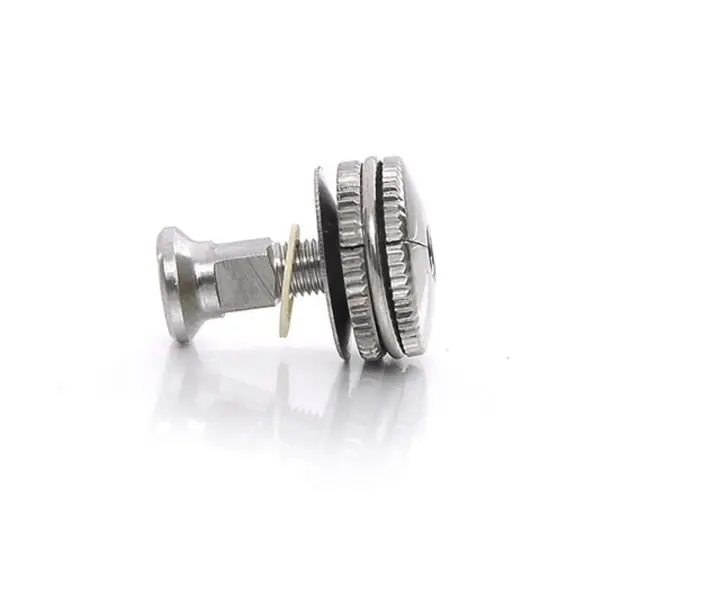 Our Favorite 11 Hair Cutting Scissors
So what are our favorite hair cutting scissors out there right now? Read on to discover what pair of scissors for cutting hair is right for you!
Overall Best Scissors for Cutting Hair: Professional Razor Edge Series Hair Cutting Scissors by Equinox
These 6.5-inch blades with a curved finger rest are a great pair of hair cutting scissors for both professionals and beginners. They are a high-quality pair, cutting sharply and precisely.
The adjustable screw means you can be super accurate when needing to change the tension. They are also lightweight, so don't get too put off by the long shears! These scissors are still really easy to use.
Best Professional Hair Cutting Scissors: Laser Cutting Professional Barber Hair Scissors by Fengliren
Perhaps you are wanting to get a pair of scissors that are for professionals. Maybe you have cut hair before and know that you can handle the expert level stuff! If so, these scissors are great for you. They are well worth the money, with extremely sharp, long blades, allowing you to get a defined cut.
You can use them on beards, mustaches, long hair, short hair, thick hair, or thin hair! They are also built to last with the best stainless steel perfect for hair cutting scissors.
Best Premium Hair Cutting Scissors: Professional Hair Scissors by Fagaci
These hair cutting scissors are super sharp and extremely comfortable. The design means that you are able to cut with ease and control, and provides a clean cut. The screw is also of the best quality, meaning you can be extremely precise when adjusting the tension. It also comes with a tool to adjust the scissors, and a leather to wipe them!
Best Affordable Scissors for Cutting Hair: Hair Cutting Shears by JAVENPROLIU
Layers always look good, right? A timeless cut that brings that extra bit of oomph to your look, layering is loved by many of us! So, if you want to layer your own hair at home, you need to get the best scissors for the job!
These hair cutting scissors from Fcysy are great for layering as they are super lightweight, with a size of 5.5 inches. This means that you can add layers with ease. They give an even trim, providing you with the ability to give yourself your dream haircut!
Best Hair Cutting Scissors for Beginners: Professional Hairdressing Scissors by Sanguine
These small, sharp scissors are really easy to use, and therefore great for you if you haven't cut any hair before! They are adjustable and comfortable to hold. They give you a smooth and even cut, but they are sharp, so be careful if you have not used hair cutting scissors before!
Best Hair Cutting Scissors for Kids: Haircut Set for Kids by PLYRFOCE
Scissors are sharp. Kids are unpredictable. Therefore, cutting a kid's hair is a pretty tense job! Thankfully, there are kits out there that are designed for cutting kids' hair. This kit is great because the scissors are of great quality and sharp.
At the same time, they have a safety round tip and a finger rest for extra comfort. They also have a muffler to minimize noise, so great for sensitive kids!
The kit includes hair cutting scissors, thinning scissors, a cape, clips, and a comb. Everything you need to give your kid a salon experience–at home!
Best Hair Cutting Scissors for Left Handers: Barber Scissors for Left Hand by Ruvanti
Lefties are said to be more creative, so surely they need a great pair of scissors to give themselves an exciting new haircut!? Thankfully, Ruvanti is here to provide a professional pair of hair-cutting scissors for a great price designed for lefties!
These scissors are lightweight, comfortable, and durable. They are sharp scissors and perfect for cutting ends and bangs.
Best Hair Trimming Scissors: Barber Scissors by TECTO
These hair cutting scissors are 6.6 inches, so have a longer blade than others on the list. This means that they are perfect for trimming your hair as they give you a sharp and even cut. They are super comfortable too with soft rubber rings on the handle and an ergonomic design.
Best Hair Cutting Scissors Kit: Professional Hair Cutting Set by Smithking
When it comes to cutting your own hair, there are so many different tools that you need. A comb, a cleaning cloth, a pair of thinning scissors, and a razor are all great things to have when wanting to style hair!
Thankfully, this affordable kit has all of these things and are made with quality in mind. They are perfect for cutting and texturizing hair and fit comfortably in the hand. We also love the color!
Best Thinning Hair Cutting Scissors: Barber Hair Thinning Scissors by Rough Stache
These hair thinning scissors are a great way to texturize and style hair. They have a comfortable hold and are made from the highest quality stainless steel. With an adjustable screw and extra sharp blades, there are an amazing pair of thinning scissors that you need in your styling gadget collection!
Tips for Cutting Hair with Scissors
So now you know what to look for in hair cutting scissors and what the best ones available right now are. Let's have a look at our top tips for cutting hair with scissors!
Doing it yourself might seem scary at first, our hair is a part of our personality and we don't want it to look bad. But remember, hair does grow back, and short hairstyles are cute too!
As long as you go slowly and carefully, you can give yourself a great haircut. Once you learn the skill, going to the salon will be a thing of the past!
How to Hold Hair Cutting Scissors the Right Way
Firstly, you need to make sure you are holding the scissors the right way. There are two loops in a pair of scissors and you need to put your thumb in one and your ring finger in the other. This gives you a comfortable hold and flexibility of movement.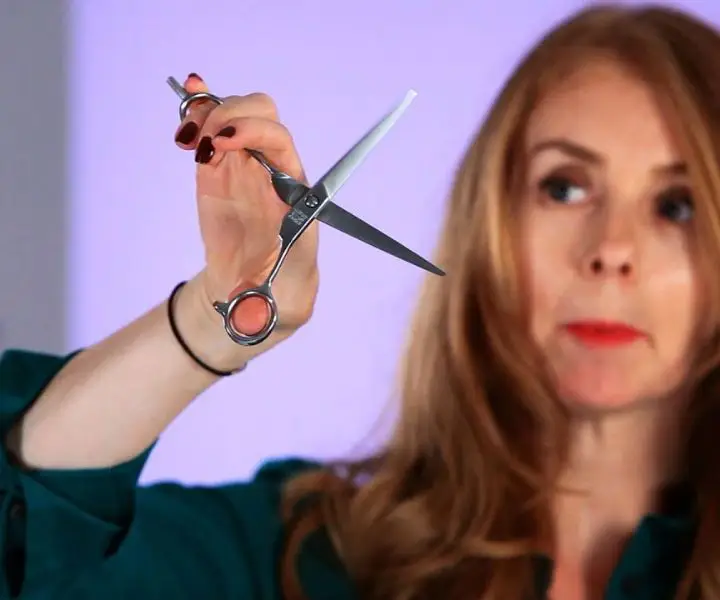 When cutting hair, you are wanting to only move the blade that the thumb is controlling, with your pointer finger resting near the screw. This allows you to have full control over the scissors.
As you cut your hair, hold the scissors upwards. This gives a more natural look, instead of a blunt cut. If there are some uneven strands, they will not be too noticeable if you cut your hair upwards as it blends the hair together.
How to Cut Hair Confidently
When it comes to cutting your own hair, the most important rule is to cut less than you think you need to. This gives you leeway if you made mistakes, and it means you can look at your hair before every cut to see if you really do need to take more off! Start small, and be really careful.
If you are a beginner at DIY haircuts, it is best to do them on dry hair. This means that you can work with the texture of your hair and how it curls and falls.
How to Sharpen Hair Cutting Scissors Without Trouble
In order to get the cleanest cut, it is really important to keep the blades of your hair cutting scissors sharp. Without sharp scissors, your hair will split and look uneven!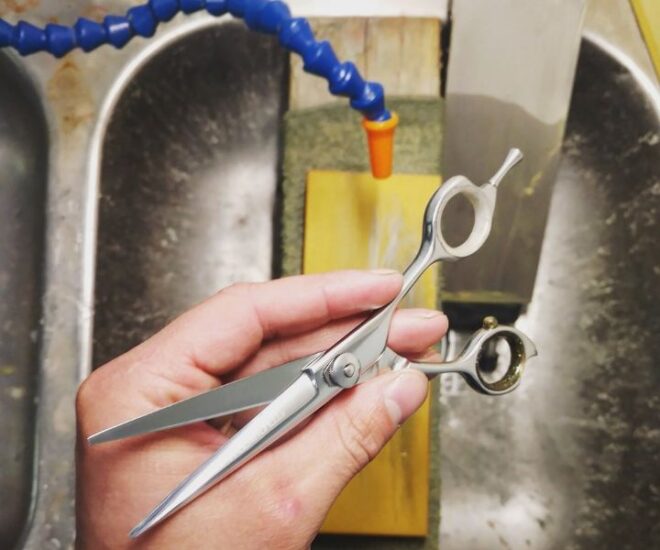 There are a few different ways to sharpen hair cutting scissors, and here is the top three for beginners.
Scissor Sharpeners
The easiest way to sharpen your hair cutting scissors is to buy a sharpener specifically for scissors. This means you can sharpen them easily and get great results. However, if you are on a budget, this might not be the best way for you!
Sharpening Stone
A sharpening stone is a cheaper alternative to scissor sharpeners and can be found in most hardware stores.
Sandpaper
Another cheap way to sharpen your scissors, sandpaper is a great tool when it comes to hair cutting scissors! In order to sharpen your scissors, you simply need to cut sandpaper with them.
With each cut, your scissors will get sharper. You can also fold the sandpaper to double up the effect!
How to Maintain Hair Cutting Scissors for Longer
Because hair-cutting scissors are made to last, it is super important to keep them in good condition. To maintain your scissors you should always keep them covered in a case or sheath when not in use.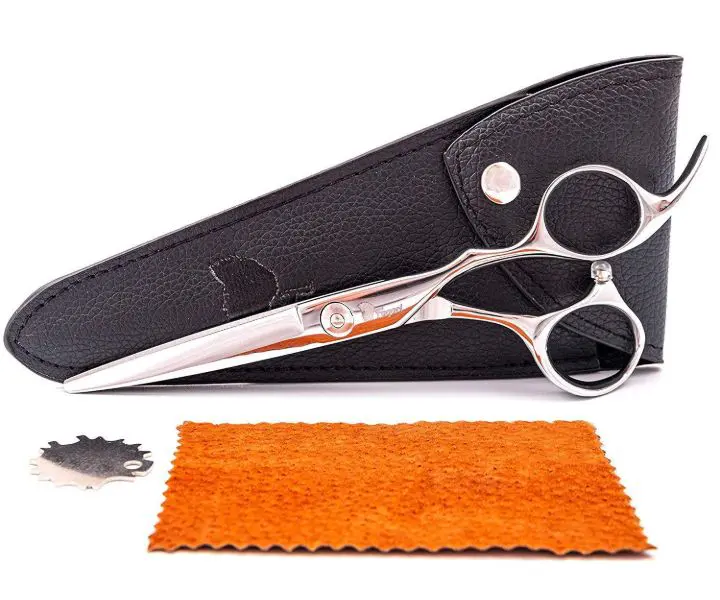 When using them, you should always hold them by the handle and try not to touch the blade, as oil and sweat from your hand might damage the blade!
It is good to lubricate the scissors with oil every few days, making sure the screw is working with ease. Plus, don't use the scissors for anything else! Keep your hair cutting scissors only for cutting hair.
What Scissors Are Best for Cutting Hair?
The best scissors for cutting hair are salon-quality, professional hair cutting scissors. A lightweight and comfortable pair of scissors mean that you can cut with ease and confidence! T
here are different things to consider when buying a pair of scissors for cutting hair, and it all depends on your needs. Check our section on hair cutting scissors features for guidance.
Can You Use Regular Scissors to Cut Your Hair?
You can but they will not be sharp enough to get a precise and even cut. Using regular scissors will mean that your hair might get split ends and look untidy. If you want a salon-quality cut, you need to invest in proper scissors for cutting hair!
Are You Ready For A New Look?
DIY haircuts are very trendy right now, with celebrities even choosing to cut their own hair! Are you daring enough to get a pair of hair cutting scissors and create a new look for yourself?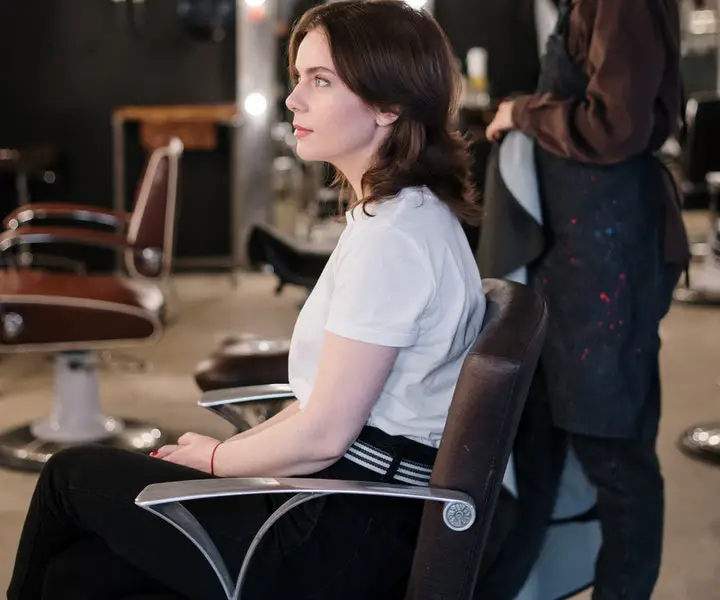 Cutting your own hair not only saves money but also means that you can do your hair exactly how you want it. No more awkward moments at the salon when your hairdresser is asking you how you like your new haircut and you loath it!
Perhaps you are daring enough to put your own layers in? Or, maybe a short bob is the look for you!? Either way, good luck!
PS: Let us know how you have cut your hair. We're curious!