Senegalese twists are an excellent protective style option. Aside from protecting your natural hair, their versatility can make you look even more gorgeous. You can experiment with various lovely styles each day. If you want to take a break from hair styling solutions, then go for the Senegalese twist.
Best Senegalese Twists
Without further ado, here's our list of awesome senegalese twist styles!
Senegalese Twists Styles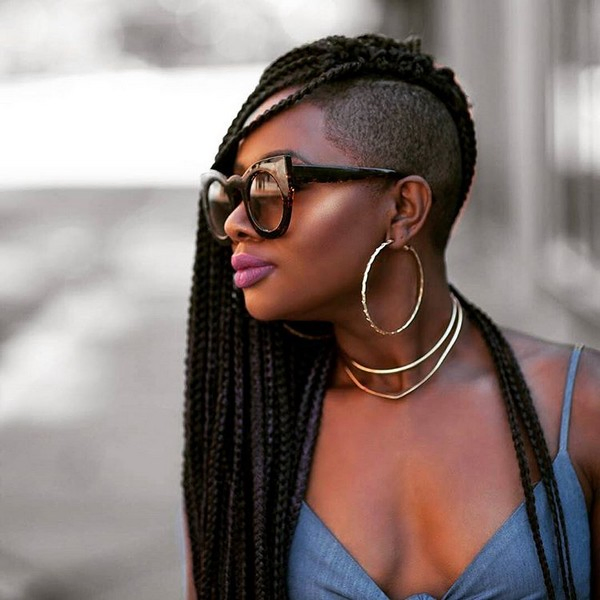 This particular Senegalese hairstyle takes a lot of confidence to wear. Not all women would dare to shave one side of their head. We have seen Rihanna wore an undercut years ago. Now, it seems that shaving one side is completely normal. However, there are still some women are reluctant. Yet, this cool hairstyle is something that you should not ignore.
Senegalese Twists Bob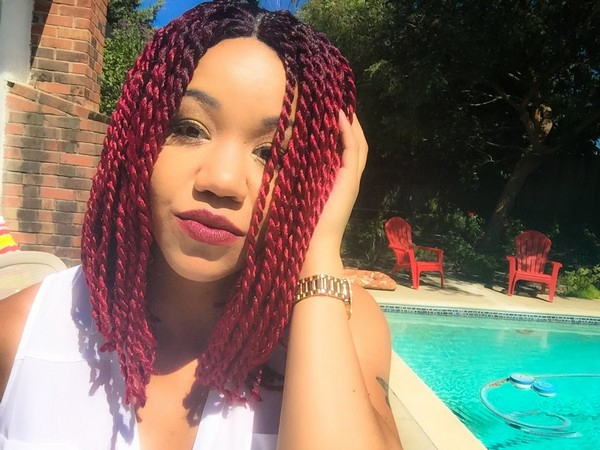 Senegalese Twists Bob can make you look younger. If you want to look five years younger then you should go for a bob hairstyle.
Senegalese Twists Crochet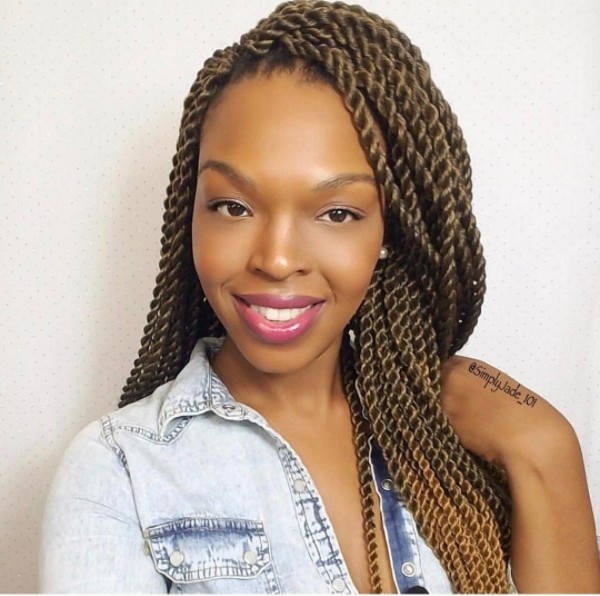 With this classic hairstyle, you can put more emphasis on your face and your eyes. This is a cool and unique hairstyle! Choose the color that you want for your Senegalese twists.
Senegalese Twists Hair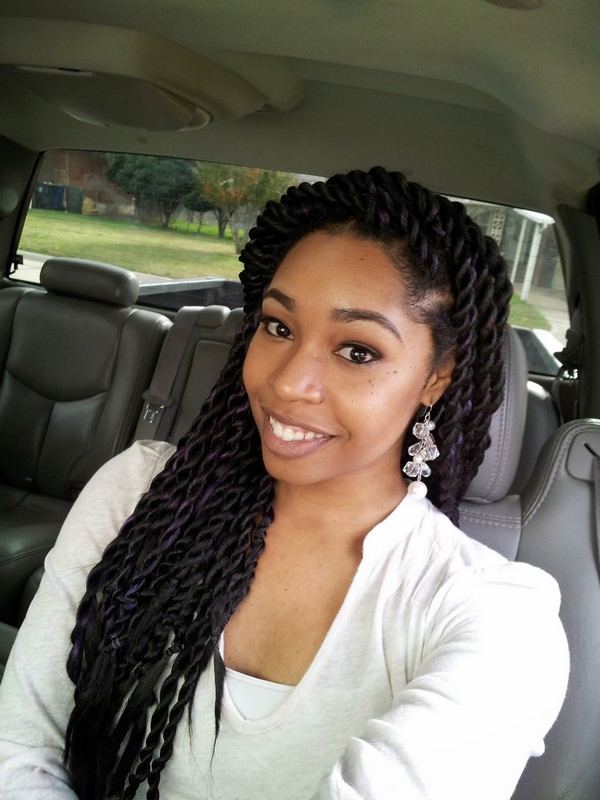 You can probably wear this style for a week or two before changing to another hairstyle.
Small Senegalese Twists
Long Senegalese Twist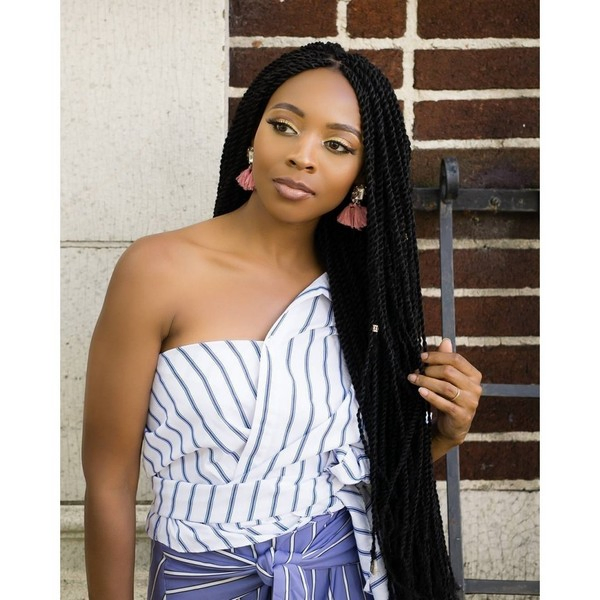 Most women love long hair. Some prefer long straight hair. However, if you want a red-carpet look then go for Senegalese twist. They look simple, yet elegant and refined!
Senegalese Twists With Color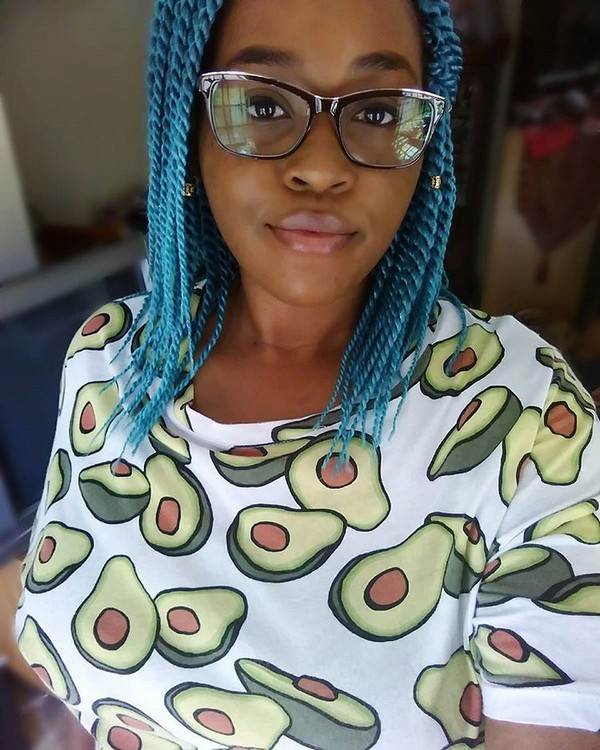 The turquoise hair color is a popular choice for most women. This is definitely something that you must try! Likewise, if you want to protect your hair, then go for a Senegalese twist.
Medium Senegalese Twists
Senegalese Twists Medium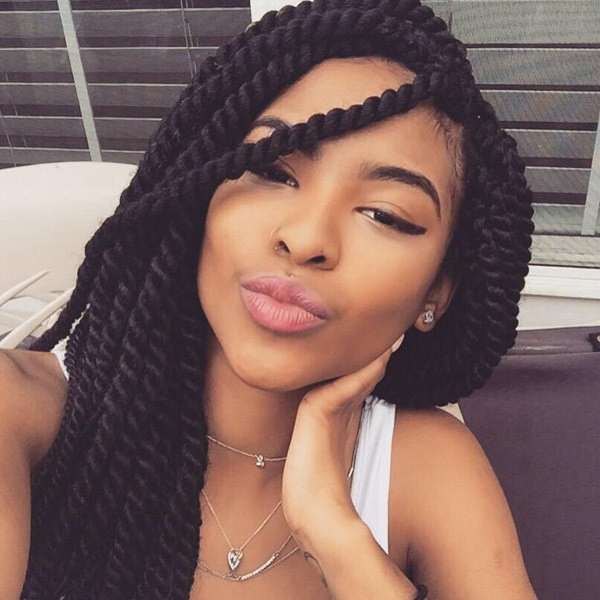 With Senegalese twists, you can choose to wear it thin, medium or jumbo. However, if you want to look sexier, then take one section and side-swept it over your eye.
Senegalese Twists Updo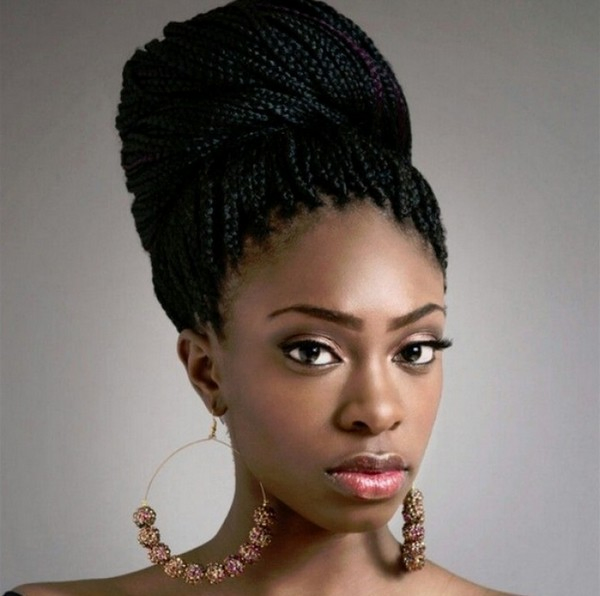 Originally Posted on Pinterest
We have seen Alicia Keys wearing this hairstyle. She really loves to experiment with different ethnic hairstyles. If you want to rock your Senegalese twists in a top knot, then be careful about how tight you make your bun. Most often, this can pull on your edges, making them thinner and eventually fall out.
Jumbo Senegalese Twists
Best Hair For Senegalese Twists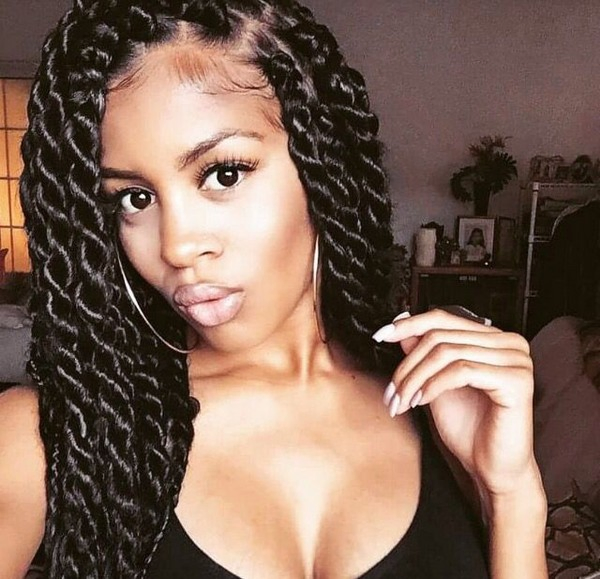 Originally Posted on Pinterest
Bigger is better. Senegalese twists can be done in various sizes. However, jumbo twists are more prominent.
Jumbo Sized Senegalese Twists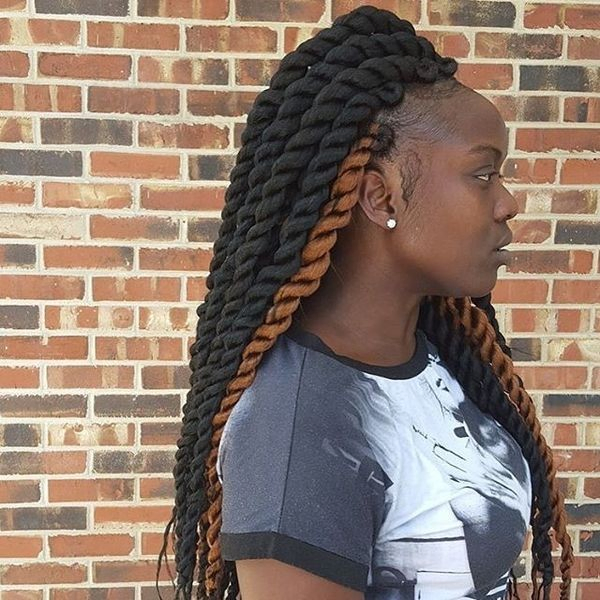 Most often, Senegalese twists are swept to the back. However, aside part can provide a feminine touch to the overall look. Senegalese twists are suitable for any fashion sense or personality.
What are Senegalese Twists?
Senegalese twist is one of the favorite styles of women.  Lupita Nyong'o wore this style during the National Board of Review Gala. As the name suggests, Senegalese twists or rope twists, actually started from the West African country of Senegal.
This fabulous, protective style provides a unique take on the latest braid trend. These two-strand twists do not take too much time to create and remove than the conventional three-strand plaits.
When accurately done and with proper care, they can last up to two to three months. This is ideal for reducing the damage caused by heating and styling products. You do not have to comb your hair daily. When maintained properly, breakage can be minimized.
You can do Senegalese twists in the comfort of your home or in a salon. Be sure that your hair is moisturized and parted. Wrap your natural hair with strands of Kanekalon hair or Marley hair and twist them. There are a lot of styles that you can do once you are done with the twisting.
You can wear half-up styles, updos, braided, knotted, or you can just let it flow freely. If you want to look different without sacrificing your style, then go for Senegalese twists. Some of the traditional and most popular styles are listed below.
Here, we have gathered the Best Senegalese twist styles that you'll surely love! Take a look at these various options and choose the one that you like the most.
How To Do Senegalese Twists?
Senegalese twists can be done by twisting synthetic hair into your natural hair. However, if your hair is naturally thick and long then you do not need any braiding hair extensions anymore. When done properly, they can look like a single braid.
Step One: The first thing that you must do is to wash your hair thoroughly. Use a moisturizing shampoo and detangle them using a wide-tooth comb. Use a blow-dryer in drying your hair.
Step Two: Get a rat tail comb and part a small portion of your hair, this will be your first row. Start at the back of your head. Gather the remaining hair and secure them with hair clips.
Step Three: Isolate a small, box-shaped portion of your hair. Secure the remaining hair with hair clips.
Step Four: You need to separate this small, box-shaped portion into two equal parts. In case you are using braid extension hair, get a small amount. It should approximately have the same thickness as your natural hair. Combine it with your natural hair and make sure that the bend is in the center. Each side must include an extension hair. The remaining steps are the same whether you are using braid extension hair or not.
Step Five: Start twisting each portion to the right. Be sure to hold your hair tightly. Use your index fingers and thumbs in twisting your hair. It would be easier if you do one section at a time.
Step Six: Cross the twisted right portion over to the left section in such a way that they are switching places. Continue twisting until you reach the end of your hair.
Step Seven: Repeat steps 2 to 6 until you have completed the whole row. Make another row and continue until such time that the entire head is completed.
Step Eight: Finally, seal the tips by dipping them in hot water. This can prevent your twists from unraveling.
How To Style Senegal Twists?
With Senegalese Twist, you can create something amazing with your hair. Best of all, this hairstyle can suit any hair type. If you are getting tired of the same braid hairstyle, then perhaps it's time that you should change it to something new.
Here are the steps for creating the High Updo.
First Step: Gather all your twists and create a high ponytail.
Second Step: Divide the ponytail into two sections.
Third Step: Get one portion and twist it around the base.
Fourth Step: Use bobby pins to secure this portion.
Fifth Step: Do the same on the other portion, however, you must twist it in the opposite side. Secure it properly using bobby pins.
What Kind of Hair To Use For Senegalese Twists?
When creating Senegalese twists, braiding hair extensions are needed in order to add more volume to your hair. At the same time, it would be much easier to tangle with your hair. With regard to the type of hair extension to use, it will depend on your own personal preference. There are different types of hair extensions that you can choose from. These are all created specifically for Senegalese twists. However, each of them differs from one another. Here are the common types of hair extensions that are mostly used.
Marley Hair – These are popularly used for Marley Twists. Yet, some people want to use these extensions for Senegalese twists. They can hold on to your hair effectively since they are very rugged. They look like your natural hair. Also, they won't unravel too easily. Marley Hair can bind your twists tightly.
Kanekalon Hair – These are essentially straighter compared to Marley Hair. They can provide you with a smoother finishing, making them look more realistic. You can easily manage them and you won't get any tangles. Most importantly, they can hold your hair together perfectly. These are commonly used for medium and long hair. Kanekalon Hair is also very affordable.
Toyokalon Hair – These extensions are much lighter compared to Marley Hair. They are fluffy and ideally used for shorter hair. These are suitable for those who don't want very tight twists. Toyokalon Hair does not look very realistic, however, most women feel comfortable with them. Also, you can purchase them at a very affordable price.
How Long Do Senegalese Twists Last?
It is still uncertain how long Senegalese twists can last. Usually, it depends on how you care for them. Sometimes it can last between 8 to 16 weeks. Here are some tips that can help you in making your twists last longer and look fabulous.
At night, wrap your hair in a satin scarf or bonnet. This can prevent your twists from unraveling too quickly. Do not tie the scarf too tightly.
Clean your hair regularly. Dry it completely with the use of a blow-dryer. This can keep your hair from smelling.
In case there is more than a half-inch of growth or your hair already feels too heavy, then perhaps its time to remove your twists. This can avoid any breakage or damage to your hair,
You should not twist your hair while it is still wet. Most likely, it will unravel and gets frizzy. Be sure to have dry hair, however, it should not be rough.
A twist pudding can help you in styling your hair beautifully. Additionally, they can provide more grip to your twists. You can easily do your own twist pudding by mixing gel, shea butter as well as a bit of oil.
Moisturize your hair properly, however, do not overwork it. Look for a moisturizer that can last longer. In this way, you don't have to apply it over and over again.
Always use braiding hair extensions that are smooth. They can help you twist your hair effortlessly.
You must learn the best technique of twisting so they won't unravel too quickly. The Kanekalon hair is the best option for Senegalese twists.
Your twists can easily get untangled if the ends are not properly secured. Keep the ends completely sealed by dipping them in hot water.
In order to keep your twists beautiful and last longer, you have to redo the edges. The key is to untangle them occasionally and re-twist them again. Deep condition the edges to prevent them from breaking away.
Senegalese Twists vs Box Braids
Senegalese Twists or Box Braids? Which one should you choose? First of all, you have to understand the differences between these two hairstyles so you can decide which one is perfect for you.
Senegalese Twists and Box Braids are both easy to style. However, some people assume that one is much easier than the other. Most probably, this will depend on your proficiency. Senegalese Twists are done by wrapping two strands of hair around each other. With Box Braids, you have to plait three strands of hair together. Obviously, if you find it hard to do this on your own hair, then you can let a hairstylist do it for you.
When it comes to weight, Senegalese Twists weigh lesser than Box Braids. This is because Senegalese Twists do not use too much hair. However, for some people, this is not an issue. Yet, if you are a regular swimmer wherein your hair gets wet regularly, this is a great concern.
Box Braids are notable for being a long-lasting protective hairstyle. They can stay beautiful for a lng time. On the contrary, Senegalese Twists can untangle relatively quickly. Although, both of these styles can last for a long time, however, Box Braids have an edge when it comes to longevity.
The natural texture of your hair is prevalent on Senegalese Twists. However, this will greatly depend on the texture and thickness of your hair. For some people, this is a great factor, but for some, this is not really a big deal.
The amount of maintenance is also another factor that should be considered. Keep in mind that Senegalese Twists require more maintenance than Box Braids. This means that braids are the perfect option for people who have less time on their hands. If you are into sports or physical activities, then you have to understand that twists require a lot of touch-ups.
Senegalese Twists vs Marley Twist
Senegalese Twists
Most often, Senegalese Twists use Kanekalon hair in creating smooth sleek twists. On the other hand, with Marley twists, you can use various kinds of hair extensions. Additionally, they are much chunkier than Senegalese twists. Simply put, Senegalese Twists are much lighter. However, this will depend on how small or how many twists you want. Hence, Senegalese Twists are the cheapest way if you want to do it yourself.
Your hair will not unravel too easily. However, be sure to use the perfect technique. Senegalese Twists are a favorite among black women. African-American women are blessed to have natural curls. With their thick dense afro-textured hair, they can creatively shape them into breathtaking hairstyles.
They are very convenient and time-saving too. Kanekalon hair is usually used in making Senegalese twists to ensure that you can have a smooth, polished look. Basically, you need three to four packs of Kanekalon hair for medium-length or longer hair.
Marley Twists
Marley twists use Marley hair braiding extension. They are usually available in different colors. You can purchase them in almost all beauty supply stores that are selling hair extensions. There are different brands to choose from, so you will have a lot of options.
However, if you want to get a fuller look then you need more Marley Hair. Marley, Havana, and Senegalese twists are actually the same. Actually, the difference is not in the technique but in the hair.
Marley and Havana's twists are kinky or wavy, making them look like Afro hair. The extension hair is twisted together with your real hair.
Getting your Twist Braids
Senegalese twists are a perfect option for women who want to look sexy. This protective hairstyle is very versatile and has low maintenance; a perfect solution to your busy schedule. If you do not have a lot of time styling your hair on a daily basis, then go for this style.
Protective hairstyles are what you need if you are transitioning your hair from relaxed to natural. It can strengthen your hair and it does not take too much time to install. If you do not want to stay in the salon for more than six hours, then this is the best hairstyle for you.
Removing the twists is relatively very easy. Since this is only a two-strand twist, then taking it down will not take too long.
Since twist braids are created by doing two-strand twists, they are best for those who want to learn how to do their own hairstyle. Installing braids and twists can be costly and time-consuming too!
That is why learning how to do it yourself can save you a lot of time and money. There are several video tutorials that can help you learn how to do your own amazing Senegalese twists. Always remember, practice makes perfect!
With Senegalese twists, there are unlimited options when it comes to daily styling. This lovely protective style can be worn by any woman, regardless of their age, race, or profession. Aside from its versatility, they also look elegant and professional.
Senegalese twists can be worn all year-round. We hope that this post will inspire you to step outside of your comfort zone. Why not try a different color or style?