Short hairstyles for black women are not only impressive but versatile too! With our beautiful gallery of inspirational images you'll be shouting "Short hair, don't care" at every street corner.
And did you know that short hairstyles also have a lot of advantages? Not only will they keep you cool during those warmer months but shorter hair can save you a lot of time during your morning routine.
Apart from that, short hair is an excellent way of expressing your personal style and attitude. However, some people believe that short hairstyles have limited variety and freedom. This is certainly not the case! If you're reading this and you currently have short hair (or are considering it), there are still a ton of ways to style it.
With this article, we hope to inspire you with beautiful short hairstyles, the best products to use, and essential tips to keep your short hair healthy!
Short Hairstyles for Black Women
Short hairstyles are not only meant for the summertime. You can rock a pixie cut or bob during any season. If you're planning on a well-deserved hair makeover then these short hairstyles for black women are the perfect motivation for you!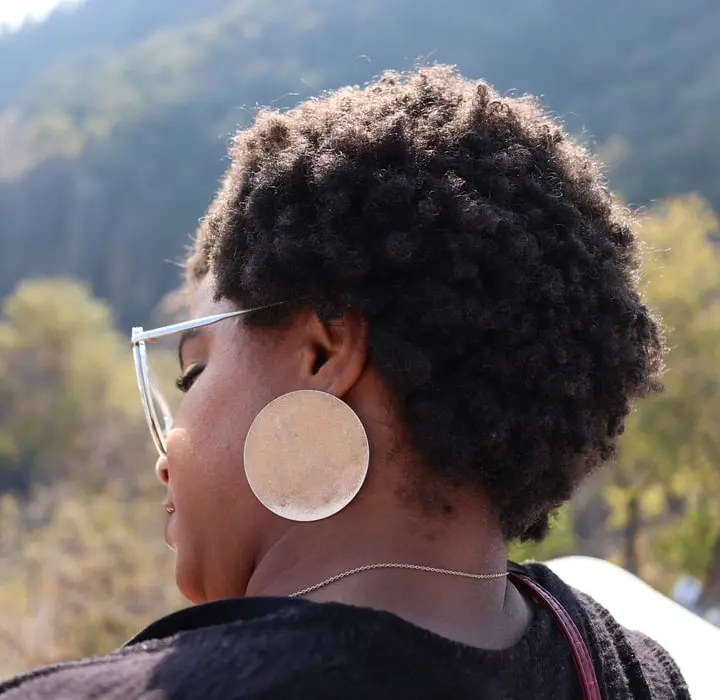 If you are feeling bored with your long hair, then switch it up with a trendy short hairstyle that we promise will make you stand out. Keep scrolling to view our collection of inspirational short hairstyles for black women.
1. Short Wavy Pixie Hairstyles
A pixie cut hairstyle is very common among black women. It gives you a bold but healthy look that is easy to maintain and can boost your personality. Complete the look by wearing smokey-eyed makeup which will also complement your short hair.
2. Short Afro with Twist Braids Hairstyles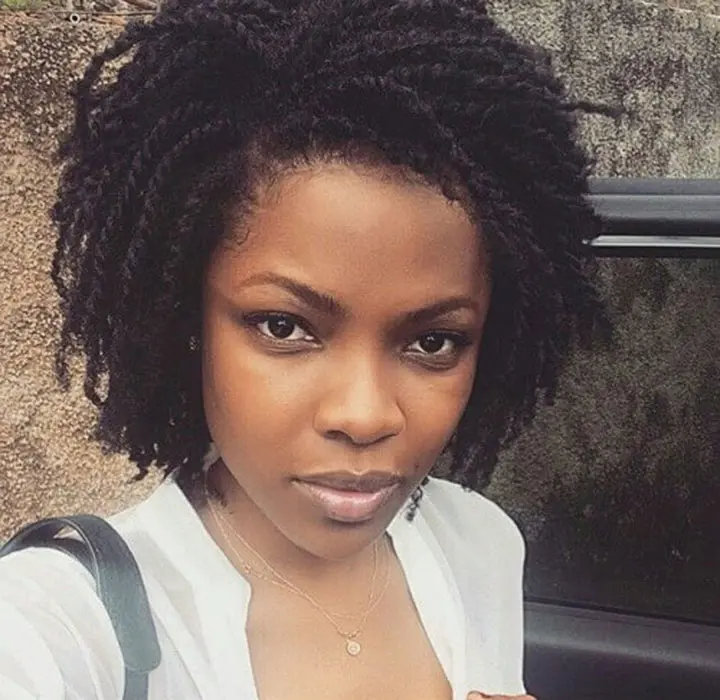 This short hairstyle for black women is a sensual and feminine look that will make heads turn! Embrace your natural curls with afro twist braids that will not only look amazing but protect your hair from everyday damage.
3. Tiny Afro Hairstyles
This is a classic and popular short hairstyle for black women. With some bold makeup, this look can make women feel confident and sexy. Tiny afro hairstyles are a fashionable and minimalistic way of embracing your natural look.
4. Copper Tiny Afro Hairstyles
This tiny afro look with a hint of copper is one of our favorite short hairstyles for black women because of its beautiful, effortless look. Express yourself and your natural hair with this easy-to-manage hairstyle.
5. Curly Shoulder-Length Hairstyles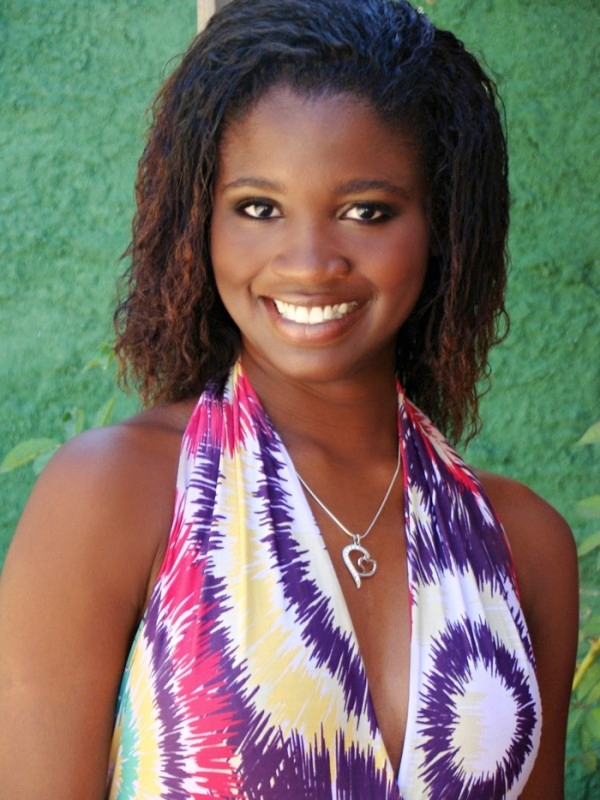 Black women have so much choice when it comes to deciding on a hairstyle. With this curly short shoulder-length hairstyle, you can be ready for both causal or special occasions at any moment.
6. Tightly Cut Hairstyles for Black Women
Some black women may be nervous to experiment with short hairstyles. But how can you be sure unless you give it a try? We highly recommend this short black pixie haircut with high bangs. But don't just take our word for it, Rihanna seems to love it too!
This glamorous yet effortless short black hairstyle can also make you look like a queen. Glam this simple style up with some big earrings and get ready to turn some heads!
7. Short Black Hairstyles with Curls
Just because you have short hair, doesn't mean you can't do anything with it. Experiment with some curls to give more personality to your short and sexy hairstyle.
8. Short Blonde Hairstyles for Black Women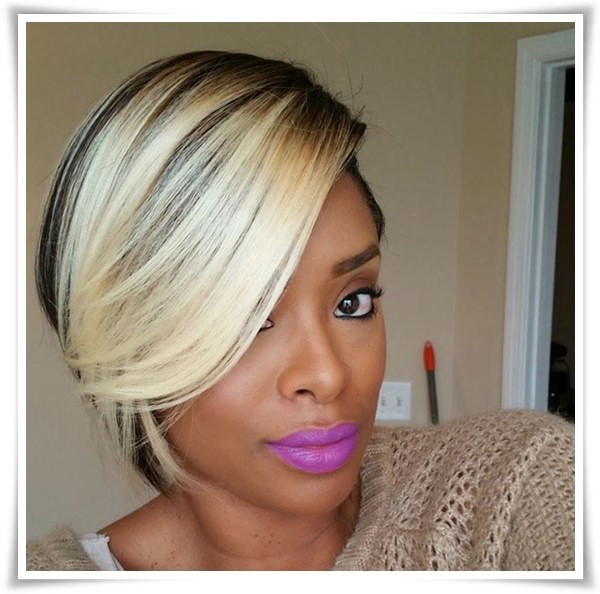 Add some character to your look by incorporating some blonde highlights to your side-swept bangs. You can also complement your short hairstyle with some eye-catching makeup.
9. Wavy Blonde Pixie Hairstyles
A short, wavy pixie cut with closely chopped sides can really elongate your face making it perfect for women with round face shapes. If you're someone who has a more rounded face shape, a short hairstyle can take a few years off you while still oozing sophistication and maturity.
10. Short Bob Hairstyles with Highlighted Strands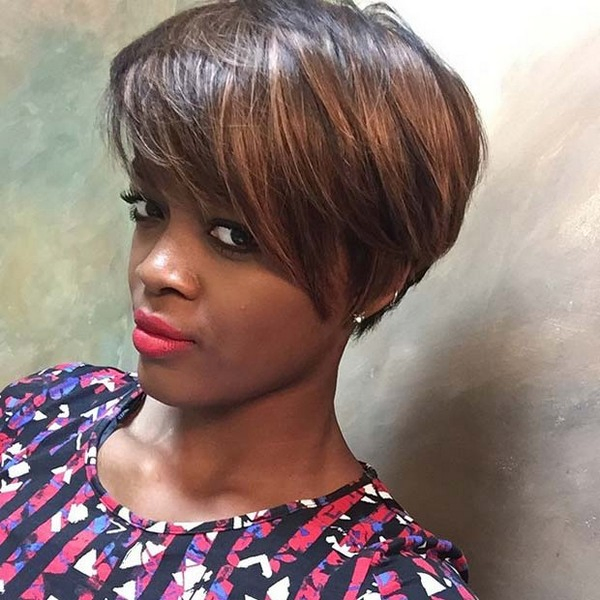 To look elegant and feminine, choose the best hair color in order to highlight a fabulous short haircut.
11. Short Mohawk Hairstyles with Twist Braids
Embrace your short and naturally curly hair by keeping the sides a shorter length and making the top voluminous to create a mohawk look. Play around with some twist braids to enhance your look even more.
12. Curly Pixie HairCut with Shaved Sides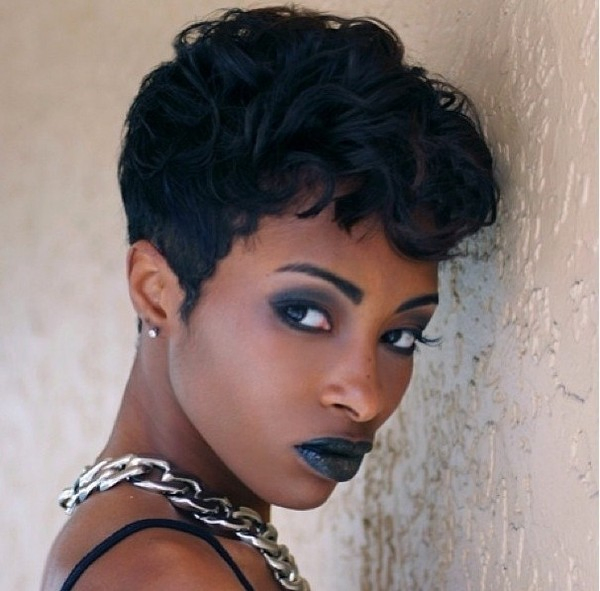 A pixie cut is a choppy short hairstyle that is easy to create and manage. Add some curls on top and shave the sides to make your look stand out even further.
13. Short Hairstyles with Retro Curls
Using big curls can make your short hair look fuller and thicker. This retro style can make you stand out on special occasions, however, it can also be great for a casual everyday style.
14. Stylish Short Pixie Hairstyles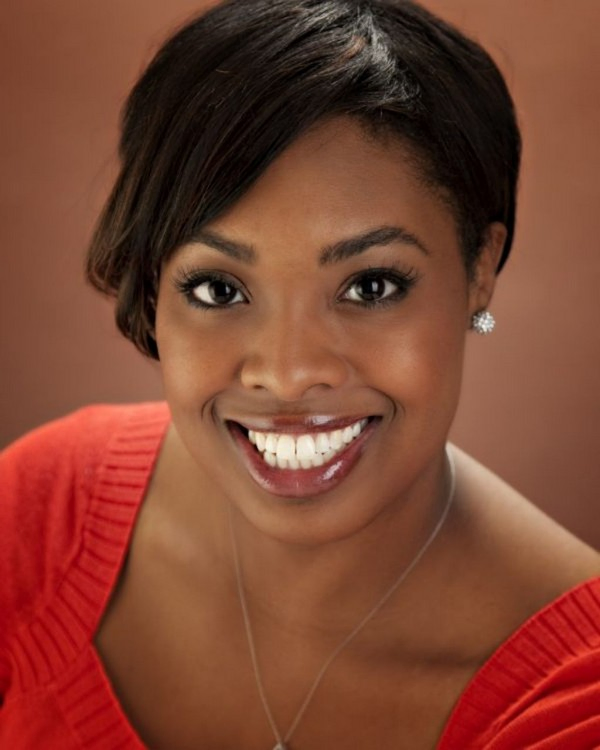 This is a gorgeous short hairstyle for black women that is complemented by having longer hair on one side. The long bangs can be draped across the forehead to make it look elegant and feminine. This look is flattering for women with both slim and round faces.
15. Short Straight Hairstyles For Black Women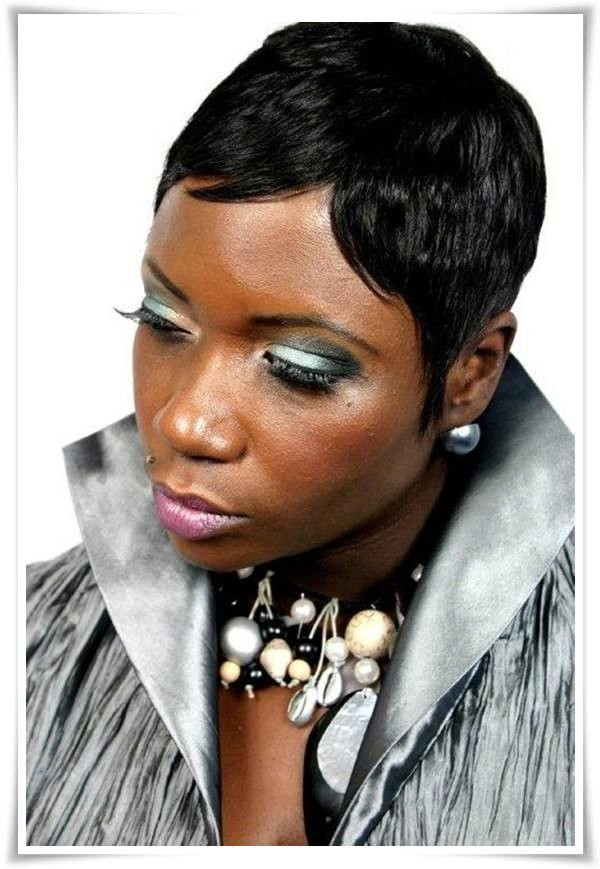 No matter who you are, there's a hairstyle out there for you! If you're looking for an effortless minimalistic hairdo but love to focus more attention on your makeup, then this is the hairstyle for you.
16. Natural Black Hairstyles for Thick Hair
Having a thick and curly hair can be a bit challenging to style. In order to create a charming short hairstyle, just push some hair to one side and secure it with a glittering hair accessory. This will create an edgy mohawk hairdo.
17. Cute Tiny Afro Hairstyles
This short and sweet look is one of our favorite short hairstyles for black women because it allows you to show off the natural texture of your hair.
18. Side Parted Curly Hairstyles with Highlights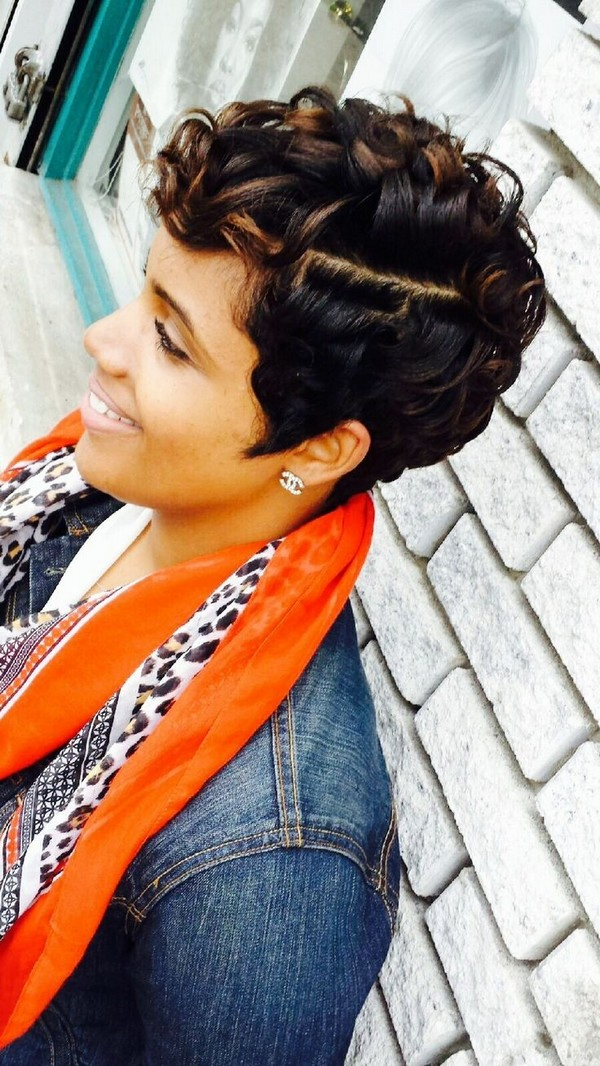 A super versatile pixie cut that can be worn curly, straight, or with a few scattered highlights.
19. Asymmetrical Straight Bob Hairstyles
A cute, straight bob like this can always be complemented with a pair of huge earrings.
20. Blonde Curly Hairstyles with Layered Undercut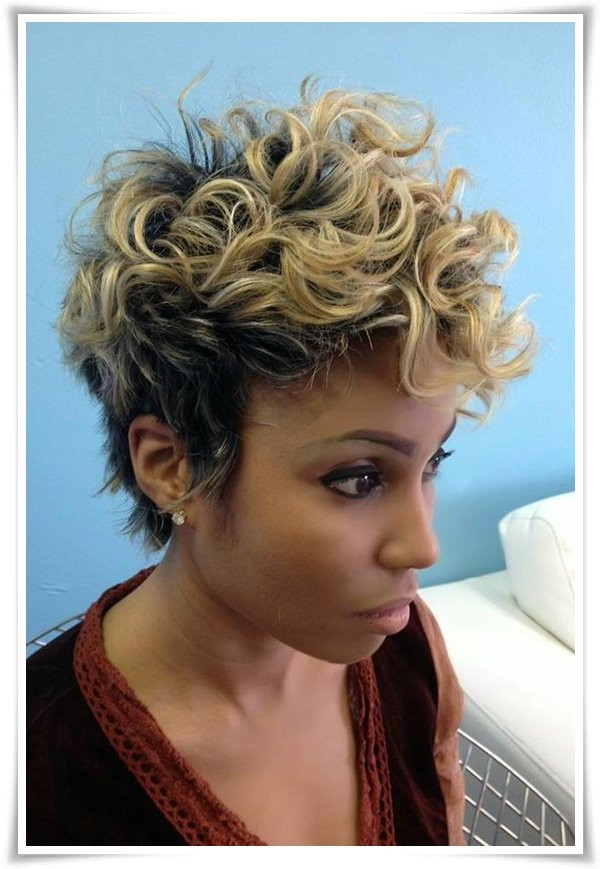 Sometimes it's best to let your naturally curly hair do its own thing, right? However, it's important to note that women with naturally curlier and thick hair have to pay close attention to how often they style and maintain their hair.
21. Sophisticated Short Wavy Haircut For Black Women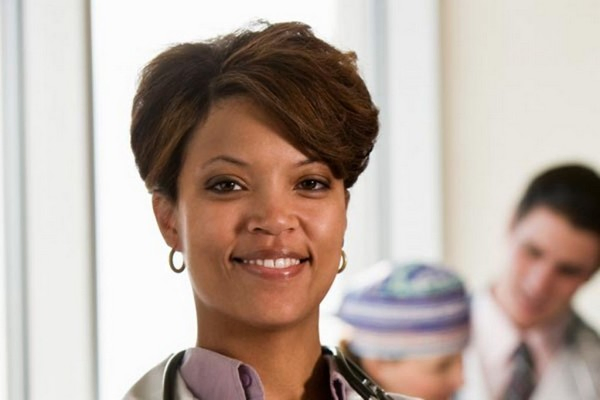 Get creative and turn this sophisticated hairstyle into a messy evening look by adding some loose waves and brushing it to one side.
22. Short Pixie Haircuts with Heavy Top Layers
Undoubtedly, this is one of the most popular short hairstyles for black women. It can enhance your beauty by showing off your facial features, as well as adding more personality to your overall look.
23. Short Twist Braids For Black Women
Embrace your curly hair with some twist braids and make your hair even more manageable by keeping it short and easy to maintain.
24. Natural Afro Curls Hairstyles
If your hair is naturally curly and you're looking for an easy-to-maintain hairstyle, we highly recommend these natural afro curls. You can always dress up this simple look with some bold jewelry and makeup.
25. Tiny Finger Coils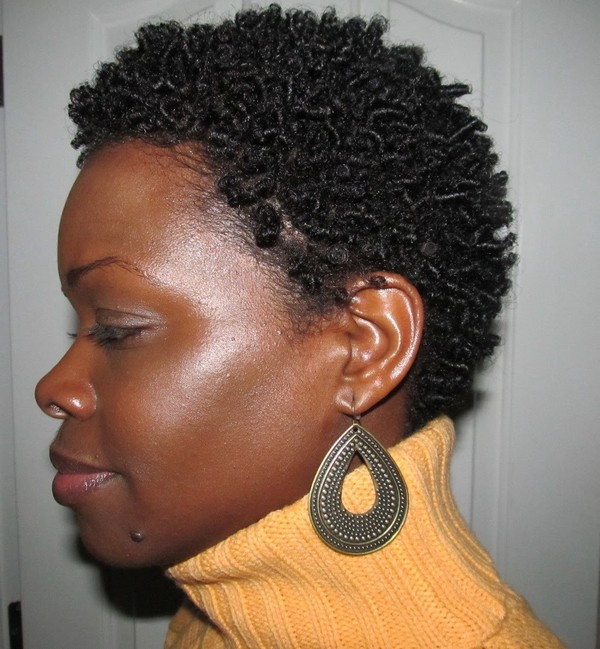 Most women who have curly hair opt to keep it short because long hair can be more difficult to manage. But manageable hair doesn't mean your hair needs to lack any style or trend!
26. Bulky Mohawk with Highlights
Mohawks are not only a popular hairstyle for men, but they also look fabulously trendy on women too. Add some character to your mohawk and backcomb the under layers of your hair. Get even more creative and play around with some platinum highlights to draw more attention.
How To Keep Your Short Hair Healthy
It's a common misconception that you only need shampoo and conditioner to keep your short hair healthy. There are various essential hair care tips that you need to consider if you have short hair and want to keep it well maintained.
1. Schedule Regular Haircuts
Organizing regular visits to the hair salon for a fresh haircut is very important for maintaining the shape of your short hair.
If you want to continue having the best-looking short hairstyle around, you should visit your hairstylist every four to five weeks for a healthy trim.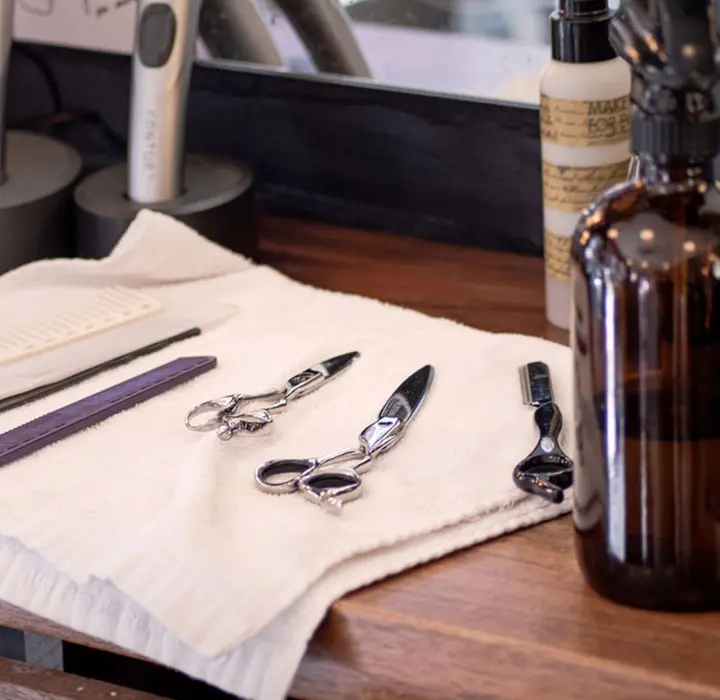 2. Practice a Healthy Hair Routine
Remember, not all hair is the same. Short hair has its own particular set of hair products that should be used regularly to maintain a healthy-looking hairstyle.
Don't neglect your hair just because it's short! Keep your hair healthy and shiny by using an eco-friendly shampoo and conditioner on a regular basis. Applying conditioner to your hair every day can keep it from looking dry.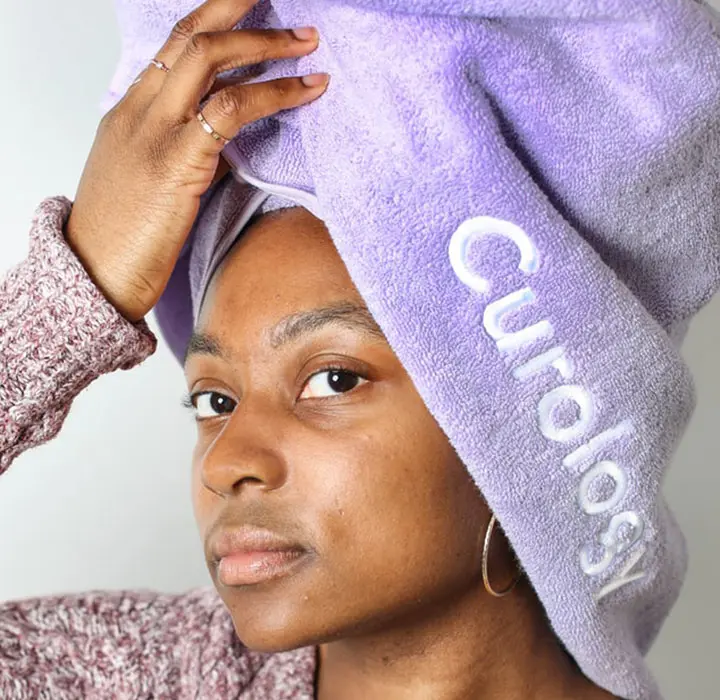 3. Think About Your Scalp
With a busy and active lifestyle, sometimes you may overlook the fact that your scalp also needs some TLC. A build-up of hair products on your scalp can lead to dryness and flakiness.
Use an exfoliating scalp treatment to revitalize your scalp.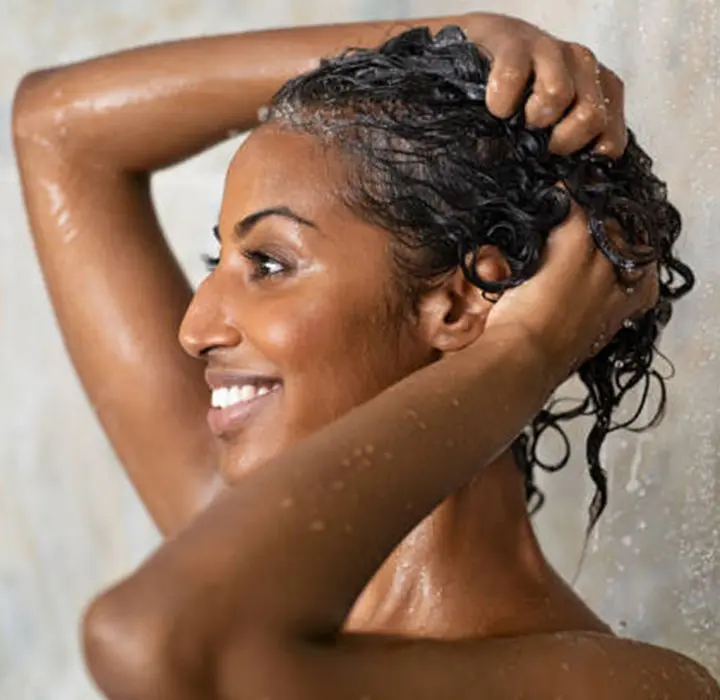 4. Avoid Using Excessive Hair Products
If you've been using several styling products for your hair then perhaps it's time to minimize it. There are some hair care products that can create more damage than good when used for a long time.
Never overuse gels and pomades since this product can make your hair appear dull and greasy.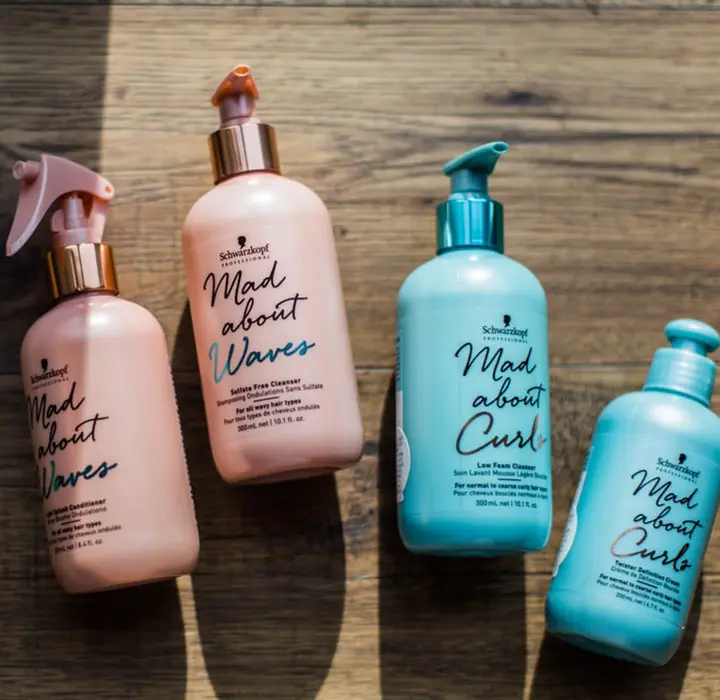 The Best Hair Care Products for Short Hair
Check out our bestseller list of hair care products for short hairstyles that we guarantee will give more life to your hair while keeping it healthy and shiny.
Frequently Asked Questions on Short Hairstyles for Black Women
If you have short hair, you might assume that there isn't that much you can do with it in terms of styling. Luckily, this couldn't be further than the truth!
It's obvious from our gallery that there are plenty of beautiful short hairstyles for black women to choose from. But like many of our readers, you may have a few queries before you decide to get the chop.
Here are some frequently asked questions that we've received from our readers just like you who've asked us all about short hairstyles for black women.
Will a short hairstyle make me look younger?
Short hair can be a very flattering look that can make your facial features appear more defined. If you have a round face shape, a short hairstyle can take a few years off, but nothing that would cause you to be taken less seriously. Short hairstyles for black women are sophisticated and professional but can be easily jazzed up with some curls.
Can I wear a short hairstyle if my hair is thick?
Absolutely! You can definitely wear short hairstyles if your hair is thick. You just need to be prepared for regular hair care, upkeep, and maintenance. Women with thick hair have to pay closer attention to how often they style their hair. Luckily, we have you covered with our short hairstyles for black women.
Do short hairstyles look good on black women?
Short hairstyles look great on women from all races and ethnicities. No matter how much you might doubt how the style will look on you, we will always encourage you to try it! This is the best way you can determine what hairstyle suits you. Even if you're not a big fan of your new hairdo, your hair will grow back!
Consider These Great Short Hairstyles for Black Women
We hope you enjoyed our gallery of low-maintenance short hairstyles for black women that also make quite a fashion statement.
So, are you daring enough to go for the chop? We hope you are. If so, let us know in the comments below which short haircut you have chosen to adorn.
Or if you're already rocking one of these great short hairstyles, share with us your best hair care tips and tricks. We'd love to hear all about them!