Twist braids are a neat and tidy look that oozes elegance and style. This chic hairstyle will make you stand out in a crowd and impress your fellow sisters.
There are many fabulous ways of styling twist braids, and we've compiled a list with the best twist braid designs that can be worn every day as well as for special events.
If you're wondering whether or not twist braids will suit you, first ask yourself if your hair is excessively long and curly? If the answer is yes, you might want to try experimenting with these truly trending twerking twists.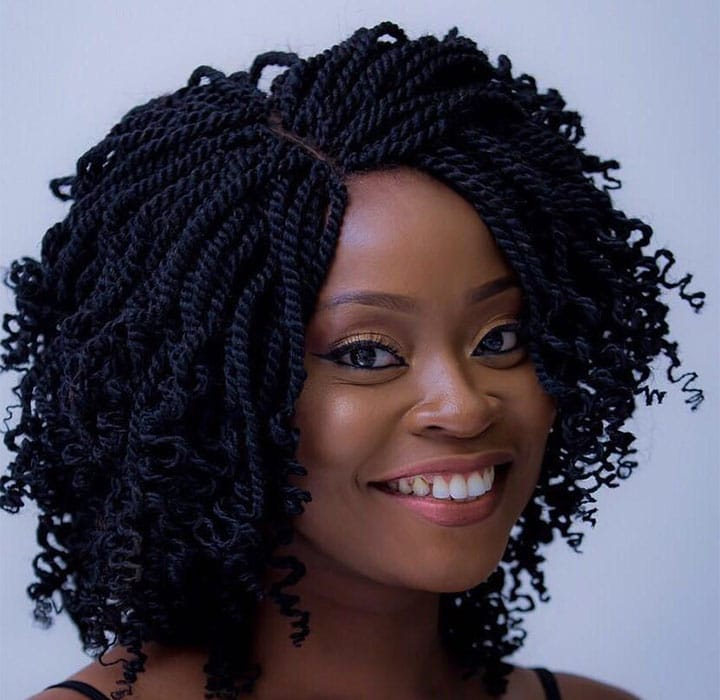 This all-rounded hairstyle is both stylish and adaptable and can look classy on women of all ages. One of the benefits of twist braids is that it doesn't require a lot of hair styling products to look flawless.
Twist Braids Hairstyles
In this article, we compare some fabulous hair extensions for braiding in our best-selling products table, created a how-to guide for making twist braids as well as some maintenance tips.
Twist braids can last up to 10 weeks and can take up to six hours to complete, so it's important that you browse our gallery for the most popular twist braid hairstyles before you make your decision.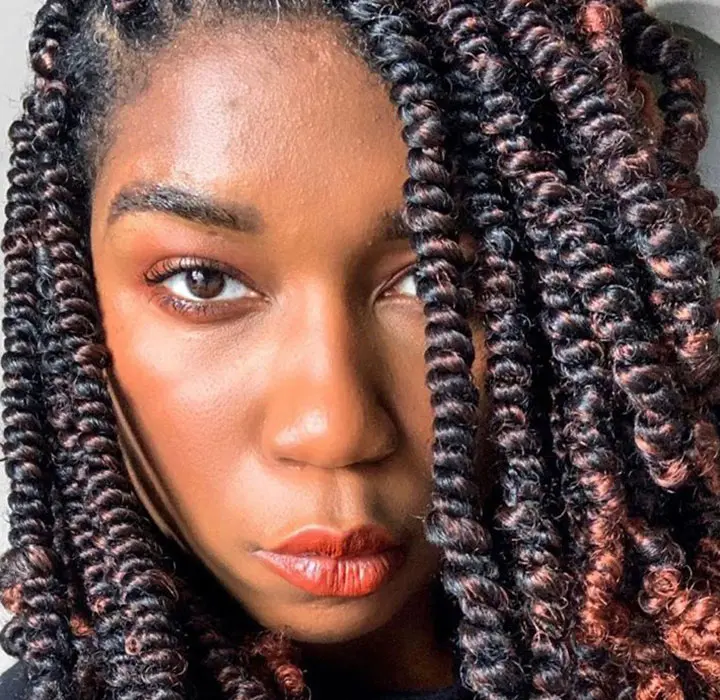 Twist braids are one of the most prominent black hairstyles among both women and men. Whether you have short or long hair, twist braids illuminate a fusion of trend and sophistication for your everyday look.
So if you're someone who isn't sure of what hairstyle suits you, here are some inspiring ideas and tips that we promise will persuade you to choose twist braids as your next hairdo.
Short Twist Braids
Twist braids are one of the most popular African hairstyles among black women. By incorporating twists, you will be able to extend your natural hair follicles while protecting your locks all at the same time.
For those with short hair, twist braids are extremely easy to achieve and can last up to 10 weeks when maintained correctly.
These six beautiful ladies show just how much character you can add to short hair by introducing some edgy yet classy twist braids.
It's also clear that twist braids look amazing on short bob hairstyles, so there's no excuse if you have really short hair!
You can also experiment with one of our favorite looks, the half-up, half-down bun which is very easy to create. Gather the top portion of your hair and make a ponytail then wrap it around to achieve a small bun. Use bobby pins to secure it.
Just because your hair is short, doesn't mean you can't show off a voguish hairstyle.
Long Twist Braids
Twist braids are a versatile hairdo that can protect your natural hair against damage. Wearing twist braids can encourage healthy hair growth while rocking a long, voluptuous hairstyle.
If you have long, luscious locks, then twist braids are a perfect hairdo for you to adorn. You can play around with messy high buns, top knot double buns, or a flirtatious side-sweep hairstyle.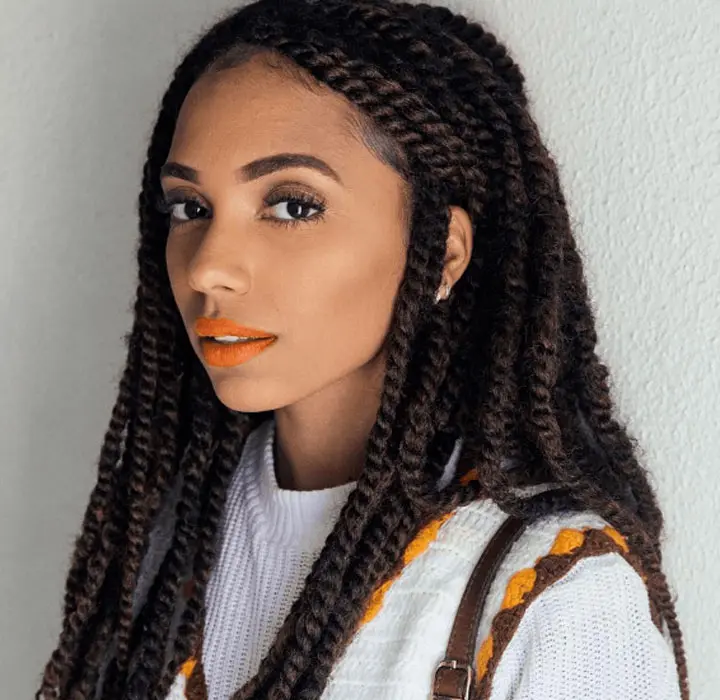 With long twist braids, you can create fabulous designs that can be worn for everyday casual looks as well as classy special occasions.
Jumbo Twist Braids
Twist braids can also be combined with big jumbo box braids or tree braids.
By adding jumbo hair extensions, you can achieve thick sophisticated top knots, casual messy buns, or just simply let your twist braids hang down.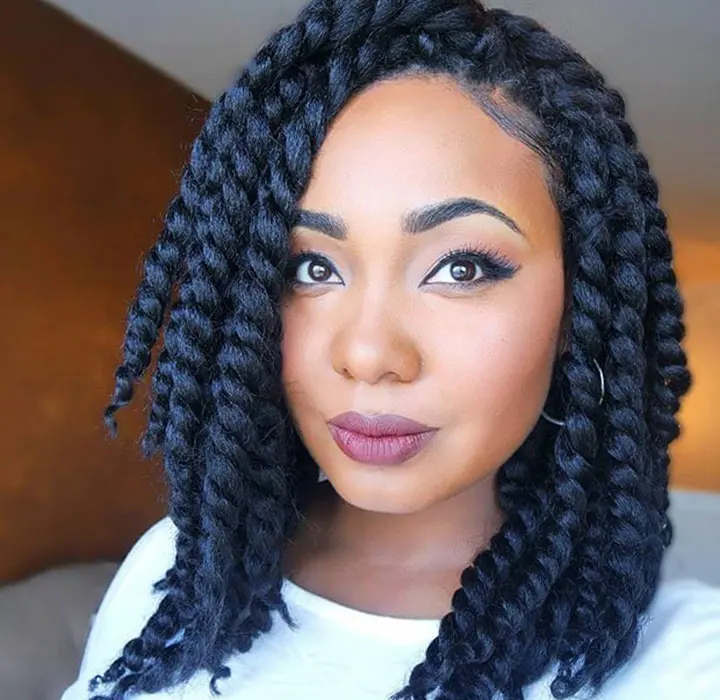 Like we said already, the best thing about twist hairstyles is that this hairdo is suitable for both casual and formal events.
So why not invest in a set of hair extensions to give you a fuller, longer looking hairdo that will help you to create eye-catching twist braids.
By using Kanekalon hair extensions with synthetic fiber, you can achieve jumbo twist braiding hairstyles that are all the rave right now.
Have a browse below at our best-selling list for jumbo hair extensions.
Best-Selling Hair Extensions For Twist Braids
Thin Twist Braids
With thin twist braids, you can create an array of sexy looks that will guarantee to turn some heads. Try out some top knots with pigtails, large messy buns, or even shaved sides to make your personality stand out even more!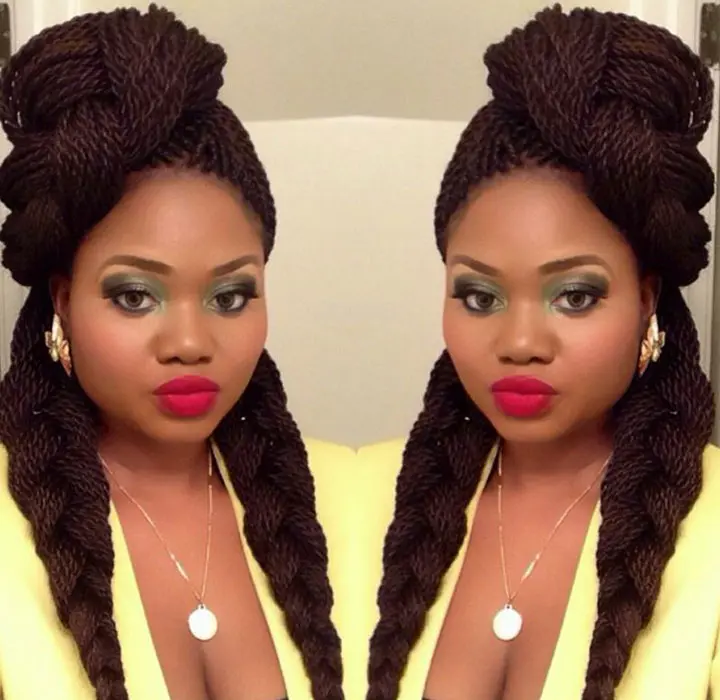 A top bun is an easy way of instantly bringing more style to your hair. Or if you want some hair to cover a few areas of your face then you can opt for a smooth side-parted hairstyle.
Mohawk Twist Braids
Whether you have short or long hair, twist braid styles can always make you look amazing.
Why not mix both an edgy look with a feminine style and try out a Mohawk hairdo with twist braids that will guarantee to suit hair of any length.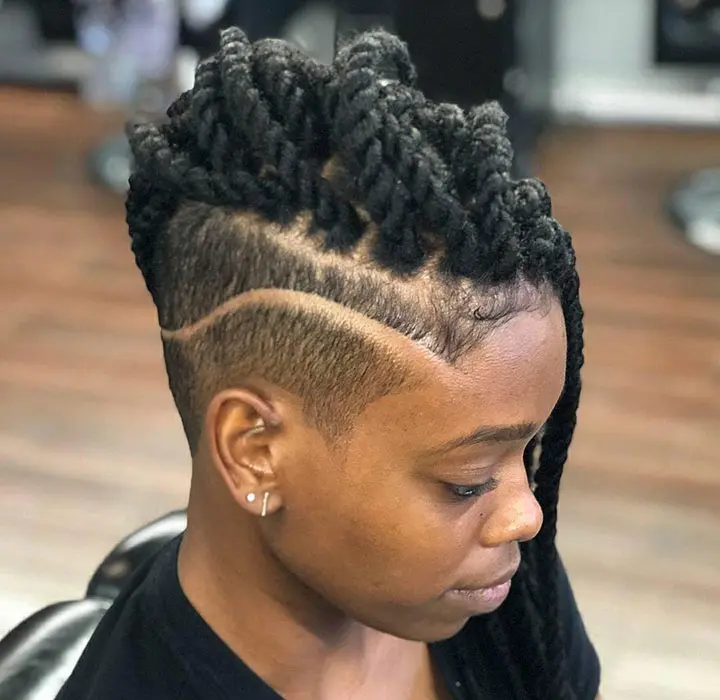 An urban mohawk style with twist braids can be topped off with some artistically creative shaved sides. This is an impressive combination that can definitely make you stand out from the crowd.
The shaved or braided side periphery combined with a mohawk really does add chicness to your entire look.
Afro Twist Braids
Twist braids can give you a chic and funky look as well as being an amazing alternative style for your natural curls.
We're here to inspire you to embrace your natural afro with a some twist braid hairstyles.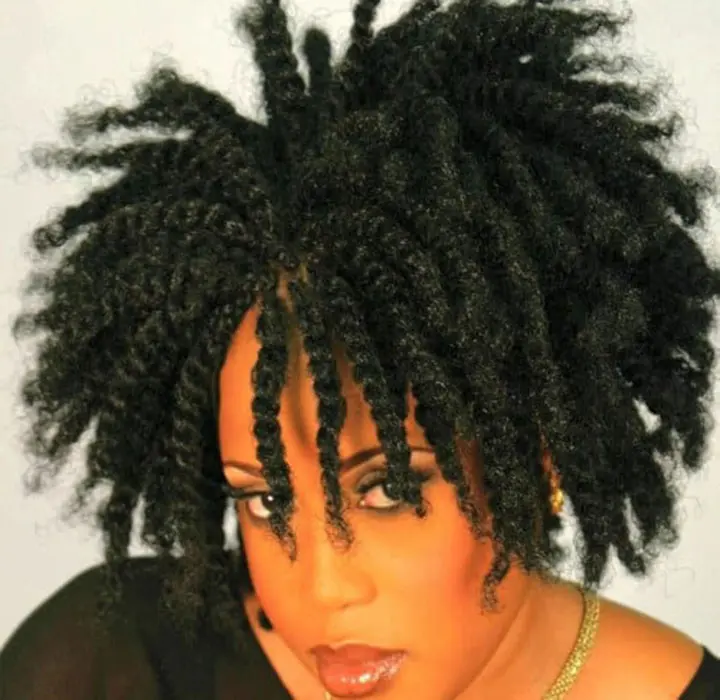 Adding some twist braids is a trendy way of showing off your culture and personal style. This simple hairdo can be added with some bold makeup, to really enhance your look.
Colorful Twist Braids
Twist braids are an elegant hairstyle that can make your hair neat and contemporary. You can keep up with the trend by adding colors to your twist braids which can spice up your look even more.
Make your hairstyle even more unique and introduce some strands of contrasting color along with your natural black hair if you don't want to completely hide your original hair color.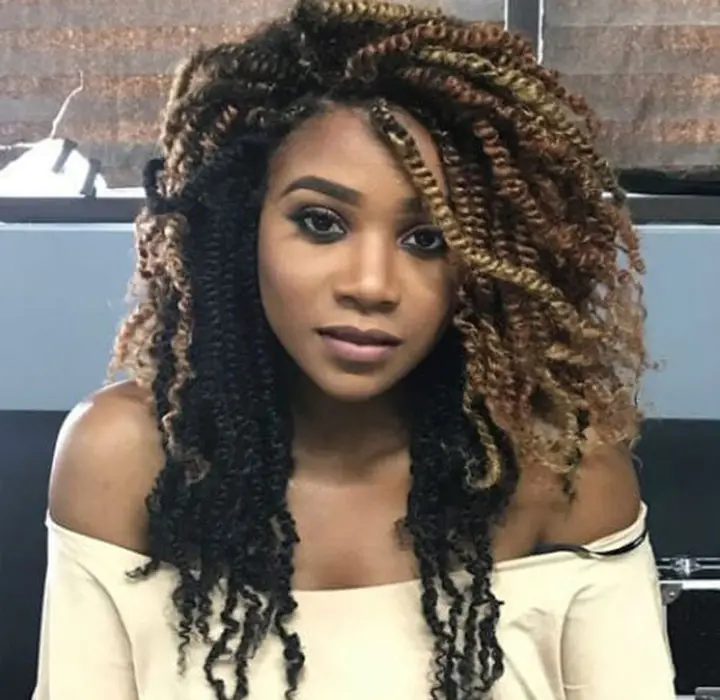 Try experimenting with some twist braiding updos which are a trendy way of protecting your hair from everyday damage.
You can achieve this look by buying an array of different colored hair extensions.
Check out this product below for some amazing inspiration on colorful hair extensions.
Ombre Jumbo Braid Hair Extensions
Get creative and quirky with this vibrant and colorful Ombre Jumbo Braid Hair Extensions set which are perfect for twist braids.
Twist Braids With Accessories
This hairstyle can glam you up for any occasion and still work as a casual style even when you're only wearing jeans. Accessories are a distinguishable way of adding more flavor to your look.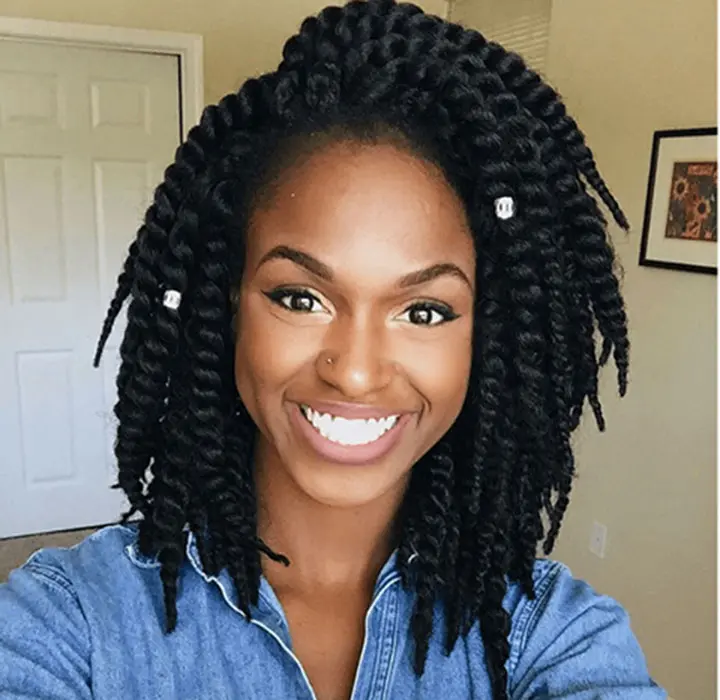 It's obvious from our gallery of twist braids that this hairdo has infinite styling options.
By incorporating some accessories like shells, ribbons, scarves, and jewelry, you're instantly multiplying your style that will compliment any outfit.
See how these specific types of twist braids added with some accessories make each woman look super glamorous and trendy, bringing style to a whole new level.
If you love these looks, why not check out our gallery of Ghana braids for more hairstyle tips and inspiration!
How to Do Twist Braids
Twist braids are a kind of hairstyle typically used by girls who have curly hair. You can also consider it as a protective hairstyle since it can protect your own natural hair underneath the braids.
Today most women add hair extensions to give them a fuller more curlier look.
Step-By-Step Introduction on Creating Twist Braids
Check out our seven tips below on how to create twist braids.
Step 1: Wash and Condition
Wash your hair and scalp to make sure you are rid of dirt, product residue, and build-up. You may use clarifying shampoo first, followed by a deep conditioner.
Step 2: Apply Cream and Oil
Since the braids will last you up to 10 weeks, it is best to apply moisturizing cream and hair oil. This way the cream will keep your hair hydrated while the oil locks in the moisture. After this, let your hair dry naturally.
Step 3: Divide Your Hair Into Sections
For a simple look, divide your locks into eight sections. You can create four sections in front and another four sections at the back of your head. If you want more or fewer braids, you will need to divide more or fewer sections. Each section counts as one braid.
Step 4: Attach Hair Extensions
Intertwine the hair extensions by carrying out basic braiding. By braiding the synthetic hair extensions with your own hair, you will be able to achieve a fuller, longer look.
Step 5: Start Braiding
Begin by braiding your hair and including two strands of the hair extensions. Then wrap your own hair over the extensions and go back to the center position. Keep a snug hold so that you can keep on braiding.
Step 6: Twist Your Hair Around the Hair Extensions
When you are one inch to the end, twist your hair around one strand of hair extension (so that you have two pieces) then continue twisting till you reach the end.
Step 7: Seal the Hair
Seal the ends of your hair by rubbing them with your fingers, then repeat the process until you complete all the twists.
Need more help? Watch this video tutorial to give you a visual of what you need to do to create stylish twist braids.
Essential Products to Use for Creating Twist Braids
These products are simply amazing when wearing twist braids. The coconut oil cream is superb for locking in moisture while the Moroccan argan oil hair spray is a must-have for twist braid maintenance.
Advanced Clinicals Coconut Oil Cream
This smooth coconut cream is a highly nourishing, concentrated formula that works by restoring moisture to dry, dull hair and skin.
PURA D'OR Organic Moroccan Argan Oil
This argan oil product acts as an antioxidant that adds an extra layer of protection to your hair against environmental factors.
How to Take Care for Twist Braids
With careful maintenance, you can get your twist braids to last up to 10 weeks.
It's imperative that you follow routine maintenance in order to take care of your twist braids with regular conditioning as well as moisturizing your hair to keep it healthy.
Step-By-Step Guide to Maintaining Your Twist Braids
Follow our five simple steps below with detailed instructions that will help you to care for your fabulous twist braids.
Step 1: Research Good Hair Extensions
Purchase a good set of hair extensions that you know will not irritate you. Do your research!
Step 2: Wash, Condition, Grease
Wash and deep condition your hair as well as greasing your scalp before attaching your hair extensions.
Step 3: Satin Is Your Best Friend
Wear a satin scarf to bed, covered in a satin bonnet, and sleep on a satin pillowcase. We know, we know! This sounds a tad bit over the top but believe us, satin is the best item for keeping your frizz at bay.
Step 4: Use Conditioning Spray
Get yourself a good conditioning spray to use on your scalp and hair every morning and night to protect your natural hair underneath your twist braids.
Step 5: Cleanse Your Scalp
It's important to regularly cleanse your scalp with a spray bottle of water especially if there is a product build-up from the conditioning spray or argan oil on your scalp.
How Long Should You Keep Twist Braids In Your Hair?
Provided that you follow routine maintenance to take care of your twist braids, your hairstyle can last for 10 weeks.
However, to keep your locks healthy it is best to keep your twist braids in for around six to eight weeks. If not, you will risk your locks from receiving essential moisture.
It's important to wait at least a week in between braiding styles, as this lets your scalp breathe and is less stressful on your hair overall.
For routine maintenance, don't forget to clean your scalp to counteract any product build-up. Also, it's wise to skip dry shampoos which can leave you with bad product residue.
Frequently Asked Questions on Twist Braiding
We love twist braids because they look amazing on just about anyone. However, if you have never had this type of braid, you may be a little hesitant to try it.
The best way to determine if they are right for you is to ask questions. Here are some of our top requested twist braiding questions with our detailed answers.
Can You Add Synthetic Hair to Twist Braids?
Yes. Twist braids are most commonly used with synthetic hair. This means that you can add extra length and thickness in the most natural-looking way with synthetic hair extensions.
How Long Does It Take to Put Twist Braids In?
As is the case with any full-head braid, you should buckle in for the long haul when you sit in the chair. The average time you can expect to wait is around six hours. So it's best to bring a book or a movie on your tablet for when you get your braids done.
How Long Do Twist Braids Last?
Twist braids have the potential to last up to 10 weeks. This hairstyle can protect your hair against frizz and breakage, but only when you care for it properly. If you want to make sure your scalp stays moisturized, wait at least a week between braid styles. This lets your scalp breathe and is less stressful on your hair overall.
Get Your Twist Braids Today
So, have we tempted you to try out this fashionable and edgy braided hairstyle?
We want to hear all about your journey with braiding hairstyles, so let us know in the comments how you are rocking your twist braids hairdo, hopefully with an unexpected twist!