Ghana braids also known as banana cornrows, are created by using hair or extensions that touch the scalp. It's super easy to create your own Ghana braids as long as you know all the right tips and tricks (and of course, we got those covered here)!
Plus, did you know that Ghana braid hairstyles are not just for women, but also work perfectly for men? Whether it's cornrows or box braids, there are lots of inspiring looks for men to achieve by following the same Ghana braiding steps for women outlined below so men, stay tuned!
In this article, we'll explain everything you need to know about Ghana braids: the history, how to create the braids, the best products, inspiring Ghana braids hairstyles, and more!
Ghana Braids Hairstyles and Types
So without further ado, here are our favorite and most popular Ghana braids and braiding styles, loved by our braiding community along with our dedicated readers worldwide.
Make sure to let us know which Ghana braiding style is your favorite by leaving a reply in the comments.
1. Long Ghana Braids
This image shows you exactly how great extensions can make your hair appear. Hair extensions plus Ghana braids are the perfect recipe for giving your hair length and thickness.
2. Ghana Braids With High Bun
This hairstyle is not only beautiful, but practical. See how neat and tucked away the braids are for those with an active lifestyle, but can easily be taken down to appear long and luscious!
3. Swirly Banana Ghana Braids
These braids are a classic cornrow hairstyle that starts with a thick Ghana braid near the root which gets thinner as the braid gets longer.
The swirl effect hairstyle at the top of the head oozes character and gives your style so much more oomph!
4. Purple Ghana Braids
Add more personality to your look by experimenting with some color. This beautifully inspired look of purple Ghana braids will definitely cause heads to turn!
5. Ghana Braids With Double Buns
This trendy Ghana braids hairstyle is all the rage nowadays! Combine double buns with tightly braided cornrows to get this cute, stylish look.
6. Ghana Braids With Wrap-Around Bun
We've seen different varieties of braids flood the internet, especially on Pinterest and Instagram, yet this style is always trending.
Use your long Ghana braids to create a high bun by bunching together each braid and tying them up.
7. Ghana Braids With Mohawk
It's no surprise that Ghana braids originated from Ghana, where the people there are experts in experimenting with African hair and creating the most fun and easy-to-wear hairstyles.
This mohawk look is exactly what we mean by fun Ghana braiding styles.
8. Mixed Ghana Braids
Among the braided hairstyles, Ghana braids are considered very unique.
The image above is a perfect example of tightly knitted Ghana braids that have been mixed and matched. This woman opted to incorporate both thin and thick Ghana braids into her look.
This braiding technique is one of the most popular hairstyles among women.
9. Updo Style With Ghana Braids
This Ghana braiding style is unlike your average braiding process. In this particular style, you need to be able to add hair to the braids in a continual process.
This elegant look is perfect for a wedding or special event. Compliment your hair by adding a pair of big, bold earrings!
10. Blended Cornrow Braids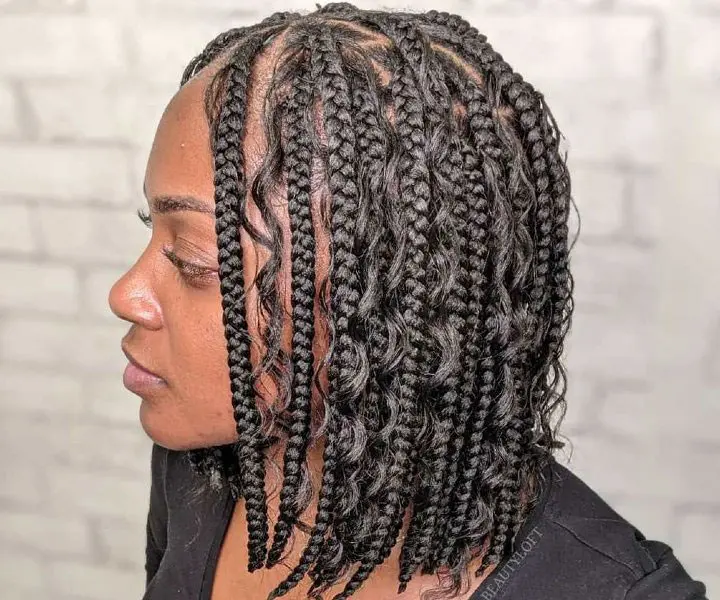 This look is without a doubt one of our favorites! With basic Ghana braids mixed in with some loose curls cut into a medium length bob, this is definitely a hairstyle we would rock!
11. Long Ponytail Ghana Braids
Rock this fierce Ghana braid hairstyle by adding some color to your braids and creating a ponytail effect.
12. Fishbone Braids With Thin Ghana Braids
These parallel Ghana braids look create both a neat and stylish look and are perfect for those with or without hair extensions. Get funky with some thinner Ghana braids and mixed them in with thicker cornrows.
These braids look amazing on anyone!
13. Thick Fishbone Ghana Braids
Thick fishbone Ghana braids are best achieved when you wear hair extensions. That way, you'll be able to get full, thick braids that will cascade down your back, giving you a beautiful length.
14. Red Ghana Braids
Add some spice to your Ghana braids with a vibrant dye. To get this particular look, use hair extensions to create a thick braid near the scalp, then allow the braids to become thin and manageable.
There's no doubt that this look is one of the most iconic types of Ghana braid hairstyle.
Tightly knitted Ghana braids can last up to eight weeks and are extremely practical for those with busy lifestyles.
15. Ghana Braids With Extensions For Kids
This look is a popular style for kids and teens who what to add both comfort and style to their hair.
Get this look today by creating tight braids on the scalp and curling some hair extensions for a bouncy, playful look!
16. Neat Banana Cornrows
This type of hairstyle may require a specific set of skills. Banana cornrows need special attention to detail because of their twisty quality.
17. Green Ghana Braids With Double Buns
This style is definitely unique and will have everybody turning their heads. Bring your own individual style by incorporating crazy colors and double buns.
18. Blonde Ghana Braids With 1920s Bun
This style brings a fusion of class and sophistication to your Ghana braid style.
Experiment with vintage styles such as low buns and get creative with a blonde dye, to really make your hair stand out!
Make yourself noticeable by adding some bold makeup to enhance your vibrant look.
19. Thin Ghana Braids With Medium Bun
Get this look by creating thin cornrows, then clip back your Ghana braids into a polished medium bun.
20. Kinky Twist Ghana Braids
This look isn't just beautiful, but also long-lasting. With the durability of up to eight weeks, this popular kinky twist braid hairstyle suits both long and short hair.
21. Short Ghana Braids
These short Ghana braids have the ability to completely transform your whole appearance.
With tightly knitted cornrows, you can define your look even further by creating a crisscross pattern along your scalp.
22. Full Invisible Cornrows
This style of Ghana braids promises to give your look a trendy edge. These braids are most suited for those who like to wear long weaves, but can easily be tied up to form a bun or ponytail.
23. Ponytail Pencil Braids
This hairstyle is without a doubt one of the most common Ghana braid styles around.
With neat cornrows on the top of the head, the hair extensions fall in a tidy style that makes your hair more manageable and easy to tie back.
24. Comb Over Ghana Braids
Switch up your style by creating a comb-over style with your Ghana braids. Braid your hair in a way that the cornrows from one side lie across the other side of your head.
25. Ghana Braids With Large Bun
On a day that you decide not to wear your weave down, tie it back into a chic and sophisticated bun.
26. Long Ghana Braids With Colorful Mohawk
Be creative with your Ghana inspired braided mohawk and apply a hair dye to make your hairstyle speak for you!
27. Ghana Cornrow Braids With Comb Over
Want to upgrade your basic look into a more elegant hairstyle? Create a comb over by braiding your cornrows to one side.
28. Thick Banana Cornrow Braids With Double Pigtails
This unique look incorporates vibrant colors, playful styles, as well as African braiding techniques that are perfect if you don't have time to do your hair.
With the right maintenance, you can enjoy wearing this style for a couple of weeks.
29. Ultra Thin Braids
The best thing about this hairstyle is that when you take it down, you can enjoy fabulous waves!
30. Ghana Braids With Shaved Sides
Switch up your normal Ghana braids hairstyle routine and shave the sides of your head. This unique style is perfect for those who enjoy experimenting with different trends.
31. Ghana Braids With Top Knot
This beautiful top knot is easy to achieve once you braid your hair in the direction that you want the top not facing. This is hairstyle is certainly a fashion statement!
32. French Roll With Thin Ghana Braids
This hairstyle can give your hair some rest while protecting it from harsh environmental elements. Start by creating a French roll and braid loose bits of hair across the roll of hair.
Looks stunning!
33. Criss-Cross Ghana Braids
This traditional hairstyle for women has been popular throughout Africa, most specifically West Africa.
This particular hairstyle incorporates a criss-cross pattern along the scalp that allows for long Ghana braids to neatly fall down your back.
34. Ghana Braids Protective Style
The beautiful Ghana braiding hairstyle is both simple and chic. With this hairstyle, you can decide to wear your braids loosely down, tied up into a ponytail, or even as a sophisticated bun.
35. Medium Cornrow Braids
This style starts with thin cornrows on the scalp while continuing with the same size as the length increases. This Ghana braid hairstyle is a perfect fit for those with medium-length hair.
36. Ghana Braids With High Bun
This hairstyle is ideal for any special occasions. Start by creating tightly knitted, thin Ghana braids, then tie the cornrows into a high bun.
37. Neat Ghana Braids
This hairstyle is composed of simple patterns to create a neatly finished Ghana braids look. This African hairstyle is perfect for those who live an active lifestyle but still like to let their hair down!
38. High Wrap-Around Ponytail With Ghana Braids
This is certainly a unique and stylish look that lets your hair speak for your trendy personality.
Get creative with colors by dying your cornrows or adding accessories to your braids.
Complete the look by tying your Ghana braids up into a high wrap-around ponytail. You can also incorporate alternative braiding patterns such as thin and thick braids.
Ghana Braids History and Meaning
For over 2,500 years, Ghana braids have been a prominent African hairstyle that was originally created to give honor to social status.
Ghana braids were also often associated with a person's religion, age, and ethnicity. If you look for Ghana's braiding styles they can be found in many ancient African sculptures.
And since we are still talking about it today, imagine this style survived the Middle Passage and the African slave trade all the way through Western civilization into 2021! That must be for a reason, right?
From the traditional Ghana braids styles as found in historical context, the African slaves then started to create even curvier and more complicated hair designs to show their defiance against their masters who wanted them to have straight hair.
Ghana braids are also considered the best protective style (braiding hair close to the scalp) for women who have naturally curly hair. Nowadays, a lot of women from various ethnic groups and races are rocking Ghana braids more than ever, as this trendy style suits every ethnic and age group, making it perfect for everybody.
So what are you waiting for? Start pulling out your combs and get ready to braid right now.
Continue scrolling to get inspired because we're here to show you all the various ways in which you can wear your very own Ghana braids. Later on in the article, you can also find instructions on how to create Ghana braids yourself.
Best-Selling Ghana Braid Hair Extensions on the Market
Below you can find our favorite selection of Ghana hair extensions that are currently on the market. Since they are always changing, we always make sure to test and update our best-selling Ghana braids hair extensions here, so you can always come back for the best and currently trending products.
Products to Help Create Ghana Braids Easily
Our dedicated team has found the best products available in order for you to design the perfect Ghana braids and help you get creative with awesome new styles and trends.
12Pcs Tool Set for Braiding Hair
This handy tool set is just what you need for creating crochet Ghana braids. This tool set is suitable for braiding hair, fixing dreadlocks, braid craft, dread extensions, and wig weaving.
Passion Twist Crochet Hair Extensions
Passion Twist are one of our favorites when it comes to quality braiding hair extensions.
Passion Twist Crochet Hair Extensions are made with 100% high-quality low-temperature synthetic fiber, they are super soft, lightweight, itch-free, and don't shed.
Mambo Twist Hair Extension
Mambo Twist Hair Extensions is an excellent brand for both women and kids' braids. This brand is extremely natural-looking, light-weight, and is made of fiber exclusively developed to resemble human hair.
How To Create Ghana Braids
In order to create Ghana braids, you must first know how to make cornrows. Start by creating cornrows by adding some hair extensions in order to create thick edges on your braids.
We've created this step-by-step guide to help you become a pro at creating the perfect Ghana braids.
Step One – Parting
Part the hair in the middle or on the side of the head. Make sure that the part is thin and straight so that you can create a medium-sized braid. Use a hair clip to secure the remaining hair.
Step Two – Braid Scalp
Take a thin layer and start braiding at the scalp. As you add hair, keep it tight so that the braids won't come loose.
Step Three – Create Cornrows
Finish up by creating regular cornrows. The braids should be thin at the start then gradually starts to get thicker as the braided hair moves towards the back of the head.
Step Four – Repeat
Do the same process until such time that all the hair is braided.
Part your hair into multiple sections. The number of sections you part is the number of braids you will cate.
Ghana Braids FAQ
Ghana braids are just one example of a hairstyle you can do if you want to mix it up with your hair routine.
As is this case, any time you learn something new, we presume that you will have some questions!
But don't worry – we've combined some of our readers' most frequently asked Ghana braids questions for you below to help you become your very own braiding hairstylist!
How Long Does It Take to Create Ghana Braids?
Now for our most frequently asked reader question: How long does it take to create Ghana braids? This depends on the length of your hair and the kind of Ghana braids style you want to create. It also depends on who creates them, how much experience they have, and how thick your hair is.
Typically, you can expect to sit and wait for your stylist to be done with your Ghana braids between four and eight hours. So, you will definitely want to bring some entertaining material like a book or something similar!
Yes, you can expect to take your day off from work if you decide to get these braids so be prepared…
However, if you don't want to waste time, it's important to make sure you know exactly what style you want before you go to a stylist or do it yourself from home (it can save you up to 4 hours).
How Long Do Ghana Braids Last?
The answer to this question depends on how well you take care of them. With minimal attention, they will last around 2-3 weeks. However, if you want them to last up to 8 weeks, you can take extra precautions by wearing a silk bonnet or scarf to bed. This will help keep the braids tight and will also protect against frizz.
Are Ghana Braids Considered a Protective Hairstyle?
The short answer is yes. Any hairstyle that involves braiding the hair close to the scalp is definitely considered a protective hairstyle. This means that when you have your hair Ghana braided, you are less likely to have breakage that causes your hair to be shorter.
Get Your Own Ghana Braids
Do you like this style? Are you ready to rock Ghana braids this summer?
Ghana weaving can be worn on any occasion like weddings, your prom, or even a casual hangout.
Ghana braids make for a neat, stylish, practical hairstyle, so what are you waiting for? Go and get your Ghana braids today and let us know in the comments below what your favorite Ghana braids hairstyle is!