Curling irons can give you the perfect curls that you desire. There are various curling irons that are available in the market today.
However, if you want to get those attractive curls then you must choose an effective one. The most important things to consider when choosing a curling iron are the size of the barrel, your hair type, and the style that you want.
In order to achieve the perfect hairstyle, you must get the best curling iron. Also known as curling tongs and used for creating waves in different hair types. There are different sizes of barrels. If you want to create spiral curls then you must choose the smaller barrel.
Best Curling Irons Quick Overview
Curling Irons Reviews
Below our favorite and most popular selection of curling irons sorted from our most favorite top pick!
1. Hot Tools Curling Irons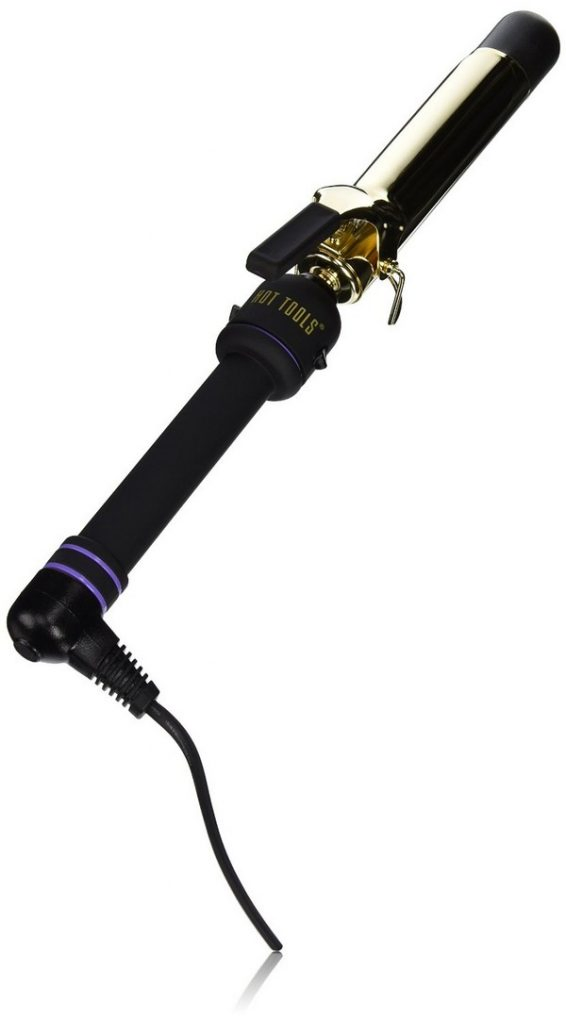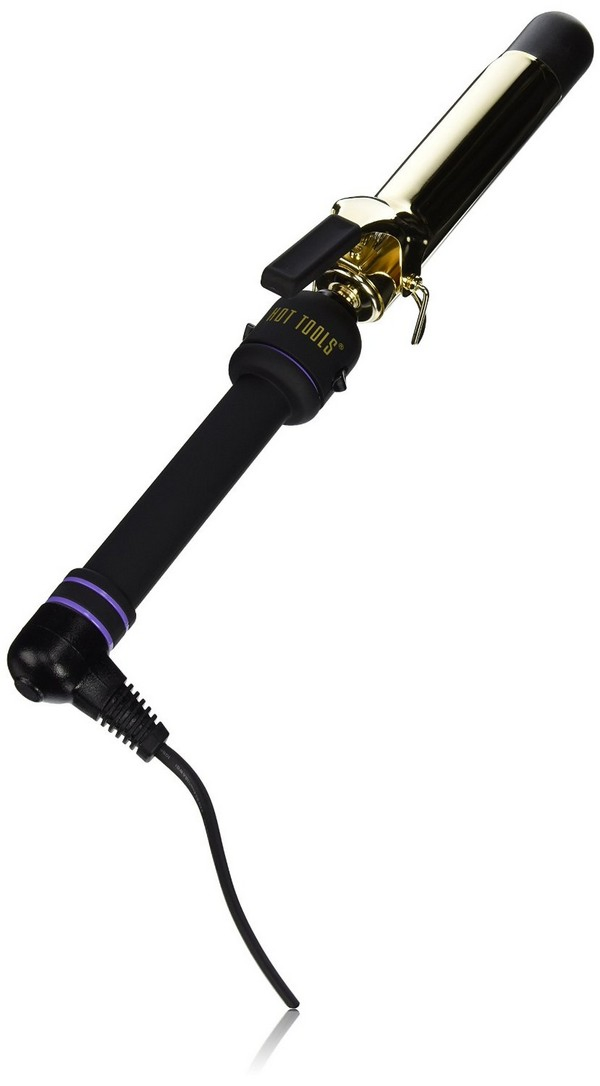 Indeed, the Hot Tools Curling Iron is the best since it is the professional's favorite. It is chosen by InStyle Magazine as the "best beauty product." It comes with a temperature gauge which allows you to turn the heat up for coarser hair and turn the heat down for finer hair.
Quickly heats. It has the ability to heat up to 428°F which is great for handling the toughest hair.
Uses golden barreled irons. It's not actually solid gold, but it's 24K gold-plated barrel. It can attract anyone's attention.
It has a cool and oversized tip to quickly obtain the right curls. By holding the iron at a proper angle you can roll it up easily.
The padded easy-grip handle provides less stress on the hand. Sometimes if you have thick hair, you can quickly feel exhausted just by holding the iron. But with this product, you can easily use it for a long period of time since it is very lightweight.
It can stand on its own. When you are using a tool that gets hot, it is important to make sure that it will not burn anything when you set it on top of the table. With this tool, you can guarantee that it will not burn anything because it has a built-in stand.
There are seven different sizes to choose from. Sizes start at 3/8″ to 2″. Some people tend to buy different sizes because they want to create a varied look. Whatever size you need, you can definitely find it here.
The right product with the right size and the right price. Whatever size of curling iron you need in styling your hair, you can buy it at about the same price. For only $30 or less, you can already get the curling iron of your choice.
It lasts longer. Some users say that theirs have lasted a decade!
You might say that it's too good to be true, well, perhaps it's true. It offers a lot for just a small price. The only thing to remember is not to go right to the hottest temperature in order to avoid getting your hair fried.
2. Conair Infiniti Pro Curling Iron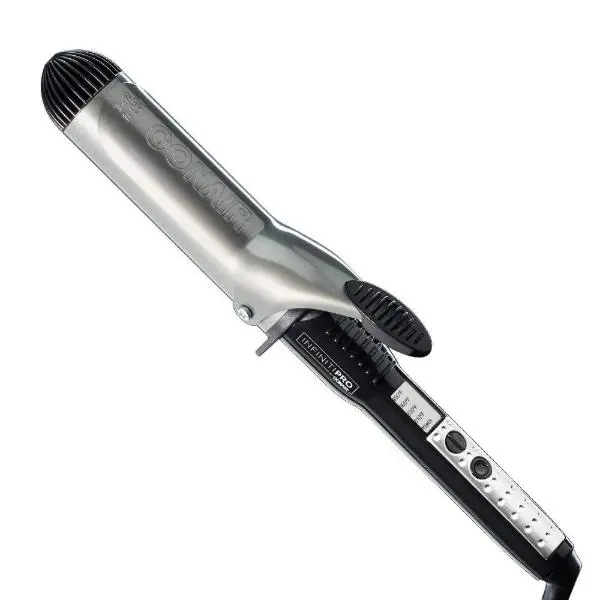 The Conair Infiniti Pro Curling Iron is our second best product that we recommend. It features Nano technology which minimizes frizz, plus it ensures you have a lustrous, and healthy-looking locks.
The key feature of this product is its coated barrel which provides balanced heat to avoid hair damage.
You can easily choose with its five led settings. The highest temperature is at 400°F. Aside from the digital control, it also features an auto-shut off.
It can heat up quickly and gives you a consistent heat because of its tourmaline ceramic heating technology.
There are four different sizes to choose from including 3/4″, 1″, 1 1/4″, and 1-1/2″. Regardless if you have short, long, fine or thick hair, you can easily find the model that works best for you.
If you have already tried everything and did not obtain the results that you desire then we guarantee you that this product is the best! It can provide you the best curls that are not too tight, not too loose and finally not too big. This is the best hair investment that can last longer.
3. Sultra Clipless Curling Irons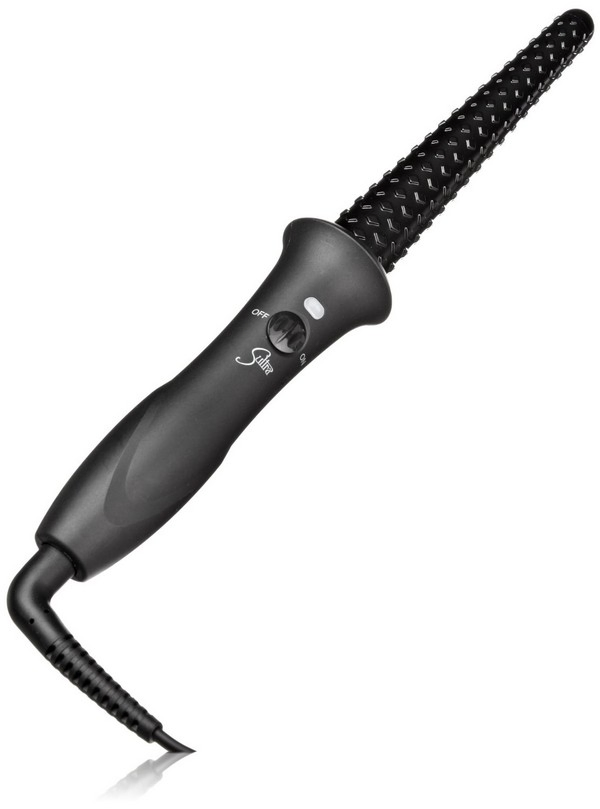 Meanwhile, Sultra Clipless Curling Iron is our third choice. Sometimes when you use curling wands, the hair will easily slip and your fingers will get burned. With this amazing product, there's no need to worry about those things anymore. If you are already getting desperate with your straight hair because no curling tool can keep your curls then you must try this product.
It uses a unique texture that can prevent your hair from slipping.
When you buy this product, you will get a glove that serves to protect you from any burns. You will also receive an iron Pad.
This product will not damage your hair.
You will enjoy having those beautiful beach waves and awesome curls.
Aside from the amazing results, you can also save time.
Regardless of what hair type you have, you can enjoy having beautiful curls. It is specially designed for dry to damaged hair as well as for color treated hair.
It has the ability to fix your damaged hair and protect you against so much heat because of ThermaTru technology.
This curling iron can heat up quickly and provides a maximum temperature of 380°F.
The auto shut-off safety feature is a big plus.
This is your go-to curling tool for creating those sexy beach waves.
4. Cortex 4-in-1 Curling Iron Set
In the meantime, the Cortex 4-in-1 Curling Iron Set is our fourth choice. If you want to wear various hairstyles but don't have time to go to the salon then all you need is this product.
Includes four interchangeable heads with different sizes – 1/2″, 3/4″, 1-1/4″ and 1-1/2″.
Comes with a heat-resistant glove to help in regulating the temperature.
Uses infrared technology to evenly distribute the heat in the ceramic barrel. After plugging the curling tool, it will heat up quickly.
The negative ions from the curling iron can help in retaining the moisture of your hair. As a result, you can enjoy having shiny and glossy hair.
The non-slip handle can help beginners to easily learn how to use it. By using the heatproof glove, you can always prevent any burns.
For maximum safety, it has a programmable timer that automatically turns off when left for a long period of time.
It is lightweight, which is very convenient for beginners. The power cord measures 12 feet. It is perfect if you don't have an outlet nearby.
The temperature display is programmable. So, before curling, you can adjust the temperature according to your desire.
The lock and unlock features are an excellent safety measure. If you want to change the barrel, you just need to unlock it.
Cortex Curling Iron is very affordable and can last longer. Most of all, it comes with a lifetime warranty.
5. Beachwaver Curling Irons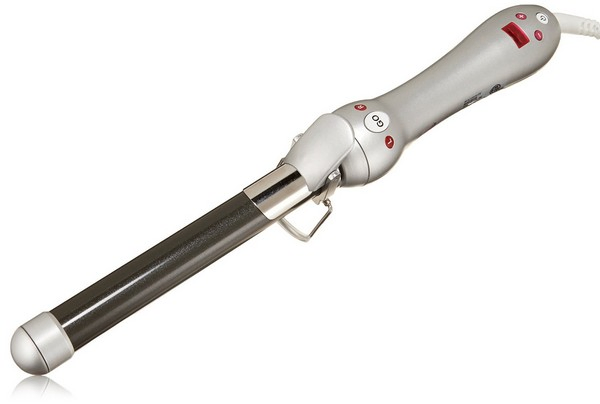 Our last and final choice is the Beachwaver Curling Iron. If you want to look gorgeous in just a short period of time then this is the best choice.
This curling tool is very durable. You'll just need to curl your hair for five seconds and you can already enjoy wearing your curls all day.
It is very easy to handle and use. After doing curls, you just need to push the clamp to release the hair. Let your hair cool down a bit before touching it.
You can adjust the temperature from 310 degrees to 450 degrees. To turn it off, hold the power button until there is no more power.
This curling tool has a good construction and very easy to handle. It provides the most attractive curls.
Different Types of Curling Irons
There are different types of curling irons that are available in the market today. Each one has its own method of curling. These are the most common ones:
Clipless Curling Iron – With some practice, you can do different types of curls with this tool. You can curl your hair in different shapes with less damage. This is best for curling close to the roots.
Spiral Curling Iron – This is ideal for creating spiral curls. When you are curling close to the roots, apply a tapered version.
Multi-Barrel Curling Iron – The double barrel curling tool can create loops while the triple barrel can create beach waves.
Curling Iron Size Matters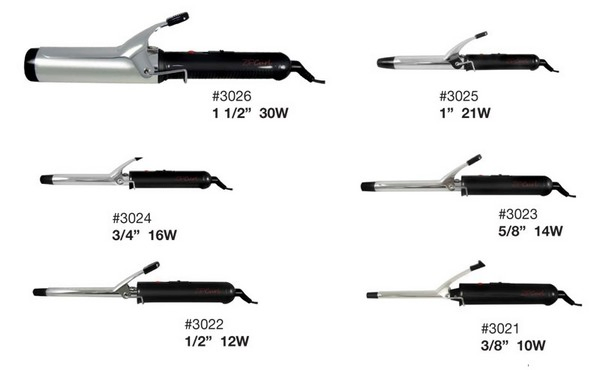 Curling irons have different barrel sizes. One size varies from the other with regards to the diversity of styles.
The two-inch barrel is used for creating a rounded curl at the tip of the hair. It is also perfect for blowing up curls for long hair or for hair that has had keratin treatments. For various layers, you can use it different directions.
The commonly used barrel is one and a quarter inches. This size will give you beach waves.
For voluminous curls, you must use the one and a half inches barrel. This is ideal for those women who have long hair and want to have soft and big curls.
For short to medium hair, the best choice is the one-inch barrel.
For a vintage hairstyle, use the three quarter inch barrel.
How to Curl your Hair with a Curling Iron
Others love curls since they want to recreate the vintage look. If it's your first time to use a curling tool then we recommend that you should watch several videos of women using this product. After watching them, the next thing you must do is to practice using it but don't turn it on yet.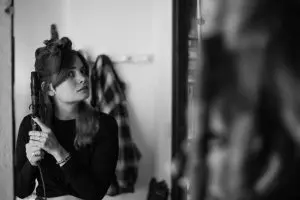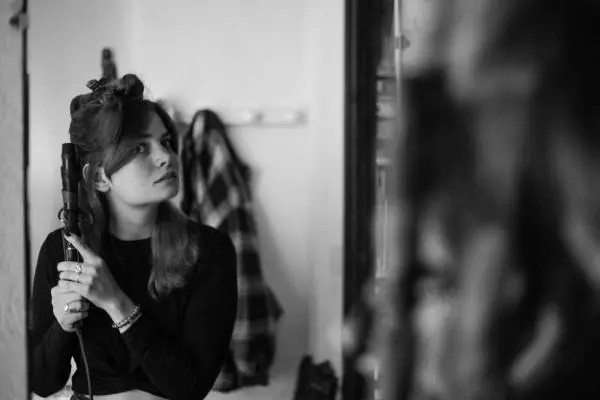 The purpose of this is to make you feel comfortable with it. Hold it in your hand and wrap your hair around the barrel. Don't worry, your hair won't get curled since there is no power. Practice using the tool on the two sides as well as on the back part. Keep on doing this until you get used to it.
Always remember that you must use a glove in order to prevent any burns. The glove should be worn on the hand that wrapped the hair. Here is a step by step tutorial on how to curl hair with a curling iron.
Step One: Turn on the curling iron. The temperature will depend on the type of your hair. For thick hair, set it to 430 degrees and for thin hair set it to 320 degrees. However, it would be best to choose the lowest temperature in order to avoid hair damage.
Step Two: Brush your hair until there are no more tangles. Make sure that it is completely dry.
Step Three: Divide your hair into sections. Use hair clips to secure each section.
Step Four: Get your curling iron and start working on the first section. Wrap the hair around the barrel. Hold it for 10 seconds. The time varies depending on the temperature of the curling iron.
Step Five: Loosen the hair and do the same on the other sections.
Step Six: Apply a light hairspray to hold the curls. Avoid over spraying.
Buying a Curling Iron
In order to help you in choosing the right product, you must consider the following:
Check the heating capacity of the curling iron. For women who have thick hair, they should choose the one with high heating capacity.
Check the quality of the materials being used.
Check it's capability. It must be able to do the style that you want.
Check the size of the barrel. If you have short hair then go for the small barrel. On the other hand, if you have long and thick hair then choose the bigger barrel.
There are various types of curling irons that are available. Each one of these varies in sizes, prices as well as barrel sizes. Some curling irons are made for long luscious hair while others are perfect for the thick hair to curl. You must consider its features, capabilities, and specifications in order to get the best curling iron for your hairstyle. Some women preferred to have curly hair because their husbands love it. Want to curl your hair?