Investing in professional hair dryers can make your hair and your client's hair lustrous, silky, and less frizzy. The best professional hairdryer is perfect for your own use or for your salon use. This device is very handy especially if you are styling different types of hair.
That is why it's very important to look for high-quality products that include several accessories. It should also have enough power so you can achieve the hairstyle that you desire. Most often, it includes different settings for speed and temperature.
Professional hair dryers are not only for salons but they're also great for home use. A high-quality dryer can provide excellent protection for your hair and scalp. However, due to the colossal choices that are available, choosing the best professional hair dryer can be a bit overwhelming, most especially if you are not an expert.
In order to assist you in discovering the appropriate tool, we will show you which features are essential and how to effectively use them.
Professional Hair Dryers Reviews
Below is a list of the best professional hair dryers that are available on the market right now in order to help you make the right buying decision for your hair.
BaBylissPRO Nano Titanium Portofino Dryer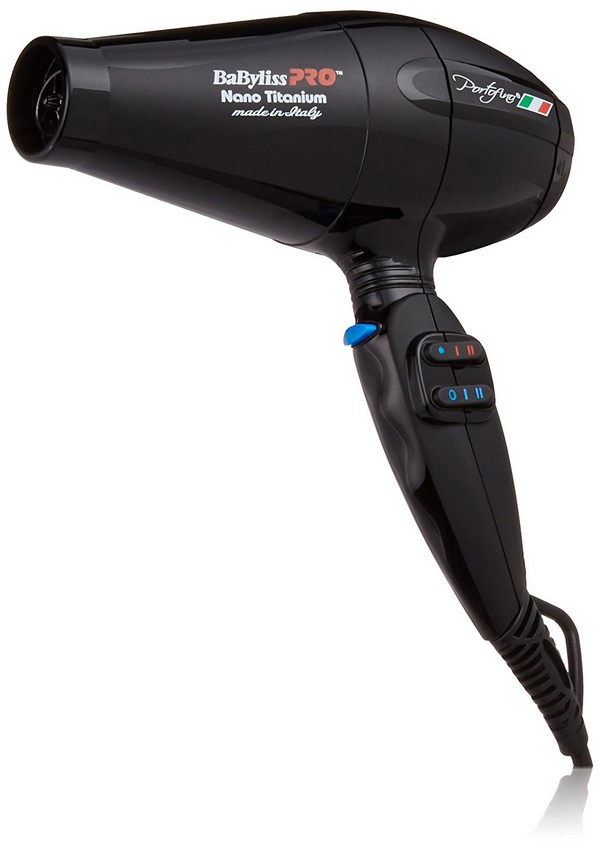 If you are a professional hairstylist then you definitely need BaBylissPRO Nano Titanium Portofino Dryer. You can guarantee that it is made of high quality since it is an Italian brand. With its ionic and nano titanium technologies as well as its powerful motor, you can always assure smooth dry hair. It also works on all types of hair.
Pros
It uses a powerful 2000 watts AC motor to quickly dry up any hair type in an effective manner.
It comes with a 3-year limited warranty.
The ionic nano titanium technology can make your hair shinier.
Its stainless steel filter can be removed, making it easier for you to clean.
Cons
It is a bit heavier since it weighs 1.8 pounds.
Additionally, it includes essential accessories such as a diffuser and 3 concentrator nozzles. It is ergonomically designed, making it easier for you to use.
There are 6 heat/speed settings to choose from. It also features a cold shot function. Select the best combination that is appropriate for your hair and scalp.
RUSK Engineering W8less Professional 2000 Watt Dryer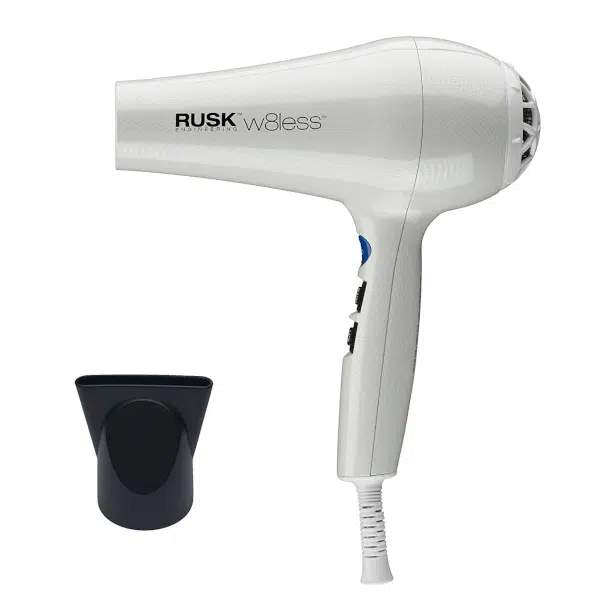 Rusk Engineering is the best fusion of technologies. It can dry up your hair quickly. You can easily style any type of hair since it is very light.
It features a perfect combination of ceramic and titanium. This dryer provides an excellent power of at least 2000 watts.
Pros
Lightweight and less noise.
Ergonomically designed.
Far-infared heat waves.
Cons
It does not use ionic technology.
One of its greatest advantages is how it emits far-infrared heat waves, allowing you to dry hair without any frizz.
BaBylissPRO Watt Turbo Hair Dryer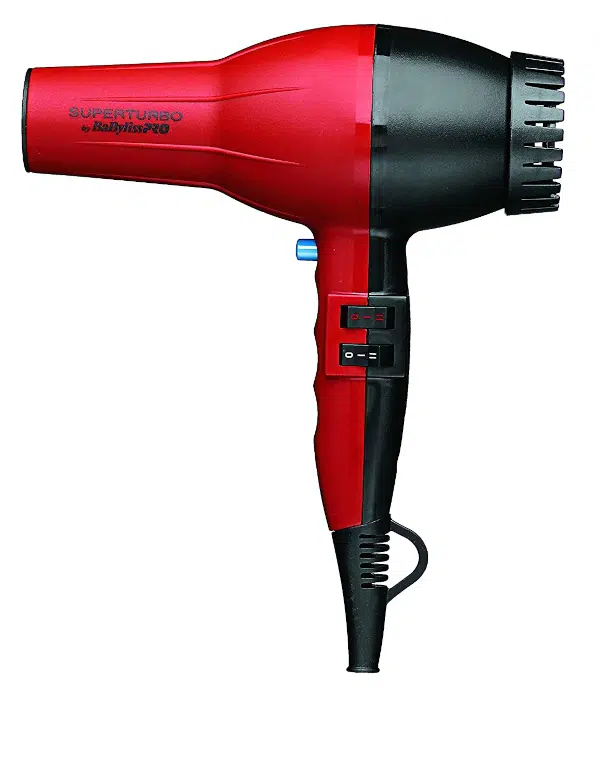 The BaBylissPRO Watt Turbo Hair Dryer provides salon-quality blow drying, with six-speed and heat settings. It is perfect for a range of hair types, leaving the hair looking healthy and shiny.
Pros
Low noise.
A range of speeds and heat settings.
2000 watts.
Cons
Only comes with one concentrator nozzle.
Berta Professional 1875W Professional Hair Dryer
This is a powerful device that is best for professional use. It can dry your hair faster since it uses negative ions far-infrared heat. A versatile dryer that features six heat and speed settings. It has a powerful 1875 watts motor.
Pros:
It has a lengthy 8 feet power cord.
Far infrared technology can protect your hair.
With its powerful 1875 watts motor, your hair dries up quickly in just a few minutes.
It includes double stall air inlets which can prevent your hair from getting into the dryer.
Cons:
It only has one concentrator nozzle.
According to its maker, this dryer is capable of emanating 100 times more negative ions compared to other models. As a result, your hair becomes smoother and silkier. Far infrared technology can protect your hair, making it healthier.
Shark HD120BRN Blow Dryer HyperAIR Fast-Drying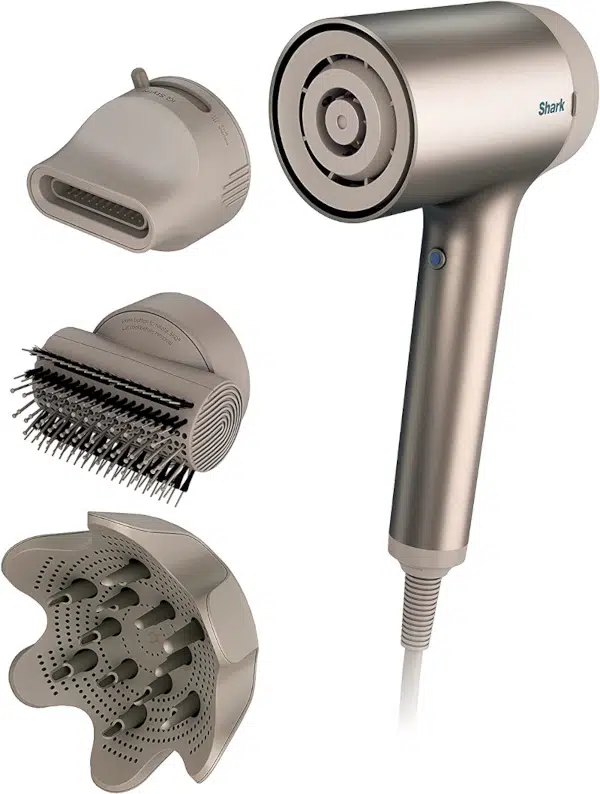 This amazing blow dryer from Shark provides you with ultra-fast drying, designed to protect and care for the hair at the same time. It is a good choice of dryer if you have curly hair as it comes with curl-defining attachments allowing you to style your hair.
Pros
Dries up your hair faster.
Makes your hair silky and shiny.
Great for curly hair.
Cool shot button.
Cons
Heavier than other dryers on the list.
Conair InfinitiPro 1875 Watt Salon Performance Hair Styler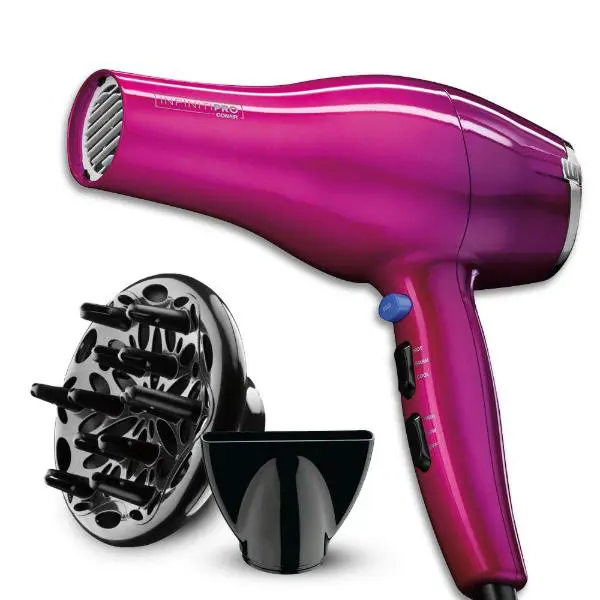 This professional hair dryer has a high-performance AC motor allowing for a 50% quick-drying period. It boasts of Ceramic technology which offers standard heat that allows speedy drying with reduced damage.
Additionally, it features Ionic Technology that aids in combating frizz encouraging smooth and beautiful hair. This gives you the freedom to create the style that you want to achieve. There are three heat settings and two settings for the speed.
Pros
Features Ceramic and Ionic Technology
Provides high heat to quickly dry your hair.
Makes your hair smooth and shiny.
Cons
The button placement is not too convenient.
Some users complain of a loud and noisy motor.
A little bit on the heavy side.
It includes a cold shot button so you can enjoy having a professional hairstyle every day. Most importantly, the cold shot button secures your waves and curls. With its lengthy cord, you don't have to worry if the power outlet is very far from you.
It comes with a handy hanger ring for your own convenience. Cleaning is not a problem since it has a removable filter.
Elchim Classic 2001 Professional Hair Dryer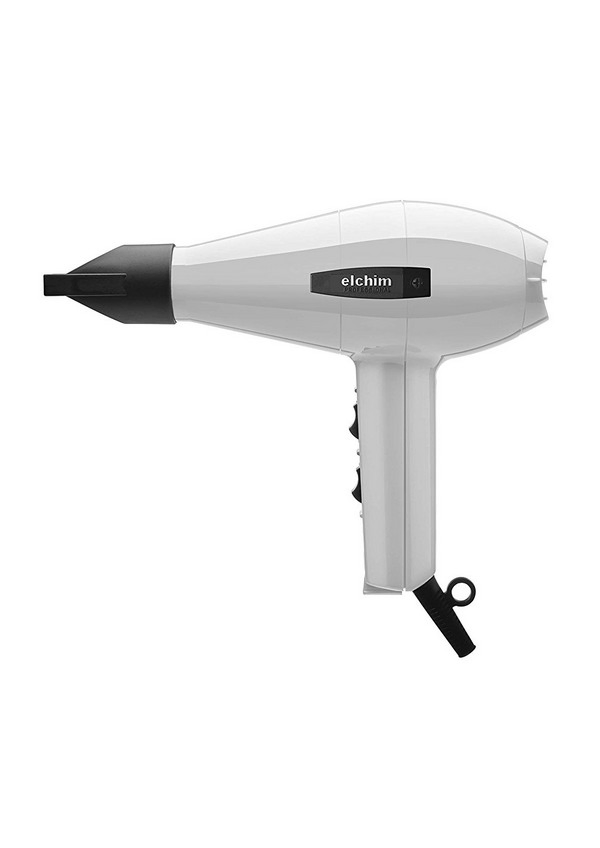 This is a high-end type of professional hair dryer. It is an Italian device that gives you a powerful 2,000 watts motor. A durably built hair dryer designed for all types of hair.
This is one of the best professional hair dryers that is available in the market. In fact, it's very in-demand right now. It comes with a lifetime warranty so you can guarantee that it has the best value.
Pros
Covered with a lifetime warranty.
Can straighten curly and frizzy hair.
Exceptionally light.
Operates quietly.
Cons
Pricey.
It has a small nozzle.
Some users complain that it is not hot enough.
Its cord is limited.
Elchim Classic 2001 is lightweight and very easy to use. For easy storage, it comes with a hanging ring. This is a very versatile hair dryer since it includes three settings for the temperature. This is very helpful when you are doing unique messy hairstyles.
Different Types of Professional Hair Dryers
Not all hair dryers are created equal. Thus, it's best to know which type is suitable for you to use. Basically, there are three types of professional hair dryers. These are the ionic, ceramic, and tourmaline hair dryers.
Ionic Professional Hair Dryers
Ionic hair dryers use ionic technology in breaking down the water molecules. This means that it can dry your hair faster. Since you only need less heat then there will also be less damage to your hair. The problem is you don't know when to stop which can lead to over-drying your hair.
Ceramic Professional Hair Dryers
Ceramic hair dryers use ceramic coils which are excellent heat conductors. It will dry up your hair equally preventing any damage. This type of dryer disperses non-damaging infrared heat that dries up your hair gently. It provides additional heat protection to your hair.
Tourmaline Professional Hair Dryers
Tourmaline Hair Dyers is the faster version of ionic hair dryers. This is the reason why it's the most expensive among the three. This dryer gives off infrared heat and negative ions to dry up your hair gently. Your hair will look shinier and has less frizzy after styling. Even if you use higher settings it won't damage your hair.
Professional Hair Dryers Quality and Price
Some people think that choosing the right product can be done by simply comparing their prices. Actually, it goes beyond this since you should also consider its individual aspects.
Wattage – The higher the wattage the better. The hotter your dryer the quicker it can dry up your hair. This is very advantageous if you have a busy salon. Additionally, you can save time in styling your hair at home. Ideally, you should use a motor with at least 1350 watts.
Temperature Settings – Choosing the hottest setting is not the most effective way of drying your hair quickly. Too much hot air can damage and weaken your hair. The ideal way would be to use warm air at a greater speed. One of the best features of professional hair dryers is that it uses advanced technologies which permit you to balance different settings so that you can always keep your hair healthy.
Weight – It can make your job much easier if you use a lightweight and ergonomically designed dryer. Styling can also be done quickly.
Turbo Boost – With this feature, you can adjust the airspeed to its highest level without altering the temperature. This can help you in lessening the time spent for drying your hair.
Noise – This is a very important characteristic if you are using professional hair dryers in your salon. Imagine if you are using noisy hair dryers and they are running at the same time. Wouldn't it be harmonious if you are using dryers with less noise?
Accessories – Two of the most useful accessories are a concentrator nozzle and a diffuser. The concentrator nozzle is for styling straight hair while a diffuser is for curly hair. Some units come with combs or brushes. For salon use, it's best to choose a model which include the most accessories.
Techniques To Dry Your Hair Efficiently
In order to use your professional hair dryer effectively, there are certain guidelines that you have to follow. Before using your hair dryer, dry your hair first with a cotton or microfiber towel. Use a hair dryer that is powerful enough and has a capacity of at least 1600 watts.
At the start, use only the hair dryer. Later on, when your hair is already partly dried then you can use a comb or brush. In this way, you can minimize hair damage.
If you want your hairstyle to look great when you need to invest in decent hair care products, hair styling tools and of course the best professional hair dryers. Looking for something less professional and more for on the go?
Check out Beautified Designs post on the best travel hair dryers here and please let us know in the comments below which one you ended up getting!