Normally, the trouble faced by many women over 50 is keeping a trendy haircut for years in a row or preferring a hairstyle that makes them appear older than their real age. Ladies, keep in mind the ideal haircut it will remove 5 to 10 years off your image.
Moreover, to keep your style fresh you must not forget to update it every couple of years. Remember not only hairstyles for women change but you as a person evolve as well. Fortunately, you can still keep your beloved pixies or bobs, however, you just need to add some character to your dependable style.
Whether it's adding layers, choppy edges, or even updating to a lighter shade, when you take these steps it guarantees that you consistently revitalize your own personal style. Although, selecting lighter hues must be taken with caution. If you opt for a shade lighter than your skin tone, painfully you end up looking washed out.
Short Hairstyles for Women over 50
While younger women are eternally experimenting with various hairstyles, mature women prefer simple wash-and-wear haircuts. Here is our pick for the best short hairstyles for women over 50.
1. Caramel Pixie Cut
Women over 50 favor the Pixie Cut since it perfectly blends style, beauty, and elegance.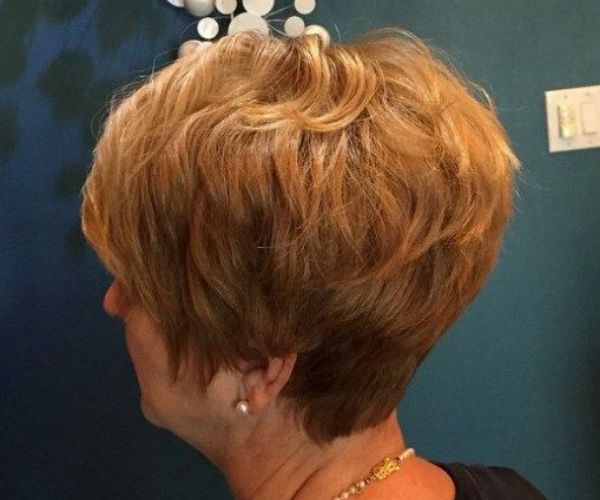 2. Graduated Layered Bob
If you are looking for a cut which is low-maintenance, then choose this Graduated Layered Bob. It's a quick and easy hairstyle for women.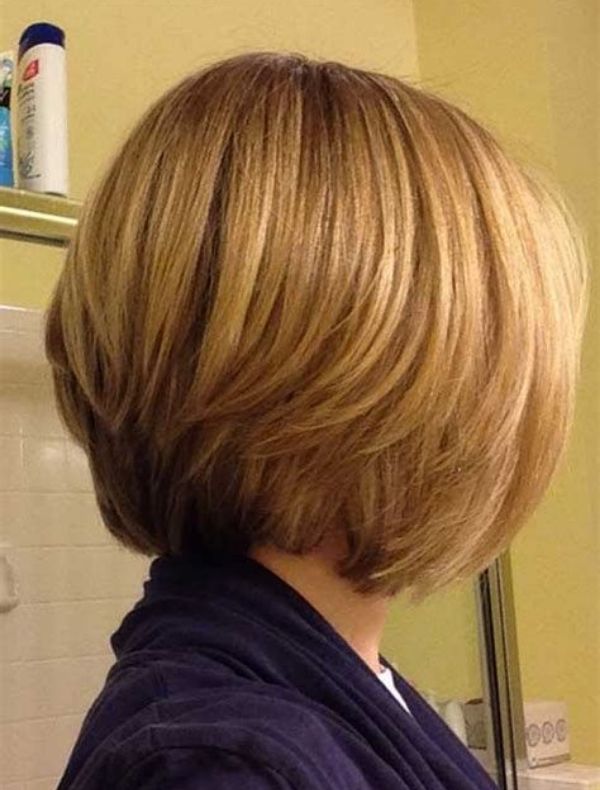 3. Layered Bob with Side-swept Bangs
Adding side-swept bangs to your layered bob will certainly make your style both charming and graceful.
4. Textured Inverted Bob
Those searching for a trendy yet convenient haircut can go for the Inverted Bob. The angle of the cut allows you to look modern. What's more, when you add curls, the syle becomes playful which can make anyone look younger.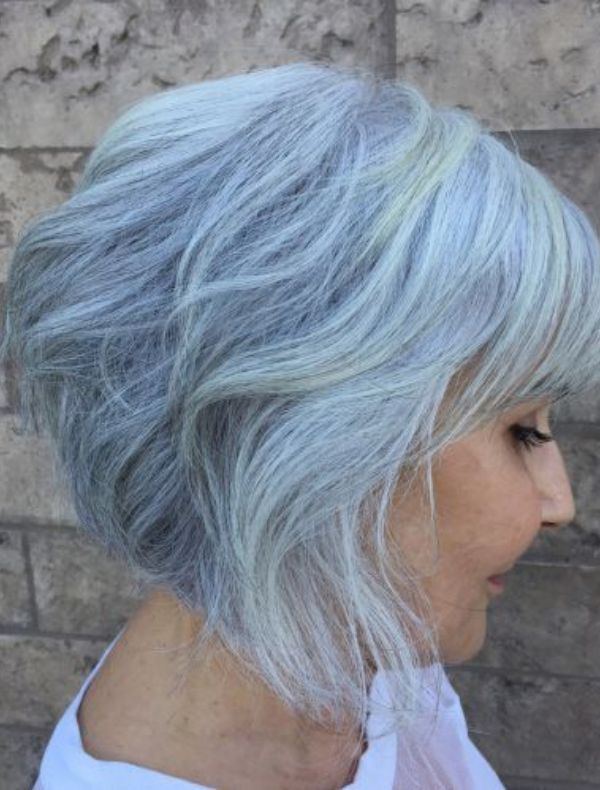 5. Simple Cropped Cut
A Cropped mane is typical among women over 50. Moreso for those faced with fine and limp hair. One of the reason this is a top choice for the best hairstyles for women is because it accentuates high cheekbones.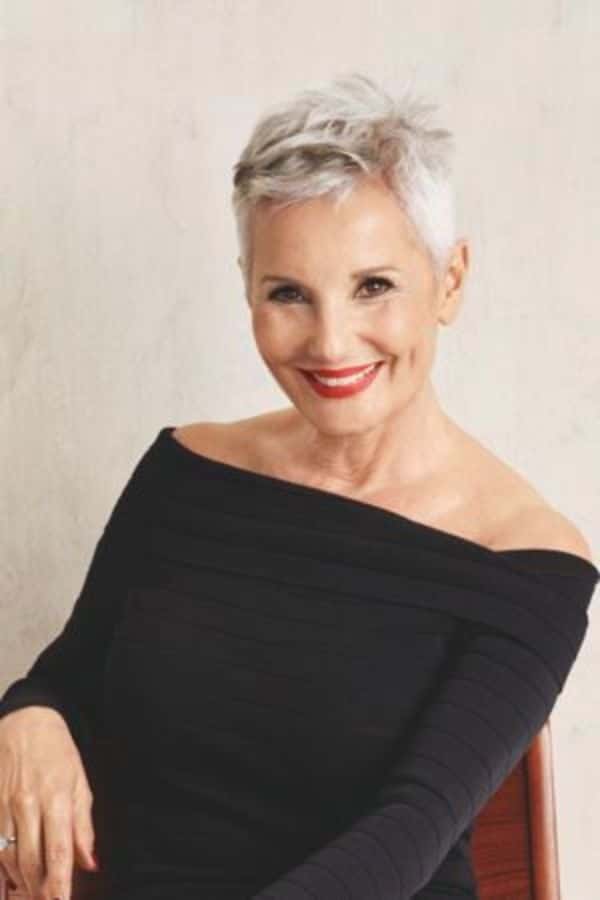 6. Sassy Pixie Cut
Do you have an oval face? We highly recommend this Sassy Pixie Cut for you!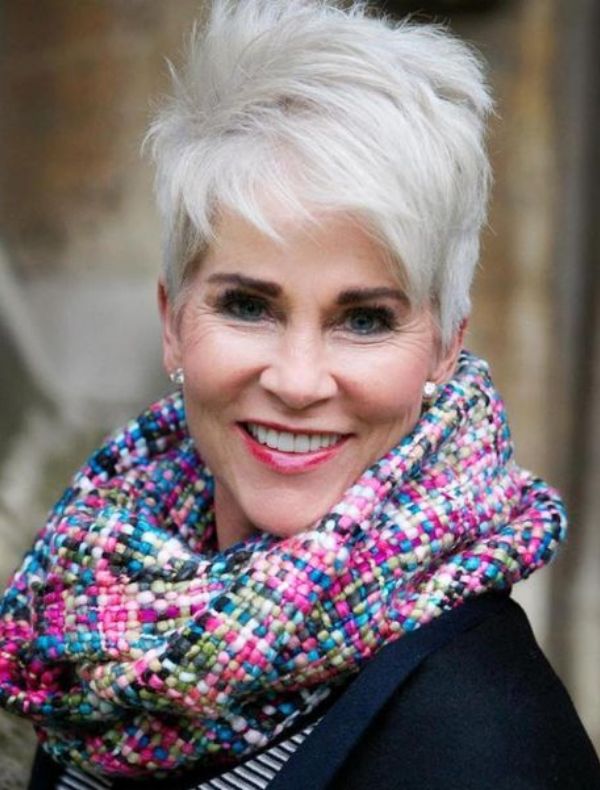 7. Wavy Silver Bob
Mature women blessed with naturally wavy hair can play up their tresses with any hue. On the other hand, silver is fitting for women over 50.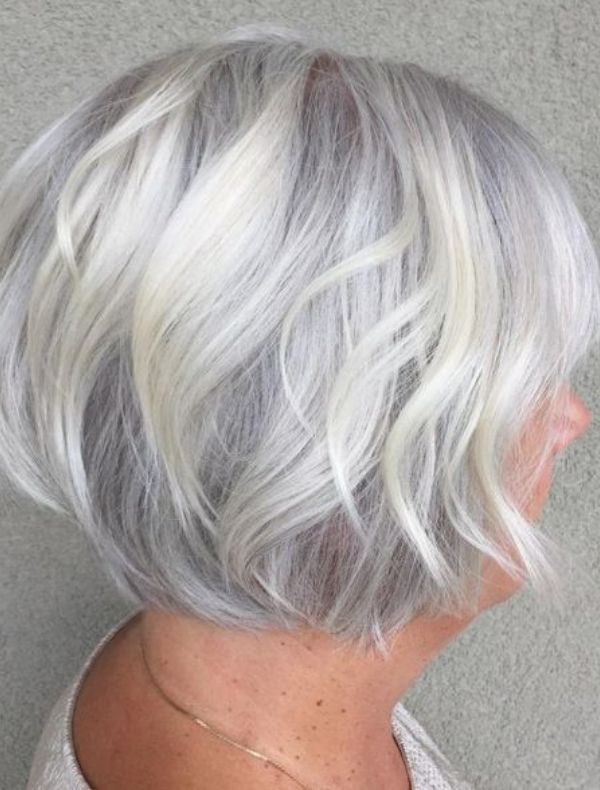 8. Trendy Pixie-Bob
In the meantime, this trendy Pixie-bob is ideal for women who are not yet ready to go for incredibly short locks. Similarly, it's an optimal choice for women transitioning from long to shorter hair.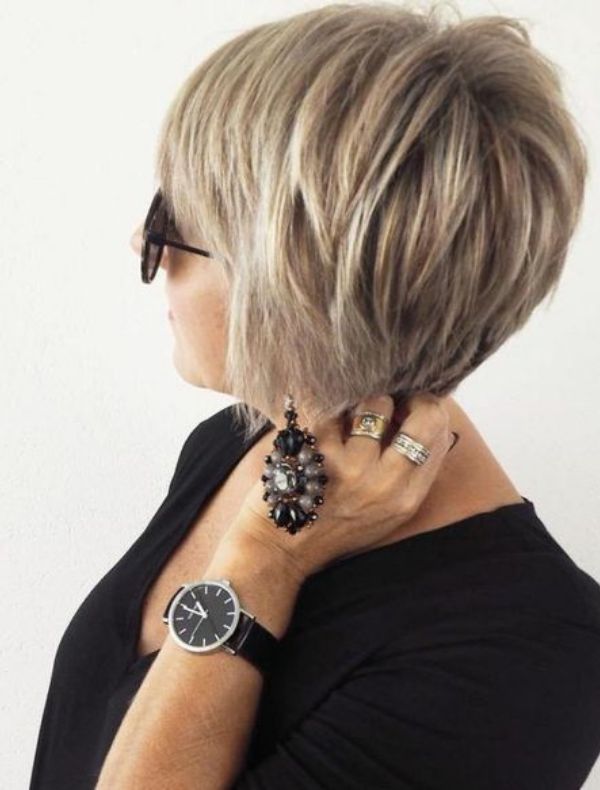 9. Choppy Pixie with Bangs
Again, the silver color increases the cool and chic factor of this Choppy Pixie with bangs.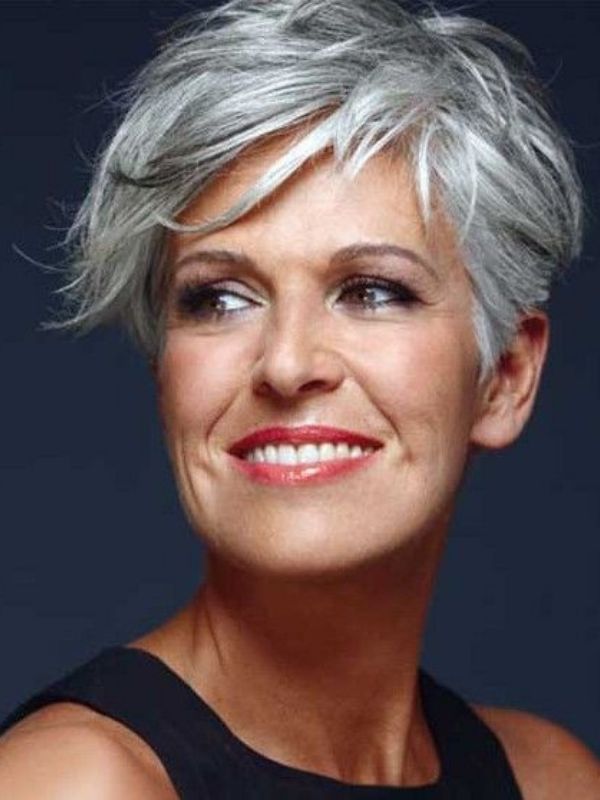 10. One-length Straight Bob
The One-length Straight Bob is a steady choice among older women. You are absolutely in style whether you want it curly, straight, or wavy. With this classy hairstyle what could go wrong?
11. Platinum Layered Bob
Tired of your gray hair? Revitalize your locks by going platinum! Selecting this shade will simply conceal your gray hair and no need to worry about relentless touch-ups.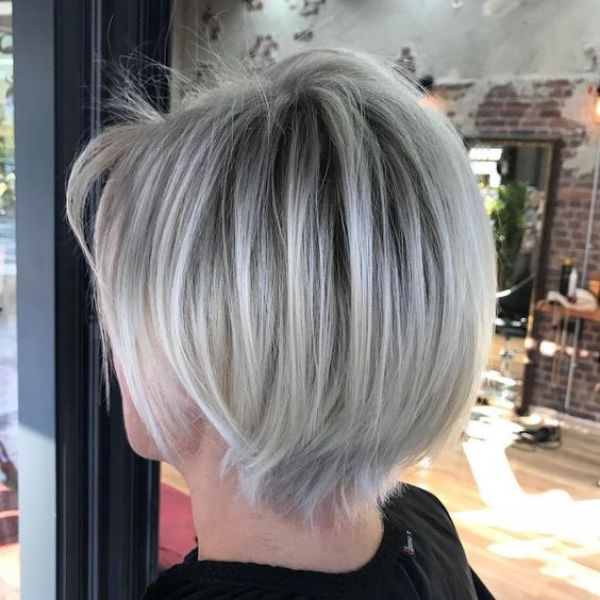 12. Salt and Pepper Bob
Seeing silver and black on women over 50 is natural. As a matter of fact, you'll look gorgeous when you combine it with a tasteful bob.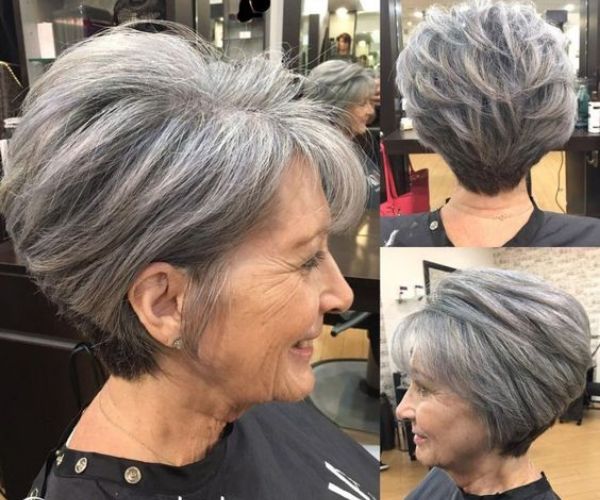 13. Charming Curls
At first glance, this hairstyle for women look difficult to style, however, in reality, it is easy! When choosing this cut, remember to apply products to give shape to your hair. Notice how the charming curls remove years off her face?
14. Modern Layered Bob
Short haircuts are compatible with women of any age. For women over 50, it gives a polished and youthful look.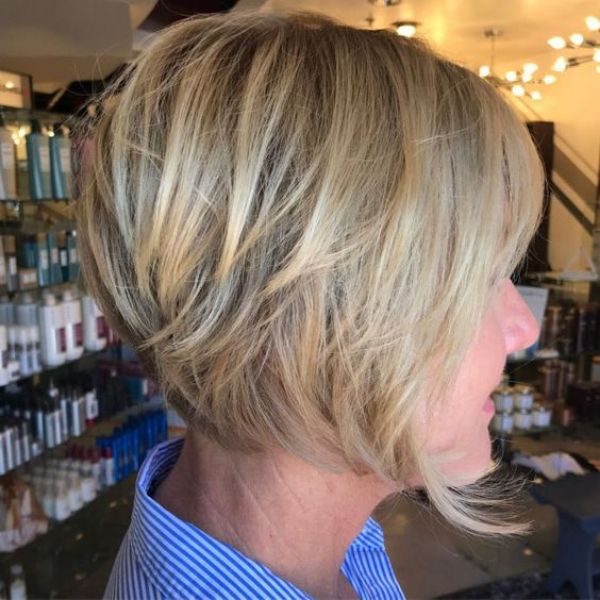 15. Classic Bob
Another timeless inclusion in the hairstyles for women over 50. It's purely simple and fabulous.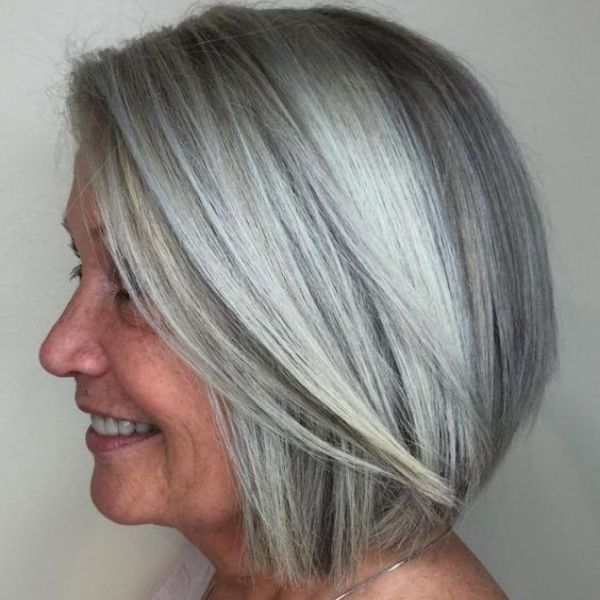 16. Purple Side-parted Bob
Wearing glasses is often unavoidable for older women. Regardless, Side-parted Bob is ideal for women with glasses. The cut highlights the shape of your face and introducing purple hints to your gray hair adds a cool vibe to your style.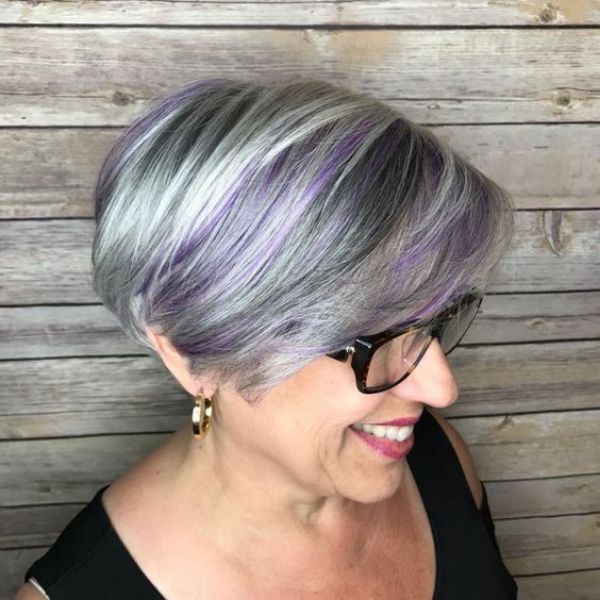 17. Blonde Jaw-length Bob
With your jaw-length bob, it's easy to go for a casual and natural style if you are simply going out with friends or family. For formal occasions, vivify your haircut by adding curls to your front locks.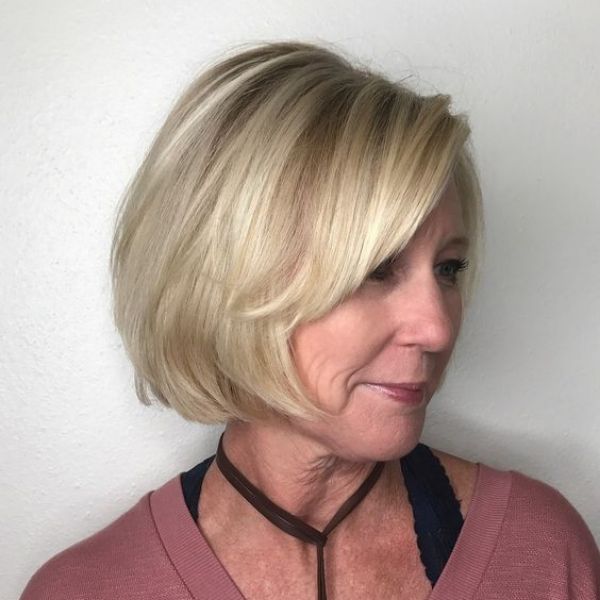 18. Curly Platinum Pixie
Amazing how this Curly Platinum Pixie can create an air of sophistication and grace. Indeed, this is a great addition to stylish hairstyles for women.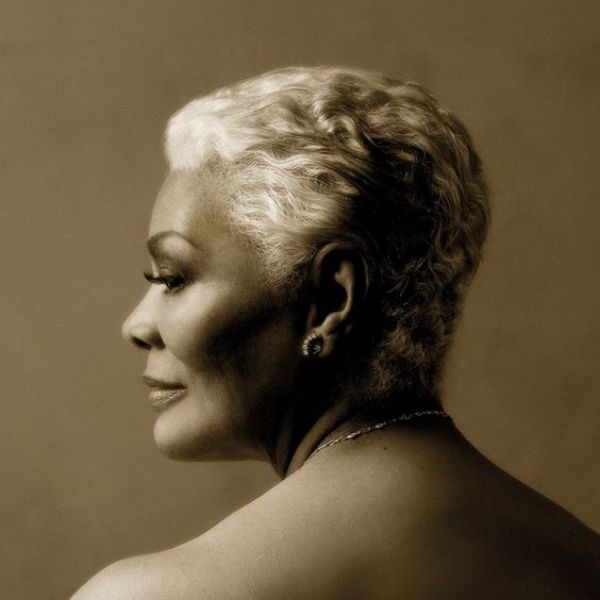 19. Silver Pixie
As can be seen below, the long top on this Silver Pixie brings volume to your hair.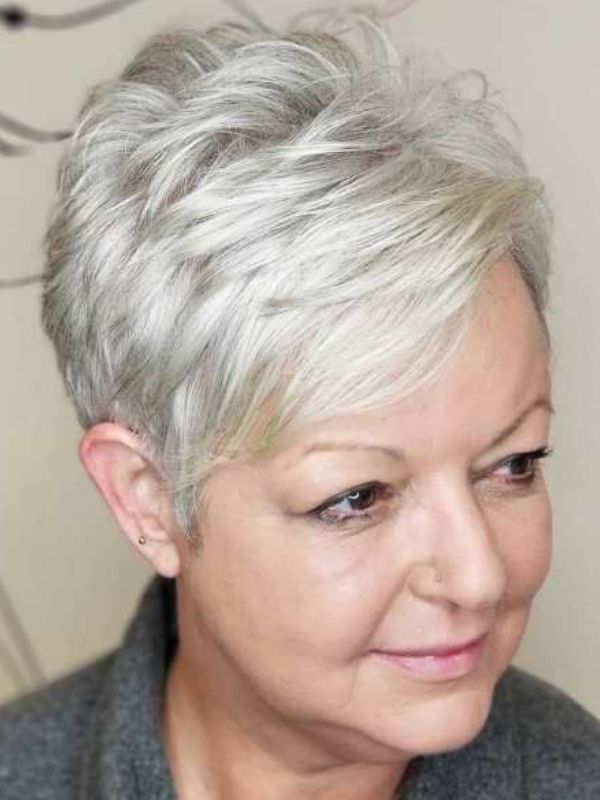 20. Playful Bob
Fine or thinning locks is an issue with older women. You can counter this dilemma by opting for layers which increases volume and allows movement to your hair. Additionally, with this cut, your hair visually looks thicker.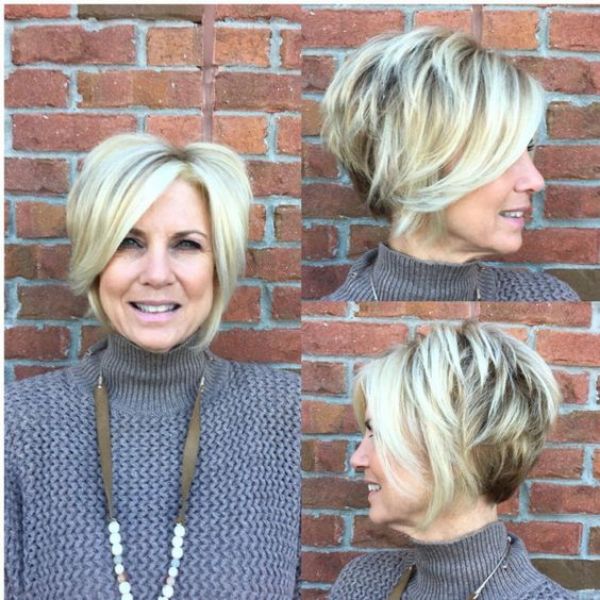 Long Hair Styles for Women over 50
Now not everyone is prepared to let go of their long hair. If you are part of this group, take a look at our top choices for long hairstyles for women over 50.
21. Long Side Ponytail
If you want your hair to stay in place, tie it in a tight low ponytail. Flip it on the side to firmly secure it.
22. Long Layered Hairstyle
As mentioned earlier, layers add volume and movement to your hair. See how it beautifully works for Michelle Pfeiffer?
23. Long Messy Curls
To play up your hair, you can add messy curls to your long layers.
24. Long Wavy Hair with Side Bangs
Long waves with side-bangs likewise work well if you are not keen on curls.
25. Long Messy Waves
Are you naturally blessed with wavy hair? Soften your features by following this Long Messy Waves hairstyle for women.
26. Long Straight Hair
Meanwhile, if you have long, healthy, straight hair like Demi look sleek just by parting it in the middle and naturally letting it flow.
27. Long Blowdried Curls
This Blowdried curl is suitable whether you have short or long hair. Look glamorous when you attend formal events with loose, bouncy curls.
28. Long Side-swept Curls
You can also choose this side-swept hairstyle to add a twist to your curls.
29. Loose Ponytail with Side-swept Bangs
In essence, your natural beauty will certainly stand out if you go for this Loose Ponytail with Side-swept Bangs.
30. Classic Updo
For the most part, if you are searching for a clean and composed hairstyle then choose the Classic Updo.
31. Fishtail Braid
Tame your thick hair with this Fishtail Braid. Leave out a few locks at the front to sweetly frame your face like what Nicole Kidman shows here.
32.Vintage Updo
Are you a fan of the vintage era? Follow this Vintage Updo and look ravishing on any occasion.
33. Center-parted Messy Hairstyle
If you routinely side-part your hair, try parting it in the middle to add some zest. Run your fingers through your layers to add a tousled messy look.
34. Natural Curly Hairstyle
Obviously, you can proudly go out and show off your naturally curly hairstyle!
35. Braided Updo with Weave
Then again, others prefer the clean and poised hairstyle. You can opt to add a braid and weave to your classic updo.
36. Long textured Waves
When you maintain a long healthy hair, just simply keeping it down like shown below is enough.
37. Middle-parted Hairstyle with Heavy Waves
To mask wide cheeks, do the Middle-parted Hairstyle with Heavy Waves.
38. Side-parted Long Layered Cut
Incidentally, you can accentuate your facial features with this Side-parted Long Layered Cut.
39. Fancy Curly Updo
Searching for a fancy hairstyle for that special event? Try this braided Curly Updo.
40. Mid-level bun
Otherwise, you can also opt for this loose mid-level bun.
New Hairstyles for Women over 50
In either case, if you want something new and trendy, here is our list of modern hairstyles for women alternatives.
41. Chin-length Bob
Add a few flips to your Chin-length Bob to frame your stunning face.
42. Shoulder-length Haircut with Trimmed Edges
This shaggy cut with trimmed edges truly flatters her face shape.
43. Medium Bob for Wavy Hair
Essentially, you will only exert a few efforts with this Medium Bob if you have naturally wavy hair.
44. Disconnected Bob
See the caramel and pale blonde highlights of this Disconnected Bob? It certainly adds to its trendy and fashionable feeling.
45. Blonde and Chocolate Balayage Layered Bob
Nothing is more trendy than Balayage coloring. Here you can see a Blonde and Chocolate Balayage Layered Bob.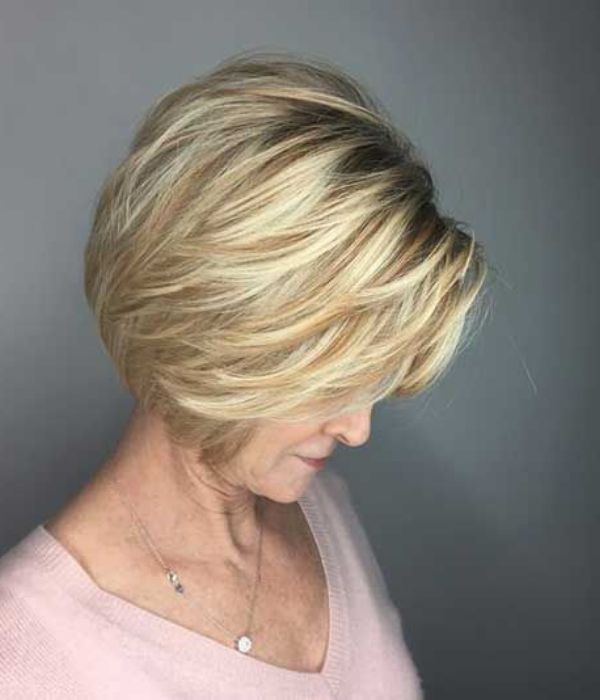 46. Cute Mischievous Cut
To soften the angles of your jawline, try this Cute Mischievous Cut.
47. Short Stacked Bob
Aside from Platinum, you can likewise select this Bronzed Brown shade to add luster to your tresses.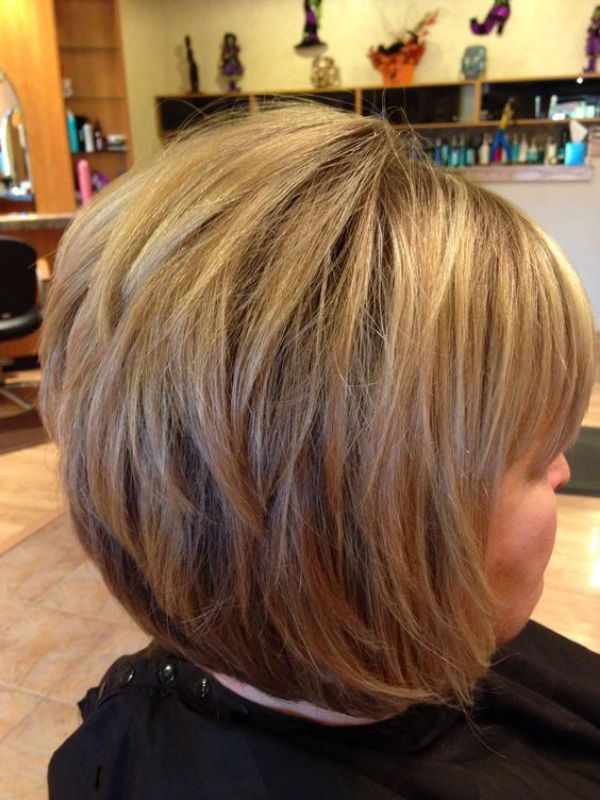 48. Platinum Messy Bob
In any event, you can choose Platinum to cover gray hair.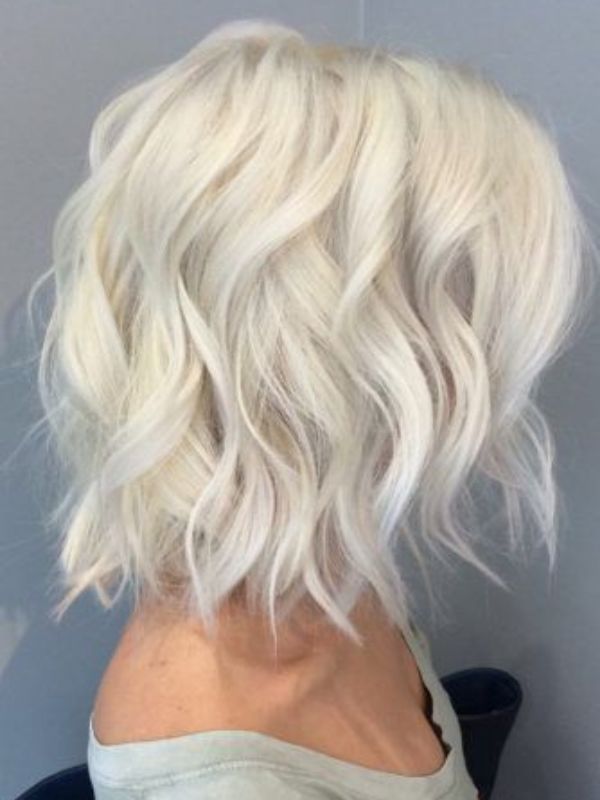 49. Medium Feathery Hairstyle with Bangs
Usually, thick hair is difficult to handle, however, not with this Medium Feathery haircut. This hairstyle for women over 50 is the answer to your dilemma.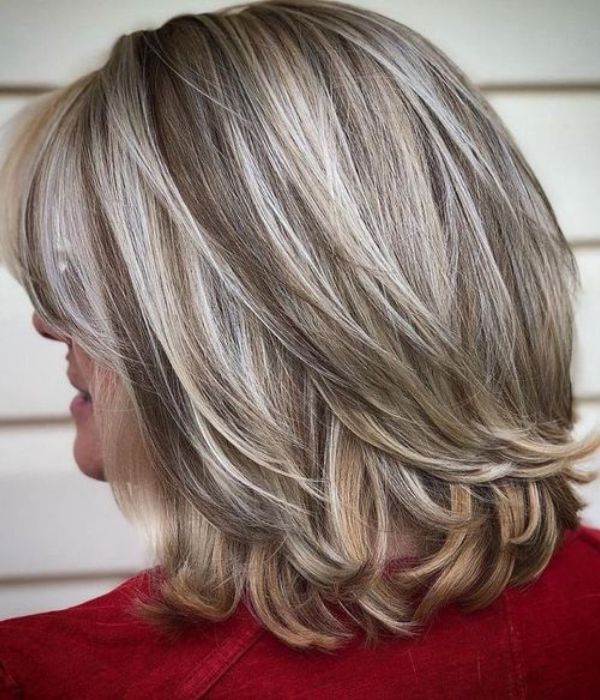 50. Whimsical Short Shag
Your personality will definitely shine with this Whimsical Short Shag.
51. Gorgeous Gray Balayage Bob
Reinforce your gray hair with this Gorgeous Gray Balayage Bob. Choosing this style surely shows you are owning your 50s.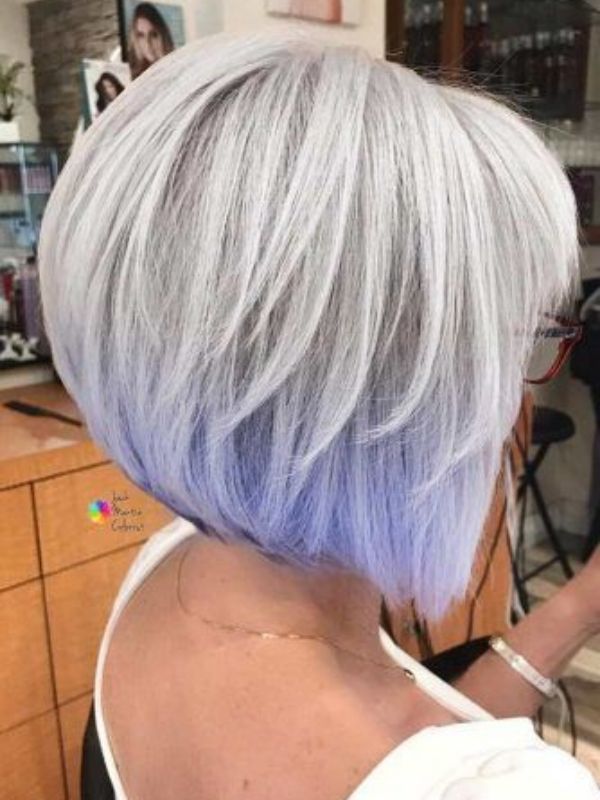 52. Tousled Inverted Bob
Being older does not mean you can't go for something edgy, this Tousled Inverted Bob delivers the sassy edge you are looking for.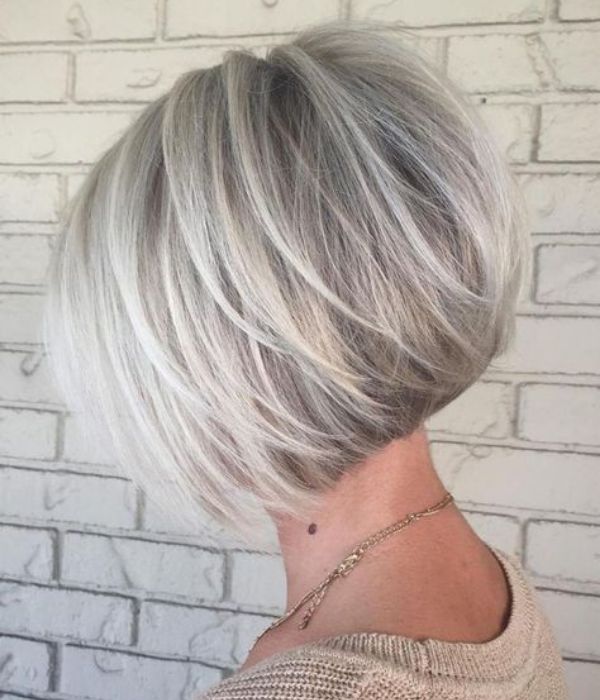 53. Long Messy Pixie
Add a twist to your Pixie by going for a long top and opting for vibrant color.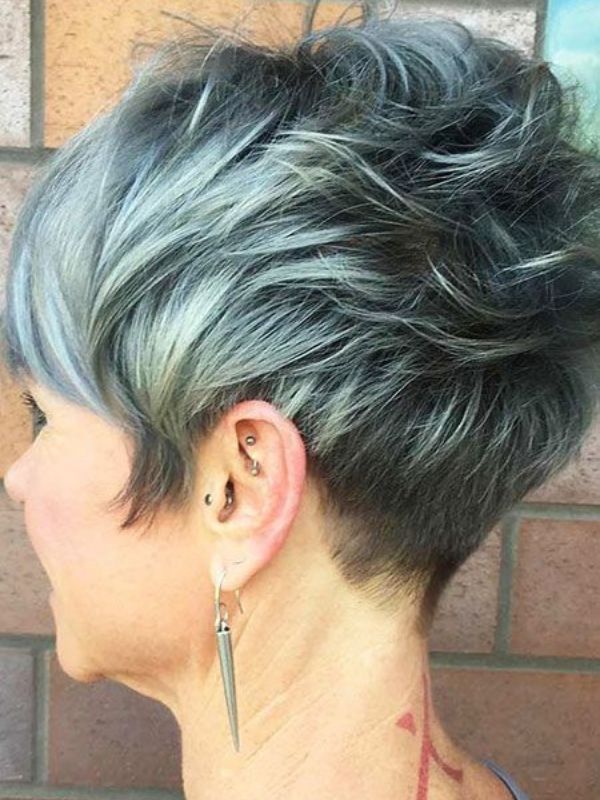 54. Curly Bob
Have fun with your curls with this Short Curly Bob. Another trendy hairstyle for women option.
55. Fresh Wispy Pixie
With this Fresh Wispy Pixie, you can absolutely see her sparkling eyes and wonderful smile.
56. Chin length Bob with Soft Curls
Rock this sexy hairstyle by adding waves and curls to your layers. Sure enough, you can see the impressive texture of her hair.
57. Flicked Short bob
Who says you can't have fun when you are over 50?  This haircut adds dimension to your locks and indeed you'll have fun styling it!
58. Modern Asymmetrical Hairstyle
This Modern Asymmetrical Hairstyle is your option when you want something trendy and fresh. Remember to go for periodic trims to avoid uneven ends.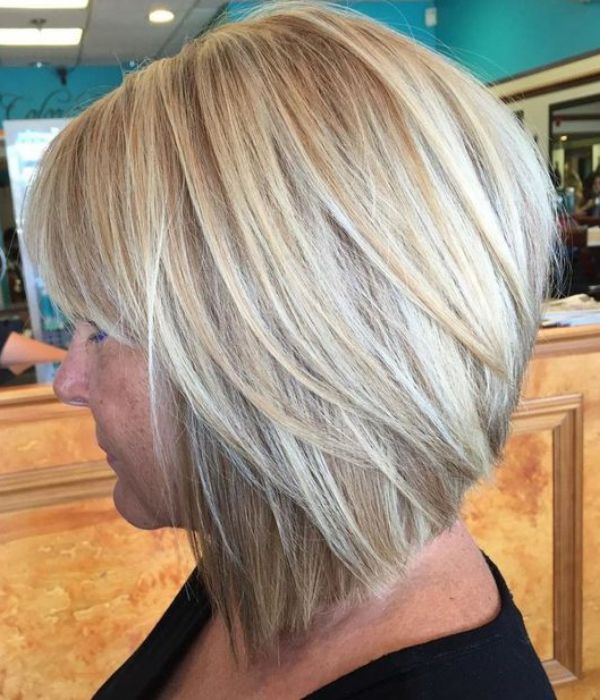 59. Chic Shaggy Crop
All in all, close-cropped Shaggy locks is truly modern and chic.
60. Voluminous A-line Hairstyle
A-line hairstyles for women are popular among those over 50 since it increases hair volume. Walk tall and feel tall with your thick modern hair.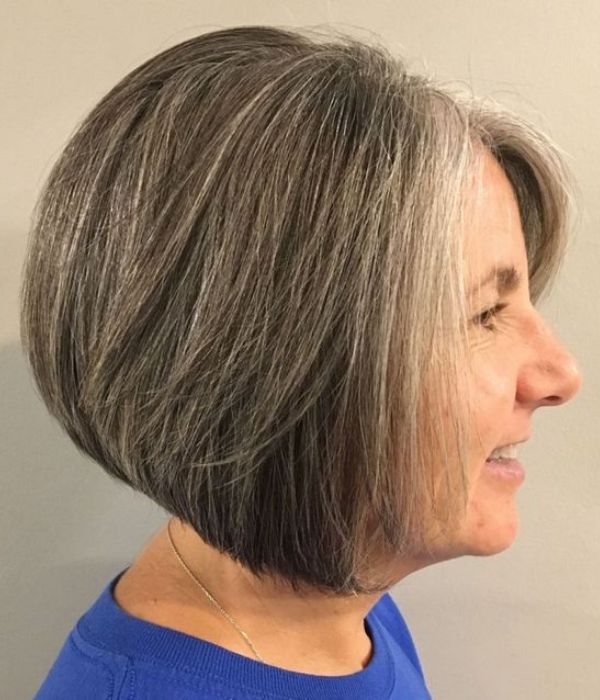 61.Timeless Chic Shag
Here is another beloved hairstyle for women. The Timeless Chic Shag is a style neither too long or short yet it elongates your neck. It is low-maintenance and gives you a refreshed look.
Hair Care for Women over 50
Ultimately, your diet affects your mane. Being careful of what you eat is equivalent to taking care of your locks. After all, our body is in charge of secreting sebum for our hair. If you are not careful with your diet, you'll end up producing too little or too much sebum.
With that in mind, to maintain a strong and nourished hair remember to take your daily multivitamins. In particular, vitamin B and omega-3 fatty acids assist in keeping hair healthy and promotes hair growth.  Alternately, you can add tuna and flax seeds in your diet. In general, hairstyles for women over 50 must be refreshed every few years with layers, choppy edges, or updating to a lighter color. Likewise, always go for your regular trim.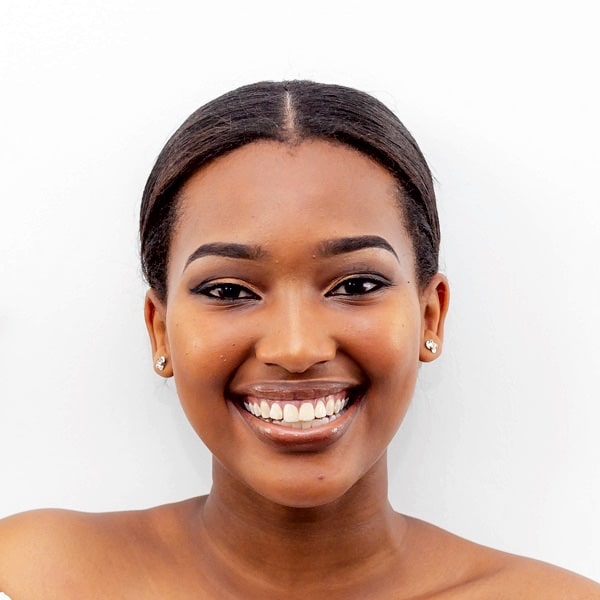 Raissa Diaz is a freelance hairstylist for a long time. Her expertise started as she was fascinated with hairstylists in a salon. She continues to become more adept in her field and enjoys her free time sharing her knowledge through articles.