Women of today's generation are into hair and it is every woman's crowning glory, and this is usually the reason why almost all girls out there love to always be in the salon to do their hair. One of the latest and hottest hair trends is having a Balayage Hairstyle.
Well, one thing is for sure, every girls' attention is captured by this trend today that's why they always request this style in every hair salon. It is a timeless hairstyle that gives a modish result and has the coloring technique that gives you a natural-looking color that currently rocks and still keeps the fashion hair industry loving it!
What is Balayage Hair?
Hairstylists developed and popularized this hairstyle in the early '70s in France. It is absolutely not a new style done by salons. Balayage is a French word and the French pronounce it as balɪjɑːʒ that means "to sweep" or "to paint" which has captured the hair into creating a graduated, natural effect.
This is done through a free-hand technique that starts from the roots of your hair and makes it lighter in the ends. It does not matter whether you have a short pixie cut or waist-length hair, this still looks great and stylish!
But the longer the hair, the better the movement it will make to the strands of your hair. Thus, creating a natural-looking, sun-kissed effect that looks like a baby's hair that is under the heat of the sun.
Balayage Hair Color Celebrities Love
Celebrities are very intrinsic! That includes the hairstyle and the coloring that will surely make heads turn during a red carpet event. Balayage hair has paved its way to Hollywood and is rapidly waving its way to every hair salon worldwide.
Check out these celebrities in their hot and stunning balayage hair looks; that added glamour to their catwalk. Having the balayage hair with pixie curls or long locks, still an A-lister to every celebrity in Hollywood.
1. Fiery Red Hair

Dramatic Red: Balayage is a super fun technique for those who like to experiment with color. Your ombré can be blended but still super-bold.
2. Short Hair

3. Caramel Straight Hair

Muted Copper: This color will keep your hair looking like it's just your natural hue but better. This will add brightness to your skin color and emphasize the assets in your face.
4. Ice Blonde Hair

Cool Blonde. Wanting to have your hair color look like no other woman's hair especially during summer? You can achieve this by having your hair done like this. You will never miss a chance to go expose your hair under the sun that's looking so natural.
5. Mermaid Blue Hair

6. Brown Short Bob Hair

7. Dark Brunette Hair

Monochrome: We seldom can figure out this kind of balayage. But you can choose this one if you are scared to put color in your hair or it is your first time to have hair color. You can get a simple option rather than having a dramatic look.
8. Smooth Caramel Hair

9. Dark Purple Hair

10. Dark Burgundy with Red

11. Espresso Hair

12. Ombre Hair

13. Red and Pastel Pink Hair

14. Medium Hair Balayage

15. Light Brown Hair

Completely blended: Your balayage hair color is correctly done if you cannot see lines where the color started and ends. With this upgraded kind of balayage, it will make you look like you've never been to a salon!
16. Rose Gold Layered Hair

17. Warm Gold Hair

Heated Blonde: A very sophisticated balayage hair color that has warm blonde hues on the ends. This is a perfect choice to match any time of the year. Best during summer!
18. Pastel Pink Hair

Pastel Pink: The love for pink! This is the reason that gets you to love this. Turn this look into a stylish, posh girl that hits the season with style.
19. Platinum White Blonde Hair

20. Purple Balayage Hair

21. Cherry Red Balayage Hair

22. Rose Gold Balayage Hair

High Up: If you want a total change in your 'do, then you can have this. Starting the pink color high up towards your roots for a more highlighted and lifted look. Best when having those beach wave curls!
23. Short Bob Gold Balayage Hair

Splashlights: More than edgy, hairstylists apply light color dye at the middle of the strand. This will still flaunt the best assets in your face. The best for a cosmopolitan look!
24. Short Blonde Balayage Hair

25. Silver Hair

Highlighted Gray: Gray is in! Kelly Osbourne is one of the images of this. She convinced us that gray is a trendsetter and we believed her. If matched with the right hues, then you will go and rock your own style!
26. Ash Blonde Hair

Perfectly Blended: You know a balayage is done correctly if you can't see lines where it starts and ends. A perfectly blended application will leave your color looking like an upgraded version of your natural shade. No one will ever know you hit up the salon!
27. Auburn Hair

Dramatic Red Ombré: A super fun technique with some use of hairspray for those who want to experiment but with style. Super bold but it well-blended style!
28. Black Hair

29. Brunette Hair

30. Curly Hair

Messy Curls: Best with curly hair. Balayage combines your curls so nicely. With your natural swirls and spirals, it surely gives you a sunny glow.
Curly Tip: Making sure that the colorist applied dye correctly into the ends of your curls, you're up to it to look astonishing. This kind of balayage is really making a statement to your hair.
31. Dark Brown Hair

32. Dark Ash Brown Hair

33. Balayage Blonde Hair

34. Medium Brown Hair

35. Lavender Ombre Hair

Lovely Lavender: Unleash your inner rock star with this lavender tone and still looks so gorgeously you!
36. Long Blonde Hair

Cool and Warm Tones: An interesting combination! Combining cool and warm colors can result in a sophisticated and dramatic balayage. You can rock your style by being daring with your hair.
Balayage vs Ombre
Balayage coloring is often confused with other hair coloring techniques. Ombre is one of them. Ombre has a hair coloring technique that shifts the color from dark roots and changed into a lighter color in the ends.
The hair colorist also uses foils for this. Ombre which means shadow in French indeed illustrated this hair design! The lighter color is shadowing the dark color of the hair.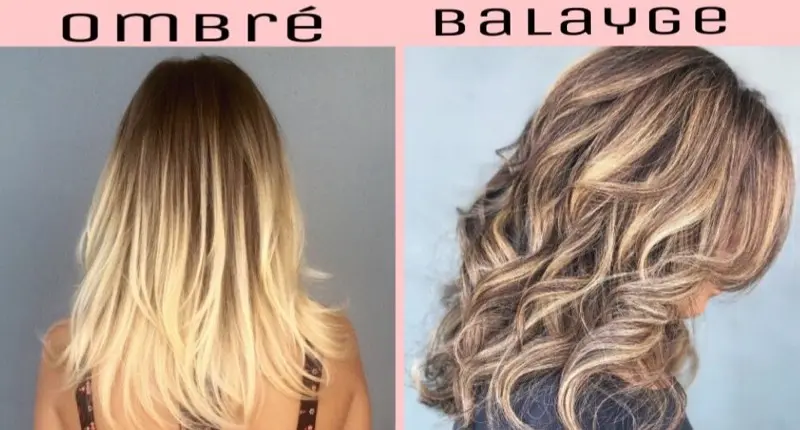 Balayage, on the other hand, is a hair coloring technique that is freehand and does not require foils! This type of hair coloring leaves the hair looking sun-kissed, a natural effect.
The transformation is such a beauty that it will accentuate the good looks in you. Starting from adding dark-colored dye on the roots and gradually making it lighter to the ends. Balayage is a standout to every hair and still looks so natural.
Balayage vs Highlights Hairstyles
Highlights are another hair coloring style that is often compared to balayage. Highlights is a coloring technique that is done in a sectioning pattern. The hair color is done by placing the light-colored dye following a sectioning pattern from the root of the hair all the way down to the tips which give a uniform result.
One needs to do root touch-ups, especially when your hair will grow. It is more of an ocular technique that will make the coloring effect look so personalized and looking it fabulously natural.
It is unique in the sense that the dye is applied with the freedom to where it is fitted and creates a gradual effect that hair will look so gorgeous.
Balayage Techniques
This technique is done in a free manner stroke in your hair. The color is applied in the area that will enhance and brighten your features with relaxed precision. Usually, it follows a method where you are going to start coloring from the midshaft part of your hair down to the tips.
Another characteristic feature is it is done through a revolution around the head or sectioning by following the hot cross bun method or dividing your hair into four sections. Applying dye to the mid-section part of your hair down to the ends is a good way to start!
Caring for Balayage Hair
Here are some helpful tips on how to take good care of your balayage hair as well as not to damage the hair too! There are a lot of hair tools to use, and I just find these necessary points below for your guide. Check them out!
Limit washing the hair
Maybe you are used to always shampooing every day, but this is unacceptable in caring for your balayage hair. You can opt for washing the hair once or twice a week using a sulfate-free shampoo to preserve the hair color.
Turn to dry shampoo, instead
A good alternative to keeping your hair look fresh is using dry shampoo. It will make your hair look fresh and not sacrifice the balayage hair. Just ensure that all the residue is removed as this will cause a flaky scalp!
Make deep conditioning treatment a weekly habit
Because you are dying your hair, it will trigger the strands of your hair into becoming brittle and dry. But you can have a weekly deep conditioning treatment for this. There are a lot of inexpensive hair conditioning treatment products that are intended for colored hair in stores around your area. A beautiful, shiny, and healthy-looking hair will add glory to your balayage hair!
Avoid applying heat
Heat is the number one enemy of any balayage hair. As much as possible, do not use an electric iron and curlers for your hair. Even excessive exposure to the heat of the sun will damage the hair. It will make your hair turn into brass if ever you can't get rid of them.
Heat protectant spray can be your armor
Need to expose your hair under the heat of the sun? You need a protectant spray that will save your hair! Just spray it whenever you needed it to spray anytime and everywhere. So keep one in your bag since it is a necessity.
Leave-on conditioner is another trick to follow
I understand that you need to style your hair. Curling and flat irons are the answer to it. You can put leave on protectant serum before gliding the iron to your hair. This will help lessen the damage to your hair.
Balayage hair is really making a trend nowadays. Its ability to turn the color looks so subtle or bold in a natural-looking hairstyle and has paved its way to Hollywood. Still, the hair salon experts have maintained and upgraded the balayage hair and have captivated the hair industry until now!
For sure, it will still be one of the top lists in every salon for its ability to blend in gorgeously and thus, making it a popular choice.