A new year means a new you, and what better way to start 2021 than with a new hairstyle! If you are bored with your current long hairstyle or are wanting to grow your hair out, check out these amazing new styles that look incredible on women of all ages! This article will show your the best long hairstyles for women that are currently making waves in the hair and beauty world.
Long hairstyles do not necessarily mean that you have to do loads of extra work to look fabulous. In fact, these hairstyles for long hair are super easy to take care of and style. We will also tell you the secrets of looking after long hair whatever your hair type is.
Read on to discover and be inspired by these trendy long hairstyles for women, perfect for all ages!
Long Hairstyles for Women
Without further ado, please find our ultimate list of different long hairstyles and types for women from 20 to 80 years old!
Anyone can look great with almost any haircut in their 20s. Fixing a long straight brunette hair is the simplest, adding short bangs on the side will rock your style.
This long braided hairstyle is great for curly hair. If you want to keep the majority of your hair down and keep it pretty, secure them with some beads or bands in each braid.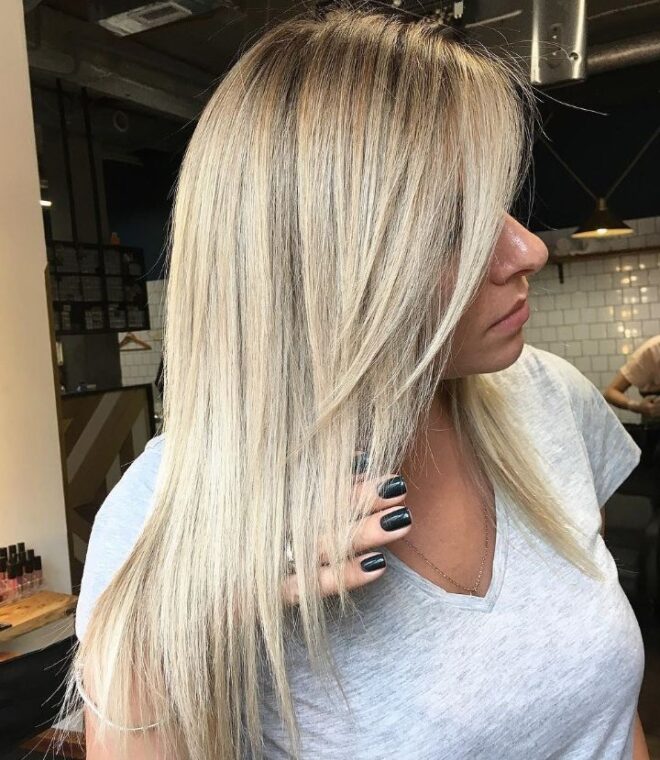 A kind of long hairstyle with layers is a great way to give your mane more movement plus, blonde hair never goes out of style.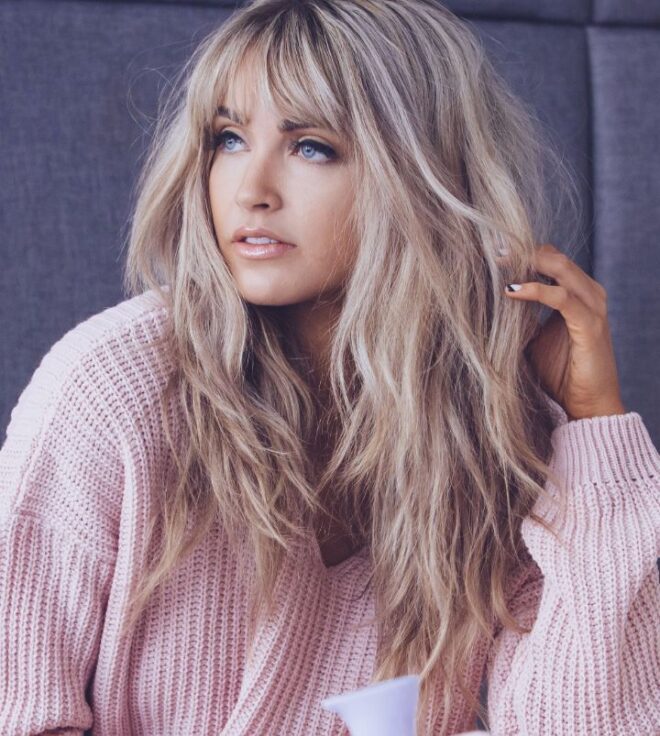 Looking for another long and layered hairstyle for 20s? You can achieve this look by adding blunt bangs on your wavy choppy haircut.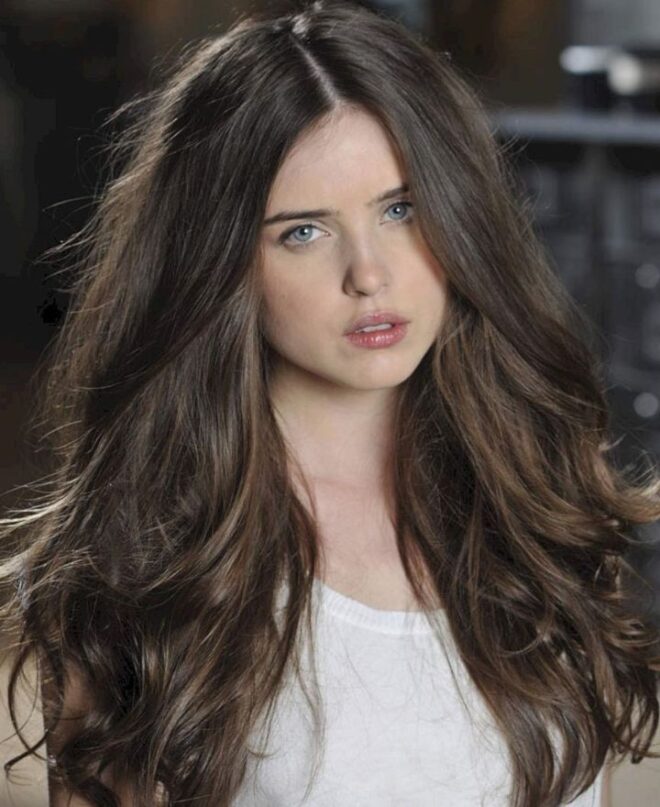 Long wavy hair is always in style. For a quick and easy hairstyle, scrunch your long wavy hair like this.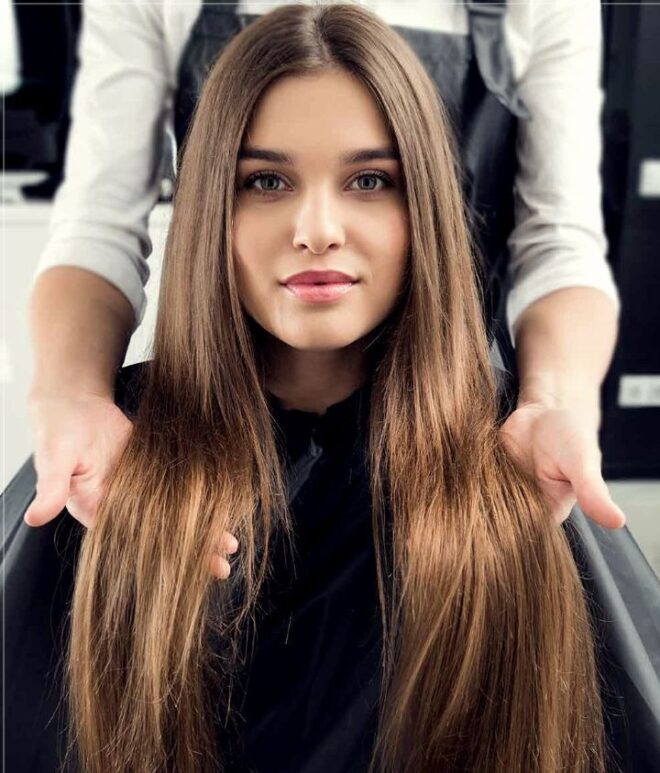 Having sleek long straight hair? Just add some layers and it can take you to the next level of your hairstyle.
Create a fairytale-princess look with your wavy long locks. You'll get an elegant and natural style by adding blonde long waves.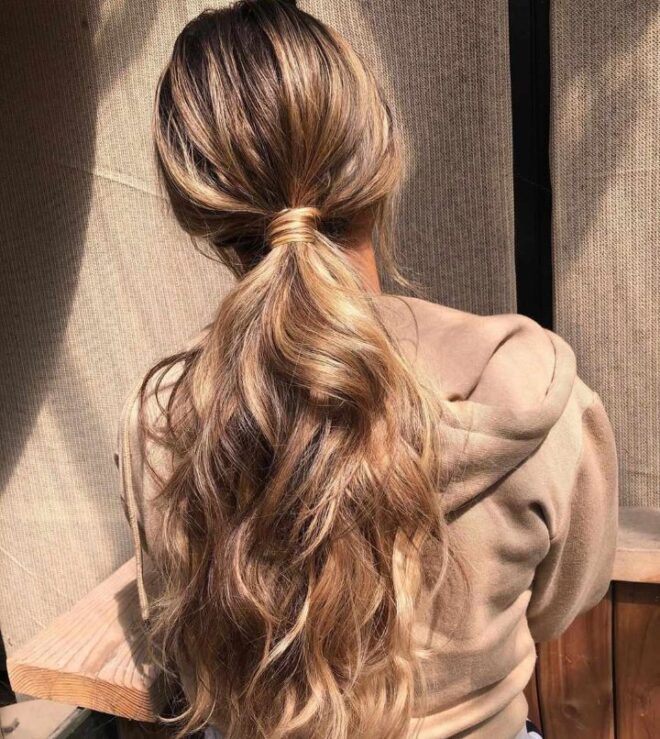 Are you obsessed with bright blonde highlights? This glam low messy ponytail is what you need.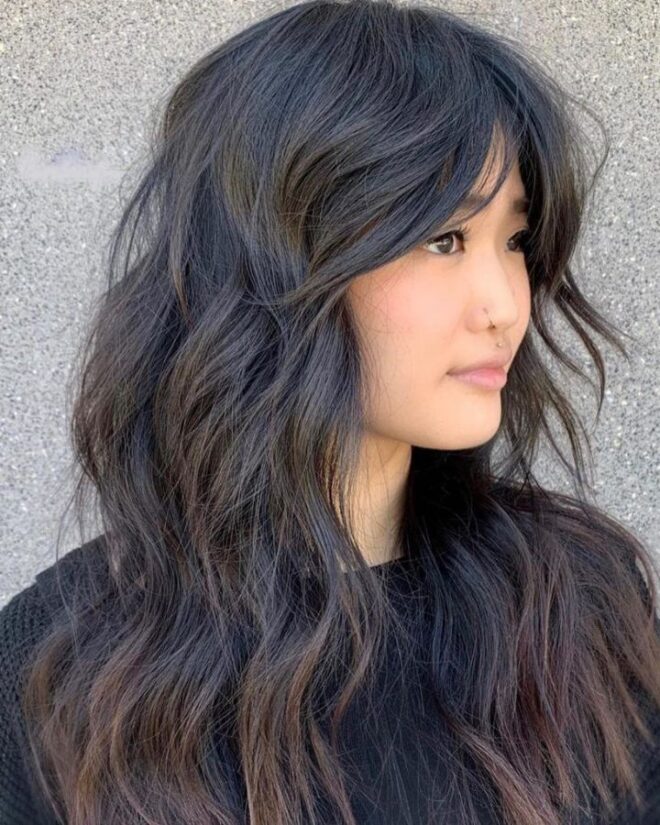 If you want a playful hairstyle, try this messy hair with bangs. This long hairstyle will make your face stand out more in your black natural hair.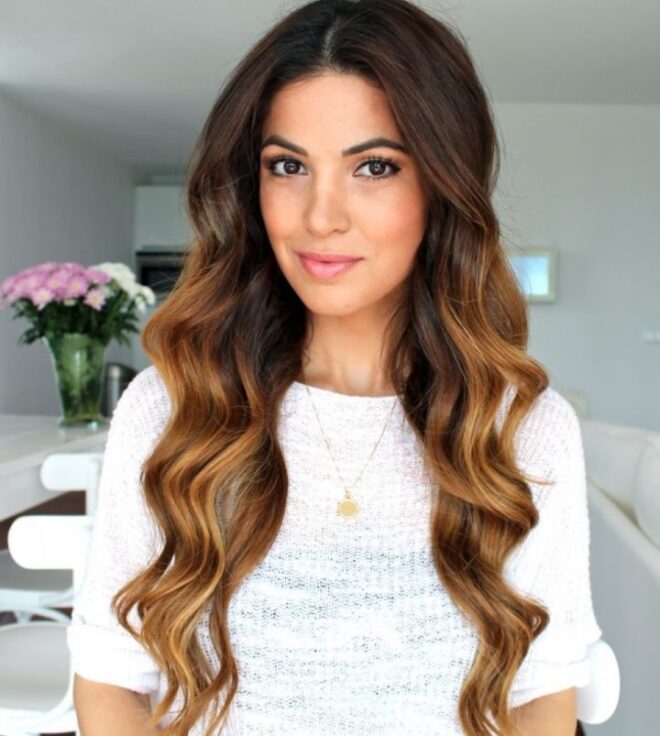 Solid dark brown in long hair doesn't surprise us today. While highlights, ombre, and long curls are another story. This is one of the most trendy long hairstyles for women in their 30s.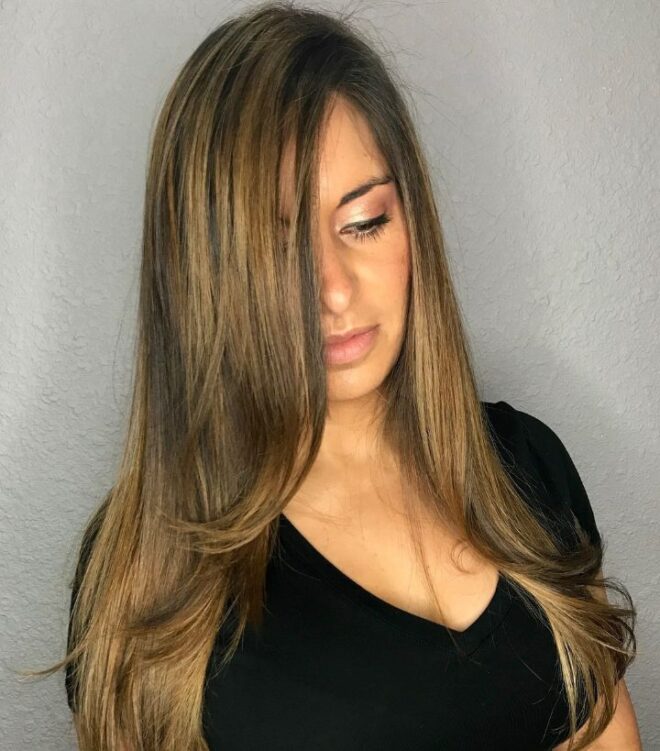 This flipped-out long hairstyle creates a fabulous cascade to one side resolving in a slightly messy but totally elegant hairstyle. Parting your hair on the side will also enhance your features.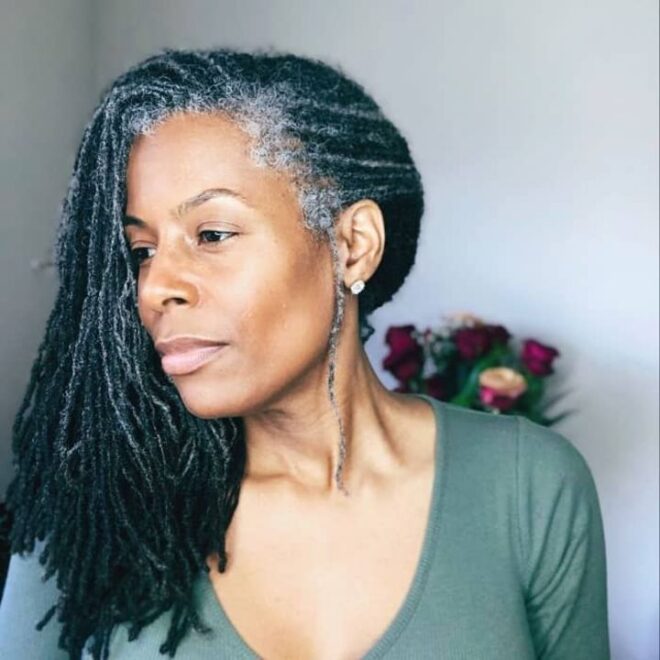 If you're a woman over 40, selecting a trendy hairstyle can be somewhat of a challenge. This long micro braid side-parted hairstyle can turn your frizzy hair into a stylish and youthful hairstyle that can last for months.
Another long bob hairstyle with waves takes the style from queen to goddess. A long bob in white blonde will upgrade your hair from casual to extravagant.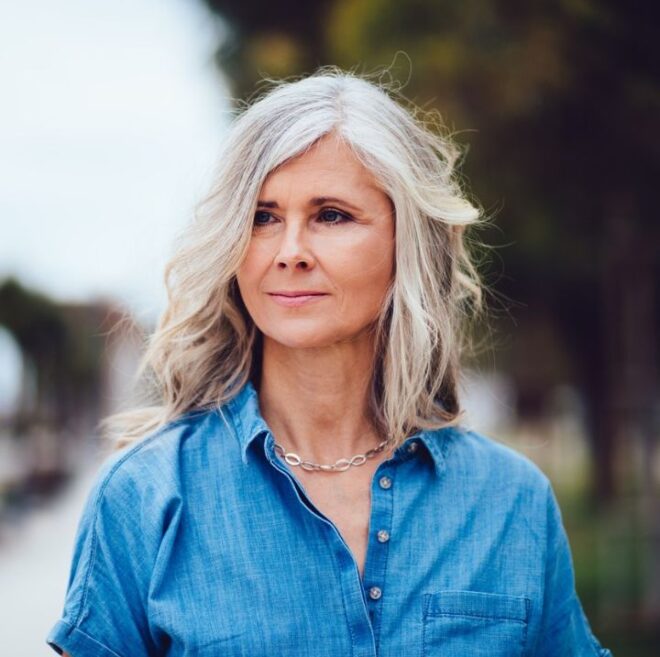 This long hairstyle for women over 60 can be extremely versatile and easy to play around with. Style your long layered bob with tousled, loose waves, complemented by lovely highlights.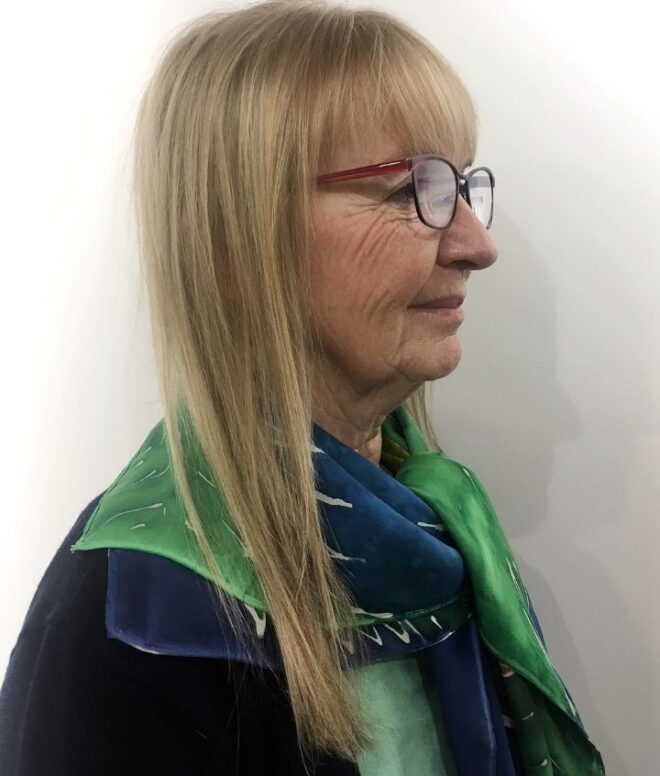 Wondering what hairstyle look best on women over 60? A sleek, straight hairstyle works best with a square face shape, and a great combination for your blunt bangs.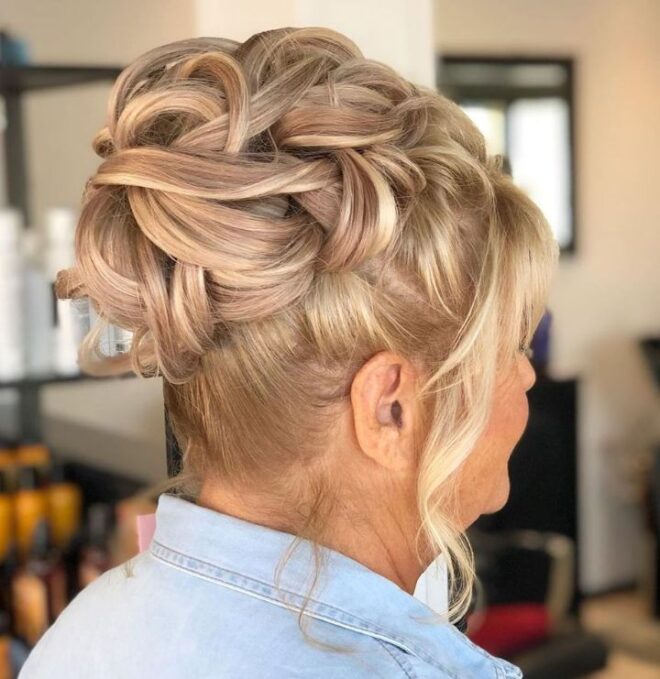 This elegant braided updo works best on weddings. It will also make you shimmer at any formal event, a long hairstyle that is picture-perfect for women over 60.
Do you think that all hairstyles for women over 60 has to be short and boring? This long bob hairstyle with flirty layers and bangs is one of the best style options. It provides a sleek, sophisticated frame for your face.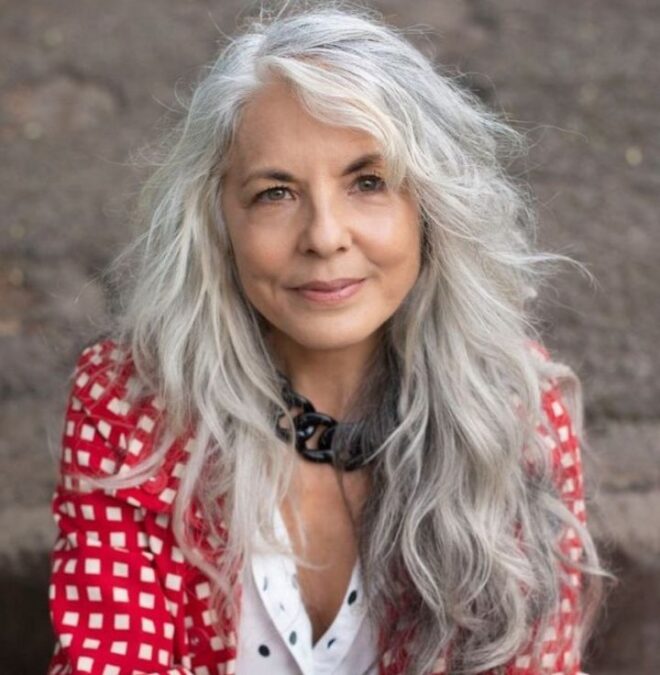 This long hairstyle is equally beautiful whether you have black or rock sophisticated silver strands. This cut is the right combination of messy that looks really fresh.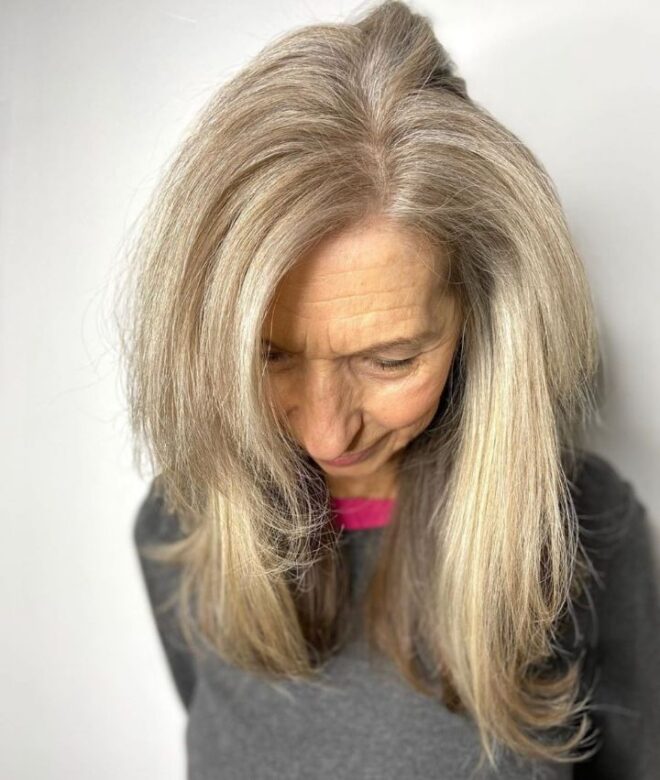 There are many hairstyles for women over 70 but are usually short. This long hairstyle that is layered and completed with short bangs is perfect for straight hair, long and simple, but will inspire you to age gracefully.
Types of Long Hairstyles
There are so many stunning long hairstyles for women, so let's look at the different styles and find the one that is perfect for you.
Long Hair With Bangs
Long hair is back with a bang and what better way to style your hair than with bangs! Bangs are a low maintenance, cute hairstyle for long hair that is suitable for so many women and different face shapes. There are so many different options when it comes to bangs, and that's what makes them so exciting!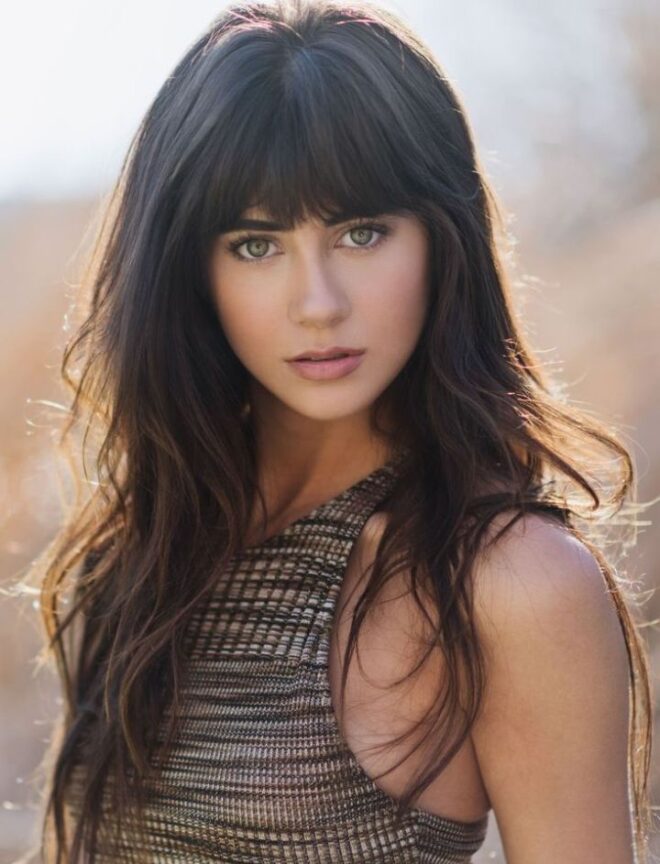 Adding side bangs to your look will completely transform your face, emphasizing your cheekbones. Side bangs are also perfect if your hair is a little thin as it adds depth and texture to your hair.
Blunt bangs are also a strong look. If you love the retro 50s look, a short blunt bang adds so much style to your long hairstyle! A bold look, perfect for women who love to be the center of attention!
Long Hair With Layers
If you are wanting to add a bit of volume to your hair, layers are the perfect way to go. When it comes to hairstyles for long hair, a lot of women might feel that they can't change up their look without cutting all of it off!
But thankfully, adding layers to your hair gives you a fresh look without sacrificing any of the length! Putting layers in long hair will add texture, volume, and depth to your hair.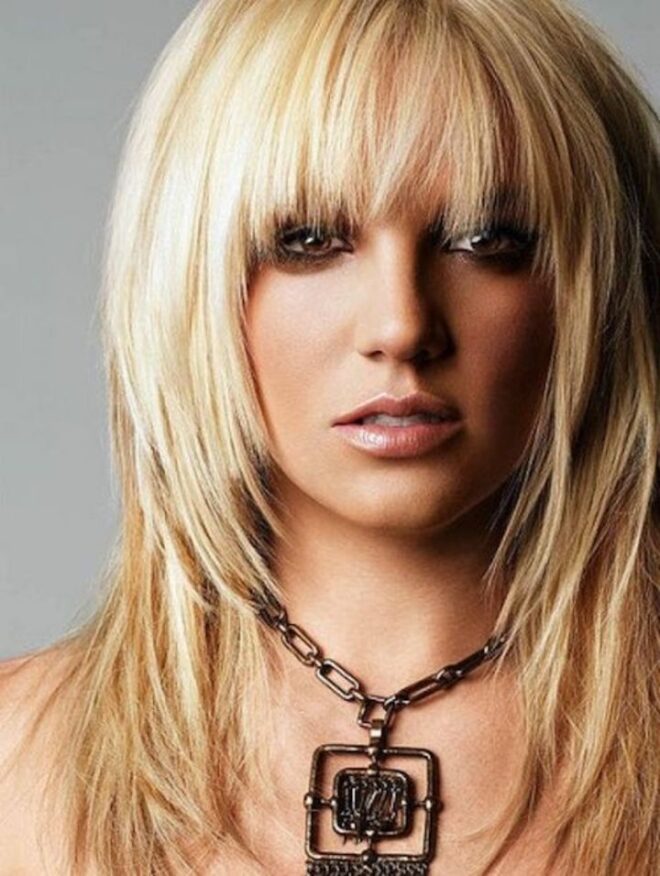 There are so many exciting ways to add layers to your long hair. Feathered layers bring a boost to flat, thin hair and are so easy to style. Shorter layers look great in long, thick hair, giving you the rockstar look you deserve.
Long Bob
The long bob is a classic and instantly makes anyone look super fancy and glamorous! Forever being at the forefront of fashion, the long bob is an amazing hairstyle for long-haired women.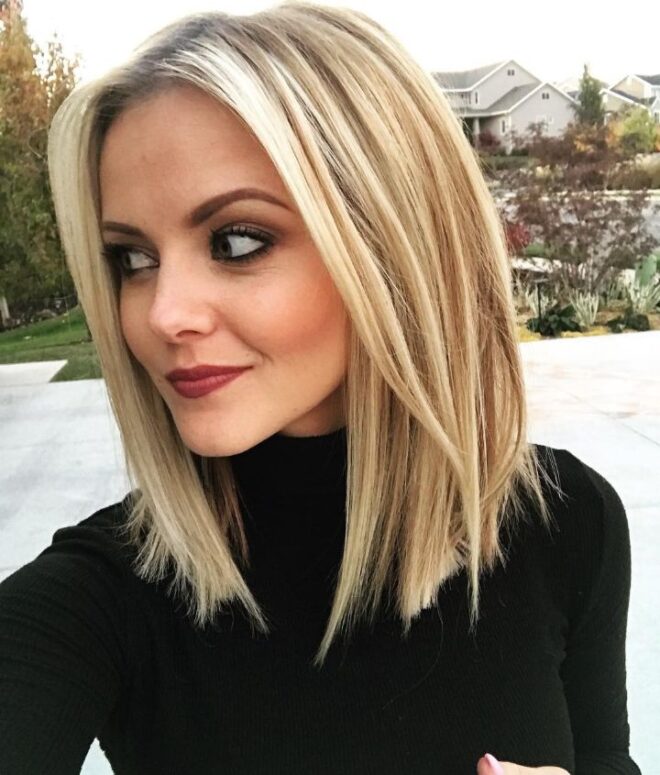 Having a long bob means that you are getting the sophistication of a bob, but with the versatility of long hair. It is easy to style and looks great in a half-up half-down do. It is also the perfect way to frame a face, making sure your features are getting the attention they deserve!
Long Hair With A Mullet
When it comes to long hairstyles for women, many of us might shy away from the mullet. That is understandable, as the mullet is a very bold look. However, you would be surprised at how many people can pull it off!
This retro cut has been dubbed the haircut of 2021 and is only going to get more and more popular as the year goes on. This is a trend that is at the height of cool, with pop stars such as Miley Cyrus paving the way for the mullet, making it hip and young again!
Are you bold enough for the mullet?!
Long Shag Hair
Another vintage cut, this hairstyle for long hair echoes the rock and roll look of the 70s but gives it a modern twist. Bangs and lots of layers make this a striking hairstyle and looks great on all face shapes.
The best thing about this hairstyle is that is it minimal effort. For those of us who just want to roll out of bed and go to work or class, long shag hair is perfect. In fact, the messier the better!
Long Hair With Braids
Braids are always a sure-fire way to look incredible with little maintenance. Forever in fashion, there are so many wonderful ways to braid long hairstyles for women.
If you have thick and curly hair, you might be put off growing it long as you might worry that it will become unmanageable. Thankfully, not only does braiding your long hair make it easy to look after and style, but it also looks great.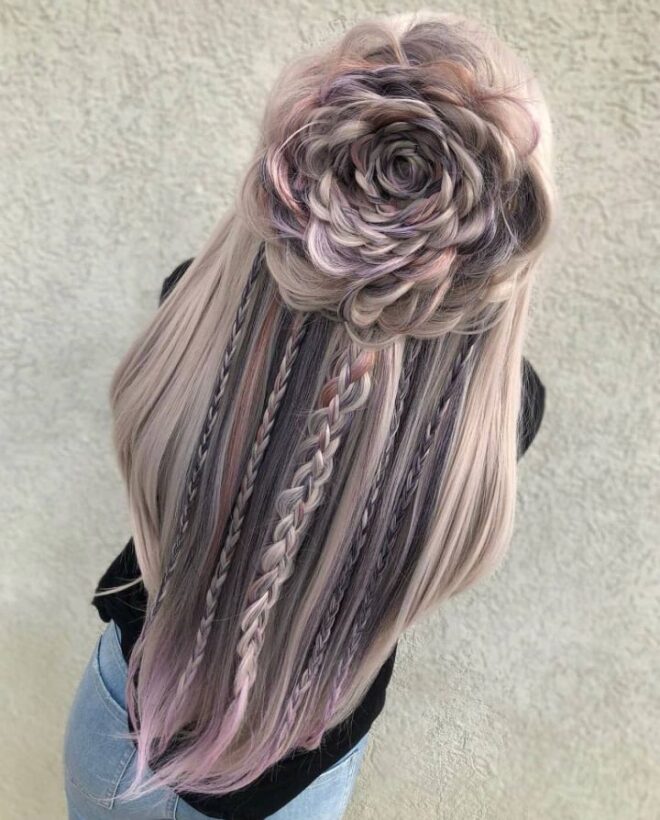 Box braids are a wonderful way to get your long hair braided and looks funky and elegant. There are also so many ways to style box braids, from updos to accessorizing with beads and jewelry. Fabulous for those of us who love changing up our look!
Another great way to braid long hair is tree braids. This is where only a few inches of the hair is braided, and the rest is loose. Tree braids are a sophisticated look and allow you to style the rest of your hair how you wish. These braids protect your hair and look fantastic!
Long Black Hair
When it comes to changing up long hairstyles, sometimes all a girl needs is a new color! There are so many different options out there for hair color, but if you are looking for a striking and bold option, long black hair is the one!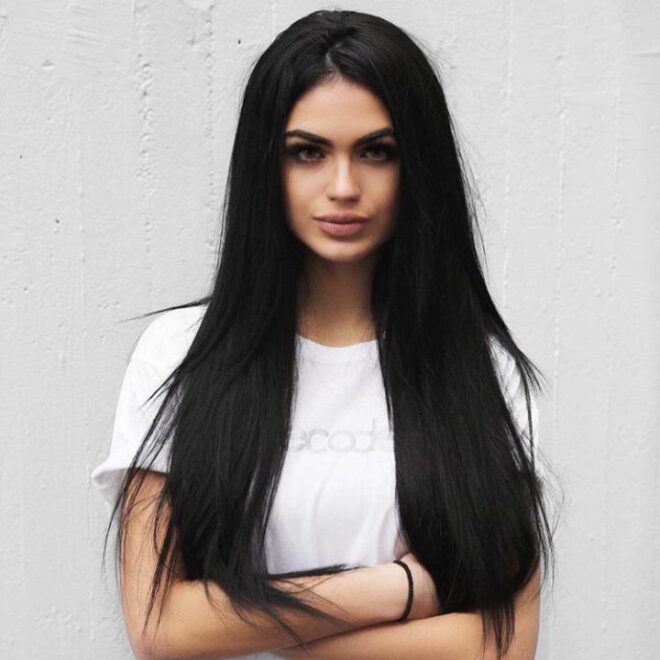 A dramatic and feminine look, long black hair is a powerful way to change up your style and looks great on most people. Before making the change, consider your skin color, and if you might look too pale and washed out with black hair. Or, perhaps this is the look you are wanting! The gothic style can look glam!
Long Blonde Hair
Long blonde hair is a classic look and oozes femininity and sophistication. When looking at long hairstyles for women, blonde shades always look incredible.
One shade of blonde that is becoming a favorite in the hair and beauty world is the ice blonde look. This hairstyle contains different shades of pale, platinum tones and sometimes incorporates silver or blue colors to make the overall look frosty and cool.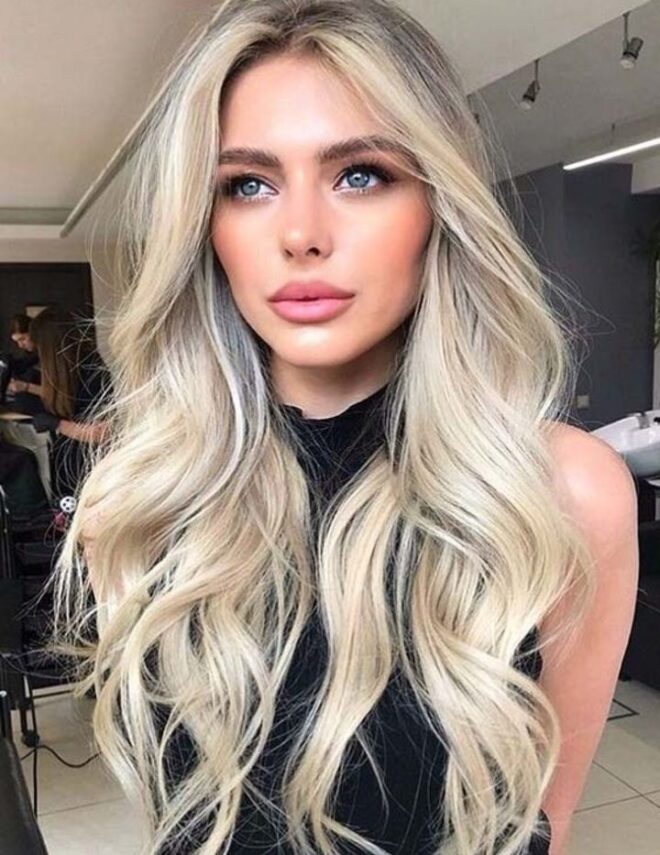 If you are wanting to make the jump to ice blonde hair, make sure it is definitely what you want because it can take a lot of time and effort, depending on your natural hair color. However, the end look will always turn heads and make you stand out from the crowd!
Long Straight Hair
If you are wanting sleek sophistication, long straight hair is a great way to achieve this. Always in style and looking great with or without layers, wearing your hair straight can give you a striking new look.
If you are wanting to add layers to your straight hair, think about your face shape and what would look best. Sometimes not adding layers might make your face look longer if you have straight hair. This can be good if you are wanting to elongate your face!
Long Balayage Hair
Balayage hair is slowly but surely becoming a firm favorite amongst long hairstyles for women, with hairdressers and fashionistas both loving the look.
Balayage is where your hairstylist will paint on highlights for a blended and natural look. This can make your hair look sunkissed no matter what season it is!
There are so many amazing colors to choose from when highlighting your hair, from fiery reds to golden hues. Whatever your style is, be sure to try out balayage at some point!
How To Take Care of Long Hair
Hopefully, you are super inspired to embrace the long-haired look, but what are the top ways to take care of long hair to make sure it is looking the best?
In order to make sure your hair is taken care of, you have to make sure you are using the right products. The right brush, shampoo, and conditioner make such a difference to the health of your hair! Avoiding harsh treatment and heating your hair is a great way to keep your hair looking good, so if you are using a hairdryer or straighteners be sure to use the lowest setting.
The most important thing is to treat your hair kindly and gently!
How To Take Care of Curly Long Hair
Curls are incredible and look fantastic in long hairstyles for women, but they can also be a pain to look after! Curly hair tends to dry out more easily and therefore it is important to keep your hair moisturized.
Avoid over-shampooing your long hair as this will get rid of the natural oils that give your curls their bounce. When it comes to brushing curly hair, doing it in the shower or when the hair is wet will minimize damage. A soft detangler brush with natural bristles is perfect if you are wanting to brush your hair.
When taking care of your curly long hair, it really is a trial and error method and you have to experiment with different products and techniques to see what suits you. A lot of women with curls choose to not brush their hair, adding a leave-in conditioner to their wet hair to make sure the curls stay detangled.
Putting your curls in a hair wrap or scarf at night is also a great way to protect them. This means you won't have to worry about tossing and turning during the night and waking up with unruly curls! Silk or satin pillowcases are also wonderful for preventing breakage.
Products for Long Curly Hair
Thankfully, there is a load of options out there for long curly hair and products that are designed specifically for curls.
Hairbrushes for Long Curly Hair
Getting the right hairbrush is a must when you have curls, as brittle and hard hairbrushes can damage your curls. This Natural Bamboo Boar Bristle Hair Brush is great for detangling hair and spreading your natural hair oils from your roots across your hair.
Shampoo and Conditioner for Long Curly Hair
Never underestimate the power of shampoo and conditioner! When you have curly hair it might take time to find the right one for you, but once you do it will be a game-changer.
This shampoo and conditioner set is specifically developed for curly hair. It is sulfate-free which means that it won't strip the natural moisture from your hair. Also, the conditioner has protein in which gives your hair strength and defined curls.
Leave-in Conditioner for Long Curly Hair
Leave-in conditioner is a great way to add definition and moisture to your curls. It is the best way to tame your wild curls, allowing for a soft and luxurious hairstyle!
How To Take Care of Long Straight Hair
If you are rocking the long straight hair look, avoiding split ends is a must. Straight hair is prone to split ends and they can make a hair cut look super messy super quickly! When you have long straight hair, be sure to get a haircut every month or so to get rid of the split ends. Or, you could DIY at home, if you are brave enough. Trimming split ends is a great skill to have, and think of all the money you will save!
It is best to not brush straight hair when it is wet as this might cause breakage. If you are needing to remove knots, use your fingers or a wide-tooth comb. If you are prone to tangles, use a wide-tooth comb in the shower whilst the conditioner is still in to get rid of the tangles.
Products for Long Straight Hair
In order to get the most out of your long straight hair, it is important to find the right products. Thankfully, there is so much great stuff on offer!
Shampoo and Conditioner For Long Straight Hair
One of the big battles with long straight hair is managing the tangles but also adding volume. Sometimes straight hair can look flat and dull, however with the right product it will look amazing!
This shampoo, conditioner, and styler set is designed to repair dry hair and create soft smooth locks. The styler instantly adds volume and body to straight hair and can be used on both wet and dry hair. It also means that you don't have to overwash your hair, as it acts as a refresher!
Plastic Coil Hair Ties for Long Straight Hair
If you are wanting to wear your long straight hair tied up, it is super important to not use anything that will pull at the roots. This can cause a lot of damage to your hair.
Thankfully, there are loads of options when it comes to hair ties and a favorite for many is the plastic coil hair tie. These hair ties are really gentle on your hair and prevent hair breakage. They are also really comfortable to wear, and you don't have to battle to take them out!
Experiment With Your Long Hair!
The range of long hairstyles for women is really exciting, with loads of cool and trendy options for women of all ages. Hopefully this article has provided you with the inspiration you need for changing up your look.
What will you go for in 2021? Straight or curly? Layered or blunt? Bangs or no bangs? Maybe braids or balayage? There are so many amazing trends out there to experiment with!
Be bold and embrace your look!