Embracing the trend of self-care, the allure of at-home pedicures has grown immensely. They are not just a way to ensure your feet look fantastic; they also offer a moment of tranquility and pampering in your own space. Let's embark on a journey to master the art of the at-home pedicure, turning your foot care routine into a stylish and relaxing ritual.
Crafting Your Pedicure Sanctuary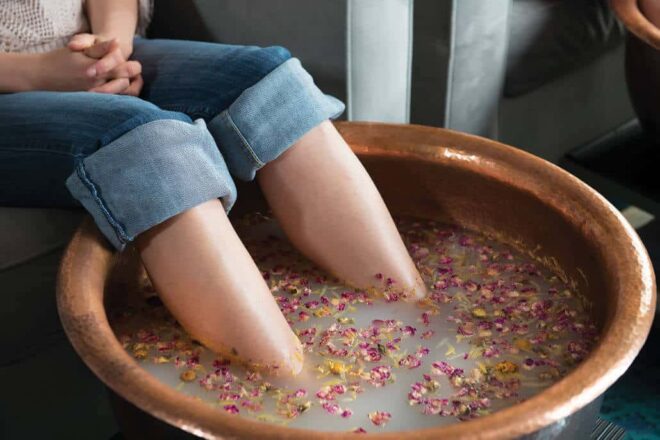 Cultivating a Serene Ambience
Your pedicure journey begins with setting up a serene space. Find a cozy nook in your home where peace prevails. Soft, ambient music, the gentle aroma of your favorite scents, and a snug chair can transform any corner into a spa-like haven, perfect for a pedicure retreat.
Essential Tools for the Perfect Pedicure
Gather your pedicure essentials to ensure a smooth experience. This toolkit should include a nail clipper, a trusty nail file, a cuticle pusher for neat nail beds, an exfoliating foot scrub, a reliable pumice stone, your favorite shade of nail polish, and a welcoming footbath. Preparing these tools in advance will make your pedicure session seamless and enjoyable.
Embarking on the Pedicure Process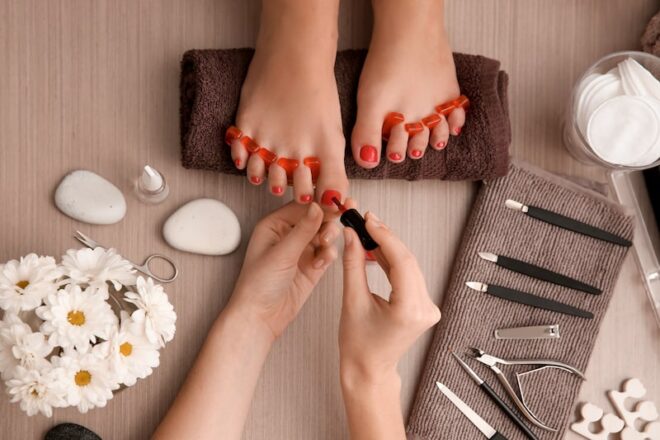 The Soothing Soak
Initiate your pedicure with a luxurious foot soak. Fill your footbath with warm, sudsy water and immerse your feet for about 10 minutes. This is more than just a cleansing ritual; it's a time for your skin and nails to soften, easing the ensuing steps. Elevate this experience by adding a sprinkle of Epsom salts or a few drops of essential oils, bringing a touch of lavishness to your soak.
Your at-home pedicure is not just a beauty routine; it's a therapeutic escape, a chance to give your feet the care and attention they deserve while indulging in a peaceful, pampering experience. With these steps, you're well on your way to transforming your pedicure routine into a moment of luxury and relaxation.
Exfoliating and Treating Calluses
Once your feet are softened, use a foot scrub to exfoliate away dead skin cells. For tougher areas like heels and calluses, gently use a pumice stone. Regular exfoliation keeps your feet soft and smooth.
Nail and Cuticle Care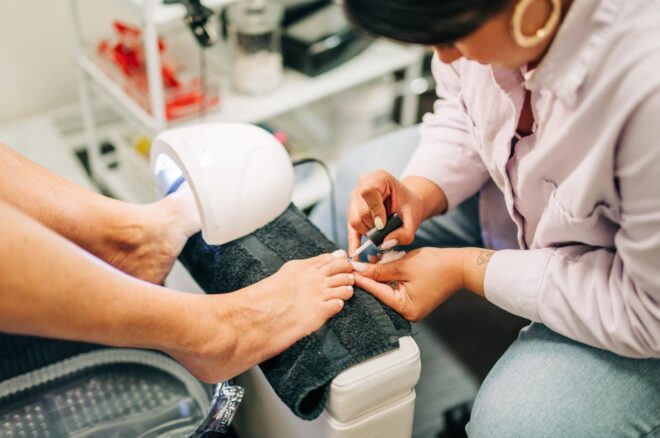 Trimming and Shaping Nails
After soaking, trim your nails straight across to prevent ingrown toenails. Then, gently file them into your desired shape. Be cautious not to trim too short or file too aggressively, as this can lead to discomfort or nail damage.
Managing Cuticles
Apply a cuticle remover to soften the cuticles. Gently push them back with a cuticle pusher or an orange stick, taking care not to cut them unless necessary. Proper cuticle care is crucial for the health of your nails and helps give your pedicure a clean, professional look.
The Art of Perfect Polish Application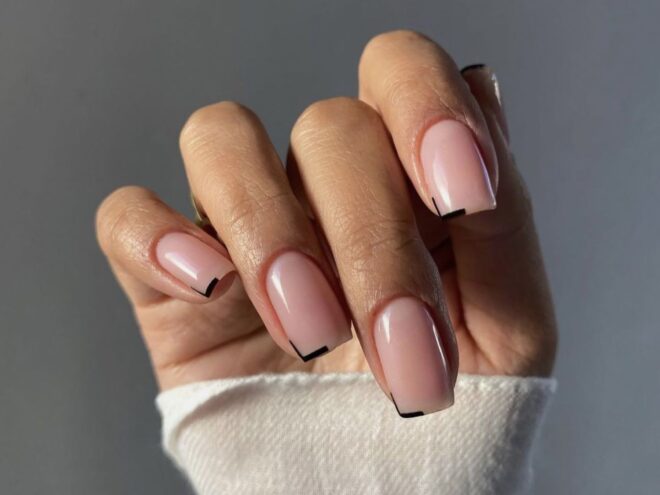 Applying a Base Coat
Start with a clear base coat to protect your nails and ensure better adhesion of the nail polish. This step also prevents staining, especially when using darker colors.
Choosing and Applying Nail Polish
Select a nail polish color that complements your mood or the occasion. Apply the polish in thin, even strokes, starting from the base of the nail and working your way up. Two coats usually provide a rich color and even coverage. Remember to seal the tips to prevent chipping.
The Finishing Touches and Aftercare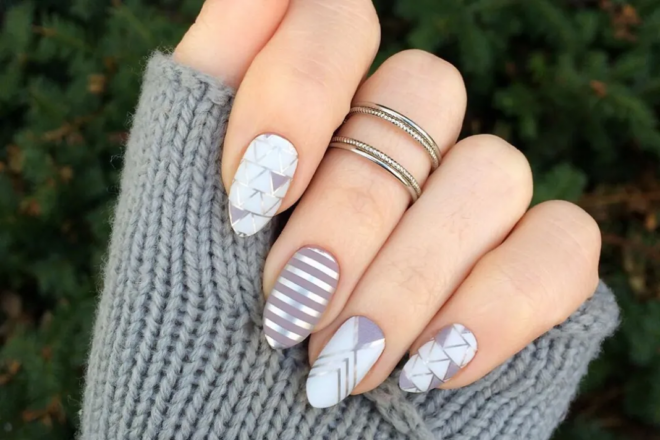 Applying a Top Coat and Drying
A top coat is essential to give your pedicure a glossy finish and to make your nail polish last longer. Allow ample time for your nails to dry to avoid smudges. You can use a quick-dry spray or drops to expedite the process.
Moisturizing and Maintenance
Once your nails are dry, apply a generous amount of foot cream or moisturizer to hydrate your skin. Regular moisturization is key to maintaining soft, smooth feet between pedicures.
Enhancing Your At-Home Pedicure Experience
Creating a Spa-Like Environment
To elevate your at-home pedicure, create a spa-like environment. Light candles, play relaxing music, and consider using a pedicure lounger for added comfort and luxury. This not only enhances the experience but also makes your pedicure feel more indulgent.
Regular Pedicure Routine
Incorporate pedicures into your regular beauty routine. Regular maintenance, like moisturizing daily and addressing issues like calluses or ingrown toenails early on, will keep your feet in top condition and extend the results of your pedicures.
Conclusion
Mastering the art of the at-home pedicure is a rewarding and enjoyable aspect of self-care. By following these steps and incorporating little touches of luxury, like a comfortable pedicure lounger, you can turn a simple foot care routine into a therapeutic and beautifying ritual. With the right tools, techniques, and ambiance, your at-home pedicures can be just as satisfying, if not more so, than a professional salon experience.