Marley braids are a type of synthetic hair that is used to create braided or twisted hairstyles. Its crinkly-curly look resembles the texture of natural hair which is why it's super common among women with African hair.
Marley braids are usually worn by African American women who prefer to play around with long braids, thick hair, and elaborate styles. Although applying Marley braids hairstyles may take somewhere between five and ten hours to complete, they can actually last for up to eight weeks or more.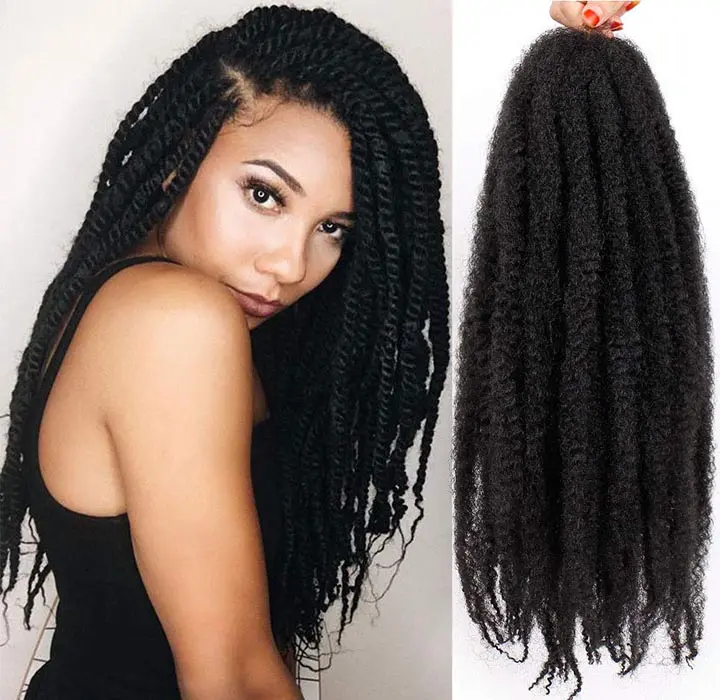 Marley braids are an excellent choice for making natural-looking hair appear well-groomed and a lot neater. This versatile braided hairstyle can work for short, medium, and long hair since it only requires one inch of your hair to complete a braid.
Marley braids hairstyles are a popular search across social media networks like Pinterest, Instagram, and Tumblr, for women with African hair in need of some inspiration. However, we've got all the inspirational images with trending hairstyles right here!
So keep on reading to view our long list of Marley braids hairstyles ideas for all hair types.
Marley Braids Hairstyles and Ideas
If you're looking to try Marley braids, you have the option to either visit a hair braiding salon that will install the braids for you, or you can opt to do them yourself from the comfort of your own home
So if you prefer to save some money, why not learn to create professional-looking Marley braids like many women end up doing.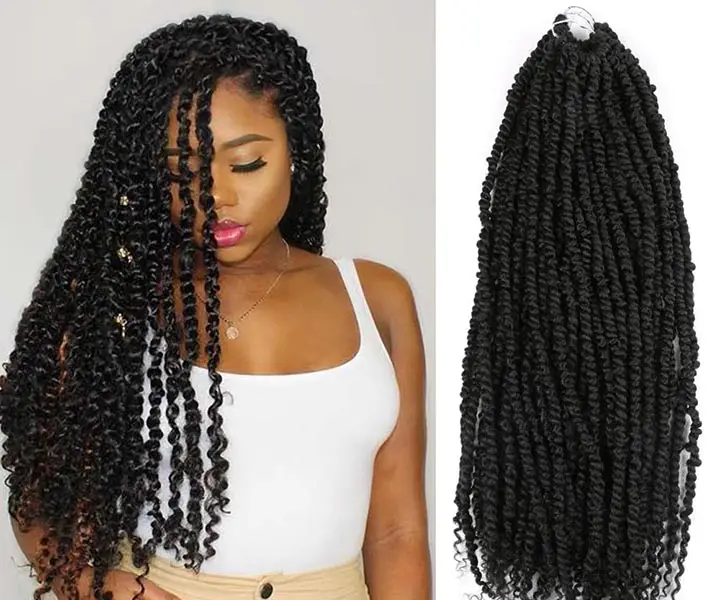 The great thing about Marley braids hairstyles is that you can choose to make your twists in various sizes and lengths to match your personal style. From long to short hair or thin to thick, this versatile braiding hairstyle is a must to try if you're looking to switch up your style.
Marley braids are also considered one of the most versatile protective hairstyles. Another great reason to choose this hairdo. We've scoured the web and gathered some amazing Marley braids hairstyles for you to consider in the hopes that these trending images will inspire you.
1. Long Side-Swept Marley Braids
Get this Marley braids hairstyle by installing long synthetic hair extensions and braiding them in the direction of a side-sweep in the direction of your choice.
Seal the ends of your hair leaving an extra inch or two at the end. This way you can use a curling iron to give the tips of your braids a spiral or crinkly appearance.
As long as you are consistent with your hair care, you can leave your Marley braids in for up to eight weeks.
2. Crinkled Marley Braids
This beautiful Marley braids hairstyle is a perfect look for those who want to adorn thick locks. Get this look by braiding jumbo Marley twists until you reach the end of your hair.
Continue by sealing the tips of your hair but leaving an extra inch at the end to achieve that crinkled effect.
Finally, use a curling iron for thick hair to give the tips of your braids some bouncy curls.
3. Jumbo Marley Braids with Purple Strands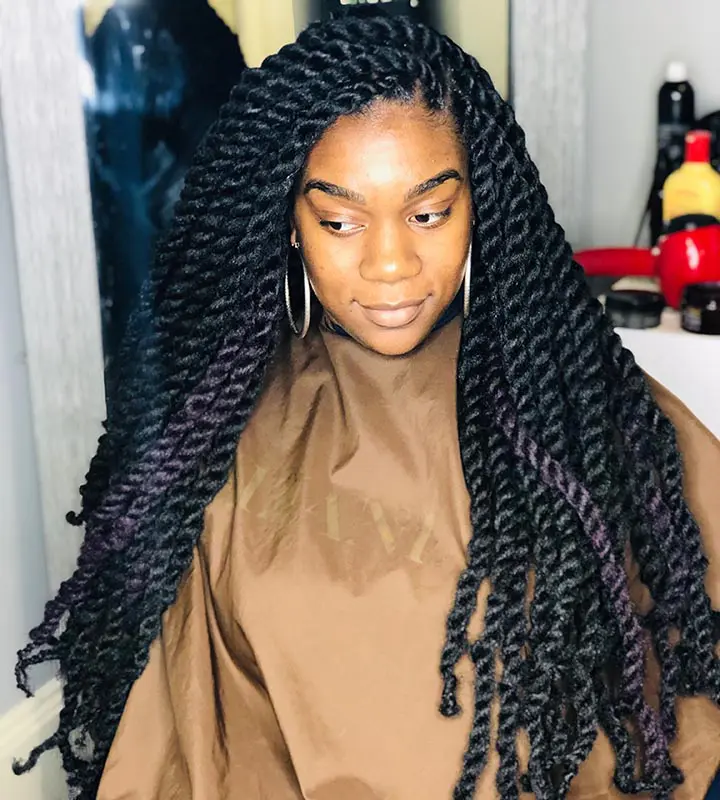 By using this hair extension, you can do any style you want regardless if you have short, medium, or long hair. You can even incorporate some vibrant colors to your braids.
Take this look for example, in order to achieve this hairstyle, all you need to do is purchase both black and purple hair extensions and integrate them together to create jumbo Marley braids. Use the purple braids to sporadically place in-between the black hair extensions.
4. Wrap-Around Updo with Marley Braids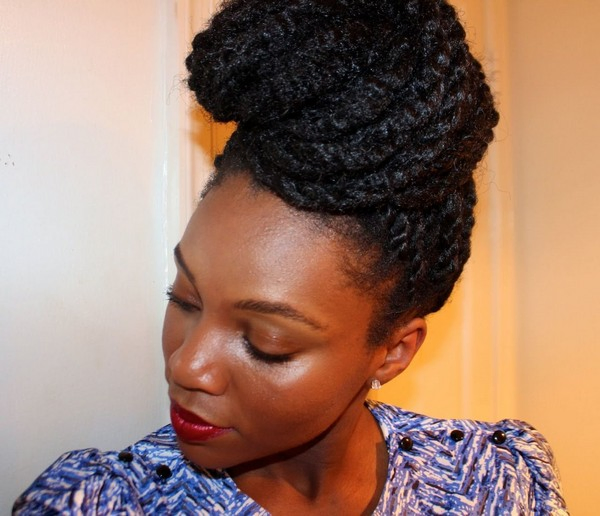 We find that hairstyles like this one tend to take a certain amount of skills in order to complete. If you're not confident to do it on your own, you can ask a professional stylist to help you.
However, if you're daring enough to try it yourself, gather your hair at the top of your head and begin to twist the braids to create one large wrap-around bun.
Make sure to secure your hair with some sturdy pins to finish the look.
5. Long Jumbo Marley Braids
Adding hair extensions allows you to experiment with thick jumbo braids that can be completed by purchasing synthetic hair extensions.
Once you've bought the hair extensions of your choice, start by wrapping the synthetic hair around your natural hair and then create bulky twist braids the whole way down until you reach your desired length.
6. Blonde and Light Brown Marley Twists
Adding some color to your Marley braids makes your individual style stand out a whole lot more.
This particular Marley braids hairstyle is achieved by incorporating blonde synthetic hair extensions along with some light brown strands. Use the full length of the fiber hair if you want to adorn ultra-long braids.
7. Short Jumbo
Marley Braids
This interesting Marley braids hairstyle can be created by developing thick jumbo braids from the roots and then narrowing the braids after about six inches.
Once you've reached the six-inch mark, create thinner braids then stop at your shoulder for a shorter hairstyle. Finish off the look by sealing the ends of your hairs by dipping them into boiling water.
8. Jumbo Crochet Marley Braids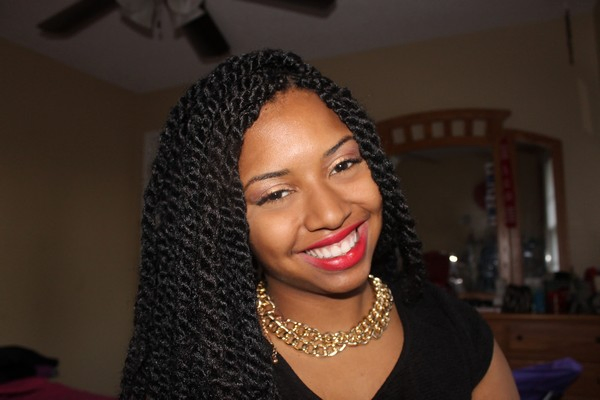 Marley braids are a great option for protecting your natural hair and encouraging hair growth. In order to achieve this neat jumbo braids hairstyle, wrap the synthetic hair extensions around your natural hair and braid both your hair and the fiber hairs together.
9. Marley Braids with Copper Tips
Again we see a braided hairstyle that has been infused with some colorful highlights that look great during the summer. Get this look by incorporating thin strands of copper hair extensions in order to sporadically blend in with your black hair.
Remember, it's always important to keep your Marley braids soft during the time that you wear them by massaging moisturizing cream onto your hair and scalp before you go to bed in order to keep your locks conditioned.
10. Messy Bob with Marley Braids
This simple hairstyle is created by using shorter synthetic hairs to give you a shoulder-length bob hairstyle. It's important to remember that even though this hairstyle is short, you still need to keep your braids well maintained.
It's a good idea to wash your hair once a week however your scalp may need to be washed more frequently depending on your hair type. When using synthetic hair extensions, air drying would be the best method for you to follow.
11. Marley Braids in Neat Updo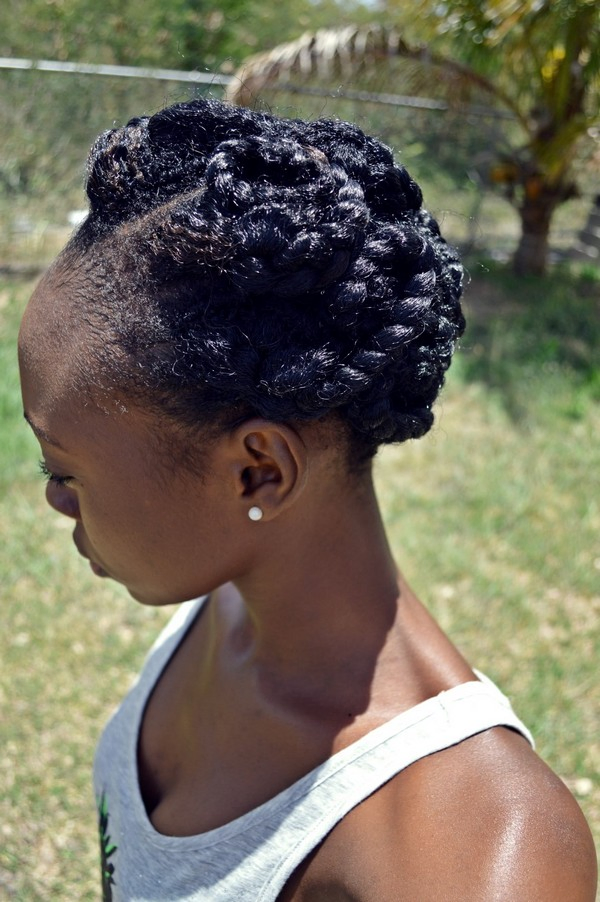 This beautiful hairstyle is an excellent hairdo for preserving your Marly braids, especially if you're someone with an active lifestyle and who is always on the go.
To create this look, take two braids and wrap them into a spiral bun. Do this with the other braids to create several swirly designs and secure them with some bobby pins and hairspray to make a simple stylish updo.
12. Blonde Marley Twists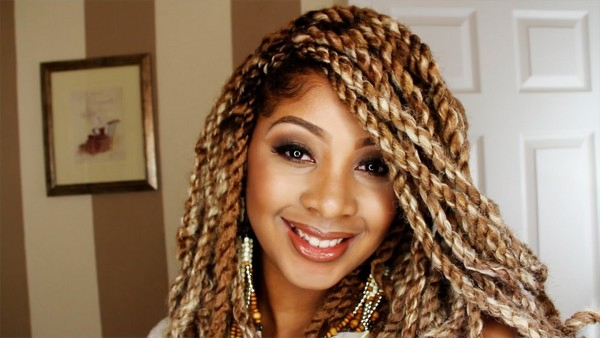 Marley braids or Marley twists are taken from the name of the popular reggae artist, Bob Marley. As mentioned earlier, adding color to your locks will make your style stand out even more. So why not experiment with some highlights or even an ombre look to really bring some life to your braids.
You can easily create an ombre design by your self by purchasing two separate color shades – one light and one dark. Start braiding the synthetic hair but instead of using the same color, intertwine both shades to one single braid and continue with all remainder braids to complete the look.
13. Comb-Over Marley Braids
Marley braids are not always jumbo braids. You can adorn thinner and smoother braids by using fewer strands of hair when creating each braid.
To achieve this hairstyle, attach the synthetic hair to your natural hairs by wrapping the hair extensions around your own hair. Then, begin braiding in the direction that you prefer the comb-over to lie.
14. Ultra-Long Marley Braids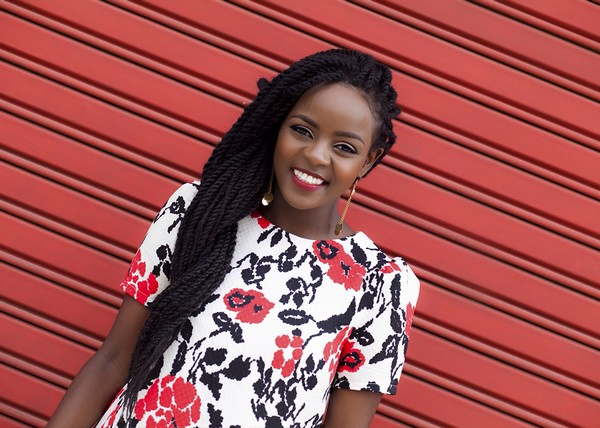 Marley braids are a low-maintenance synthetic hairstyle that are perfect for those who find themselves always rushing in the morning, as this hairdo will greatly help with cutting down your daily beauty routine time.
Even if you decide to wear ultra-long Marley braids, all you have to do is protect your braids each night with a satin or silk bonnet, remove it in the morning, and you're ready to go!
To get this look, use the whole length of the Marley braids synthetic hair extensions and create some twist braids. After the braids are completed, create one large plait by using multiple braids to act as one strand of hair. Secure with a large hair tie to complete the look.
15. Long Red Marley Braids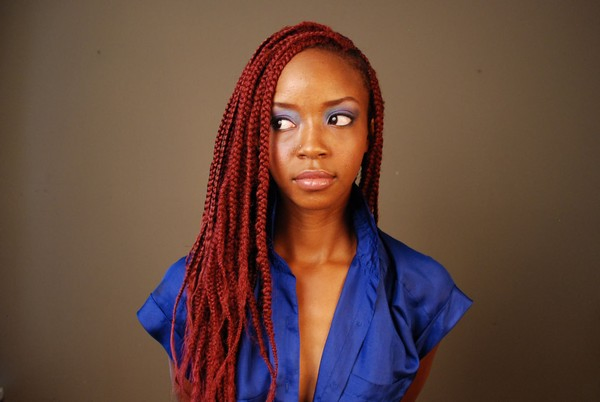 We love it when we see women getting creative with their braids, and this look is exactly what we mean! Since Marley braids use synthetic hair extensions, it's easy to see how versatile they can actually be.
For this look, all you need to do is complete the basic steps for braiding but with red hair extensions instead of your own natural color hair. Marley braids will already make you stand out but with a striking red you will guarantee to turn a few heads!
16. Jumbo Marley Twists
In order to create this jumbo look, we highly recommend starting with some box braids. What we mean by box braids is basically, incorporate square-shaped hair divisions to the roots of your hair before you start braiding. One box equals one braid.
Box braids make creating braids a whole lot easier and are one of the best protective hairstyles for African hair. They're also super convenient when adorning jumbo braids.
17. Marley Braids with Mohawk and Bun
This hairstyle may look complicated by it's actually super easy to complete. All you need is a strong hairbrush, pins, hairspray, and little patience.
Start by sectioning the top layer of your hair and roll it into a mohawk style. Once you've secure it with pins then move onto the sides of your head.
Brush your hair back tightly and gather the remaining hairs at the back of your head. Wrap your hair around the center to create a bun and use sturdy bobby pins to secure the bun in place. Then apply some hairspray to hold the hair in place.
18. Short Thick Marley Twists
The trick for creating thicker braids is to use more strands of the synthetic hair. To create this look, use a generous amount of hair to wrap around your natural hair and continue braiding until you reach your desire length.
Twist braids best suit thick strands of hair because they hold in place for longer and are way more manageable.
19. Large Top Bun with Marley Braids
If you have long and thick hair but don't want to wear it down all the time, then you should definitely try this gorgeous upstyle.
Get this look by gathering all of your braids to the top of your head. Wrap the full-length of your hair around until you create a large bun. In order to achieve a full, thick look, make sure to use only the best synthetic hair on the market.
Among the best Kanekalon synthetic hair extensions, we highly recommend checking out these affordable brands: Janet Noir, Vanessa Marley Braid, and FreeTress Cuban Twist Braid.
How To Do Marley Braids
Marley braids can be time-consuming, but the twists are actually quite easy to create. It's important to pick the appropriate synthetic hair extensions before you begin braiding to give your hair that extra length and thickness.
In order to achieve this, all you need to do is to twist the synthetic Marley braids around your real hair using the hair extensions. When applied correctly, your Marley braids can last for eight weeks.
Follow our easy nine step guide to help you create your very own Marley Braids from home.
Step 1: Soak the Hair Extensions
After choosing the appropriate hair extensions, soak the synthetic hair in water then let them dry naturally.
Step 2: Wash Your Hair
Them, continue to wash your own hair with shampoo and conditioner in order to wash away any product build up. Make sure your hair is completely dry before beginning the braiding process.
Step 3: Brush Your Hair
Use a comb to completely detangle your hair in order to make the braiding process smooth and stress-free.
Step 4: Part You Hair
Divide your hair into sections. Each section will count as one braid. Therefore, create as many sections as you prefer depending on how many braids you desire.
Step 5: Apply Hair Gel
Apply some hair gel to the first section of your hair in order to make it more manageable when applying the hair extensions.
Step 6: Apply Hair Extensions
Get the synthetic hair extensions that you've chosen and place them around your real hair.
Step 7: Braid the Hair Extensions
Braid the hair extensions together for about one inch until the hair is completely secured.
Step 8: Begin Twisting
Twist the remaining hair until it reaches the length that you desire your braids to be.
Step 9: Seal the Ends of the Hair
Finally, dip the end of the hair into boiling water to seal them completely. Continue doing this on the other section as well in order to make sure that all braids are sealed tight.
Video Tutorial on How to Create Marley Braids
To help give you a visual on how to create Marley braids, we've included a step-by-step video tutorial on how to achieve successful Marly twists from the comfort of your own home.
The Best Synthetic Hair Extensions Products
Before we begin explaining how to complete your very own Marley braids from the comfort of your home, we've compiled a bestsellers list of the best synthetic hair extensions on the market right now for creating Marley braids.
All Your Marley Braids Questions Answered
Getting Marley braids is a big decision especially if you're new to braiding your hair. So, this decision should be taken lightly.
If you're considering getting these types of braids, you need to educate yourself first. Here are some of our most commonly asked questions in regards to Marley braid hairstyles that you may want to consider:
Do Your Own Marley Braids Today
Now you're all set to do your very own Marley braids hairstyle! Of course, we understand that Marley braids take some time to finish however, they are completely worth the effort.
So if you're eager to try out a Marley braids hairstyle but don't want to pay a pretty penny, then you can always just do it yourself!
Let us know which Marley braids hairstyle is your favorite and comment below to fill us in on the results of your DIY Marley braids – we love to hear from our international readers!