A water flosser comes in different models and brands. That is why finding the best one can be challenging. What is a water flosser?
This is the best alternative to the traditional string. It is a device used for removing food fragments between the teeth. Moreover, it is also known as an oral irrigator or dental water jet. It was invented by Gerald Moyer and John Mattingly.
Interestingly, this device is comfortable to use and can clean areas that cannot be reached by a toothbrush. Think of it as a pressure washer for cleaning your teeth. It does not hurt your gums and offers excellent cleaning compared to the floss string.
t is quite cool! In the end, having nice teeth when you look in the mirror will boost your confidence levels like none other!
Best Water Flossers
Whether you choose to purchase your oral irrigator online or at the store, see to it that you are up to date on the best products available today. And to help you with this, we gathered below the top water flossers right now on the market.
1. Waterpik WP-660 Aquarius Water Flosser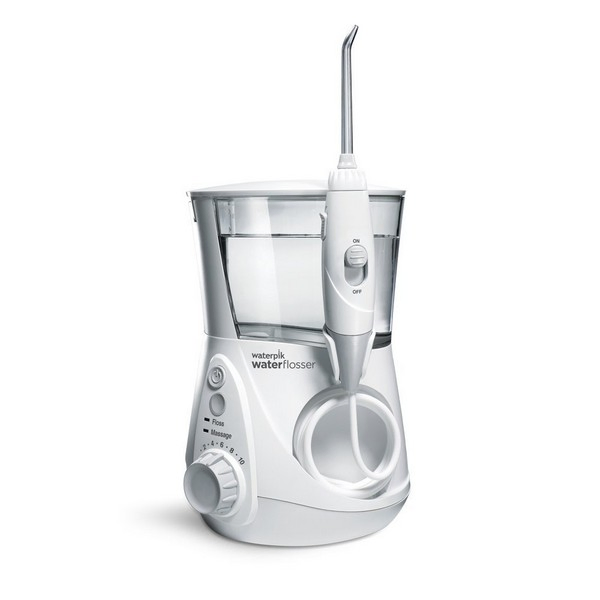 The Waterpik WP-660 Aquarius Water Flosser is the best water flosser in the market today. It comes with a water basin. Waterpik claims that it is 50% more effective compared to string floss when it comes to removing debris. Waterpik is one of the most reliable brands of water flossers.
Pros:
The swiveling head can easily clean hard-to-reach areas.
The pulsating pressure gives you the chance to remove plaque effectively.
Water pressure is adjustable.
It comes with seven tips including toothbrush tip, orthodontic tip, plaque searcher tip, Pik pocket tip, and three color-coded standard tips.
People with braces can use the orthodontic tip which can clean between wires.
This water flosser operates quietly.
Cons:
It is a bit large, making it harder to store in a cabinet or a shelf.
2. Waterpik WP-900 Complete Care Water Flosser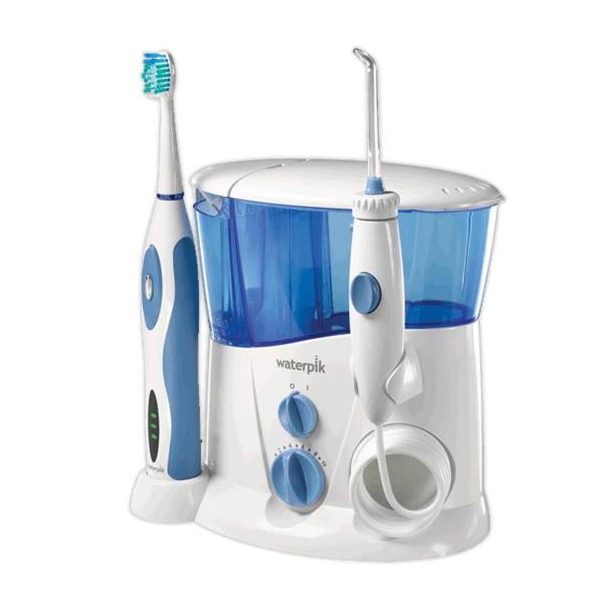 In this case, the Waterpik WP-900 Complete Care Water Flosser is one of the best all-in-one deals out there. This device comes with a water flosser and an electronic toothbrush at the same time. It's like killing two birds with one stone. Also, the product is of high quality and much simpler than WP660. Best deal!
Pros:
The incorporation of water pressure and pulsation provides you with ultimate cleaning.
It comes with two toothbrush tips and five flosser tips.
The toothbrush includes a hard-sided travel case.
It is more affordable compared to water flosser standalone devices.
The replacement head of the toothbrush is also affordable.
It has an adjustable water pressure for complete control.
Cons:
If you leave the battery for a longer period of time, it has the tendency to overheat.
3. Nicwell Water Dental Flosser Cordless for Teeth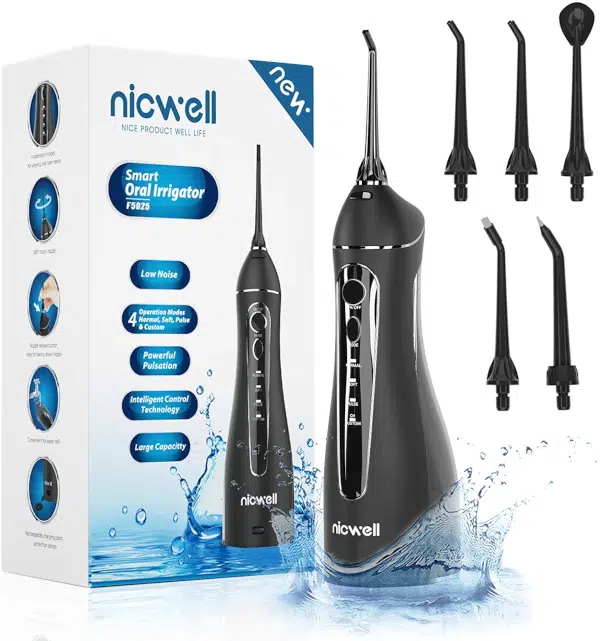 The water dental flosser from Nicwell provides a deep clean of the teeth with high-pressured pulsed water. It is cordless, which allows you to have a bit of freedom when cleaning your teeth!
Pros:
Low noise.
4 flossing modes available.
Cordless and lightweight.
Longlasting battery.
Cons:
Some users have raised questions about the longevity of the product.
4. Aqua Flosser Rechargeable Oral Irrigator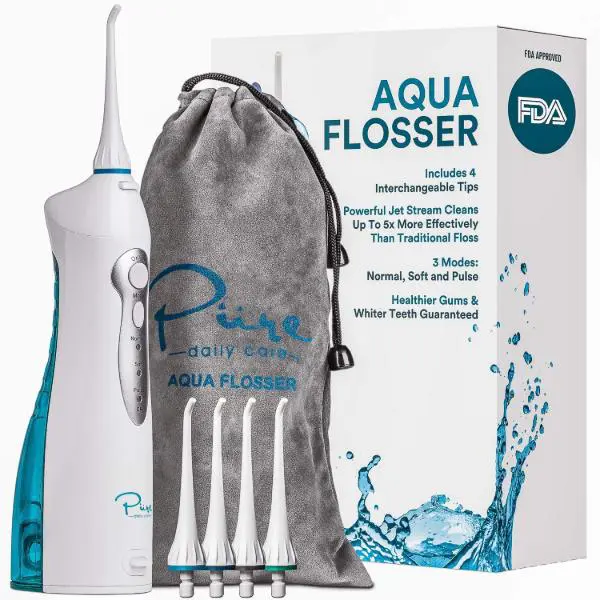 Suitable to adults, kids, and those with braces the Aqua Flosser Oral Irrigator is proven to be five times more efficient than your conventional string floss. Compared to regular flossing, this device can rigorously clean your mouth in a short period. Regardless, it still successfully takes care of your oral health plus it is mild on your teeth and gums.
Pros:
This oral irrigator is dual voltage.
The device features three modes and includes four jet tips.
It showcases a strong jet stream that massages your gums.
Cons:
The water continuously flow when switched on.
5. Panasonic EW-DJ10-A Portable Water Flosser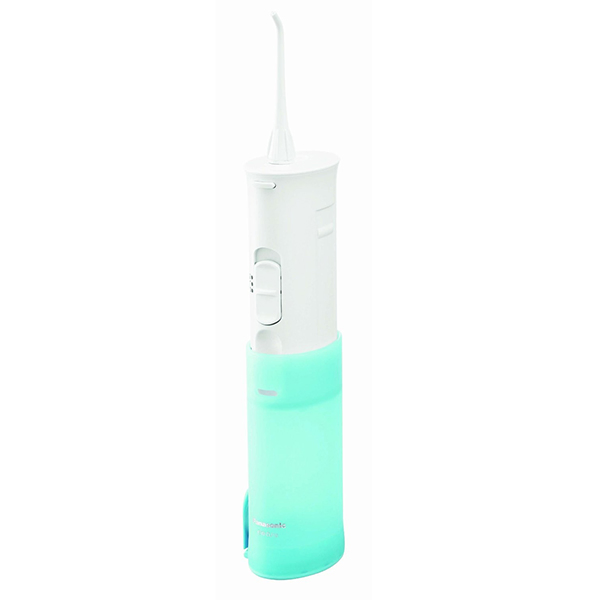 Indeed, the Panasonic EW-DJ10-A Portable Water Flosser is the best cordless water flosser. It stores water in the unit itself. The best thing about this device is that it is portable and affordable too!
Pros:
It is waterproof so you can use it in the shower.
The unit includes a 165 ml water tank.
It comes with a dual speed adjustment.
Cons:
You'll have to replace the battery whenever they run out of power.
4. Waterpik WP-260 Water Flosser For Kids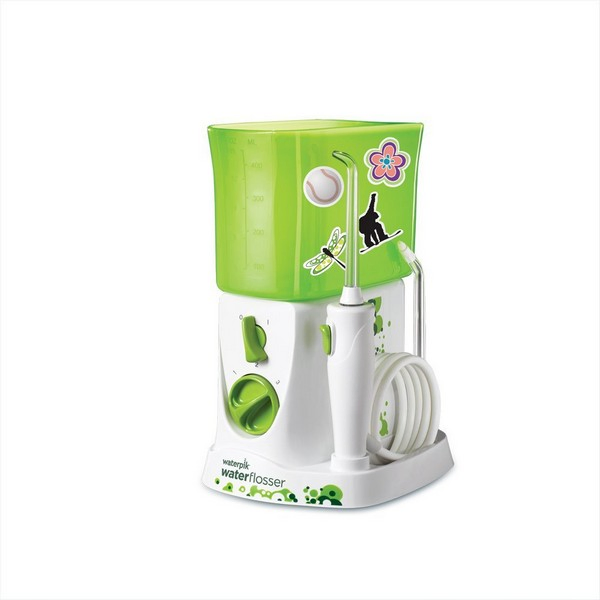 Unmistakably, the Waterpik WP-260 Water Flosser For Kids is colorful. This is a corded water flosser with a water basin that is made especially for kids. It looks like a toy and it's very easy to use. Your kids will surely love it! It allows them to take care of their mouth and teeth without the pain of using the standard floss.
Pros:
It has three various adjustments for the water pressure.
Includes one standard tip and one tip for the braces.
This device can be used by kids between 6 to 12 years old.
Stickers are included.
Cons:
This device does not have a "pause" button.
5. Philips Sonicare HX8211/02 Rechargeable Flosser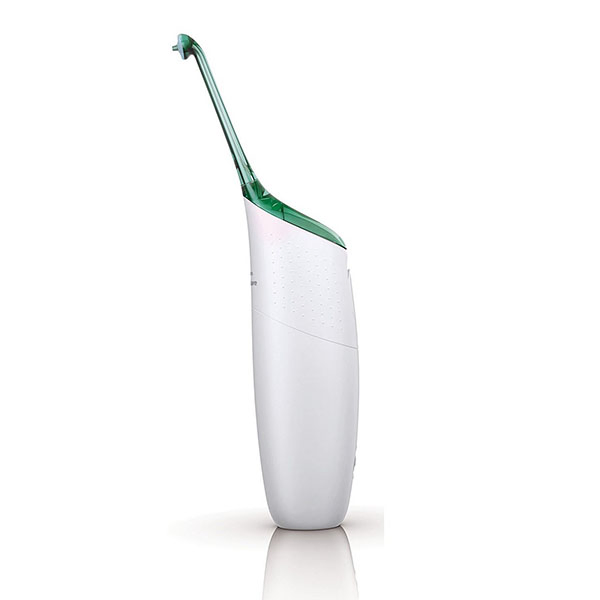 The best thing about Philips Sonicare HX8211/02 Rechargeable Flosser is that it uses a rechargeable battery. It is portable and cordless, however, it only has a single setting.
Pros:
It comes with a rechargeable base.
Every time you push the button it creates a microburst.
You don't have to replace the battery manually.
You can take it with you every time you travel.
It has a sleek design, making it simpler to store.
Cons:
It can only hold a small amount of water.
Unlike the others, this device will create a short and sudden burst of water rather than a pulsating stream which may not be appealing to some users.
6. Waterpik Ultra and Traveler Water Flosser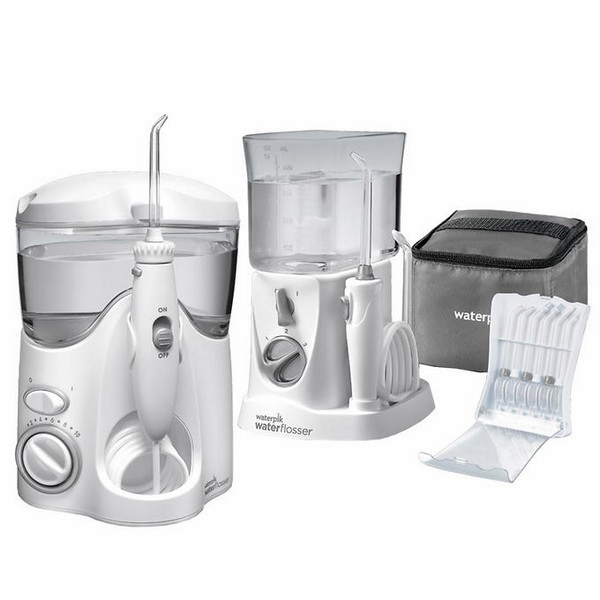 The Waterpik Ultra and Traveler Water Flosser come with a storage case and twelve different tips. It can eliminate 99% of plaque. It is simpler and more fun to use compared to traditional floss. This device can help in improving the health of your gums and teeth. You can store a large amount of water, giving you more time for flossing. Its ergonomic design allows you to floss comfortably and naturally.
Pros:
Includes an ultra water flosser, traveler water flosser, and a travel case.
There are twelve different types of tips to choose from including two toothbrush tips, two plaque searcher tips, four standard flosser tips, two orthodontic tips, and two pick pocket tips.
It is ideal for braces, crowns, and any hard-to-reach areas.
It has a wide array of water pressure adjustments.
This device is covered by a one year warranty.
Cons:
Available only in 110 volts.
7. Oral Breeze QuickBreeze EZ Dental Irrigator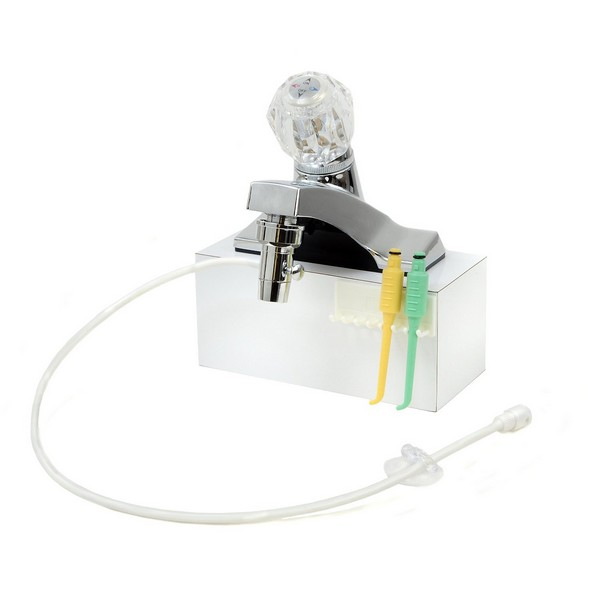 The best feature of Oral Breeze QuickBreeze EZ Dental Irrigator is that you don't have to worry if you run out of water since it is hooked up directly to your faucet. You can easily remove it and use it whenever you travel. It is very reassuring that even at home you can still get the chance to cure or prevent bleeding gums, gingivitis, bad breath, and gum disease, and even teeth falling out.
Pros:
This device is capable of eliminating biofilm that may have resulted from plaque buildup.
Even if you install this in your faucet, you can still use your faucet normally.
Using the switch, you can turn it on or off every time you want the water to flow on the faucet or on the water flosser.
Cons:
Since it does not have a motor then it will not give you a pulsing motion.
8. OraTec ViaJet Pro Dental Irrigator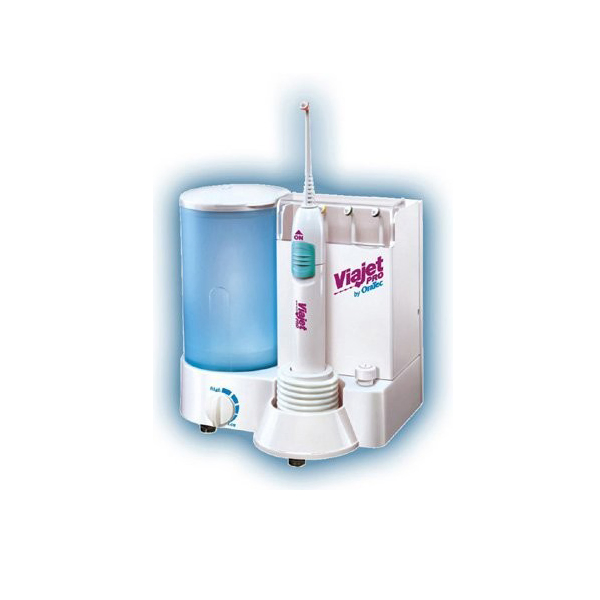 The OraTec ViaJet Pro Dental Irrigator can get rid of plaque and food fragments in hard-to-reach areas. As a result, the health of your gums and teeth will improve. It comes with an adjustable pressure system. This device can clean and massage your teeth and gums, making you feel clean and healthy all the time.
Pros:
There are four distinct tips to choose from including two standard tips and two rubber tips.
The rubber tips are great for massaging your gums in order to enhance the blood flow.
It has a compact design so you can easily store it just about anywhere.
Cons:
You can't turn the tips on the handle.
9. Nicefeel Portable Oral Irrigator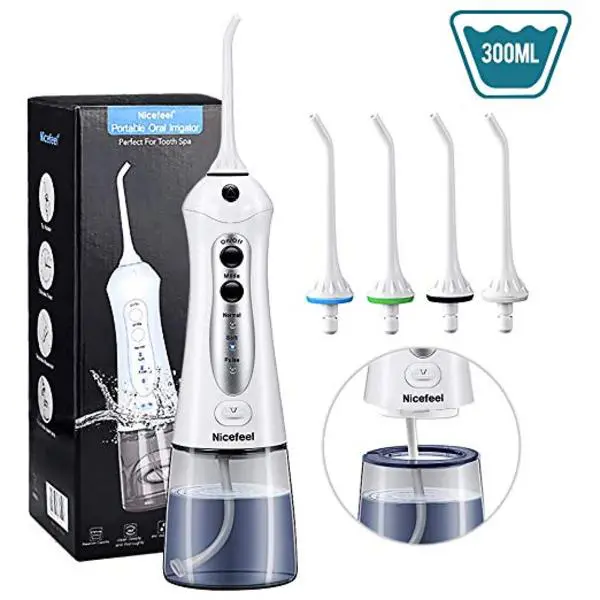 The Nice feel Portable Oral Irrigator incorporates an Internal Leakproof Drainage Design allowing you a smooth flossing experience. This brand features a 300 ml water tank that lets you floss without any interruption.
Pros:
It consists of three different modes which are soft, normal, and pulse. Soft is for those with sensitive gums while the normal mode is for those who do not have any sensitivities. The pulse mode will massage your gums and enhance blood circulation.
It comes with 360 degrees rotating nozzle.
Waterproof and rechargeable.
Cons:
The size is a bit on the bulky side.
Furthermore, after charging the device in four hours you can continuously use it up to fourteen days. You can likewise bring the device while traveling since the package provides a storage bag.
10. Waterpik Ultra and Cordless Dental Water Jet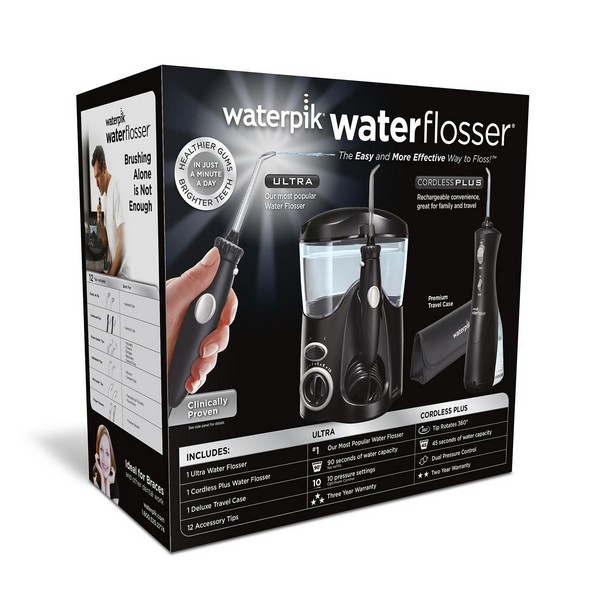 The Waterpik Ultra and Cordless Dental Water Jet Combo include one Ultra Water Flosser, one Cordless Water Flosser, one travel case, and twelve accessory tips. The cordless device has a compact design and fits perfectly in your hand. You can carry it on your trip. On the other hand, the Ultra flosser can effectively eliminate food fragments and biofilm.
Pros:
This is ideal for those who are using braces, crowns or bridges.
It has ten pressure adjustments so you can choose the one that suits your needs.
It does not make loud noises and it does not take up too much space.
The cordless model has two water pressure adjustments and includes four tips so you can have a lot of choices.
Cons:
Water tank is on the small side.
Different Types of Water Flossers
As mentioned earlier, there are various types of oral irrigators. Learn the different types below to know which product suits you.
Corded Water Flossers – These devices have cords which are affixed to the basin. The water in the basin will be used for spraying. This is the most common type and it is also very easy to use.
Cordless Water Flossers – This is ideal if you are a frequent traveler. It is battery operated and can only hold a small amount of water. It is also more flexible. However, you'll have to frequently refill it since it only has a small container.
Corded Water Flossers for Faucet – These devices are not commonly used. To use it you'll have to connect it to the faucet. It gets water from the faucet so no refilling is needed. This is quite inconvenient to use compared to the other two options.
Water Flosser and Toothbrush Combination – This is an all-in-one complete care that can let you do your oral care effectively. It's very convenient since it can let you save some space and power outlets too. It can give you a healthier and cleaner mouth all the time.
Dental water jets come in various types. It's best to choose the one that you are more comfortable with.
Benefits of a Water Flosser
Choosing a water flosser over the conventional flossing method can give you benefits. Here are some of the rewards of owning one:
Gum bleeding can be reduced. Since you can adjust the speed and the pressure based on your preference then you can minimize your gum bleeding. This is something that you cannot experience with traditional dental floss.
Very easy to use. Flossing with a string can be chaotic. You'll have to make sure that you have covered all the spaces. Sometimes it can even hurt your fingers. A water flosser is much easier to use. All you need to do is to point the device to the area and press the button.
Cleans braces effectively. Water flossers work best for those who are using braces. Aside from cleaning hard-to-reach areas, they can also clean the spaces between the brackets and wires. This is something that a traditional floss string cannot do.
Capable of lessening gingivitis. According to recent studies, water flossers can effectively diminish gingivitis. In fact, it is 51% more effective compared to the customary way of oral hygiene.
Water Flosser Buying Guide
Water flossers are getting more in demand nowadays. There is no doubt that it is more efficient and effective than using string floss. Here are some important factors that you should consider when picking up the best water flosser.
How much is your budget? There is a range of water flossers that are flooding in the market today. They come in diverse costs too. Eventually, you'll have to determine the benefits that it can provide you and make sure that it can endure the test of time. Think of it as an investment for effective oral hygiene.
What are your needs? Different people have different needs. For instance, if your children have sensitive gums then you might want to choose a water flosser that has an adjustable pressure. Every time your kids will use it you can lessen the intensity and increase it to suit your needs.
Is it covered by a warranty? Warranties are also worth looking into. Some brands provide a one-year warranty while others only give a one-week money-back guarantee or one-month money-back guarantee.
What type of water flosser is best for you? Each type of water flosser has its own advantages and disadvantages. Think about it thoroughly before making a decision. If you are a traveler then you definitely need a water flosser that you can easily bring along with you on your trip.
A water flosser can effectively extract biofilm and food debris, especially in hard-to-reach areas. It is easy to use and more fun too! Most water flossers include different tips and different water pressure adjustments so you can choose the one that suits you the best. Regardless of whether you have sensitive gums, braces, crowns, bridges, or implants, there is a setting just for you. Make flossing a habit and use good charcoal activated toothpaste in order to enjoy a new perfect smile. It is important to practice proper oral hygiene in order to prevent pneumonia. Do yourself a favor and buy a water flosser now.