Are you a barber and are looking for a new pair of scissors? Perhaps you are just starting out and are wanting to know what the best options out there are. Look no further, as we have found the best barbers scissors on the market right now for beginners and experts!
Read on to discover the best pair of scissors for barbers that are right for you.
What Makes Barbers Scissors Different?
Barbers scissors are an essential tool for any budding barber. If they are not right for the user, things can go seriously wrong! But what makes barbers scissors different from normal haircutting scissors?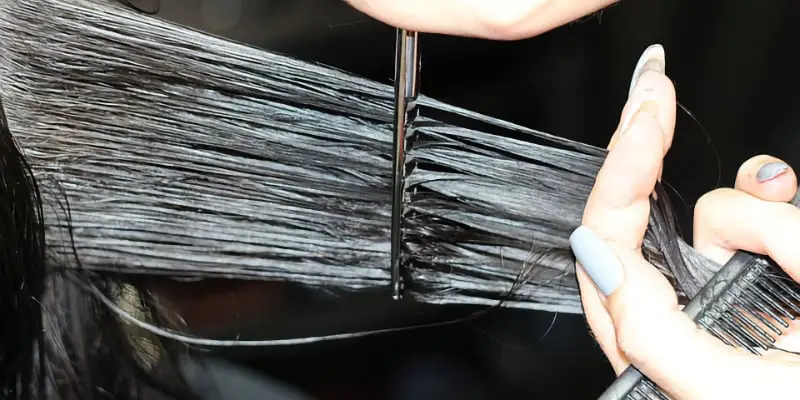 It all comes down to what the scissors are designed for. Scissors that are for DIY home haircuts are normally not as sharp, and not designed to be used for long periods of time.
Scissors for barbers, however, are similar to hairdressing scissors as they are built for comfort, allowing you to use them for extended periods of time. They are also super sharp and clean, allowing the user to be precise in what they are doing.
However, barber scissors tend to be longer than hairdressing scissors. A lot of barbers will use scissors that are up to eight inches long. This allows them to use simple techniques for a basic cut, such as the hair over comb technique.
Barbers Scissors Types
If you are new to barbering, it is super important to know the different types of scissors and what you will need in your kit. There are lots of different scissors for the range of techniques that you will be performing on hair.
Long Bladed Barber Scissors
Firstly, you will need a pair of long-bladed scissors for barbers. This means that you can perform techniques that cut a lot of hair in one go, such as the scissor over the comb technique. This means that you get a clean and even cut.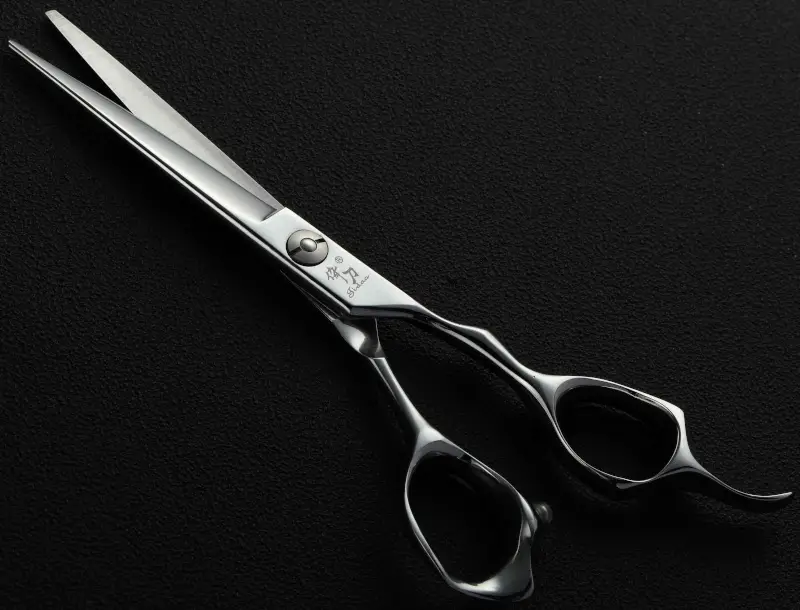 Long bladed barber scissors are normally six or seven inches, but can be a little longer.
Short Bladed Hairdressing Scissors
Hairdressing scissors with a short blade mean that you can cut precisely, using the scissors for a range of different styles and techniques.
They are usually lightweight, meaning that you can use them for long periods of time. Haircutting scissors with short blades are normally around 5.5 inches long, allowing for ease of use and movability.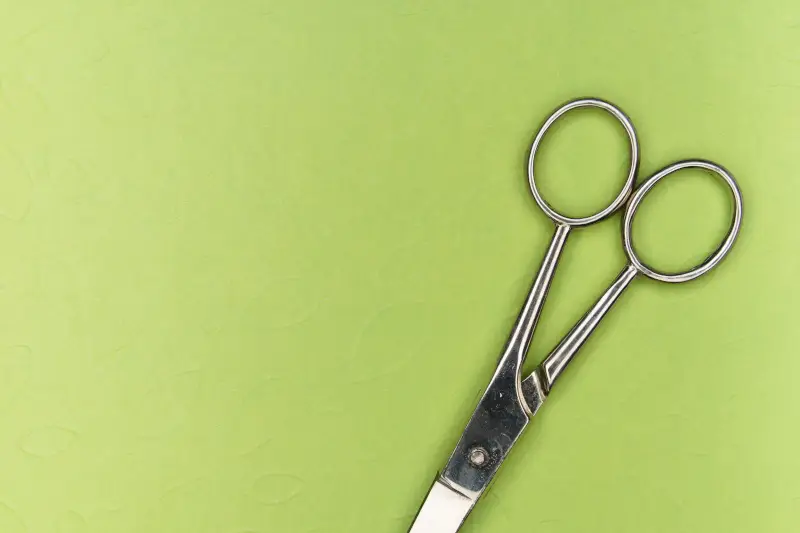 Check out our in-depth buyers guide about hairdressing scissors here to find the perfect pair for you!
Thinner Shears
Thinner shears are a must-have for all barbers as they allow you to thin out thick hair quickly and easily. This allows you to relieve weight and make the hair more manageable.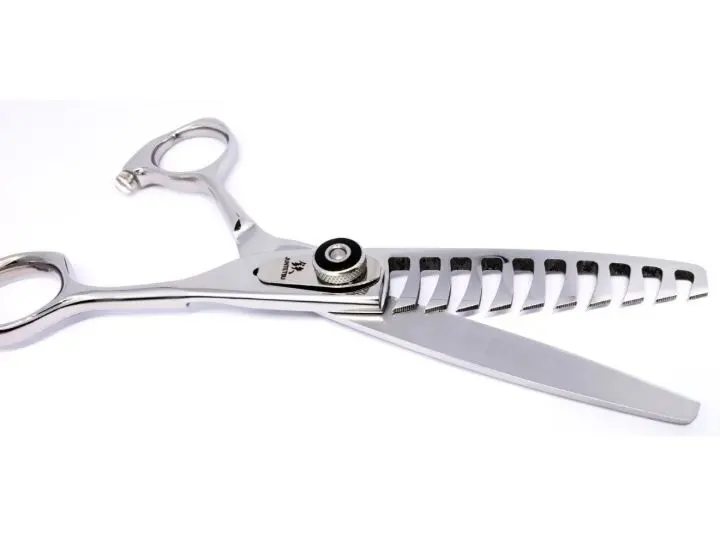 They normally have 7 – 15 wide teeth on one blade, meaning you remove chunks of hair with every cut and not all the hair.
Texturizing Scissors
Texturizing scissors are a type of thinning scissors as they have teeth just on one blade. They normally have around 25 small teeth that allow you to blend and soften hair.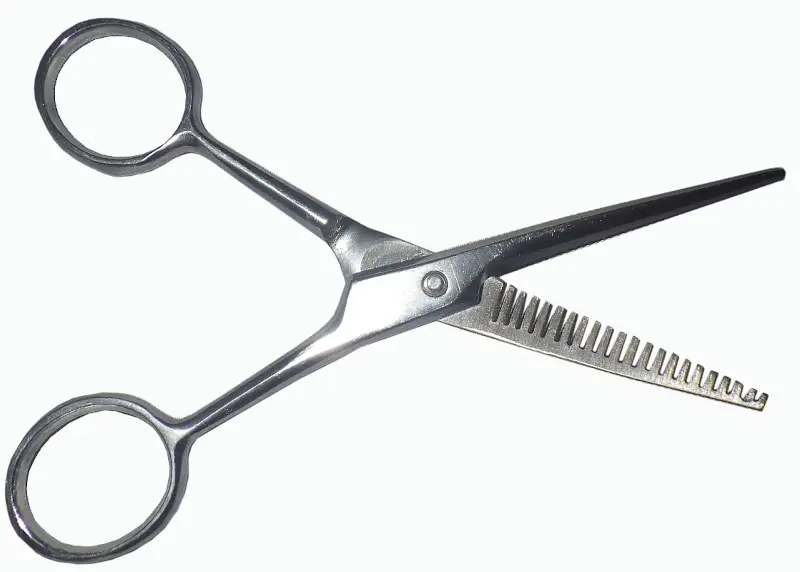 They are great for texturizing and shaping, allowing you to work slowly to create the exact hairstyle you are wanting.
Best Scissors for Barbers
Now we know all the different types of barbers scissors, we can take a look at the shears that are available to buy right now.
Best Barbers Scissors Overall: Premium Shears for Hair Cutting by Equinox
When it comes to barbers scissors, this pair constantly comes out on top. They are perfect for beginners and more experienced barbers alike and provide you with a professional cut every time. At 6.5 inches, this part of barbers scissors can be used for loads of different things, from trimming beards to cutting longer hair.
The offset handle means that they are comfortable to use for long periods of time and their lightweight design means they are super easy to use! They are high-quality scissors and cut sharply.
Best Professional Barbers Scissors: Professional Barber Hair Scissors by Fengliren
This pair of barbers scissors are made from the highest quality stainless steel with an extremely sharp blade. They are crafted by hand and each pair has a quality check before completion.
We love these scissors because they are built with passion! Every pair has had so much work put into it and therefore you know that you are buying a great pair of professional shears. They are lightweight with an offset handle, designed to be used for long periods of time.
Best Barbers Scissors for Beginners: Relax Pre Style Shears Hair Scissors by Jaguar
If you are beginning your journey into hair cutting and styling, we recommend purchasing a pair of these Jaguar scissors. Jaguar is a really respected brand of barbers scissors, and these are designed to be the basis of a barbers kit.
They are top-quality shears that are extremely sharp and easy to use. Their ergonomic design means that they are comfortable and the removable thumb ring allows you to find the best position when using the product.
Best Durable Barbershop Scissors: Professional Hair Scissors by Fagaci
If you are looking for the best durable barbers scissors, look no further than this pair from Fagaci. They are made from the highest quality stainless steel with extremely durable blades. Because of the type of steel they are made from, they stay sharp for longer and this means that you have a product that will last.
These barbers scissors are well worth the money and are ergonomically designed for complete comfort. They are extremely sharp and allow you to work with precision, getting you the results that you need!
Best Affordable Barbers Scissors: Hair Cutting Scissors by Tecto
Just because you are looking for a pair of barbers scissors on a budget does not mean you have to give up on quality! This pair by Tecto are fantastic, with premium quality blades that allow you to get a sharp cut every time.
These scissors are durable and rust-proof, meaning that you have a product that will last. With a comfortable grip, you can use these scissors for so many hair types and styles!
Best Barbers Thinning Scissors: Hair Thinning Shears by Dragon Riot
Every barber needs a pair of thinning shears, and these are a perfect pair to add to your kit. With 28 teeth and a thinning rate of 15-20%, they can be used to take weight off the hair or texturize and shape it.
They are made of durable Japanese steel with a sharp blade that does not pull or tug on the hair. Being lighweight, using them for a long time will not be a worry! Great for beginner barbers and those who are a bit more experienced.
Plus, the rainbow titanium coating does make them look pretty snazzy! What is not to like?!
Best Barber Scissors Set: Professional Hair Cutting Set by Smithking
If you are a beginner and needing to get your first barber kit, or if you are an old hand at haircutting and are looking to treat yourself to a new set of tools, there are some great barber scissors sets out there! This one by Smithking is by far our favorite, with its sleek design and top-quality items.
It contains a pair of barbers scissors, a pair of thinning scissors, a razor, and a comb. The blade has a sharp convex blade that provides a clean, smooth cut. The thinning scissors are sharp and gentle, with a clear tip on the tooth. Both pairs have an offset handle and are extremely comfortable to hold.
Barbers Scissors Buying Guide
These are our favorite barbers scissors, but how do you know what the right ones for you are?!
Because of the range of scissors for barbers, it can be pretty overwhelming and you might not know which ones to buy! However, there are few simple things you can ask yourself when you are shopping for a new pair of barbers scissors.
What Type of Blade Will I Want?
Firstly, have a think about what blade you might want. There are two different blades that most barbers scissors have; a bevelled edge blade and a convex blade.
The convex blade is also known as the Japanese-style blade and is the more expensive blade. They are precise and very sharp, perfect for a range of haircuts and styles.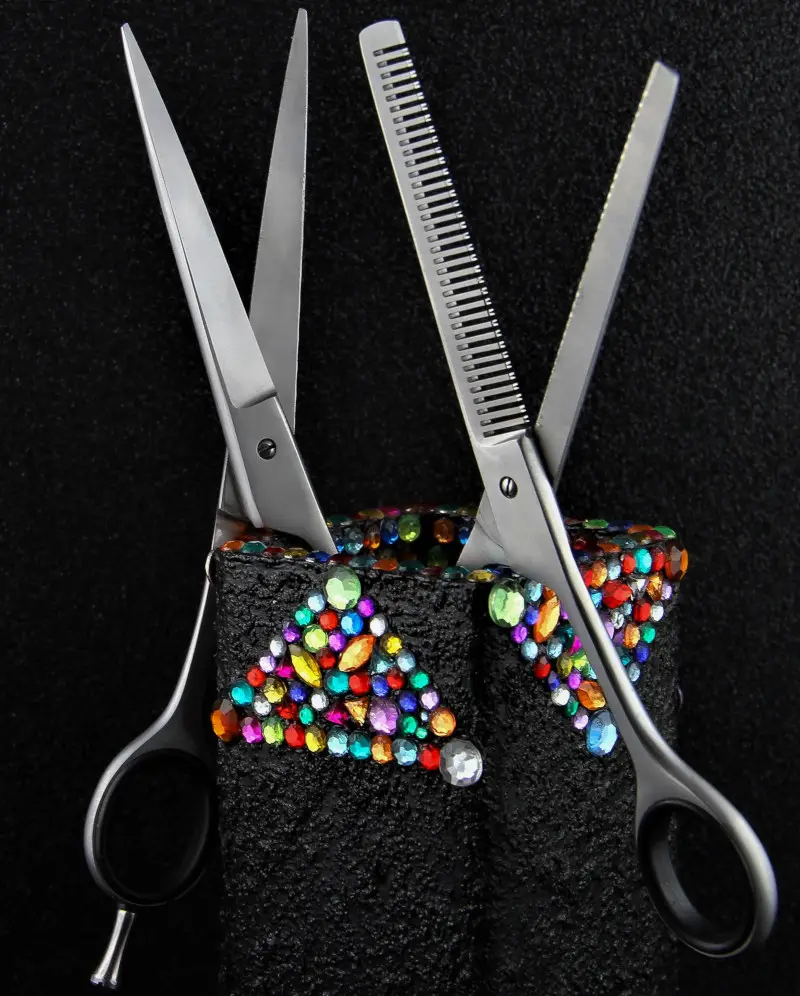 A bevelled edge blade is cheaper and has micro serrations on one or both of the blades. These blades are more durable and hold the hair well.
When it comes to picking your blade, you need to think about your budget, your experience level, and what you will be doing with the scissors. If you have a bigger budget and are looking to do more complex haircutting, a convex blade will be right for you! However, if you are just beginning out in haircutting, you might prefer a bevelled edge blade.
What Personal Needs Do You Have?
You should also think about anything that you need specifically in the scissors. For example, if you are left-handed you will need to buy barbers scissors that are specifically for lefties. You should also think about what size will be right for you! Do you have smaller hands? If so, you may need to buy smaller scissors.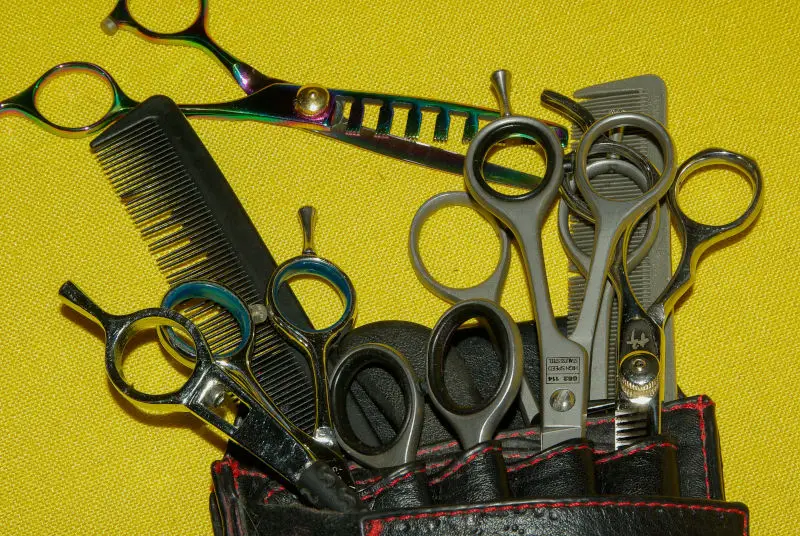 A lot of professionals agree that the length of the scissors should be about the same size as your extended palm. If you are buying online, measure your hand to make sure you are getting the correct size scissors!
What Handle Would You Prefer?
The handle on a pair of barbers scissors can really affect the use and comfort of them. There are four main types of handles and before you buy a pair of scissors, make sure they have the handle you want!
Level Handle. This is where the handle is even, with both holes symmetrical. This type of handle is suitable for those who cut with the handle in the middle finger and thumb.
Offset Handle. This handle is very popular as it is designed for comfort and long periods of use. This type of scissor has one handle longer than the other.
Crane Handle. Another popular choice amongst stylists, this type of handle is similar to the offset handle, however, there is a bigger difference between the two handles.
Swivel Handle. This is where one of the handle hoops is on a screw. This means that the thumb stays in place whilst the blade can move freely.
Most professionals choose the offset or crane handle, however, some do choose to try out the swivel handle! But, this can be hard to get used to so we recommend buying a cheaper pair to try out the style before purchasing a pair to use in the salon.
How to Sharpen Barbers Scissors and Maintain Them
When it comes to maintaining barbers scissors, it is really important to not touch the blade and keep them protected when not in use. A lot of the scissors on the list do come in a case, however, you can pick a case up pretty cheaply. This means that they will be safe from dirt and dust which will damage the blade.
It is also super important to only use them for cutting hair! If you use them for paper or crafts, the blade will become weakened pretty quickly. It is also advised to oil the scissors every day or so to keep them working smoothly.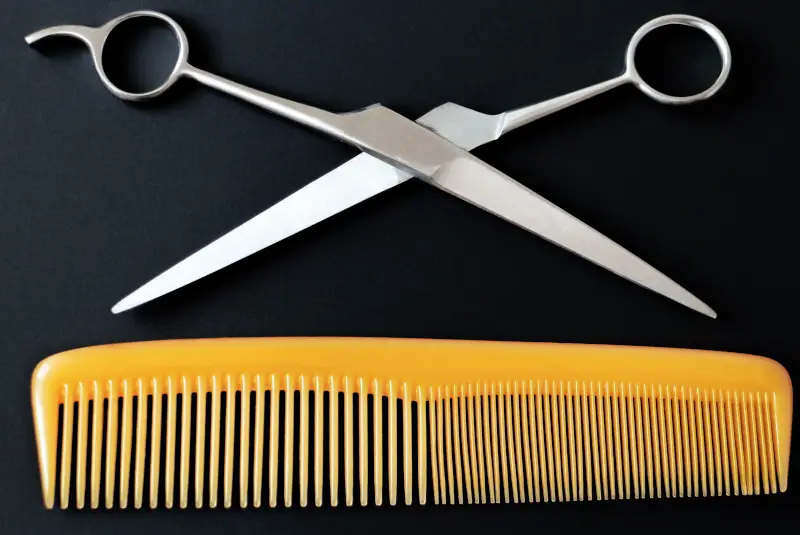 However, even when you look after them really well, they still will need sharpening at some point! Thankfully there are so many great and easy ways to sharper barbers scissors at home.
These are our top three ways of DIY sharpening!
Sandpaper. Sandpaper can be picked up pretty cheaply for most hardware stores, and are a great way of sharpening scissors. You simply cut through the sandpaper, and as you do so, the blade will sharpen. Remember to wipe down the scissors with a cloth after you have sharpened them to get rid of any debris that might be on them.
Whetstone. A whetstone is used to sharpen a range of blades and is great for barbers scissors. Another product that you can pick up from most hardware stores, they are pretty easy to use. They normally have one side of coarse grit and one side with a finer grit. You need to sharpen the scissors first on the coarse side and then on the finer side to get the best results. You must remember to lubricate the stone with oil or water before use.
Aluminum Foil. Can't get to the hardware store? If you have aluminum foil in the house, no need to worry, you can still sharpen your pair of barbers scissors! Fold the foil over a few times then cut down the strip in big stokes. Afterward, wipe down the scissors with water.
Find the Pefect Scissors for You!
There are so many barbers scissors on the market right now, and every barber can find the perfect pair for them. Knowing what you need from a pair of scissors means that you can make the correct purchase.
Let us know what scissors you go for, and why you love them so much! Also, if you are new to barbering, definitely check out our guide to thinning scissors. These are a must in your kit and can do amazing things for hair!