Makeup vanity sets play a big role in turning your mornings into a better day. Mornings can be very busy especially when you are trying to be ready for the day.
It's nice to have some exclusive moments for yourself before you start your day. Applying your makeup in your crowded bathroom may ruin your day. You need a makeup vanity set to make you feel great throughout the day.
Best Makeup Vanity Sets
Here are the top makeup vanity sets you should look for this 2023.
1. Roundhill Furniture Makeup Vanity Sets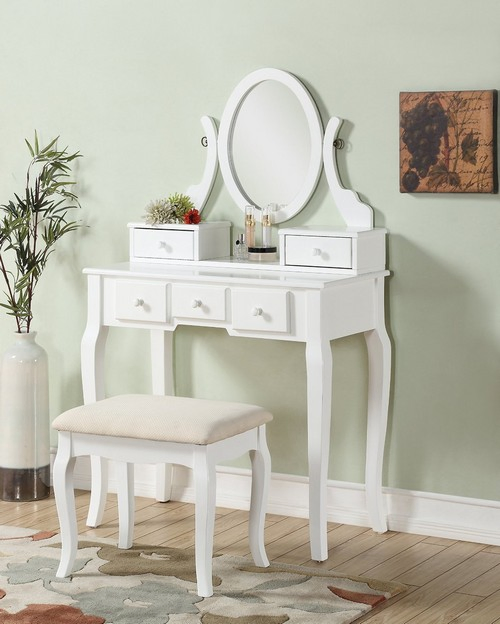 The Roundhill Furniture Wood Makeup Vanity Sets have an adjustable oval mirror. It includes a mirror, stool, table, and five storage drawers. This is a versatile vanity that can clear the clutter in your bedroom.
The five storage drawers give you more room for your jewelry and makeup accessories. Now, you can arrange your rings, earrings, necklaces, makeup brushes, eyeliners, eyeshadow palettes, foundations, and others neatly on each drawer.
Color: White
2.
Bobkona St. Croix Collection Vanity Set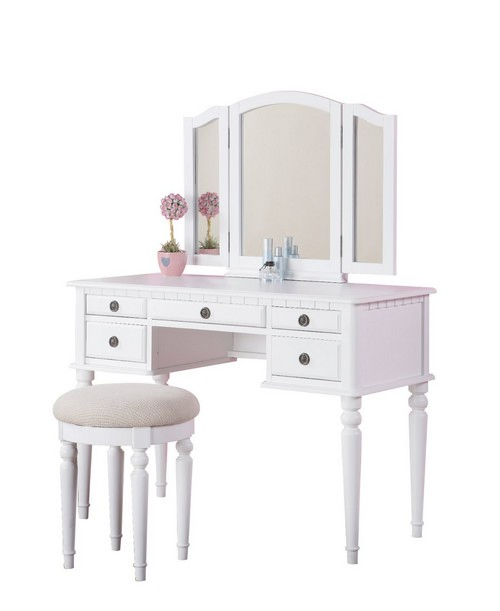 The Bobkona St. Croix Collection Vanity Set includes a desk, a stool and a mirror with moveable extensions. It gives you enough space for your jewelry, cosmetics, and other supplies.
It has a super-chic style that is perfect for teens. The upper drawers are shallow while the lower drawers are deep. Sitting on a soft stool can make you feel like a beauty queen.
This is also best when you want to do bridal makeup.
Color: White
3. Frenchi Home Furnishing Vanity Set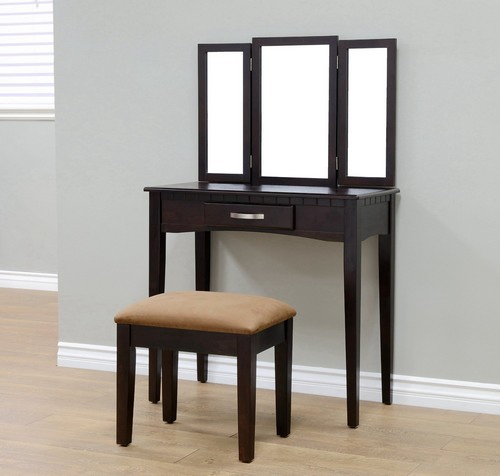 The Frenchi Home Furnishing Makeup Vanity Sets include three mirrors, a bench and a table with a drawer at the center. The drawer is very spacious and it can be used as a storage for your makeup accessories, hair brushes, and other personal items.
This set is made of solid wood which makes it durable and sturdy. The upholstered bench can make you feel comfortable while sitting. The mirror can be wiped with a damp, soft cloth.
Color: Espresso
4.
Tribesigns French Vanity Dressing Table Set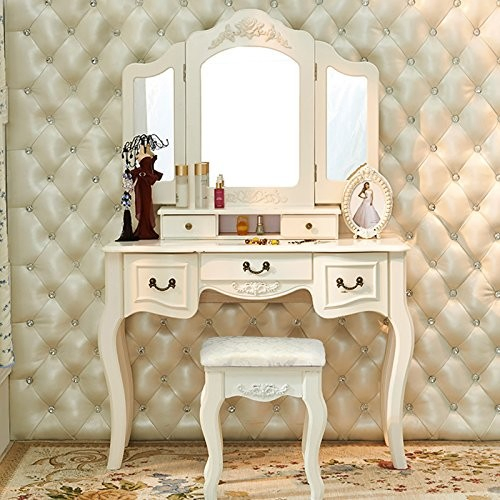 The Tribesigns French Vintage Vanity Dressing Table Set is made of hardwood and MDF. This set includes five drawers, three mirrors, and a padded stool. It has lovely carvings of flowers on the drawer and the stool. You can place your cosmetics and various supplies at the tabletop.
The desk can be used as a writing table, just move the top part of the table. This set can definitely make your room look elegant.
Color: Ivory White
5. Ehomeproducts Metal Vanity Dresser Table Set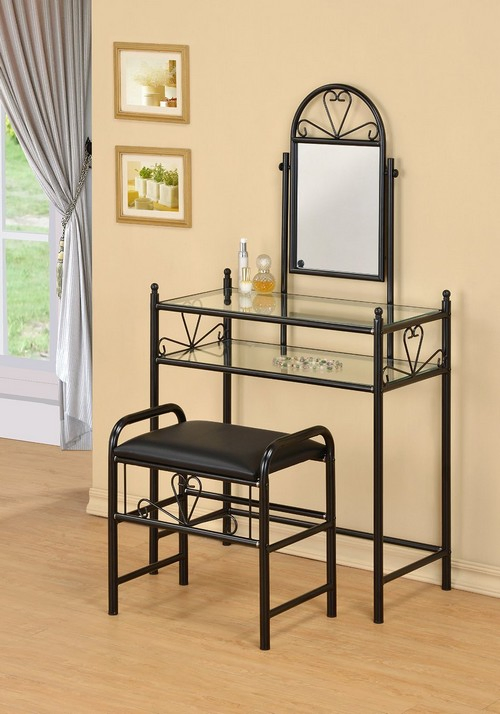 The ehomeproducts Metal Vanity Dresser Table Set includes a mirror, table, and a stool. The mirror has an adjustable metal frame. This is a stylish contemporary vanity set that is decorated with heart designs. It is perfect for storing all your jewelry, cosmetics and beauty supplies.
The matching metal stool is padded with upholstery to make you feel comfortable. This is a sophisticated accent to your bedroom or bathroom.
Color: Black
6. Coaster Home Furnishings Casual Vanity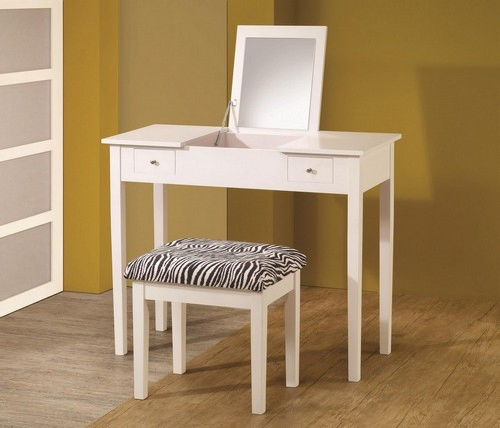 The Coaster Home Furnishings Casual Makeup Vanity Sets feature a center panel that can be lifted if you want to use the mirror. The jewelry compartment is neatly felt-lined. This is a sassy vanity chic that can brighten up your room. It can make your morning routine much easier.
The drawers at the sides can be used for storing your cosmetics and personal items. The stool is upholstered in zebra print. With all the essential things you need in front of you, you can sit and relax while doing your morning routine.
Color: White
7. Coaster Home Furnishings Contemporary Vanity Set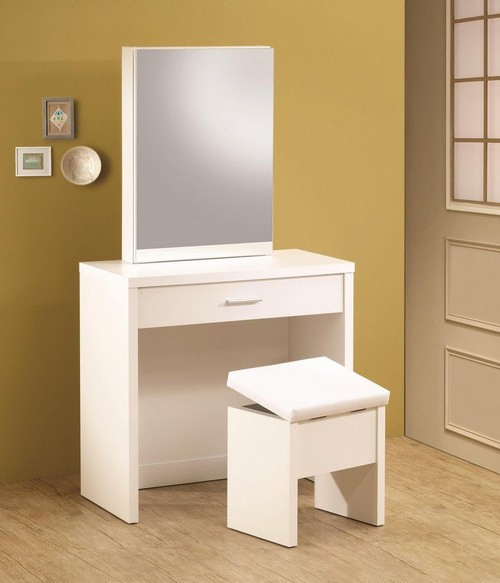 The Coaster Home Furnishings Contemporary Makeup Vanity Sets include a table, a large mirror, and a stool. A jewelry storage compartment is hidden behind the large mirror. It can be opened by sliding the mirror.
It has one large drawer that consists of several compartments for your jewelry, cosmetics, and personal items. The upholstered stool includes storage. It looks so simple and sleek, yet very functional. This vanity set is a practical choice for a bedroom or a dressing room.
Color: White
8. Customize Vintage Fancy Dressing Table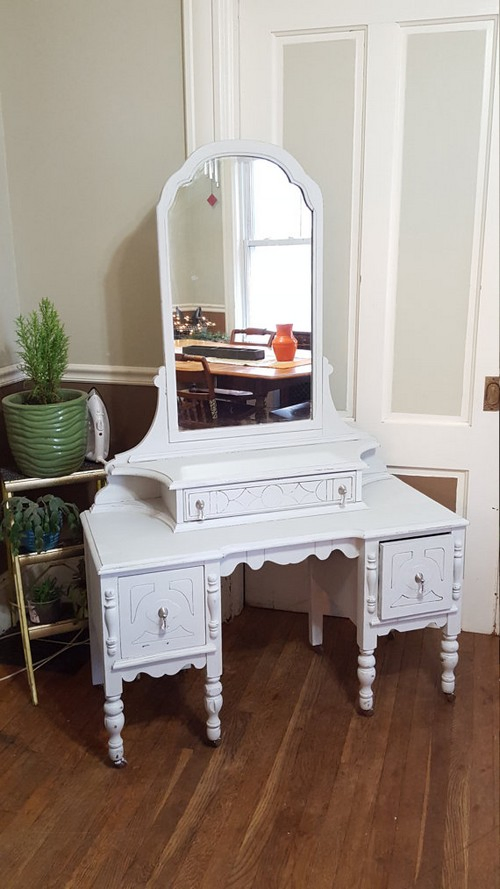 This is a Customize Vintage Fancy Dressing Table which is redone using gray and white paint. The paint reveals its unique design. It has one large drawer at the top with two small cabinets on the sides.
Perfect for storing all your cosmetics and other personal belongings. This item can be repainted to your desired color. It does not include a chair or a stool but you can easily find one that can match.
Color: White
9. Vanity Set with Mirror and Stool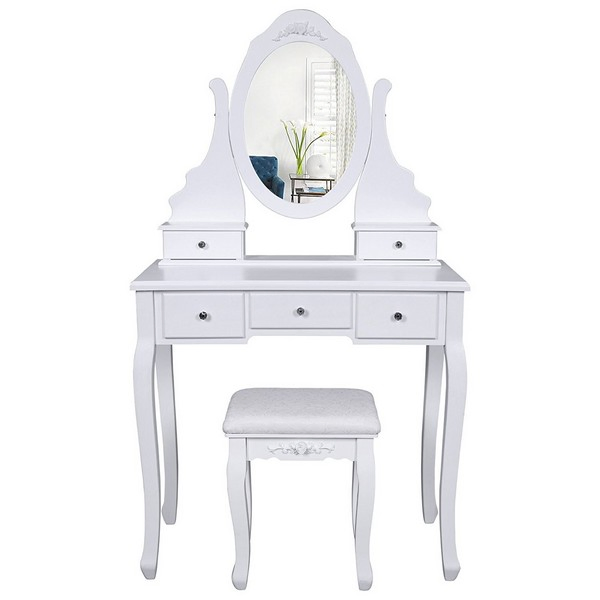 The Vanity Set with Mirror and Stool has a table, a mirror, and a bench. This furniture has rounded corners and smooth edges. The stool is upholstered with a Victorian print fabric.
The table and the bench have matching Queen Anne style legs. It is durable since it is made of hardwood and veneers. The oval glass mirror is adjustable.
It is a practical and fashionable addition to your bedroom or dressing room.
Color: White
10. Crown Mark Iris Vanity Set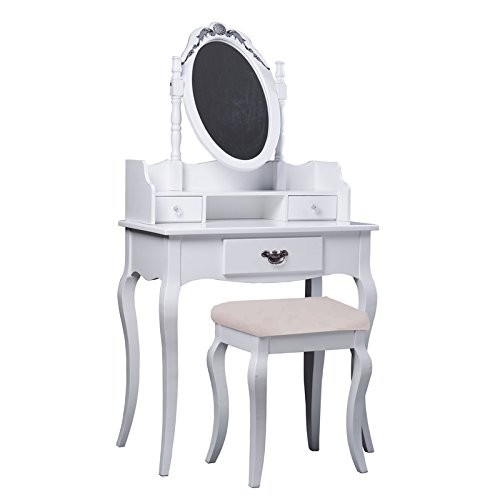 The Crown Mark Iris Vanity Set includes a mirror on top of the table. It has also a matching upholstered stool.
This vanity has a single drawer for your jewelry, makeup, and other personal items. The mirror is adjustable. The table looks elegant due to its antique brass handle on the drawer. The table can be used as a writing desk.
Color: White
11. 2-piece Mirror Vanity Set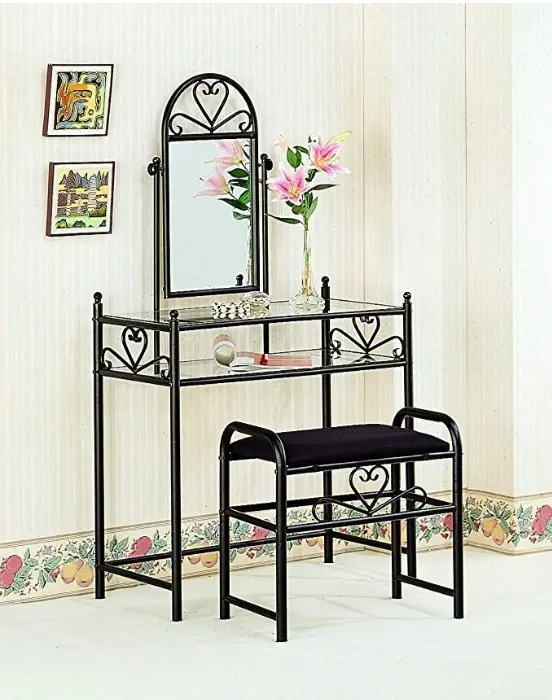 This 2-piece Vanity Set Mirror makes an excellent addition to a bedroom or walk-in closet. The table features two clear glass shelves for nail polish and perfume bottles – and maybe a love note. Look into the attached vanity mirror for the finishing touches on your mascara.
The matching stool is upholstered with a black cushion that allows you time to perfect your look. Table, mirror, and stool all accented with heart shape metal design for a romantic touch.
Color: Black
12. Crown Mark Makeup Vanity Set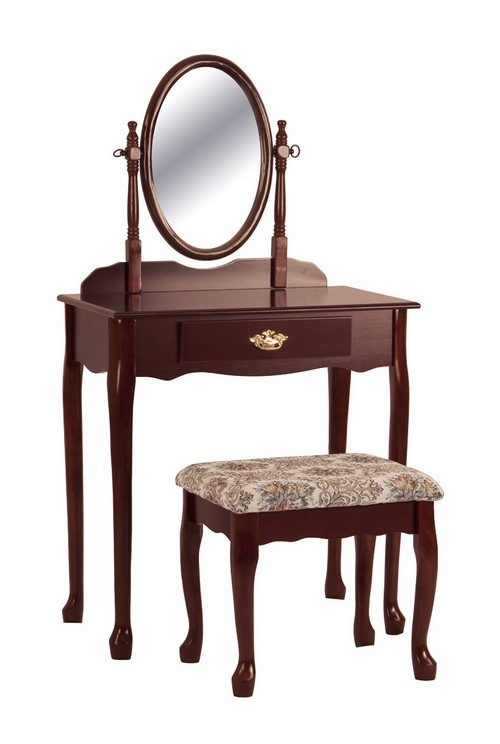 The Crown Mark Makeup Vanity Set includes a mirror on top of the table with a matching stool. It is made of rubberwood.
The table has a single drawer which is being highlighted with a brass handle. The table and the stool have matching cabriole legs. The oval mirror is adjustable.
This traditional furniture can add elegance to your bedroom or dressing room.
Color: Cherry
13. Tribesigns LED Lighted Vanity Table Set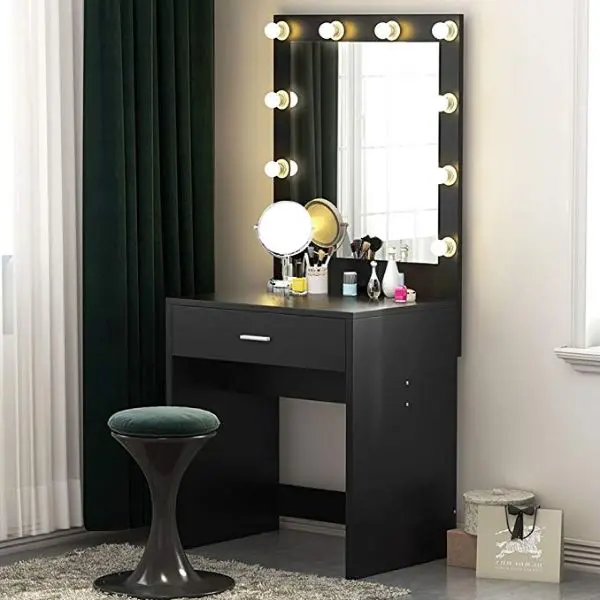 Tribesigns 10 LED Lighted Vanity Table Set is sleek and simple, contributes both fashion and practicality to your bedroom or changing area.
The big drawer and spacious tabletop bring you ample storage space to easily organize your jewelry, hair accessories, nail polish, hair care product, and cosmetics.
Made of E1 particle board, come with a huge lighted silver mirror and easy control switch.
Color: Black
How To Find the Best Makeup Vanity Set For You
It is a fact that makeup vanity sets play an important role in every girl's beauty regimen. It can give you easy access to your makeup products such as eyeliners, palettes, and so on. However, how will you know if it's the right vanity? The first thing that you have to ask yourself is what is your main purpose of getting a vanity?
If you only have limited space then you might consider choosing vanities with storage or full-length mirrors. Another option would be to create your vanity in a corner space. If you are on a tight budget then you can make your own DIY vanity.
Simply buy a mirror and affix it to the wall. Place a table and a chair near it and voila! If you have a large collection then you might need storage extensions. Make sure that your vanity has enough lighting on the mirror. Now, you can do your morning routine quickly.
Factors in Choosing the Perfect Makeup Vanity Set
During the early times, makeup vanity sets were considered as luxury items which can only be availed by the wealthy people. This furniture, also known as vanity dressing tables or makeup desks, can now be availed by more people since it is now more affordable.
There is a multitude of styles that can fit anyone's budget and lifestyle. If you are planning to buy this amazing home furnishing then here are the factors that should be considered:
Features – Just like when you are purchasing your car, home or smartphone, you have to compare the features of each product. Most vanity dressing tables only consist of one mirror and one bench, however, there are some who don't have any. This can give you the chance to personalize it according to your own taste. Also, some products are more versatile because they have a lot of drawers while some only have a few.
Size – Just like the features, the size also varies. The smaller one usually measures 28″ wide while the bigger one is about 52″ wide. Make sure that the vanity that you like will fit in the space where it will be placed in your home. If you are buying it online then you must measure the space accurately before placing an order.
Location – Dressing tables are a well-designed piece of furniture that can look great on your large bathroom, dressing room and bedroom. There are even some designs that will not look out of place if you put them in the living room or in a small office.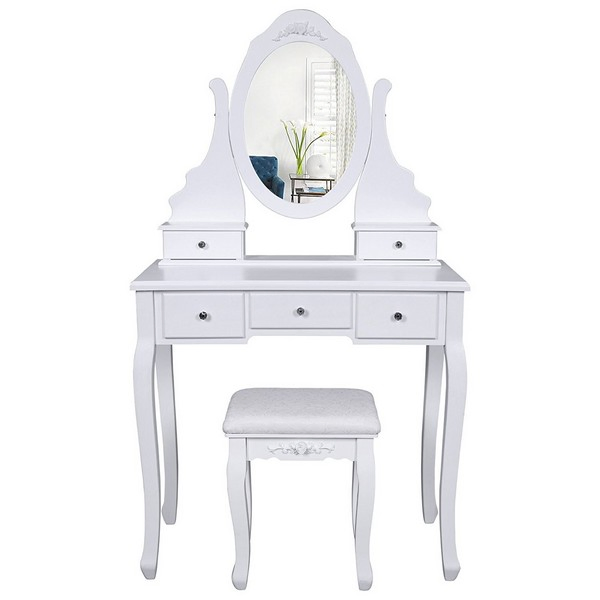 Style – Do you love modern or contemporary furniture design? Which do you prefer traditional furniture or country furniture? The good news is there is a wide selection of makeup vanity sets to choose from. The variety of finishes, materials, and colors can help you in matching your furniture to your existing decoration. But then again, decorating will greatly depend on your own taste.
Material – Throughout the years, the material being used for the vanity dressing table is wood. It can be stained or painted to achieve a unique finish. But as the construction and designs have evolved, so as the materials. Now, manufacturers are using glass, metal and even mirrors. This is perfect for people who want to have something different.
Your Makeup Vanity Sets Questions Answered
We compiled the most frequently asked questions all about makeup vanity sets.
What is a makeup vanity?
A makeup vanity is a dressing table with a mirror and two drawers. All your stuff for dressing up and beautification is organized here. This is used for getting makeup and hair done while sitting comfortably on a chair.
How tall should a makeup vanity be?
Regardless of the makeup area's design, make sure that the countertop can be easily reached from where you sit. Typical bath vanity height is 30-34 inches, but 26-29 inches is more common for sit-down vanity sets.
How deep should a makeup vanity be?
The minimum width for the countertop is 30 inches and 36 inches provides a bigger and better space for all necessary things.
With beautiful looks and a wide variety of styles and materials, makeup vanity sets can be a great addition to your bedroom or as the main attraction to a particular area in your house. Now, you can place all your makeup brushes, foundations, and other beauty essentials in one place.