Facial steamers offer you the best facial relaxing experience without breaking the bank as well as the hassle of going to a spa. Perhaps one of the best ways of relaxing and eliminating stress is to go to a spa.
However, not all people can afford to pay for its huge costs. Sometimes they can't find a spa nearby, making it impossible for them to visit a spa regularly. Fortunately, there are now a lot of devices that can provide you at-home spa experience. One such device is the facial steamer.
Best Facial Steamers Quick Overview
Facial Steamers Reviews
Find the best facial steamers currently on the market for sale, reviewed and tested by our expert team.
Zenpy Nano Ionic Moisturizing Face Spa Steamer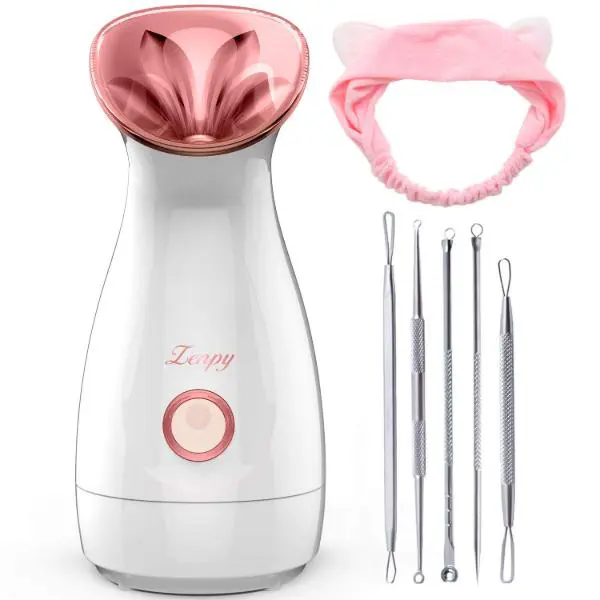 One of the best facial steamers reviewed in Amazon. The Zenpy Nano Ionic Moisturizing Face Spa Steamer helps moisturize your skin, open pores and encourages blood circulation. Moreover, it is ideal for use for all skin types. When buying this product the package includes one headband and a blackhead remover kit.
Pros:
Straightforward and has a reasonable price.
It is a full face steamer which you can also use to clear clogged nose.
Moisturizes and tightens skin.
Can treat colds and sinus problems.
Cons:
You need to plug the steamer to use it. The product is not battery-operated.
While other steamers can also work with essential oils for aromatherapy, this brand can only work with distilled or pure water.
Users who constantly use this device claim that they have seen a significant reduction of their acne as well as other skin problems.
Conair Facial Sauna with Timer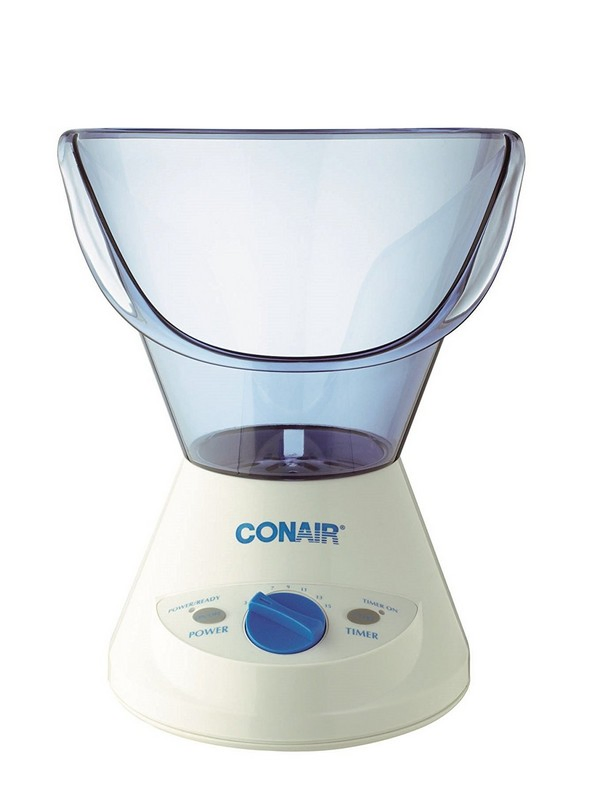 Conair's facial steamers are quite similar to Revlon's version since it also a nose attachment. Aside from this, it also comes with a facial brush that consists of a sponge and a brush adapter. The sponge is designed for cleaning while the attachment is best for in-depth moisturizer application.
Pros:
Inexpensive.
Covered with a one year warranty.
Includes a safety measure, shuts off automatically after 45 minutes to avoid any danger.
Relieves sinus.
Cons:
It takes a while before the steam appears.
Its facial attachment may not be appropriate for all face shapes and sizes.
Users claim that it greatly helped them in treating their sinus and at the same time enhanced their pore size and made their skin clearer.
Kinga Home Sauna Spa System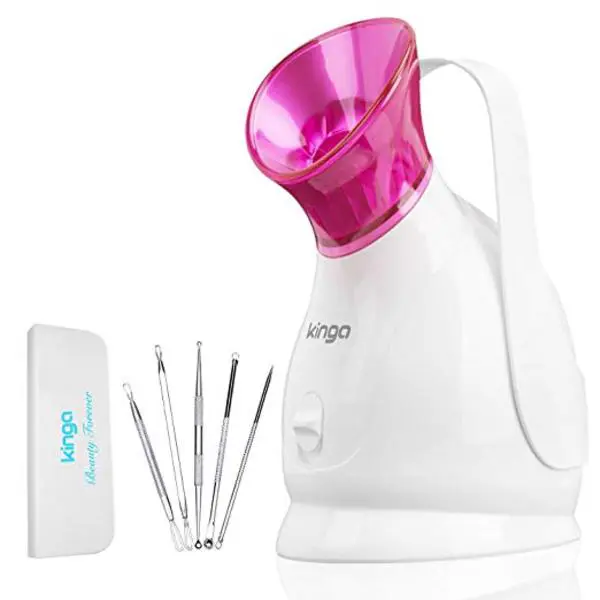 Our third product is the Kinga Home Sauna Spa System. It features a quick-to-start steam time that is less than thirty seconds. As shown above, the steamer is handy and compact so you can use it in your bedroom, bathroom, or living room.
Pros:
Gives you a steady stream of steam for the entire 10 minutes.
Cleans pores and while also curing sinus problems.
Environment-friendly product
Cons:
Emanates a plastic smell during its first 2 to 3 usages.
Not compatible for aromatherapy use.
It utilizes Nanotechnology which instantly generates hot steam that can last for 8 to 10 minutes. Even with its compact size, it can still give you extensive steam that can cover your entire face. Most users are satisfied with its power and warmth.
Panasonic EH-SA31VP Facial Steamer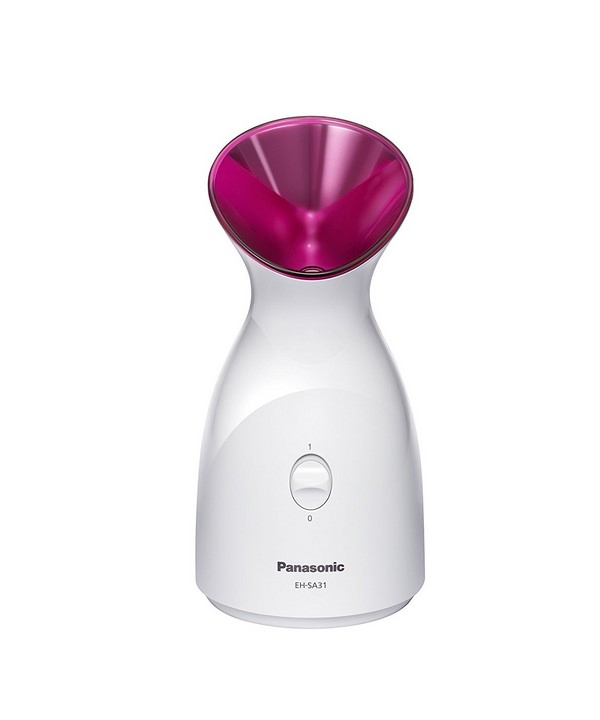 If you love to pamper your skin then this is the ideal facial steamer for you. This device is best known for generating nano-ionic steam which is finer compared to other models. You can either choose the 3 minute or the 6-minute steam therapy.
Pros:
Compact and easy to set up.
Panasonic is a trusted brand.
Cleanses the skin effectively, because it generates ultra-fine steam particles.
Cons:
Produces a chemical smell during its first few usages.
Damaged parts may be expensive.
With Panasonic EH-SA31VP, you'll always have time to take care of your skin even if you have a busy schedule.
Lure Facial Hydration System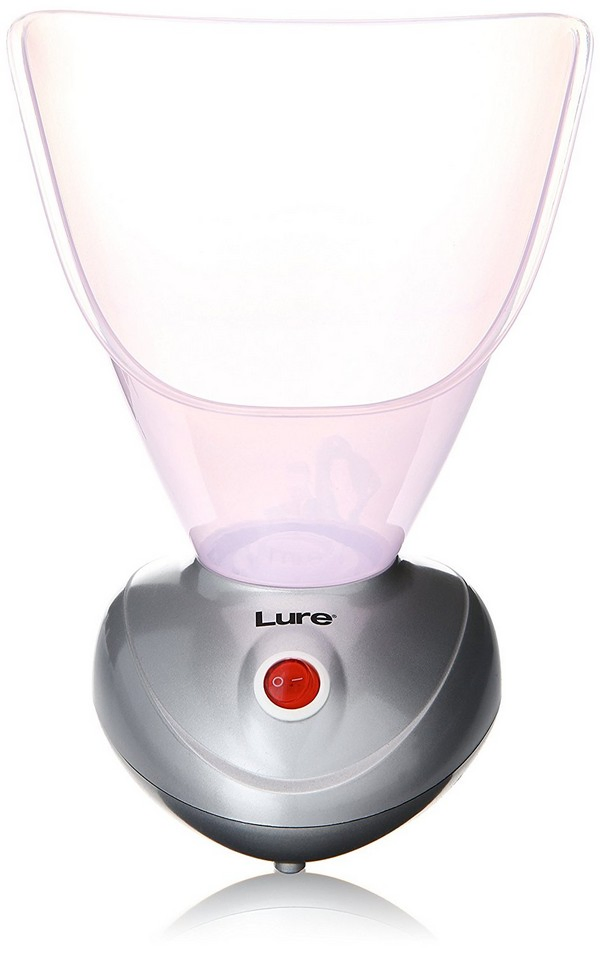 Lure Facial Hydration System is a very flexible device since it can be used by all the members of the family. Primarily, it is used as a face steamer to deeply clean your face. =
Pros:
Best for relieving dry skin during cold weather.
Alleviates nasal congestion.
Easy to use.
Comes with a measuring cup.
Aside from this, it can also be used for hair treatment at home. To top it all, it helps in relieving colds and allergies.
EZBASICS Nano Ionic Facial Steamer
This Nano Ionic facial streamer is simple and easy to use. It is one of those excellent facial steamers that uses a Nano steam technology in softening and moisturizing your skin.
Pros:
Opens up the pores to eliminate the oil, makeup, and dirt.
Moisturizes your skin effectively.
It comes with a one year warranty.
Cons:
This facial ionic steamer will emit an ozone ionic scent.
It works by loosening up the dirt and makeup from your pores.
Silver Fox Mini Facial Steamer
This is one of the most affordable facial steamers that works effectively. It only proves that you don't need to spend more in order to look beautiful.
Pros:
Portable mini hot facial steamer with extended arm attachment

Provides abundant steam

It features independent steam and ozone switches

UV light for sterilization

It has integrated aromatherapy compartment
Cons:
Statements above have not been evaluated by the FDA and are not intended to diagnose, treat, cure, or prevent any disease or health condition.
It is designed to use while the device is seated on a horizontal surface only.
This portable facial steamer is intended to apply steam to the face, dilating the pores to allow deep skin cleansing. UV light allows the oxygenation of the steam for nourishing and detoxifying.
Okachi Gliya Nano Ionic Facial Steamer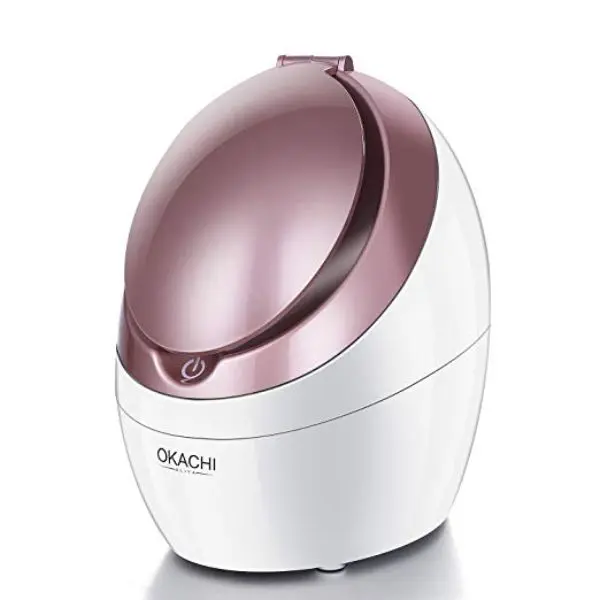 Among all the best facial steamers that we have reviewed so far, this one seems to be the most unique since it can be used as a humidifier and a makeup mirror. With this facial steamer, you can enjoy having an ultimate facial steamer experience at home. This device promotes collagen regeneration, makes skin clear and bright.
Can also be used as an interior humidifier.
Includes a 30-day money back guarantee plus 1-year free replacement service
It also works with essential oils.
The advanced PTC ceramic heating element vaporizes distilled water and produces visibly strong steam instantly. The nano steam combined with ionic water particles is up to 10x more effective in penetrating the skin. So just enjoy your spa facial treatment at home!
Pure Daily Care 3-in-1 Nano Steamer
The Pure Daily Care Nano Steamer is a new type of steamer that generates nano-ionic steam. If you can't go to a spa then don't worry since you can still enjoy that "spa feeling" right at the comfort of your own home with this 3 in 1 facial steamer from Daily Care. This is the same device that is used in most salons and spas.
Pros:
The 3-in-1 device can also be set to humidify a room.
Includes 5 pieces of surgical grade stainless steel blackhead and blemish extractor kit.
A larger 200ml water tank allows for 30 minutes of working time with completely silent operation.
Cons:
Depending on your location, some users might need a transformer to use it.
Here are a few benefits of using Nano Steaming: allows for 10x improved blood flow, boosts cell vitality and oxygen concentration through the skin for a healthier youthful complexion, greatly absorbs your beauty creams for better results. You may use the included complimentary 5 piece skin kit for the perfect skincare regimen.
How do Facial Steamers Work
Facial steaming works by providing moisture to your skin, making it softer. It helps in removing dirt, dead cells and other bacteria that cause breakouts. After steaming, your skin can absorb any products effectively.
However, if you are suffering from severe acne then it's best to consult your doctor before using facial steaming treatment.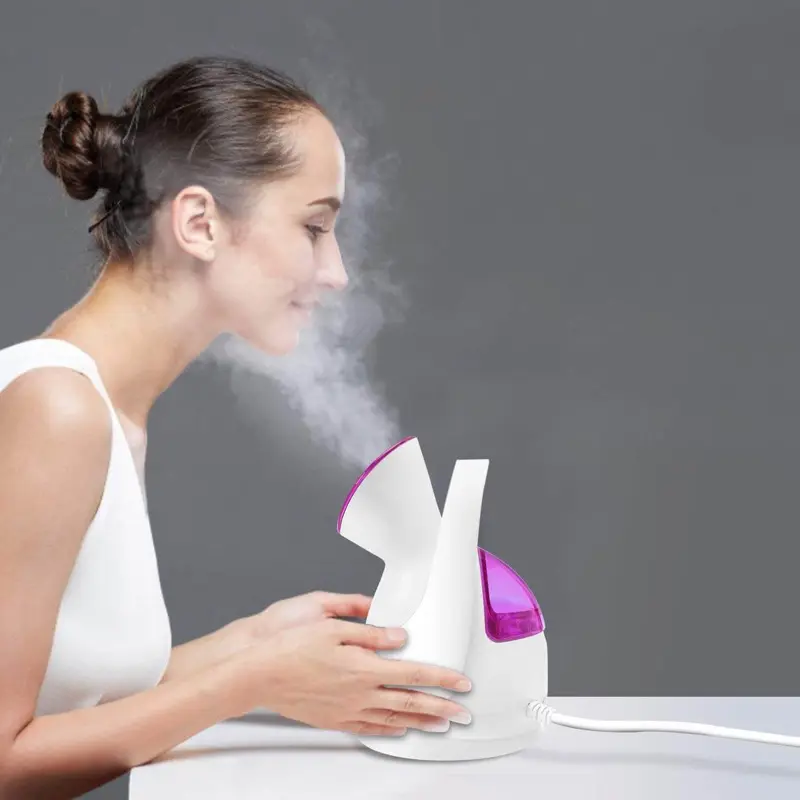 Facial steamers provide warm humidity that can enhance perspiration and encourage blood circulation. Sweat is mostly comprised of water, however, it also includes some toxins and other body wastes. Once the circulation of your facial skin has improved, it can make you glow.
However, if you are suffering from a fungal infection or other skin conditions, then having facial steaming may not be good for you.
What Do Facial Steamers Do
Perhaps you might think that facial steamers are not a must-have. After all, why should you buy it when you can simply use hot water. The fact is, these devices offer you significant benefits compared to a bowl of steaming water. So, what are the perks?
First of all, it has different heat levels. It is uniquely designed in order to make sure that all the steam will be directed at your face. Best of all, it is very easy to operate and there are a variety of designs that can suit your budget.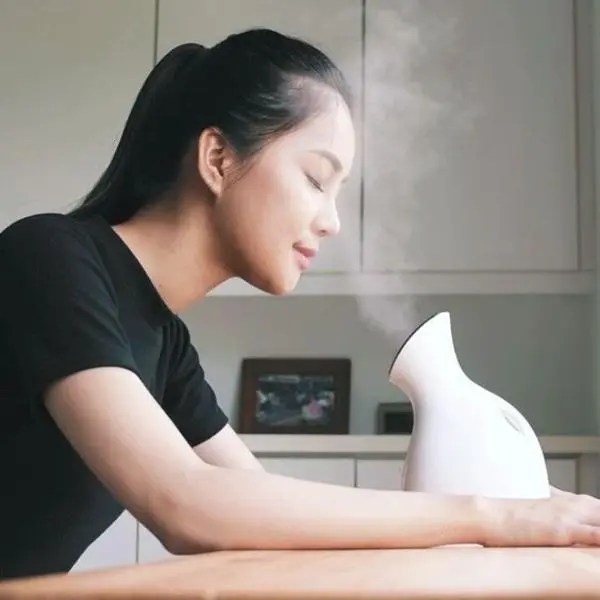 It's quite obvious that all of us want to look good all the time. However, the only way that we can look good is to have clear skin that is free from blemishes.
If you want to have clear skin then you should keep it clean all the time. But washing the face regularly can only eliminate dirt from the surface. In order to remove deep-seated dirt, you need the best facial steamers.
Each facial steamer offers different things. That is why it's very important to know your skin's needs before choosing a particular model. For instance, ask yourself what is your main reason for using it and how much power and time do you require.
Buy one of these top-notch facial steamers so you can enjoy a professional facial steamer experience without going to the spa. Now, all you have to worry about is the hairstyle that suits you.
Facial Steamers for Acne
Using facial steamers is very beneficial for those who are suffering from acne breakouts. Soap and water can't entirely remove blackheads and whiteheads. One of the greatest facial steamers' benefits is the treatment of breakouts.
Facial steaming works by opening up your pores and exposing dirt, oils, and other impurities to the surface so they can be washed away. By adding a few drops of essential amla oil, the redness on the blemishes can be minimized. At the same time, it can keep your skin moisturized.
Facial steamers are commonly used for beauty treatment, however, they can also be used for treating acne. If you want to enhance the health of your skin then you should use the best facial steamers.
Are you suffering from dry skin, acne, or wrinkles? Facial steamers are the best device that can improve your complexion. Affordable facial steamers are perfect for your at-home spa experience and we can highly recommend this treat(ment)!
Have you used one before? How's your experience? Feel free to let us know by leaving a comment below!