Big, lifted eyelashes are always in trend and always have been. It goes without saying then that eyelash curlers are a good investment.
When you use an eyelash curler your eyes look bigger and you look more awake. It's an instant change, and looks amazing!
Eyelash curlers should be a staple in everyone's cosmetic draw. Incorporating eyelash curling into your beauty routine gives you that extra oomph to your look.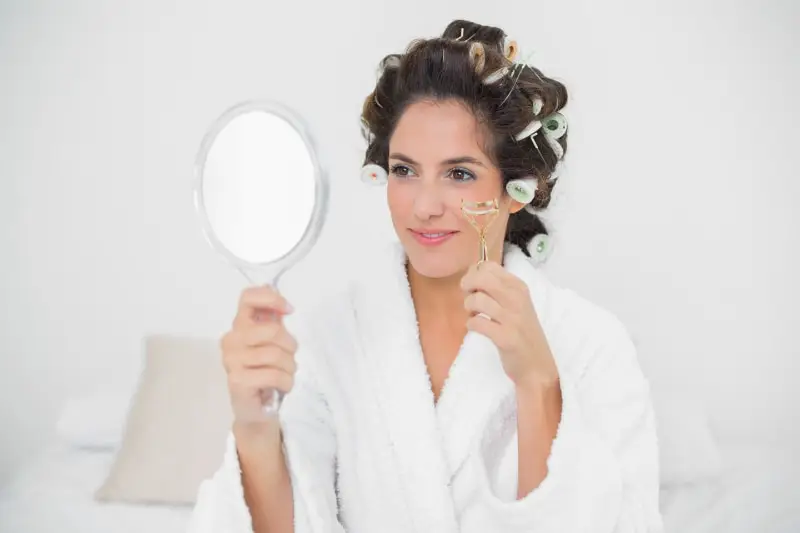 It makes the face look brighter and enhances the effects of mascara, giving you long and luxurious lashes.
Plus, when it comes to being tired, an eyelash curler will instantly sort out your sleepy eyes! Don't get yourself that extra cup of coffee, just curl your eyelashes and nobody will tell you stayed up a little too late last night!
So what are the best eyelash curlers available to us right now? And which is right for you?
The Best Drugstore Eyelash Curlers
It isn't a secret that drugstores are full of wonderful surprises when it comes to cosmetics. So many of us have found our favorite products by experimenting with cheap cosmetics we bought in drugstores.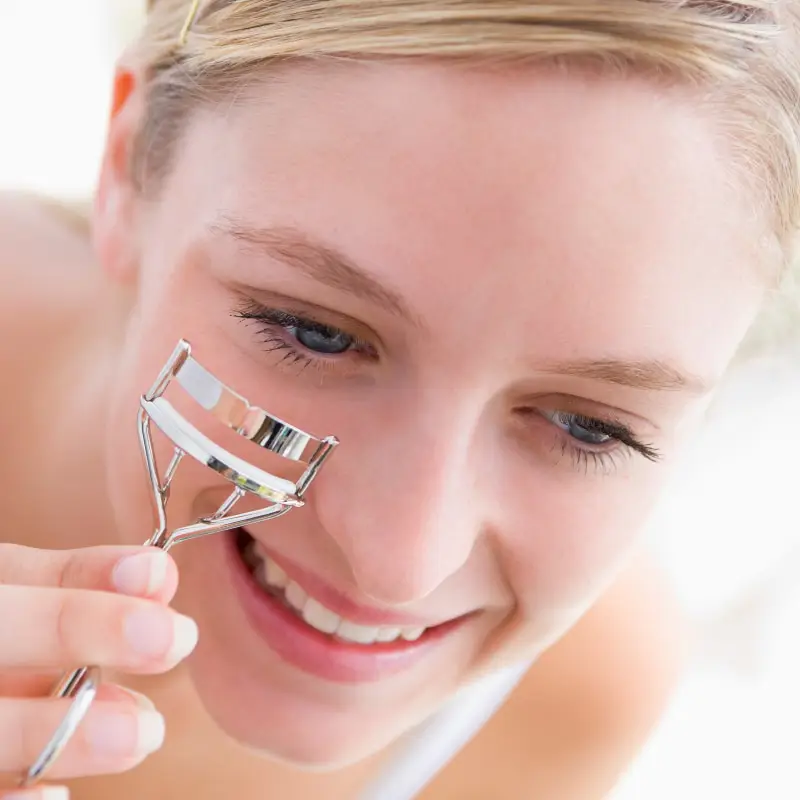 However, you are in luck, because you don't need to experiment! We have found the best drugstore eyelash curlers that you can order off Amazon today, for the best possible price.
The Best for Comfort: EMILYSTORES Professional Makeup Tool For Eyelashes
This eyelash curler costs under seven dollars and is a pain-free drugstore eyelash curler. It comes with two replacement silicone refill pads and is super comfy to use! It shapes the lashes nicely without causing any breakage.
The Best for All Eye Types: Revlon Extra Curl Eyelash Curler
The Revlon eyelash curler is currently priced at under five dollars on Amazon and is well worth the money. Designed by makeup professionals, this eyelash curler gives wonderful length to the eyelashes.
It's suitable for different eye types and has a really comfortable grip. Also, it's kind to the lashes, not pulling or breaking them.
However, it must be noted that it's on the large side so it can be a bit difficult to get used to it! If this is the first time curling your eyelashes, you may want to opt for a different curler.
The Best for a Dramatic Look: ELDA Eyelash Curler Golden Professional Lash Curler Set
Okay, so we do love the rose gold color of this eyelash curler, but we promise that this isn't the only reason why you would want to pick it! For its price, it's really high quality, super soft, and extremely easy to use.
A lot of users say that after curling their eyelashes with this one, they look as if they had professional treatment! Who needs to splash out for an eyelash lift and tint at a salon when you can get the same effect for only $6.89?!
Also, it comes with replacement pads and an eyelash brush, so you really get your money's worth!
The Best for Price: Covergirl Makeup Masters Eyelash Curler
This is the cheapest eyelash curler on the list, but honestly, you would not even know. The Covergirl eyelash curler is one of the best drugstore options out there.
It's easy to use and pretty sturdy, so will last a long time. It gives a super beautiful curl to your eyelashes which makes you look perfect for any occasion.
The Best Pro: Shiseido Eyelash Curler
The Shiseido eyelash curler is really making a name for itself in the beauty world. The Japanese cosmetics company is a favorite for many, and their eyelash curlers are a reason why!
The Shiseido eyelash curler is amazing for short, straight eyelashes. It gets close to the base of the eyelash without hurting or tugging, and then beautifully curls the eyelash.
These eyelash curlers are super gentle and are designed to get every single lash with an edge-free design.
This product is great for all types of eye shapes and eyelashes, and your eyelashes will stay curled all day long! Overall it's an amazing eyelash curler, and definitely, one to consider!
The Best Eyelash Curlers for Newbies
If you have not used eyelash curlers before, you might be a bit nervous. Yeah, they sound great, giving you big curled lashes, but metal curlers pulling at your lashes kind of sounds a bit scary?
And why do people keep talking about pinching and pulling?!
Don't worry! We have selected the best eyelash curlers for newbies– they are great quality and super easy to use!
The Best for Sensitive Eyes: Kaasage Eyelash Curler
These eyelash curlers are designed for sensitive eyes and have a good grip that means that you can use them safely. They are convenient and give the lashes amazing curls!
The pads are thick meaning that these curlers are sturdy but super gentle on your eyes. Plus, they are built to last.
Verdict: great for newbies, but also suitable for everyone who is looking for a safe, high-quality pair of eyelash curlers.
The Best for Long-lasting Curls: Tweezerman Eyelash Curler
These eyelash curlers will create long-lasting, beautiful curls. They are easy to use and do not pinch at the eyes. They really make your eyes pop, giving you that wide-awake look!
Overall they're affordable, sturdy, and of great quality.
The Best for Volume: Brilliant Beauty Eyelash Curler
Brilliant Beauty creates sleek, modern products that are accessible to everybody, and their eyelash curlers are perfect for beginners and cosmetic aficionados alike.
These give the eyelashes an amazing makeover, creating dramatic and voluminous curls that look amazing every single time.
They are designed to fit all shapes of eyes. You don't have to worry if your eyes are big or small–these eyelash curlers are still usable!
The Best Heated Eyelash Curlers
Sometimes a regular eyelash curler is just not enough. Perhaps you are looking for that extra dramatic oomph, the fake lash look, the salon makeover appearance.
If so, maybe it's time to purchase a pair of heated eyelash curlers.
Okay, heated eyelash curlers are not for everyone. It kind of feels like you are going against the human instinct for survival by putting something hot near your eyeballs.
But the gains that heated eyelash curlers provide for sure outweigh the little bit of fear when you are slowly moving a heated object to your face.
So what are the best-heated eyelash curlers on the market today?
The Best for Big Curls: Heated Eyelash Curler by NCMAMA
This heated eyelash curler is easy to use and the curls last a long time. You put the mascara on first and then you press the preheated eyelash curler onto the roots of your eyelashes for about ten seconds.
Then, you slowly press the eyelashes upwards giving you a wide-awake, full look. You then reapply mascara so everything is fixed in place, looking fantastic!
It's wireless with four different heat modes so you can try out what is best for you and your eyelashes! The comb is designed to keep the heat well away from your eyes and skin, so there is little chance of scalding.
Tip: Always use heated eyelash curlers with care, even if they have safety features!
The Best for a Natural Look: Heated Eyelash Curler by Orikgher
This eyelash curler heats up quickly and is really easy to use. After applying mascara you use the comb to spread out the eyelashes, clearing away any extra mascara. You then press the eyelash curlers along from the base of the eyelashes to the tip.
The result? A natural look that will last all day. After charging it up, the battery life is pretty decent so there is no worry about getting caught out with only one eye done!
The Best Overall Heated Eyelash Curler: TOUCHBeauty Upgraded Heated Eyelash Curler
This is a great heated eyelash curler, with TOUCHBeauty working hard to create one of the best and safest eyelash curlers around. They have succeeded!
This one not only makes your eyelashes look incredible but it also doesn't pull, hurt, or scald the eyelashes or eyes. Easy to use, so suitable for those of us who haven't used heater curlers before.
A high-quality product, this heated eyelash curler creates amazing length on even the shortest, straightest lashes!
Thanks to the heat settings and two different brushes, you can really get the eyelashes that you dream of with these curlers.
The Best Eyelash Curlers for Specific Eye Shapes
Sometimes we try out so many different products before finding the one that works perfectly for us.
Everybody is different, and sometimes a product says that it is designed for all eyes, or all hair types, or all skin types when actually, it doesn't work for you!
But thankfully, you don't have to try out loads of products for your specific eye shape as we have done the work for you! If you have found eyelash curlers hard to work with because of your eye shape, try out these picks!
The Best for Big Eyes: Kevyn Aucoin The Eyelash Curler
If you have big eyes and struggle with a lot of eyelash curlers, try these out. The clamp of the curler is wider than most so will do all your lashes when other products don't!
These eyelash curlers are great to open the eyes up and are light and easy to use. They don't damage the eyelashes at all so your lashes will look super healthy even if you use this product a lot!
It provides a big curl to the eyelashes and because of its wide opening, it catches every eyelash, giving an amazing overall look. Overall, it's precise, affordable, and top quality!
The Best for Asian Eyes: JAPONESQUE Go Curl Eyelash Curler
Almond-shaped eyes are beautifully unique and with the right curler, you can really enhance their look! Thankfully, this eyelash curler is easy to use and doesn't pinch the eyes.
It's super gentle and does not have a huge curve, so no more pain!
The Best for Short Lashes: Eyelash Curler by Hizek
If you have short lashes, you might find it difficult to find the best eyelash curlers that do not pinch, prod, and tug at the eyes and lashes.
These, however, are great for shorter lashes as they have a really comfortable cushion and therefore are soft and gentle to the eyes.
They are also easy to use and small and delicate, making them easy to handle. So yes, they can really make your eyes pop and look fantastic!
Which Eyelash Curlers Work Best for You?
We would love to know what eyelash curlers work best for you! Have you found the perfect curler that makes your eyelashes look amazing?
Do you prefer heated eyelash curlers? Or have you found a great curler that elongates even the shortest of eyelashes? There are many great curlers for eyelashes out there, and they can really transform your look.
No need to go for natural lash services or eyelash lifts in the salon anymore when you can do the same things in minutes at home! Saving money never looked so glam!
When it comes to eye makeup, big lashes will always be fabulous.
No matter what eyeliner styles you go for, curled and lifted lashes will always look incredible. Plus, don't forget to work with the best mascara to ensure the health of your eyelashes!
So, tell us about your experiences with eyelash curlers. We can't wait to hear from you!