Most people complain of back pain or bad posture, it seems an intrinsic part of being a human being! Our bodies evolved to be active hunter-gatherers, but instead, we sit at desks working or on sofas hunched over our phones watching viral videos.
This is how humanity has progressed, which is cool and fun! But unfortunately, our bodies haven't evolved yet to cope with a mostly sedentary lifestyle. This means years of pain, aches, rounded backs, and a lot of complaining! Thankfully, a posture corrector can help us.
In this article we will discover the best posture correctors on the market right now, what exactly they do, and most importantly, if posture correctors actually work!
What Is a Posture Corrector?
A posture corrector kind of does what it says on the tin. It corrects your posture. But what does that actually mean?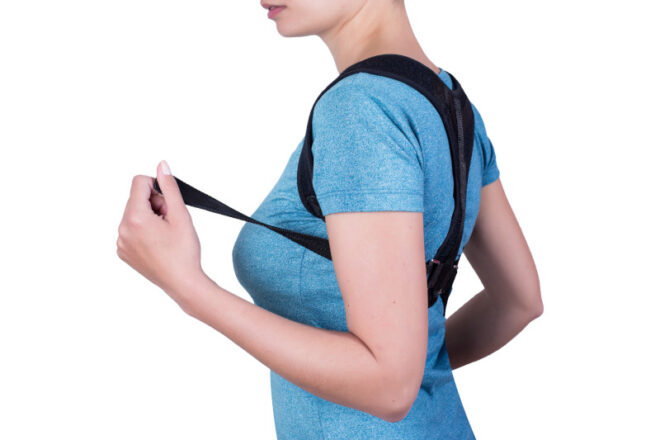 Posture refers to how you hold your body and the curvature of your spine. Bad posture, from slouching or bending, can have really bad health effects.
Bad posture puts a strain on muscles and bones that shouldn't be under strain, and this causes pain. It also reduces the strength of your skeleton, wearing away at your spine.
A posture corrector will gently encourage the muscles in your back and support your body. It will help you realign your posture, allowing you to find comfort and movement.
They make you aware of how you are holding your body, encouraging correct form. It is a guide for your body to find the correct stance for comfort and support.
Posture Corrector vs Posture Brace
There are lots of different types of posture correctors, with some being braces that help the lower back too. If you suffer from lower back pain, a posture brace that supports your spine's lower discs would be your best bet.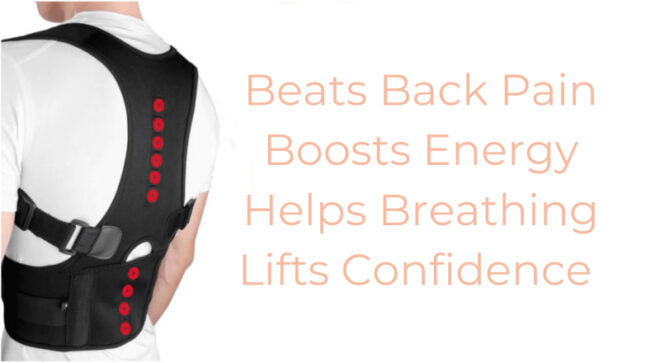 If you suffer from upper back pain, there are posture correctors that are designed to straighten your shoulders and develop the muscles on your upper back.
This all sounds great, but do posture correctors work?
In short, yes! After putting on the posture corrector you will soon feel the benefits. Wearing it will train the muscles in your back to correctly support you. It will realign your spine and your body will start to naturally have a better posture without you even being aware of it!
Our Favorite Posture Correctors and Posture Braces
Posture correctors have so many great benefits and are totally worth it for your overall health. But, what are our favorite ones that you can buy today?
Best Overall Back Posture Corrector (Unisex): Posture Corrector by FY Posture
This posture corrector is great for opening up your shoulders and relaxing the neck. For those who suffer from neck and back pain, this product is amazing!
We love this one because it is affordable, high quality, and works wonders for anybody that might be prone to slouching. It also can be worn under clothes, with easily adjustable straps to get the perfect fit.
The brand advises that you wear it for around half an hour a day the first week, and then twenty minutes more for every week you use it. This allows your body to get used to the posture corrector without straining it too much.
You will start to notice the benefits after only a few days, feeling less back pain and sitting up straighter!
Best Office Back Posture Corrector: Posture Corrector Back Brace by Superbe
So many of us work in an office, sat every day in front of our computer working. However, no matter how much we love our job, it can take its toll on our posture! Because of this, we need great support, and this back brace gives us it.
With straps that pull back the shoulders and steel support plates that work along the spine, this brace gives the whole of your back support and comfort. It is a great reliever of back pains, and is comfortable and breathable.
Wearing this for fifteen minutes a day during your work will give you instant relief!
Best Posture Corrector for Men: Posture Corrector for Men by Whph
This product is designed for men and gives support to the back and neck muscles. It pulls your shoulders back to their correct position, creating a healthy posture.
It is comfortable and lightweight and can be worn under your clothes for however long you wish. It is made from breathable fabric and you won't even notice that you are wearing it! Perfect for wearing standing or sitting.
Best Posture Corrector for Women: Thoracic Back Brace Posture Corrector by Mohuanchi
This posture corrector allows you to stand tall and be fully supported. It is great for women as it is easy to adjust depending on your body and has ample room for the bust area, so no pinching!
It supports the entire back, giving you proper alignment. This means that aches and pains will soon be a thing of the past as you will be training your body to have good posture. For women with larger breasts, we know how much strain they can be on the back!
Therefore, supporting the whole back will help you with this pain, allowing you to stand tall with the support you need.
Best Sitting Posture Corrector: BetterBack
There are a lot of fans of the company BetterBack, and for good reason! This chair posture corrector works a dream. Using it for only 15 minutes a day will relieve back pain and help your body gain a healthy posture.
Not only does it work, customers say that it is actually pretty comfortable to use! As soon as you sit into this posture corrector, it gently realigns your spine and gives you relief from any pain. It is lightweight and can be used in any chair, instantly making the chair ergonomic. A top-quality product that trains you to sit perfectly.
Best Posture Corrector Brace: Back Brace Posture Corrector by Dianmai
A posture corrector brace gives full support to the back and realigns your whole spine. This one by Dianmai is amazing as it gives immediate relief to both upper and lower back pain. It gently pulls back the shoulders whilst holding the spine in place, training your muscles to give you the support your need.
This product is comfortable, soft, and easy to adjust, meaning that you get the perfect fit for your body. It can be used whilst driving, sitting, or jogging, so great for any type of lifestyle and any back support you need!
Best Posture Corrector Bra: Wireless Back Support Bra by Delimira
A bad bra can really harm your posture. Not getting the full support you need from a bra can mean you end up in a lot of pain! Thankfully, there are bras that also work as posture correctors, meaning that you are getting the support you need and realigning your posture at the same time. With this product, you can say goodbye to uncomfortable bra's and back pain, and stand up with confidence.
By pulling your shoulders back slightly you will stop slouching and soon noticing any back aches and pains are gone. It has adjustable straps so you get the fit you need and is made with breathable fabric, perfect for long work days!
Best Shoulder Posture Corrector: Fully Adjustable Back Straightener by ComfyBrace
This product relieves pain in the shoulders and upper back immediately. It straightens your back and shoulders, correcting your posture.
We love this one because it is designed to be used daily and under your clothes. You can put it on, and go about your business with the support you need! It is made with quality in mind and is extremely durable. Perfect for those of us who forget about posture and end up slouching, causing aching shoulders!
Best Posture Neck Corrector: Posture Corrector for Women and Men by Caretras
The support that this posture corrector gives means that it great for easing neck pain. It is designed to straighten hunches on the upper back, and therefore reducing the pull on the neck muscles. It is comfortable and durable, providing you with amazing back, neck, and shoulder support. It does not restrict movement at all, allowing you to wear it whenever you wish!
Best Sleep Posture Corrector: Elastic Back Brace by BraceAbility
How we sleep can really affect our back pain. Uncomfortable mattresses, too many pillows, and funny sleeping positions can all mean we wake up not feeling our best! Thankfully, BraceAbility have designed a posture corrector that can be used whilst sleeping.
This posture brace relieves tension in your lower back and straightens your spine, allowing you to wake up feeling good! It has strong fasteners to keep the brace in place and can be fitted perfectly. We love this one because it comes in so many different sizes! Everybody can get the relief that they need from back and shoulder pain.
Best Posture Corrector Belt: Back Support Belt by Sparthos
If you suffer from lower back pain, a back support belt can really help! This one by Sparthos has a lot of rave reviews because of the support it gives lower backs.
This belt provides stability to your back and spine, gently correcting your posture. It eases stiffness and does so in the first few moments of putting it on! It is also super versatile. You can wear it at work, at the gym, or walking. It is really high-quality, with flexible elastic mesh and removable lumbar pads.
Posture Corrector Quick Buying Guide
These are our favorite posture correctors, but what is yours? There are so many different options out there and therefore you can get the exact support that you need for your posture. Here is our quick buying guide to posture correctors, so you know exactly what to look for when buying one!
What Hurts?
Firstly, you need to ask yourself what hurts and what you want to gain from the posture corrector. Are you getting pain in your lower back? If so, a back support belt will do wonders for you!
Perhaps you feel the pain more in your upper back and shoulder. If so, look into the posture correctors that pull the shoulders back, opening up your chest.
Before you choose your product, make sure you know what areas of your body that need the support.
What Do You Need It For?
A lot of people choose to wear their posture corrector at their desk at work to stop slouching and back pain. If this is why you need a posture corrector, make sure you can get one that will be comfortable for work. You may wish to get one that can fit under your clothes too.
If you wish to wear it for when you go to sleep, make sure the product is designed to be able to be worn when lying down.
Can You Adjust the Fit?
In order for the product to work, it must fit well. An ill-fitting posture corrector will only cause more pain in the long run. Most products are easy to adjust and therefore can provide you with the perfect fit, and this means you get the support you need!
How Easy Is It To Use?
When choosing a posture corrector, it is great to get one that can be put on and taken off easily. This means that you are not straining when putting it on, or needing help from anybody. This gives you the freedom to use it when you like and where you like.
Do You Have Any Physical Therapy Needs?
If you suffer from chronic health conditions, be aware of what posture corrector you are buying and if it is okay to use with any of health issues you may have.
If you see a chiropractor and get physical therapy treatments, make sure you discuss using the product with them before you buy. A posture corrector is only a part of treating a bad back, so make sure you carry on seeing your chiropractor whilst using the product!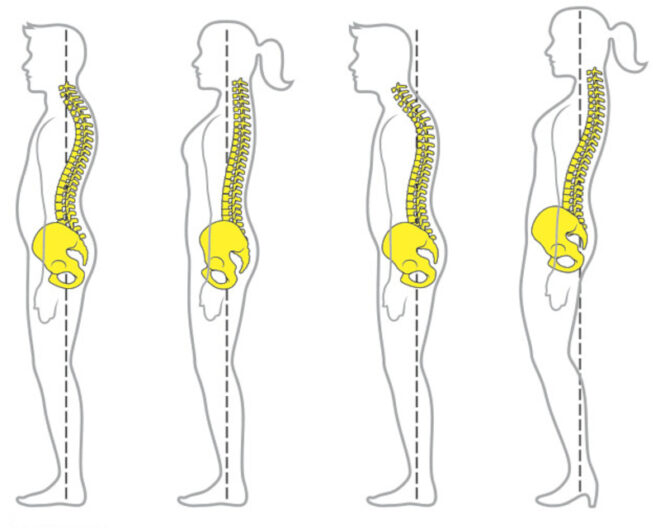 Say Goodbye to Back Pain
A lot of people don't think that their back pain could ever go away. So many of us suffer from it, and so many of us resign to the life of aches and discomfort.
However, with a posture corrector you can relieve back, shoulder, and neck pain instantly. With using these products, you can realign your spine and active the muscles correctly for better posture and a better life!
Good posture means we feel good both physically and mentally. A strong back and spine provides us with confidence, allowing us to stand up tall! There are so many benefits with buying a posture corrector, what are you waiting for?